How the Writer Uses Humor: Aleksandar Hemon
The Two Founding Members of Future Band "Freemon" In Conversation in Sarajevo
The following conversation took place on Monday as the opening event of Bookstan, Sarajevo's first international literary festival. Aleksandar conducted the conversation in both English and Bosnian, the latter of which is marked in bold, and was translated by Una Tanovic.
Aleksandar Hemon: I would like to welcome John Freeman personally because he is a good friend. We spend a lot of time together, so we're thinking of merging like a band and calling ourselves "Freemon." But that's in the future…
John Freeman: Thank you for coming. I happen to know that the only thing that Saša is more dedicated to than Sarajevo is football, and that he once came to a festival like this and was the happiest he'd ever been because to the left of the presenter there was a TV playing the football game he was watching. He managed to sit through the panel while watching the football game. So I'm not going to tell you whether there's a game on right now, but I assure you this should be very exciting.
Before we begin, I just want to say far be it from me to explain to you the significance of Aleksandar Hemon and his work. By now it's almost a legend: Saša winding up in Chicago on a journalism fellowship in 1992 and not being able to return to the city, the city that he loves, where he grew up, because of the siege and the war here, and how over the next eight years, he switched into writing in English and gradually assembled one of the most fabulous and exuberant vocabularies and linguistic styles that the English language has seen in the last 50 years. But in the works—the six works of fiction that he's published to date—he has narrativized the loss of this city, has mapped himself onto Chicago, and mapped himself onto the Sarajevo that he left behind.
And what's so exciting to me now is that in this, his sixth work of fiction, Aleksandar Hemon is doing something very different. In the past, all of his characters have been saturated in history and pastness, have been people sort of locked out of time, have been out of place. And now he's writing about an American named Joshua Levin, a failing screenwriter with a girlfriend and another girlfriend—we'll get to that later—who is trying to write the great American screenplay—The Making of Zombie Wars. That's the title of the book; Zombie Wars is the screenplay that he's working on. But Joshua, unlike many other Hemon characters, is living his life entirely in the future tense. And he's living his life trying to map himself onto the great narratives of American film and to some degree on American empire.
So I'm going to begin by asking Saša: What sparked the change in your work with this book? Because it feels like a marked change and I wonder if you made it with deliberation?
AH: We had agreed that he would ask in English and I would respond in Bosnian, but we'll go in and out of that because in some ways it's… I have to speak a little bit about this book in English because there are certain… not terms but ideas… that are more presentable in English. At the same time, of course, I'm in my hometown and the book is translated into Bosnian, so let me start by responding in Bosnian.
As many of you know, I co-wrote a screenplay with Jasmila Žbanić for the comedy Otok ljubavi [Love Island]. It took us several years and it was a very interesting and beneficial process, insofar as it made me realize that comedy is the riskiest form, the riskiest genre. There's a simple logic to comedy, especially when it comes to film or literature: if people don't think it's funny, it's instantly dead—the project, the narrative, whether it's a film or a book, is stillborn. And that's the risk. Unlike drama in film or literature or in any serious project where the reader's or viewer's understanding can be delayed to some extent—someone can engage with a film or a book for ten, fifteen, twenty days or two years and keep coming back to it—with comedy, if it's not funny the first time around, it will never be funny. That was a challenge for me, as such. I wanted to take that risk; I wanted to take on that funny business.
Comedy is the riskiest form, the riskiest genre. There's a simple logic to comedy, especially when it comes to film or literature: if people don't think it's funny, it's instantly dead.
JF: Why don't you explain to me a bit about this risk? Because one thing I understand is that the type of humor that is often played in Hollywood films and that plays in America is quite different from Bosnian humor and I wonder if you could parse the difference of those in how you put together this book.
AH: Well, Bosnians like to think that we are very, very funny. And we often are. And often inadvertently. We think that we are funny. There is a whole genre of jokes in Sarajevo and in the rest of Bosnia and Herzegovina featuring Bosnians as the protagonists that lay out a whole philosophy of life as screwing around. But, apart from these characteristics that are typical for this culture and for this region, there is something even bigger that pertains to Eastern Europe, and maybe to many other parts of the world as well. And it's not really present in America. In America, there is a strict division of labor between tragedy and comedy. Things that are funny are not sad and things that are sad are not funny. While, here [in Bosnia] or at least in Eastern Europe, there is an overlap—things can be funny and sad at the same time. Nabokov said it best when writing about Chekov: "Chekhov's books are sad books for humorous people; that is, only a reader with a sense of humor can really appreciate their sadness." And I think the opposite is also true for Chekhov and for this region: Chekhov and many of us write funny books for people who have experienced sadness and sorrow. Some things aren't funny if you haven't had the experience of sadness and sorrow. 
JF: You once told me a story, that you were working on this book over time and it drew from the experience of being in a screenplay class, much like Joshua. I wonder if you could talk about that class and what you learned about Americans in it?
AH: I will respond to this in English because English is the best screenwriting language. One of the things I wanted to do with this book was to have a plot, so that event B follows from event A and event C from event B, so that there is a causal relation between things that happen in the book, so that you can't move something from chapter ten and move it to chapter one because something will be out of order. And because I am not good at thinking in terms of plot—I like to think inside language and people's minds—I thought that I could develop a plot if I signed up for a screenwriting workshop in my neighborhood in Chicago. It was on a whim. I was walking down the street and I saw an advertisement for a screenwriting workshop and I walked in and signed up. And so this guy, the teacher, he was so funny that at some point, I was so crazy that I was writing down lines that he was delivering, talking to other people in the workshop and I used those lines in the book.
I wasn't just developing a script and a plot because in a workshop like that (and this is the only workshop I've ever taken) you have to turn in pages. Every week you have to have a certain number of pages, different from the previous week, so I had to think of what happens next within a week. That was very stimulating. But this guy was also… People kept dropping out of the course and in the end then there was only three of us. And the minimum was six but he would not quit. Paul was his name. And then the other two… There was a woman in the first workshop, and I thought, "God, help me!" when she showed up. She wanted to write a screenplay based on the experience of a guy who lived in a shack in Idaho for 47 years communing with angels and God directly. In other words, was completely insane. She was pitching this story, discussing it in the workshop, and she said there would be, at some point, this guy was transported to God's throne—he was transported to heaven and sat on God's throne. And so Paul, the teacher, said, "Oh that's gonna be expensive!" And I was so unhappy that she was in the workshop, I was gasping, "Thank you Lord, for this!" Then she dropped out because Paul was not a good teacher.
Anyway, I'd never experienced… One of the things I loved about that—and I don't mean this in a condescending way—is that these people were amateurs. So there were no feasibility limits. They did not think about whether this could be done or not. It was all a kind of play. They were imagining themselves as screenwriters and one day doing these things. Whereas, I was a "professional," right? I still, then and now, I test projects in terms of ideas, in terms of feasibility. I will not write a script that features God's throne because I would think, "Well, that's too expensive." So that was so refreshing and I enjoyed it very much.
JF: The action of the book takes place over a short while as Joshua is writing Zombie Wars, going to this class. But as his life begins to fall apart—he has an affair with one of his ESL students (he teaches an English class)—he begins to constantly develop other screenplay ideas on the fly as he's listening to people and thinking. Here's an example of one of them: "Script Idea #11: A gay pitcher sells his soul to the devil to play in the World Series. The price: he has to turn straight. Title: At the Bat." The book is littered with these things and I wonder if part of what you're saying is that Joshua's screenplay is as ridiculous as these?
AH: Well, Joshua is… What was interesting to me is someone who never completes his thoughts, that is someone who is thinking but never produces a thought. It was a narrative challenge. I'll switch to Bosnian. I wanted to write about someone who is thinking but never produces a thought. It was a narrative challenge, but also an intellectual one, to be present while he's manufacturing his thoughts, but for that thinking process to remain always incomplete. And in that sense, his outlines or ideas for screenplays never get beyond that first paragraph, what is known in English screenwriting parlance as a "pitch," a short description of the screenplay. I found this interesting because this concept of thinking without producing a thought is very present in American culture in various ways. There is a whole American industry based on thinking but never having a thought, so to say.
But at the same time, I have to admit that Joshua is similar to me in this respect. All kinds of plots, not necessarily for screenplays but for literary projects, pop into my head all the time, but I am constantly eliminating these ideas, because I am not an amateur like those colleagues of mine. I'm always thinking about feasibility and I'm constantly testing ideas and rejecting all the stupidities that are non-stop occurring to me. Otherwise, it would be unbearable. So Joshua is an extreme version of one part of my mind.    
JF: The screenplay that Joshua is working on is a typical American zombie apocalypse film. There's a virus that has been accidentally let loose by the military. There's a Bruce Willis-style hero who's going to solve this all by himself. There's undead zombies walking around. But I wonder if you could talk a little bit about this because this type of film is nonsense, obviously, but it must speak to a greater urge. And I wonder if you can talk about what that means in America? What kind of projection it is and why it is you feel like Joshua would come up with this? Is it mere opportunism or are you saying something about the way that we internalize projected fears as well as project them?
AH: That's an interesting question. I was writing this book and I had written it and then there was a refugee crisis in Europe. And then the way that the refugees—those masses of people trying to make it to someplace where they could be safe and not hungry—they were entirely presented as zombies, very, very often. There was a… I'll switch to Bosnian. They were hungry masses with no individuality. Their reasons for acting, their drives, remained unclear. They were a kind of organism. That's how they were presented in Europe, in Western Europe, and in America. In fact, Trump still presents them in this way, as some kind of force that is invading our space and, given the chance, will devour everything. And this kind of representation of refugees is nothing new, because this symbol, this receptacle into which refugees can be poured, already exists. It has existed for quite some time.
I haven't researched contemporary American zombie films. Back in the day, I was a film critic, or at least I posed as one, with a special interest in horror films. This was before the war. As soon as the war began, I lost all interest in horror films because there was enough horror to go around. But the classic George Romero horror films of the 1960s approached and formulated zombies as a threat to the American bourgeois because they exist as a mass. And these fears were an expression of the fears of the American bourgeois of the student masses, of the African-American masses, of the immigrant masses. And this fear of the masses is not only still present but is probably as strong as it's ever been since the 1960s. In this sense, I haven't studied this, but it seems that the preponderance of zombie narratives in American culture is very symptomatic of this fear that still exists, this fear of the masses invading our space.
I'll just finish in English. I also think that the strange thing about American culture is that it is processing its anxieties and deep fears mainly in the field of popular culture, not in the field of high culture, like literature or theater or opera or music. All of its traumas and anxieties and fantasies are processed mainly in Hollywood and television these days. So that the proliferation of zombies speaks to this fear of the masses. The proliferation of superheroes—now you cannot have a superhero movie with fewer than four superheroes in the movie because one or two are no longer enough—it comes out of this anxiety about the loss of the superpower status of the United States in the world.
JF: I sometimes think of this book—I just read it today for the third time—as a kind of unlikely twin to The Lazarus Project. It's another book in which the context, the larger context, is America going to war with Iraq, an illegal war. It's a book in which migration, immigrants and the spectacle of immigrants is brought into play. There are two threads: there are Bosnians—now in the background rather than in the foreground—and then there's an American, kind of on a search. I wonder if you found… Number one, why set this back in the Iraq War, rather than in contemporary conflicts? And two, I wonder if you found that by using humor you were able to say different things rather than the types of things you were able to say in The Lazarus Project about the way that the spectacle of violence and militarized police forces degrades public life?
AH: He's good, Mr. Freeman! It is a kind of a parody of Lazarus Project in some ways. For me, the two guys at the center are a parody, well not a parody because they have a different relationship. They are different but they have a similar relationship to the other two in the The Lazarus Project. I was interested in the aspect of humor; I was interested in how anger turns into comedy. Because there was a lot of anger in The Lazarus Project. I was very angry. I am still very angry because of what happened with Iraq, because of the invasion of Iraq and the lies and the destruction of Iraq and the destruction of many other things. And what is currently happening in the world and in the Middle East is a direct consequence of the imbecilic actions of George Bush and his team. And I've never gotten over it.
I left [Bosnia] and ended up in America because of one war, and there I found another war with much of the same strategies and rhetoric and propaganda and lies and all that. You can't get no satisfaction, as they say. I want to understand how this happened—how we reached that point in America where something like this is acceptable and how we then reached a point where it can be forgotten, as if it never happened. "Fuck it, we destroyed Iraq and the Middle East but what can you do?" But I didn't want to replay that angry and furious tone that was useful for Lazarus. I wanted to transform it, to switch from anger to humor. Because at some point I realized—probably by reading Shteyngart's Little Failure, his memoir which I think hasn't been translated into Bosnian—I realized that all his humor emerges from the pain and anger that comes from his relationship with his parents. I wanted to switch over to humor, to amplify, to translate fury into humor.
I want to understand how this happened—how we reached that point in America where something like this is acceptable and how we then reached a point where it can be forgotten, as if it never happened. "Fuck it, we destroyed Iraq and the Middle East but what can you do?"
JF: As I mentioned just now, the Bosnians in the book are in the background rather than in the foreground. And one of them is named Vega, who the screenwriting teacher keeps calling Bega, and he says, "No, I'm Vega."
AH: He calls him Vega, but he's called Bega.
JF: I just did it!
AH: It's a very important distinction.
JF: And you see him through Josh's eyes. You see him with the restrictive language. You see him being defined entirely through an objectified, kind of opaque trauma which Joshua has no ability to imagine beyond its visible symptoms, such as drinking, and sweating. And I wonder… When you talk about your early days in Chicago, you often describe them humorously. Just the other day we were talking and you were describing and telling me, "I needed to sleep more," and you were saying, "I learned to sleep standing up." And then you described to me how when you were a bicycle messenger, you would sit down and put your head down and your helmet in front of you and take a 15-minute nap on the sidewalk, and on more than one occasion someone dropped a dollar into your hat.
AH: Yeah, I work when I sleep!
JF: Did you ever, when you were writing this book, try to imagine yourself to some degree from the outside, with people that you knew?
AH: Well, writing any book… Every writer, at least every writer of complicated narrative projects such as a novel, has to occupy every position. So, in some way, I am… All the characters in the book have in some way existed in my head as a possibility or a consequence of my practice, as they say. And that's one of the great things about writing. It's one of the great things about writing that I can be many people at the same time. You can compensate for your mental disorder by creating interesting stories. In that sense, it's interesting for me to be both Bega and Joshua at the same time. Both were located somewhere in my mind.
But what I also found interesting about Bega is—and the public here will get this—that he is an expert at everything. Even if you haven't read the book, you know the type. It's is usually a man, of course, who knows everything. I've encountered this type. And I'm not judging anyone. In fact, it's interesting to me as a writer and useful, too. When I come here from America, the expert explains to be what's going on in America, what the different relationships are, and it's all clear to him from this vantage point, with the help of some beer and a lot of free time. So I wanted Bega to be… He has other dimensions as well, but this is a very important dimension—that he's constantly explaining America to Josh. He's explaining why superheroes exist, why Americans can't elect a president with multiple syllables in his name, and all that. It was very amusing for me.
JF: I also feel like you are saying something about trauma here. Joshua's girlfriend Kimmy is a specialist in treating people who deal with trauma. Joshua's landlord is a US Marine veteran who has PTSD, who deals with it by playing Guns N' Roses quite loudly and occasionally sniffing Joshua's underpants on the side. And they are surrounded by a culture in which the Iraq War is presented to them as entertainment. And it seems to me, over the course of the book, that trauma becomes almost like a commodity that is emptied by its circulation as a sign, as a symptom of life within the US in that possible moment.
AH: Well one of the things that happens with traumas, to those that make it to the surface of public consciousness, is that they tend to be part of a narrative, as in popular culture, where what happened in the past can be transcended by agency now. So, in other words, trauma is motivation to be a better person. Trauma as a motivation to overcome adversity in a given moment. From superheroes to other heroes of American narratives, trauma is never… It's painful but only up to a certain degree. That's a common trope in American narratives, that at the moment of crisis, when trauma looms, the hero reacts and through sheer willpower crosses over, beyond the reach of trauma. And people from this region, of course, know that things aren't so simple.
There is also… There is a—how do I put it?—there is a context for all that. The great American myth is the myth of transcending adverse circumstances and any story can be reduced to that. From slaves—runaway slaves, who managed to escape slavery so they were, in that way, they were good Americans, as good Americans as Ronald Reagan who escaped his own stupidity to become the president. To Martin Luther King, who was not a leader of a social movement in which masses of people participated and acquired complicated organization and political organization, but he was someone who transcended adverse circumstances and became the great American hero. And this constant leaping over the edge of trauma, as it were, into heroic space, it doesn't quite work for me and for people where I come from. For me, this idea taken from the narrative mythology of America, that trauma can be overcome through willpower, never seemed like a serious way to engage with trauma.
JF: As your writing has progressed, you've also developed and engaged with the theory of mind, which I think is a very interesting thing to be dealing with simultaneous to two projects: one, writing a book narrativizing your past in Sarajevo and your arrival and subsequent life in Chicago, and this book, a book in which a man can't even finish a thought. And I wonder if you can talk a bit about these two books in context of theory of mind and what you feel like, if you believe in it as a means for narration and literature?
AH: I will speak a little bit in English and then in Bosnian. There are two competing concepts, I think, in human psychology, in terms of perception of literary texts, in my mind. One of them is empathy, where emotional connection with the characters, which is often pity or sympathy, is what drives the interaction between the reader and the text. And this favors the kind of narratives where the ideal character in a book is a victim. And the ideal victim is a completely passive victim, that is someone who doesn't do anything and for that is empathized with and is very, very liked by the empathizer. And this, I have a great problem with. There's a list of books I hate because of that. But the other concept is theory of mind. And they overlap to a certain degree. These are psychological concepts, mind you. Empathy is something that we all—unless we are Karadžić—developed as babies and children. So that my daughter when she hears a baby crying in the other room, she gets upset by it and wants to see what happened, because it's a kind of emotional communication.
But in art… Art operates differently. It's a different space for the mind. In that sense, the concept of the theory of the mind… And this is a philosophical concept that deals with the fact that most of us—unless we are Karadžić—we communicate with other people with the assumption that this other person, whoever they might be, have a mind different from ours—different feelings, different background, different thoughts, different ideas, different emotions, different desires, different all these things. In other words—and this might look easy to many people here, to us here, but it's a complete mystery to someone like Trump—this means that I talk to someone knowing that they do not think what I think, and that they do not experience the world the way that I experience the world.
In literature, as a writer but also as a reader, I am interested in this situation, this theory of mind situation where characters are other people, not me. There is some overlap, of course, but I like writing about people who are unlike me. People who are similar to me to some extent, but are otherwise unlike me. In these cases, emotional identification is not sufficient. So I like to write about people, especially men, who are a little bit stupid, rude, evil, but at the same time are not Karadžić. They are people who make mistakes, who make the wrong decisions and are incapable of doing the things they are supposed to do, that the reader knows they are supposed to do.
JF: In some ways that perfectly describes Joshua. He has no ability to imagine the internal life of anyone else, which means that he is, in some ways, the perfect screenwriter because the screenplay has to show people doing things and the consequences of their actions. It can't show internal life. That's in some ways the life of literature. And so this book… Your other books have different modes of movement: they perambulate, they crab walk, they saunter. This one has a jaunty run because it seems like every time Joshua makes an action, because he has no ability to imagine the internal life of anyone else, there are immediate cascading consequences.
AH: Well, he thinks about other people but he cannot produce a thought about them. This mode of constant but insufficient engagement with other people, this to me was interesting. In other words, he's passive, because he doesn't quite make decisions. He puts himself in relation to other people but never makes a decision about what to do with these other people. But he is at the same time constantly in contact with other people. On the one hand, a passive character who avoids making decisions because the world is not really real to him, and other people are not really real, is a narrative constraint. But on the other hand, I wanted to make things interesting with these situations where he is constantly in contact with other people but constantly avoiding a situation where he must make a decision. That has—I assumed and this comes through in the narrative, I hope—comedic potential. I assumed that this indecisiveness, Joshua's inability to complete a thought was good material for comedy.
JF: For instance, Joshua—I won't give away too much, but he rather unwisely takes up one of his students, a Bosnian woman named Ana, on her flirtation and goes to a party. And he's been teaching her the future tense in English, as in, "When you arrive at the party, everyone will have had a good time." And she's using this to flirt with him. As soon as Joshua arrives at the party, she introduces him to her husband, who has a very big knife in his hand and is slowly butchering a lamb, with its head and all. And every time he chops at the lamb, the lamb's head pops up. And I, in my head, this thought bubble comes up and I think: "By the time you touch her, you will have been in trouble." And I wonder if you could talk a little bit about that because it seems like that is an ongoing joke through the book: Joshua's inability to imagine the future consequences even as he's teaching future tense to his students.
AH: I have to answer this in Bosnian. There is no equivalent in Bosnian to the English-language future perfect tense. My translator, Irena Žlof—I don't know if she's in the audience—is a hero, in every sense of the word. And we struggled with this. Well, she did most of the struggling and I just provided suggestions and examples. She struggled to translate into Bosnian these quirks of the English language. The fact is that Joshua is trying to help these ESL immigrants by teaching them verb tenses, but actually using these tenses is a whole different matter. There is a real world in which these tenses have to be put to use.
I used to teach English to immigrants and I remember talking to them about how to get a driver's license, about racism in America, and a lot of other subjects that were in some way relevant to what they would encounter on the street. But I remember there was one lesson on the syllabus that we were supposed to be following about irregular plurals, such as ox/oxen, goose/geese, etc. And I thought: "I mean, why do they need 'oxen'? Why do they need to know that the plural of 'ox' is 'oxen' in Chicago?" The likelihood of seeing a herd of oxen in Chicago—it was nil. It still is. I've never seen an ox, never mind oxen, in Chicago. Geese, they sometimes fly over, so alright, that's fine. So I dismissed this lecture. I didn't want to deal with it. Never mind, fuck oxen. Joshua uses future perfect… But to use future perfect for an immigrant that is so far down the road that it is not necessary. And there have been a number of American presidents who do not know that such a tense exists, so it's really not a pressing issue in any way. So I wanted Joshua… I wanted Joshua to be preoccupied with this aspect of grammar as an expression of his lack of contact with the real lives of his students and the reality that they face.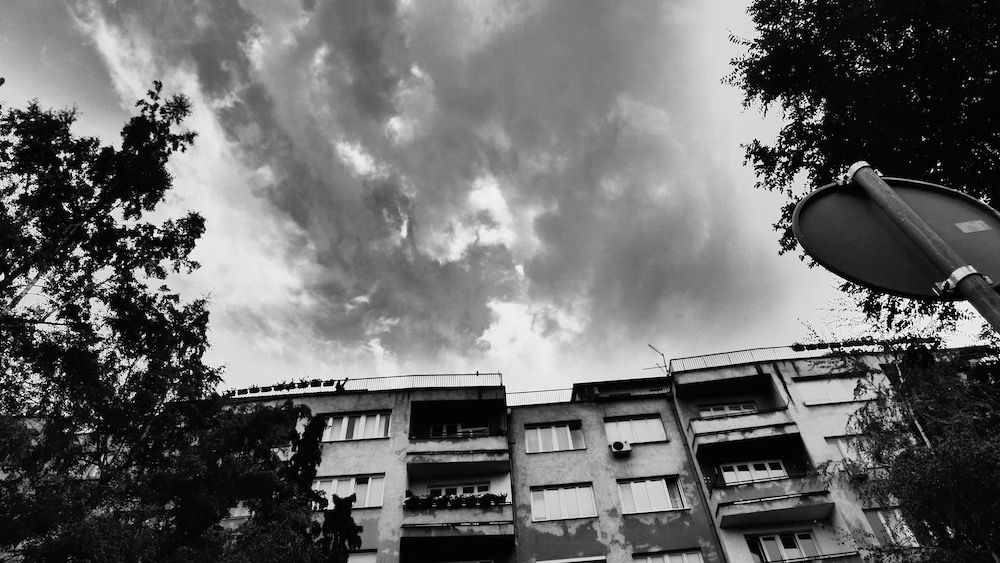 JF: One of the sentences that happens in future tense in the book is when one of the ESL students says, "By the time I am 75 I will have had my knees replaced." I wonder if you can talk a little bit about… You write a column here, you've written about Trump in the US, you've written this book and The Lazarus Project, and even though we have a different president currently, the US empire proceeds apace. And it seems like the US empire has a problem with future tense and I wonder if that's part of the comment that you are making with this?
AH: Well, I think that one of the things I wanted to deal with in this book is that Joshua does in some ways what the American empire did at the same time. Except that he is not going to Iraq, he is going to have an affair with a Bosnian woman. So Joshua is not surging into Iraq, he's surging into a Bosnian woman. It's a very complicated situation, as many of us are aware. He rushes headlong into disaster by imagining that things will somehow turn out all right, simply because he feels that they will.
At the time of the Iraq War, there was a propaganda machine to prepare the path to Iraq: the fake weapons of mass destruction, fake stories about Saddam Hussein and his fake connections to terrorism, etc. But it was just as important that Bush kept presenting himself as someone who feels in his gut that this is the right thing to do. Because there's a commonplace in American culture that has always existed: feelings are more authentic than thoughts. Because Bush and many of the people around him, and many of the people not around him, were feeling that it was the right thing to do, they were very proud that they did not think about it at all. It was a sign of the authenticity of the action. It was true and honest and decent. Which is also, in some ways, a moral problem, because now, no one can begrudge them for that. "Well, you know, it felt right at the time. And then it wasn't."
I wanted Joshua to be like that, to be led by his feelings, given that he is unable to produce a thought, to analyze his life and his situation. He's led by feelings, except his feelings are always of a sexual nature. He's brazen, so to say. He rushes headlong into disaster and he can't stop himself. Joshua's arc also ends in violence; Bega gets beaten up.
JF: I feel like this is going very well. How about you?
AH: Well, no one is leaving yet. Maybe the door is locked.
JF: Since you mentioned feelings, I want to talk a tiny bit before we move on to some of the other things you are working on now… We once talked a bit about how when you switched over to writing in English, you looked back at what you had written originally in fiction—not in non-fiction, I know those failures were smaller here—and in Bosnian and you decided you wanted to write with a different style. You found one paragraph that had sort of evoked through the senses a way of feeling of being in the world and I wonder if you could differentiate between that, between how we create reality with our sight and our smell and our senses, what's different between that and this slightly degraded form of believing or thinking when we're feeling?
AH: I'll answer this question in Bosnian. I came to America in 1992 as a young journalist but I had literary ambitions. I had published some stories, even some poetry. But when I ended up in America, I decided to write in English because of the siege and the war here. I still couldn't write about it and I wasn't in contact with the language and with people's experiences, so for a while, I didn't write at all. I was struggling psychologically and I did produce some outlines, but none of them were any good. And I didn't like any of the literature I had written up to that point. I threw it all out. The poetry was terrible. And so was the prose. All of it. But I did have some of my other manuscripts…
Before the war, I was writing a column for the weekly Naši Dani—I wrote seven texts in all, I think—under the title "Sarajevo republika" [Sarajevo Republic]. One of these texts was about a film we are all familiar with, Valter brani Sarajevo [Walter Defends Sarajevo], and there was a paragraph in which I described a field trip to the cinema to watch this film with my class, from the 29th November school. It was a single paragraph. But when I reread it, the paragraph was based on experience and it was full of details. I can't remember now all of the details and everything that was going on in that paragraph, but it contained the experience of watching that film, Valter brani Sarajevo. And it was the only model that I had. When I reread it, it occurred to me, "That's how I want to write."
Which points to the fact that many writers think that what they are writing is not good or is good and then over time these things sort themselves out. When I teach writing to my students in the United States or to American students in Paris, I always tell them that no writing is ever wasted. They think in terms of achieving goals and finishing things and in terms of gradual improvement, incremental improvement, but that's not how it works. What I thought was excellent literature ended up being trash, once I arrived in America. But one paragraph—and I was proud of that text, of that column—contained the road map to future projects.
JF: I want to talk a tiny bit about the other people that we have coming here. Like you, they have, all of them have two homes, at least. Rabih Alameddine is in San Francisco but Beirut is his Sarajevo, to many degrees. The same is true of Rawi Hage: he lives in Montreal, but Beirut is also his home. Kamila Shamsie is a British citizen, but Karachi is her home. And this is increasingly true of many people. And I wonder if you could talk a tiny bit about why you felt compelled to bring these writers here at this time and to what degree having many homes changes the way that as a storyteller you engage with or refute notions of nationality?
AH: Well, it's not insignificant that Rawi and Rabih are Lebanese. If you shop for similarities in the world between Bosnians and some other nation, the Lebanese come out on top, any day of the week. We are really the Lebanese of Europe, or Southeast Europe, or they are the Bosnians of the Middle East, in many ways. So there is that. On the other hand, I am interested in—and in this sense Lebanese writers are particularly interesting—a multicultural presence, not just of religions, but also of languages, empires, occupiers, histories, borders, neighbors, classes (so that there exist the poor and the elite, and I don't mean that in a bad way).
When I was displaced from Sarajevo, I was forced into the realization that people consist of layers, just like history consists of layers, just like Sarajevo consists of layers—it is never one thing. And that cities like Sarajevo—actually all the great cities of the world, from Paris and Sarajevo and Beirut to Tokyo and Kuala Lumpur (I assume, I've never been there) and Buenos Aires—that cities and people and places are formed by layering over time. So I am never just one thing. It was incredibly easy to live like that in Sarajevo before the war and then more difficult during the war and also after it. It's not an easy way to exist anywhere in the world.
In other words, I realized that I am complicated and that being complicated is actually an advantage. It is very difficult to organize all these complications and to balance them out and to speak about them and to live in them without it feeling like a handicap. Or, in terms of what we were talking about before, in terms of authenticity, without it feeling inauthentic. A commonplace of nationalism is that only those with a clearly defined national identity or national essence are actually authentic. One of these nationalist, fascist clichés is that the real members of our nations are never to be found in the cities, where they are constantly being corrupted by the presence of others, by the presence of fun and alcohol and whatnot. The real, authentic members of our nations are somewhere out there in the forests, somewhere in some village, uncontaminated by all these influences, all these layers. They are authentic and they have just a single layer, a single brain wrinkle, like an aspirin so that you can halve it. I discovered this complication and I thought about it because of the war that was happening in Sarajevo and it's why I still love Sarajevo.
It's more difficult to practice in America, it's becoming more difficult because of Trump and his ilk. All the writers that I invited [to Bookstan] are my friends. And they are my friends to a large degree because although we don't talk much about these things, we don't have to explain them to each other. Knowing that you live this complication and that being complicated is an advantage is for us like knowing that you have five fingers. It's something that is valuable and important, something we enjoy as writers, but also as civilians, as people.
JF: One of the things these authors share, I think… Saša is one of the best oral storytellers I know, so is Rabih, so is Mona, so is Kamila, so is Rawi. And they all are also incredibly funny and I wonder if you can talk about the political uses of humor as a way of restructuring the narratives that politics and power present to us as a given?
AH: One of the symptoms of fools who think that they have power, that they are going to change the world—let's say Trump—is that they take themselves far too seriously and they are completely devoid of a sense of humor. And it is closely related—an absence of a sense of humor—to taking oneself too seriously, to self-importance. On the other hand, people like the Bosnians and the Lebanese who have this individual or collective experience to inform them that no one is so important that they can escape the bullet of history, so to say, have to operate under the assumption that they can't take themselves too seriously. My importance will never protect me from history and all the possible consequences of history. In other words, I know that I can never overcome history. Unlike Trump and Bush and the rest of them who think that through sheer willpower they can transcend history, I'll never be president of anything.
But at the same time, this gives me a certain dose of freedom and opens up possibilities. And that's very useful for writers. Rawi and Rabih and Mona and all the people I know and love… It enables us to notice things around us—not the ingenious, spectacular, imperial projects that aim to change history for millions or hundreds of thousands of people—but the people we are talking to, the people we spend time with, the people who share our social, cultural or physical space. I think—I'll paraphrase this a bit in English—that the advantage of not taking yourself too seriously is that you have to pay attention to other people, because if you are not that important, then the other people are likely as important as you are, and that means that they are interesting, and because you're not important enough, you do not argue. And my friends, the writers I like and my friends who are not writers that I like, they do not plot gigantic projects in order to show the world how great they are. We just go about our business of dealing with human beings—fascinating and fun and funny and also horrible and mean.
JF: The last question about humor… There's an old theory about humor, I think it might've been Freud's, that one of the reasons we laugh is because we break a taboo. I've sat at far too many dinner parties in the United States where people bring up something vulgarian and usually sexual, and there are no more taboos. I find that if you read Mona's books, if you read Rabih's books, if you read your books, there are plenty of taboos, but they have happened to have shifted into a different realm. I am not saying that humor is breaking taboos, but I wonder if you could talk about the ones you would like to break, the ones that you enjoy breaking? Not just about people taking themselves too seriously, but otherwise.
AH: I like to wear speedos wherever I go but my wife prohibits that. That's the only taboo. But I have a different theory of humor and I will say it in Bosnian first. The story and then I'll talk about it in English. When I first came back to Sarajevo after the war in 1997, I stayed with a family, they were like family to me although they weren't strictly speaking my family. They had all remained here, the ten of them living together—three families in one apartment, in Marijindvor, directly in the sight line of the snipers that would shoot into the apartment. And the hunger… I don't need to explain it to anyone here. There was nothing to eat. Every now and again, someone would go out in search of food. They'd find nothing or find something, some coffee, some cigarettes. And one time, someone came back with a potato—a wrinkled, wilted potato. What are the ten of them going to do with a single potato? But then, since no one had seen a potato for God knows how long and since there hadn't been any TV for God knows how long, they placed the potato on the middle of the table and they sat there and watched the potato. As they were telling me this… It's was a horrible time… The husband of this woman, Jozefina, who was like my grandmother… Her husband had died of a stroke during the war. But as they were telling me this, they were laughing. Doubling over with laughter like it's the funniest thing in the world—how they watched a potato during the war.
So I understood then at that time, and my theory of humor, if I have it, is based on that… Many stories that the people in Sarajevo told me and still tell one another about the war—terrible stories, they're always suppressing those—many stories are told as funny stories. And there is also a whole genre of jokes about Mujo and Suljo, stock characters, under siege or in the war. The way I think about it is this: war reduces people's agency. If you have a siege, you have no agency, you have no way to change the outcome of your life or history; in other words, you are a victim, and the narrative you are a part of is… you have no influence in it. But after you have made it through, you survived, then you can reconfigure the story and choose the outcome. So the story about the potato was sad during the siege, but once they survived, it was funny, and it was a kind of a triumphant reconfiguration of the narrative. And they chose how to tell it. They did not need pity anymore, now they could laugh about it. And so, humor becomes a function of having agency, and this is why suppressed people, people of Eastern Europe and so on, are prone to humor—or in the Middle East. And people who have power, like Trump and Bush, are completely and absolutely humorless, because they practice their agency, their narrative agency, by way of deploying troops to invade countries.
---