How the US Leveraged the Love of Fulbright Scholars like Sylvia Plath
When Romance Becomes a Geopolitical Transaction
"To discuss the effectiveness of a program of cultural exchange in developing good international relations is to raise at once the question of whether familiarity breeds love or contempt," wrote Robert Spiller, one time president of the American Studies Association, in a 1967 retrospective on the origins of the Fulbright Scholar Program. Issued exactly 20 years after the whirlwind expansion of American studies and American scholars across the Atlantic and Pacific, Spiller's assessment of the program's historical "effectiveness" looked back in time to its intellectual origins—the summer of 1947, when the first Fulbright administrators and American studies professors, including F.O. Matthiessen, Leslie Fiedler, and Alfred Kazin (who would later write his student Sylvia Plath a letter of recommendation for her Fulbright application) began to theorize how international readers' responses to American literary texts could "breed love" around the world.
How can a program of scholarly exchange "breed love?" Consider Plath's cheerful testimony of her readerly romance with Ted Hughes to the 1956 United States-United Kingdom Fulbright Commission. "I went to London yesterday to make my announcement of marriage to the Fulbright [Commission]," Plath wrote to her mother on November 1, 1956, worried that the commission would strip her of her fellowship if she confessed her affair with Hughes, a poet she had met at Cambridge and whose work she "much admired." As it turned out, the commission was far more sympathetic to her international liaison than Plath had expected. "They raised no question of continuing my grant," she announced with relief, and added, "I did not expect, however, the royal welcome I got! Congratulations from the handsome young American head who told me my work, both social and scholastic, in Cambridge was so fine they wished they could publicize it (!) . . . One of the main qualifications of the grant, I discovered, is that you take back your cultural experience to America, and they were enchanted at my suggestion that I was taking back double in the form of Ted."
In Plath's retelling of her testimony, the "work" of the Fulbright scholar, described by the handsome head of the Commission as equal parts "social" and "scholastic," reached its triumphant apotheosis in the institution of marriage. Plath's double status as a scholar and a wife thus offered a model of international love making celebrated, and even publicized, by the commission as magnifying the exchange of "cultural experience." She was not only bringing her love of Hughes's poetry back to readers in the United States; she was also "bringing back double in the form of Ted"—Ted incarnate, a lover and a husband, as well as a reader of her work and a writer of poems about her, the loving Fulbright scholar. His account of their early romance would later appear in his 1996 poem "Fulbright Scholars," in which he would recall an official Fulbright photo of Plath and her "grin," her "exaggerated American / Grin for the cameras, the judges, the strangers, the frighteners."
Yet what the commission celebrated was more than the love of a man and a woman; a reader and a writer. What they imagined was a mass-mediated love—a love that, by transcending any individual instance of reading or writing, made itself available to international publics as an active, reciprocal, and reproducible structure of feeling; a love that was capable of governing not only an individual's life or her emotional responses, but also an increasingly unruly geopolitical order at midcentury. No doubt marriage must have struck the commission as the institutional ne plus ultra of love. The legal order it imposed on Plath and Hughes's personal relationship modeled the liberal political order that Spiller and others imagined love could impose on international relations through the "scholastic" and "social" acts of reading of literature. No doubt, too, that this model of international love making made its way into Plath's autobiographical novel in progress, first titled Hill of Leopards, later changed to Falcon Yard, which would tell the tale of "an American girl finding her soul in a year (or rather, nine Fulbright months) at Cambridge." "Novel: Falcon Yard: central image: love, a falcon, striking once and for all," Plath noted in her diary. "American versus British. Can I do it? Over a year maybe I can. Style is the thing. 'I love you' needs my own language."
Plath's stylized language for "I love you"—a seductive, sadomasochistic language that stressed the wounding nature of love—would differ greatly from the US government's sugary proclamation that the cultural exchange of the Fulbright Program would yield a mutually assured "love between nations." For the Fulbright Commission, the most appealing aspect of love was how effectively it could obscure the material realities that made the international mobility of readers and lovers possible in the first place. The 1946 brainchild of Senator J. William Fulbright, his eponymous "exchange-of-persons" scholarship program was funded by the Office of Foreign Liquidation's sales of overseas properties abandoned after World War II; transactions conducted exclusively in depreciated foreign currencies now that the dollar reigned as the Bretton Woods system's international monetary standard. In an amendment Fulbright proposed to the Suprlus Property Act of 1944, these property sales were to help pay for equal numbers of American and non-American scholarship recipients to spend a year studying or teaching in international universities.
"Professions of love became one way for program participants to restore a feeling of reciprocity to a materially imbalanced system of international property relations."
Yet when one tallied the numbers of people exchanged from the 1950s to the 1970s, Americans far outnumbered their non-American counterparts. "Exchange of persons," then, offered a more fitting description for how the program's financial arrangement worked: by exchanging money for people. Foreign capital, bound up in discarded properties and devalued currencies, was exchanged for American dollars, only to be plugged back into international circulation in the human form of scholars, teachers, and writers from the United States, many of whom were literary critics and professors of American literature and culture. The arrangement was, according to the State Department, a creative and benevolent extension of the United States' shift from a "debtor" to a "creditor nation" in the postwar era. And everyone, it seems, wanted a chance to play the cultural creditor. As Plath wrote in a self-deprecating journal entry some months before submitting her Fulbright application, "There is always the ambitious project of trying for a Fulbright to Europe (only a million people want them; no competition really)."
Professions of love, then, became one way for program participants to restore a feeling of reciprocity to a materially imbalanced system of international property relations. By the time Spiller sat down to assess the program's effectiveness in 1967, the program's administrators had already taken steps to socialize program participants into the expressive practices of love making. From its inception through the late 1980s, the commission released a series of promotional books that rewrote scholars' government-mandated post-fellowship debriefings as sentimental non-fiction short stories.
These hundred-odd stories reveal the staggering promiscuity of love in the language of returning Fulbright scholars across disciplines: scientists "fell in love" with their friendly hosts, who promptly fell in love with them in return; scholars conducted passionate "love affairs" with French, Sanskrit, Japanese, and Hindi, making these foreign tongues pliable to the expressive needs of English speakers; teachers came back to the United States "madly in love" with the local merchants, who showered them with free wares; moments of clear communication with students of another nationality were tenderly figured as "budding love." Even the most "jaded" of scholarship recipients, according to their self-assessments, quoted liberally from Walt Whitman and e.e. cummings on the power of love to transcend national difference. Bound together in books with titles like The Fulbright Difference or The Fulbright Experience, these volumes of international love stories served as bibliographic vehicles for standardizing the program's key feeling rule: that international familiarity should breed love.
More powerful, however, was how these books offered readers the opportunity to envision not just the affective lives of particular scholars, but also the collective political aspirations of an entire nation. Through the nationalized organization of individual testimonies, the collective volumes reinforced the commission's fiction that the authors' stories of love were constitutive of some broader geopolitics, whereby love could come to possess extraordinary powers of scale, converting particular experiences and expressions of attachment into an attachment to social abstractions: peoples, languages, nations. The production of these stories thus made it not just possible but quite natural to speak of the love of "one nation for another," even though such an exchange of affection was, quite literally, impossible.
All this sentimentality makes for a pretty picture—much like the Fulbright photo-op that inspired Hughes's poem "Fulbright Scholars." But it also generates a peculiarly transactional concept of how love works. The love felt and expressed by the Fulbright scholar asserted not only love's use value but its exchange value: a market-based appraisal of feeling's political efficacy that reflected the United States-backed liberal capitalism enshrined in the Surplus Property Act and the Marshall Plan. As Plath's letter to her mother makes clear, her marriage announcement was immediately reframed by the commission's handsome head as a quantitative measurement of the utility of cultural exchange. She was "taking back double" in the form of Ted, and thus amplifying the transactional value of her social and scholastic interactions of the flip side of the exchange.
A more troubling vision of the program's affective economy emerges in a subsequent letter she wrote to her mother, in which she described how her desire to write an international love story was guaranteed to "drive the Fulbright Commission wild with delight." "I have the most blazing idea of all now," she declared. "Out of the many vital, funny, and profound experiences as an American girl in Cambridge, I am going to write a series of tight, packed, perfect short stories . . . All the notes I've taken on socialized medicine, British men, characters, etc. will come in. Ted is with me all the way, and we are rather excited about this. It is 'my own corner' and his criticism as it is in progress, from the British slant, with his infallible eye, will be invaluable. What a product of the Fulbright!" The only downside to her "product" was the inevitable time lag between her production of the stories and her readers' consumption of them. "The hardest thing for me now is not to share all this with a rich community of friends," she complained to her mother.
While her penchant for sharing with a "rich community" of readers may seem generous, such generosity was predicated on an extravagant fantasy of material possession and possessiveness—Plath's "own corner" of love. She compared her collection of amorous experiences to "having discovered the one only biggest diamond mine in the world and having to sit inside alone full of radiance and not tell anyone." Real enrichment, then, depended on letting these gems—lumps of coal turned into diamonds, failed relationships turned into a successful marriage, messy notes turned into "tight, packed, perfect short stories"—loose on an international market; a market that would drive up their exchange value and help her reap the profits. Like the ominous diamond stickpin that Marco, the violent misogynist in Plath's The Bell Jar (1963) will give to Plath's protagonist Esther Greenwood to claim her as his property, the radiance of the diamond mine Plath claims for herself as a product of Fulbright love is saddled with a logic of market commodification that sits uncomfortably against the free flow of intimacy across people and nations. Her is a violent extraction economy rooted in colonial relations—the flip side of the liberal internationalism that the Fulbright claimed to represent.
__________________________________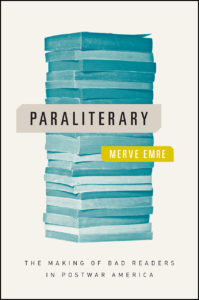 From Paraliterary: The Making of Bad Readers in Postwar America. Used with permission of University of Chicago Press. Copyright © 2017 by Merve Emre.
---