How the Sinister Study of Eugenics Legitimized Forced Sterilization in the United States
Audrey Clare Farley on the Scientists Who Weaponized Biology
In 1883, English intellectual Francis Galton coined the term eugenics (meaning "wellborn") to advocate a selective breeding program among humans. Galton had long been bothered that his country was becoming overrun by wretched people who depended upon the charity of affluent families like his. After reading his cousin Charles Darwin's book On the Origin of the Species, Galton determined to influence the evolution of human beings. The Englishman argued that it was imperative for members of the upper class to pass down the characteristics associated with it, such as superior intelligence. If wellborn women had more children, then many social evils, such as poverty, could be eliminated.
Though he revered science and had little time for religion, Galton imagined that eugenics would be taken like a religious creed—on faith and without scientific proof. He often compared eugenical marriage (the marriage of two high-class individuals) to other religious duties and cited instances of selective breeding in Jewish and Christian texts.
"It is easy to let the imagination run wild on the supposition of a whole-hearted acceptance of eugenics as a national religion," Galton wrote in 1905. His British followers agreed that eugenics could only thrive as a religion—and that "nothing but a eugenic religion [could save] civilization," in the words of playwright George Bernard Shaw.
While Galton made an impression on fellow countrymen like Shaw, he most enthralled an American biologist named Charles Davenport. A colleague recalled that Davenport entered a trance-like state whenever he spoke of eugenic concepts, such as protoplasm (the genetic material needed to create a more perfect race): "He used to lift his eyes reverently, and, with his hands upraised as though in supplication, quiver emotionally as he breathed, 'Protoplasm. We want more protoplasm.'"
In 1910, Davenport founded the Eugenics Record Office at Cold Spring Harbor Laboratory on Long Island.  He intended to identify—and then eliminate—traits associated with poverty, intellectual disability, criminality, promiscuity, and other perceived genetic conditions. Like Galton, he believed that social conditions like poverty were biologically inherited, just like blue eyes or brown hair. But whereas Galton had emphasized increased breeding among elites (what would become known as positive eugenics), Davenport desired to give equal attention to the other side of the eugenic coin: negative eugenics. He wanted to take measures to prevent those deemed "unfit" from becoming parents. He claimed that Austrian monk Gregor Mendel's recently rediscovered work on the reproductive patterns of peas provided the know-how to implement such a program.
With funding from philanthropic families in leading industries, such as the Rockefellers (oil), Carnegies (steel), Kelloggs (cereal), and Harrimans (railroad), Davenport appointed Harry Laughlin as the Eugenics Record Office's first director; and together, the two hired field-workers to collect family pedigrees from the public. With this data, much of it based on field-workers' biased observations, Davenport and Laughlin came to many unscientific conclusions about epileptics, alcoholics, prostitutes, "shiftless" persons, immigrants, and other classes of people.
He wanted to take measures to prevent those deemed "unfit" from becoming parents.
For instance, the two determined that epileptics were morally degenerate, as they were stuck in a primitive stage of development that didn't allow for the higher reasoning needed to live according to social norms. Davenport and Laughlin regularly presented their findings to lawmakers and government agencies, helping to pass stringent immigration restrictions, expand anti-miscegenation laws (prohibiting marriage between races), and implement involuntary sterilization programs across the country. Inspired by Davenport and Laughlin's crusade, two California men came together in 1913 to expand sterilization in their home state. They were Paul Popenoe and Ezra Gosney.
The Kansas-born Popenoe had recently left the university, where he studied heredity, to care for his father, when his former academic adviser asked him to edit the Journal of Heredity, a scholarly publication focused on the subject of inheritance. One of his first editorial assignments was to cover the progress of California's five-year-old forced-sterilization law, which authorized directors of state institutions to sterilize inmates against their will and even without their knowledge.
For this assignment, Popenoe visited asylums across the state to inspect the inmates subjected to the new legislation. He found that people from Scandinavia, Britain, Italy, Russia, Poland, and Germany constituted the majority of sterilizations, though African Americans and those of Mexican descent were operated upon at double their rate within the general population. He didn't question these numbers, believing that immigrants and persons of color were the original sources of degeneracy and that African Americans and Mexicans were "hyperbreeders," whose children could seldom support themselves. Based on his observations, Popenoe then argued in his journal that approximately ten million Americans—then, a tenth of the population—should be sterilized.
Gosney financed the study, in addition to commissioning it. The lemon grove owner had amassed a considerable fortune from selling citrus crops in Southern California. A Kentucky native who shared Popenoe's background in agriculture, Gosney wanted to apply horticultural practices to human beings. Why, he wondered, were measures being taken to grow the plumpest, most appealing fruit and the sturdiest cattle, but nothing was being done to ensure the quality of the human species?
In 1928, after more than a decade of advocating for sterilization in academic circles, the two men established the Human Betterment Foundation in Pasadena, whose stated purpose was "to foster and aid constructive and educational forces for the protection and betterment of the human family in body, mind, character, and citizenship."
More plainly, their mission was to increase public knowledge about the good of sterilization and educate policymakers in other parts of the country (and even the world) on ways to implement their own sterilization programs. Once again, Gosney provided the funding for the venture. He served as its president, while Popenoe served as secretary. Both men recognized that the Golden State was far outpacing others in terms of its eugenic measures, and therefore that they were in a position to lead the nation.
Although other states had similar sterilization statutes, many officials in those states were reluctant to exercise their laws. The two Californians corresponded with these authorities to assuage their worries about the safety, morality, and legality of involuntary surgery. They promised these skeptics that vasectomy (for males) and salpingectomy (for females) were "no more serious than pulling a tooth" and that most individuals were grateful after undergoing either procedure. Gosney and Popenoe even struck up a dialogue with some German officials who were very intrigued by the idea of using surgery as a means of population control. The Germans had first encountered the idea in a translation of Popenoe's 1916 college textbook, Applied Eugenics, co-authored by Roswell Johnson. In addition to advocating for selective breeding, this text encouraged the segregation of "waste humanity" in manual labor camps.
Popenoe and Gosney, too, collaborated to write a number of influential texts, such as Sterilization for Human Betterment: A Summary of Results of 6,000 Operations in California, 1909–1929. This text was based on data gathered from the California inmates whom Popenoe studied, and it quickly found its way into the hands of officials in Nazi Germany. In 1930, Eugen Fischer, the director of the Kaiser Wilhelm Institute for Anthropology, Human Heredity, and Eugenics in Berlin, wrote a letter of gratitude to Gosney for his and Popenoe's insights, saying that "these issues will be of great importance for legislation here in Europe."
Gosney and Popenoe even struck up a dialogue with some German officials who were very intrigued by the idea of using surgery as a means of population control.
Five years later, Fischer drew upon the text to help craft the Nuremberg Laws, which forbade intercourse and marriage between Jews and Germans and declared only those of German or related blood to be eligible for Reich citizenship. He went on to use Popenoe and Gosney's work as a rubric for selecting children to sterilize under the Nazi regime.
Hermann Simon, the director of another eugenic institute in Germany, praised the book as well. Shortly after its publication, he wrote to the authors, "I do hope the time will come that also in Germany this knowledge will be generalized." Simon got his wish in 1933, when his country enacted a eugenic statute based on California's program. Shortly thereafter, a Human Betterment Foundation board member wrote to Gosney, "I want you, my dear friend, to carry this thought with you for the rest of your life, that you have really jolted into action a great government of 60 million people."
There was momentum for eugenics in the United States, as well. The year prior to the opening of the Human Betterment Foundation, the US Supreme Court had reaffirmed the legality of involuntary sterilization by upholding the state of Virginia's decision to operate on a woman deemed feebleminded after becoming an unwed mother. The targeted individual, Carrie Buck, was a poor woman from rural Virginia, whose pregnancy resulted from her rape at 16 years of age. Buck's foster parents' nephew had violated her while his aunt and uncle were out of town. Shortly after Buck gave birth to a daughter in 1924, her foster parents committed her to the Lynchburg Colony, where authorities decided to remove her fallopian tubes under the state's brand-new involuntary sterilization law.
Before operating, however, these authorities arranged to use Buck to test said law, which, like the one in California, authorized officials of state-run institutions to order surgeries. They wanted to cement the legislation against future court challenges. Toward this end, the superintendent of the colony, Albert Priddy, appointed a colleague, Irving Whitehead, to serve as Buck's attorney. These two men corresponded throughout the legal proceedings to guarantee that Priddy prevailed on behalf of the colony.
The defense's case against Buck was simple: Carrie was cognitively impaired. She had a chronological age of 18 but a mental one of nine. To prove Carrie's hereditary deficiencies, the defense counsel cited her poor performance on an intelligence test; her "life of immorality, prostitution, and untruthfulness"; and the fact that both her mother and daughter were defective. The defense attorney claimed that Carrie's mother was also unwed at the time of her birth and that Carrie's six-month-old had inherited both mother and grandmother's defects. (According to a nurse who interacted with her, the baby had a queer look in her eyes.) The defense attorney did not acknowledge that Buck had no more than a sixth-grade education, due to her foster parents' decision to have her work on their farm instead of attending school. And his claim about Buck's illegitimacy was false; Emma Buck was married to, but separated from, Carrie's father at the time of her birth.
Whitehead didn't challenge any of the statements against his client; nor did he call any witnesses to testify about the circumstances of Buck's pregnancy or about her commitment to the colony. Many believed that Buck's foster parents had her locked up to conceal their nephew's crime.
When the Circuit Court of Amherst County ruled in favor of the colony, Whitehead appealed to the Supreme Court of Appeals of Virginia. He was again simply executing his and Priddy's plan. When that court upheld the first court's ruling, following Priddy's death and replacement as the named defendant, Whitehead took the case to the US Supreme Court. Again, Whitehead poorly argued his client's case, leading to a verdict for the defense and for sterilization advocates across the country.
In his majority opinion for Buck v. Bell, Justice Oliver Wendell Holmes wrote, "It is better for all the world, if instead of waiting to execute degenerate offspring for crime, or to let them starve for their imbecility, society can prevent those who are manifestly unfit from continuing their kind… Three generations of imbeciles are enough."
The decision reaffirmed that unwed motherhood was pathological, legitimating the psychologists at state institutions who incorporated social codes into diagnostic criteria. It further allowed state officials to forcibly cut into individuals' bodies in the name of enforcing those codes. Eugenicists everywhere were delighted.
__________________________________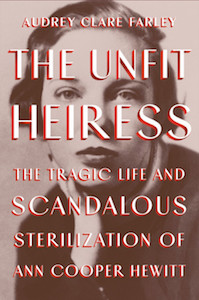 Excerpted from The Unfit Heiress: The Tragic Life and Scandalous Sterilization of Ann Cooper Hewitt. Reprinted with permission of the publisher, Grand Central Publishing. All rights reserved. Copyright © 2021 by Audrey Clare Farley.
---