How The Renaissance Was Defined and Re-Defined
Joseph Luzzi on the Etymological and Ideological Underpinnings of One of the World's Most Important Cultural Movements
Renaissance, noun (from the French, re-, "back, again" + naissance, "birth"):
1. The advent of a new kind of art and the free play of the imagination.
2. A period when Satan ruled as the absolute master of the world.
3. A flood of folly and hypocrisy.
On June 9, 1882, a tall, fashionably dressed man with a trim gray mustache ambled into Ellis and White booksellers on London's New Bond Street, a posh enclave studded with the city's deluxe art dealers and antique shops. Heading a select group of cultural emissaries, the distinguished visitor had come to view an artwork that had much of Europe buzzing. Director of the print collection at the newly formed Royal Museum of Berlin, Friedrich Lippmann often traveled to the great European capitals looking for treasure. This time, he had his aim set on one special target.
Lippmann, whose Prague accent revealed his Austro-​Hungarian origins, had already made a name for himself as one of Europe's finest art historians and shrewdest arbiters of aesthetic value, in both the spiritual and financial sense. He was married to an English woman, and his zealous charm coupled with his vast erudition had won him many admirers in London. Though he was on foreign turf, he felt very much at home.
Lippmann's bluff and easy manner hid a serious poetic side, especially when he stood before a work of brilliance. He belonged to a new breed of artistic impresario called the "connoisseur," a cultured and commercially savvy sect whose encyclopedic knowledge of art helped wealthy collectors and ambitious museums build their collections. Some of these connoisseurs—​like the once impoverished Lithuanian immigrant Bernhard Valvrojenski, who rebranded himself as the lofty Florentine expat Bernard Berenson—​would become rich, like the magnates and moguls who employed them. But the scholarly, civic-​minded Lippmann was more interested in adding to the glory of his new German nation, unified only recently in 1871, than in padding his bank account.
Besides, as the scion of a wealthy industrialist, he could afford to work for love instead of profit. Lippmann's tastes ranged omnivorously, from Chinese porcelains and Italian woodcuts to Dutch etchings and Flemish oil paintings, and he had an eye for works that could outlast changing fashion and fickle taste. But even an eye as discerning as his could not have prepared itself for what the bookseller was about to reveal in an auction bloc antiseptically labeled Manuscript (MS) Hamilton 201, which contained a group of unfinished drawings that would shape the way we understand the monumental term Renaissance.
The word Renaissance is by now so familiar that its actual meaning can become lost.
The word Renaissance is by now so familiar that its actual meaning can become lost. It might invoke traveling bards singing of courtly love and damsels trailing ribbons from conical hats. Or it might suggest a dry subject debated over by academics who live more comfortably with the settled truths of the past than the uncertainties of the present.
Whatever the word evokes, it tends to be located in what the Italians call the passato remoto—​literally the "remote past": something over and done with, a matter of history and a wager with time that has been resolved. From this perspective, the Renaissance becomes merely part of what one of its most acid detractors, the great Victorian critic John Ruskin, used as the title for his autobiography: Praeterita, Latin for past tense.
But to think of the Renaissance as belonging to some lost kingdom buried in the recesses of memory is a mistake. For in truth, it was only around Lippmann's time, about a hundred and fifty years ago, that the term began to make any sense. Crucially, the word was not coined in the place and time with which it has become synonymous: fourteenth- to sixteenth-​century Italy in general and Florence in particular, the epoch of artistic colossi like Leonardo and the site of such groundbreaking works as Brunelleschi's Duomo and Michelangelo's David. Those geniuses had no terminology on hand to label the tectonic shift in cultural life that they were setting in motion. The term Renaissance, in its current sense as the era of world-​changing Italian art, did not actually appear in print until 1855, when the French historian Jules Michelet wrote:
The pleasant word "Renaissance" recalls to lovers of beauty only the advent of a new art and the free play of the imagination. For scholars, it is the renewal of classical studies, while for jurists, daylight begins to dawn over the confused chaos of our ancient customs.
Not all of Michelet's contemporaries were as happy about such a break with the past. One skeptic claimed that the Renaissance marked the devil's return to earth to rule over humankind. Another argued that the coming of the secular Renaissance signaled the disappearance of the more spiritual Middle Ages, thereby ushering in all manner of lies and foolishness. Ruskin was harshest of all: he believed the Renaissance was on balance an "evil" time.
Despite the differing opinions, one thing is clear: the notion of the Renaissance as a light-​filled, rational era that signaled a clean separation from what Edward Gibbon called the "barbarism and religion" of the Middle Ages was a powerful fiction. This seductive put-​down did contain an element of truth. But the view of the Middle Ages as a "dark age" of antirationalism and unquestioning faith was largely a willful creation of Gibbon's Enlightenment, intended to draw a bright line between religion and the "rebirth" of scientific reason in the Renaissance.
In reality, some of the elements now associated with the Renaissance already existed in the medieval period, many of whose thinkers were committed lovers of ancient Greco-​Roman culture who devoted their lives to learning in flourishing intellectual centers like the recently founded universities at Bologna, Cambridge, Heidelberg, Oxford, and the Sorbonne. Simple chronology reveals how foolish it would be to see these two eras in binary terms: a writer deemed eminently medieval, Dante, died in 1321, while a notional founder of the Renaissance, Petrarch, was born in 1304. Similarly, Christian Europe's renewed interest in pagan authors like Virgil predated the Renaissance, not only in Dante but also in many other medieval scholars. In Dante's own words, artists and writers of the Middle Ages were just as concerned with l'uso moderno, modern usage, as the forward-​thinking minds that succeeded them.
The word Renaissance depended on its prefix re-: it was an age of rebirth, rediscovery, and reinvention.
Its roots in the Middle Ages notwithstanding, the birth of the Renaissance did arguably initiate a new outlook on human life that emphasized to an unprecedented degree the value of the ancient world and the power of rational inquiry in the arts and sciences. Late fourteenth- and early fifteenth-​century Florence in particular began to attract a critical mass of artists and intellectuals who became synonymous with this epoch of cultural rebirth—​an insight that we owe in large part to Giorgio Vasari's seductive pages in Lives of the Artists.
The cultural glories that resulted from the new ferment are well known. But many critics believed it came with a dark side. When Ruskin called the Renaissance evil, he was lamenting what a much later writer would call "the disenchantment of the world." To Ruskin's Gothic tastes, the mysticism and religious fervor of the Middle Ages had created more powerful and awe-​inspiring art than what followed this period.
Versions of Ruskin's antirationalist bias have continued to resurface throughout history in reaction to reason-​based movements like the Renaissance, including in our own times. Whether it was Hitler's Nazi Party rejecting modernist art in the name of medieval myths celebrating a "Germanic" spirit, or today's alt-​right propagandists advocating a "traditionalist" return to faith-​based communities, a strand of modern thinking blames the Renaissance for the dwindling of belief in God, the loss of inherited cultural values, and the ascent of a soulless technocracy controlled by a bureaucratic elite.
Despite such resistance, a core of historians in Lippmann's time believed that the Renaissance, true to its etymology, represented a return to something that had been lost, especially the pagan culture of ancient times and the celebration of earthly life, due to the intense religiosity of the medieval world. For that generation of scholars, connoisseurs, and collectors, the word Renaissance depended on its prefix re-: it was an age of rebirth, rediscovery, and reinvention. It produced much that was new—​opera, the telescope, the widespread application of one-​point perspective in painting, to name only a few. But just as important, it revealed how to reuse, reconsider, and recreate ideas and practices that had slipped into oblivion.
_____________________________________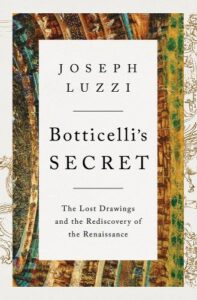 Excerpted from Botticelli's Secret: The Lost Drawings and the Rediscovery of the Renaissance by Joseph Luzzi. Copyright © 2022. Available from W.W. Norton & Company.
---