How the NBA Became a Spectacle
Courtside Fireworks, Laker Girls, and Marvin Gaye's Epic
Rendition of the National Anthem
Lon Rosen, the Los Angeles Lakers' young director of promotions, felt like he was on his way to the principal's office.
Marvin Gaye's out-of-this-world version of "The Star-Spangled Banner" before the 1983 NBA All-Star Game left the players in awe and whipped the Great Western Forum crowd of 17,505—give or take a few boos—into a frenzy. Rosen knew that plenty of people might find Gaye's rendition disrespectful. Larry O'Brien was among them. During the first quarter, the commissioner unloaded on Rosen. The conversation was short and "very colorful," said Rosen, who declined to go into specifics.
"Larry was a little shocked," Ed Desser said. "He didn't expect it. I remember having to talk him off the ledge."
Marvin Gaye had been one of Rosen's musical heroes. Now Gaye was going to get him fired. Hosting the 1983 NBA All-Star Game, televised on CBS from coast to coast, was a major event at the Forum and for Lakers owner Dr. Jerry Buss. "When my dad bought the team, he felt there was such an East coast bias against teams in Los Angeles, on the West coast," said Jeanie Buss, now the Lakers' controlling owner and president, who was an intern in 1983. "I think having the All-Star Game in L.A. just validated that Los Angeles wasn't just a blip on the screen, that it was an important part of the NBA." The staff was advised by management "not to screw up," remembered Robin Mahkorn, the Lakers' longtime official timer. That kind of directive was never given, and the Lakers were championship contenders and a cornerstone of CBS Sports' NBA coverage.
Apparently, Gaye didn't get the warning.
At the run-through the day before, Gaye ignored Rosen's request to shorten the anthem by walking away from him. Rosen had to literally chase him until Julius Erving intervened. The legendary R&B stylist had shown up five minutes before his performance this afternoon. The Lakers were this close to enlisting their backup: an usherette named Amanda Mayo, who was warming up in her favorite spot, a tiny broom closet, all the while hoping Gaye would show.
Gaye arrived and turned dawn's early night and rocket's red glare into bedroom music, putting Rosen's career in peril.
Halftime rolled around. Rosen had to check in with Lakers owner Jerry Buss. The walk to his private box was excruciatingly long.
"What's the matter?" Buss asked.
Rosen, who thought he'd be fired, told him.
"That was the greatest anthem of all time," Buss replied. "Are you kidding?"
*
Thanks to versions ranging from the iconic Whitney Houston at Super Bowl XXV to the unintentionally comic (Fergie's memorable portrayal as America's favorite divorced, drunken aunt at the 2018 NBA All-Star Game), the American public now expects a singer to own "The Star-Spangled Banner" and belt their patriotism to the stadium gift shop. That wasn't always the case. Gaye's rendition "opened the door for people to customize it, instead of singing a straightforward piece," said Margaret Cusack, chair of the piano and voice department at Princeton's celebrated Westminster Choir College.
It's a hard song to wrap the pipes around. "Within the first phase you have an octave and a third," said Cusack, who sang the anthem before a Cincinnati Reds game in 1981. "There's a major tenth, which is usually a big deal. But in the first phase it's a little unusual." The climax—free—goes even higher. Finding the right spot is crucial, said Mayo, who frequently performed the anthem before Lakers games. "What's great and bad about that song is you have to be in the right key or you're screwed," she explained.
The Forum was more than a nice place to watch a basketball game. It was where sports and entertainment converged.
Another small issue complicates matters, according to Cusack: "Quite frankly, it's terribly written." Mayo said "The Star-Spangled Banner" is meant for marching bands. For that reason, and to keep the fans not waiting too long, when Mayo sang it, she aimed to finish in about a minute. That would have pleased Paul Zimmerman. The late Sports Illustrated scribe was many things: an oenophile, a revolutionary football writer, and a man obsessed with hearing the shortest possible national anthem at a ballgame. When Irvin Molotsky talked to Zimmerman for his 2001 book, The Flag, the Poet, and the Song: The Story of the Star-Spangled Banner, Dr. Z had clocked 1,283 performances of Francis Scott Key's peppy dirge at sports events. He longed for someone, anyone, to break the fifty-second barrier. "It's a crummy song," he told Molotsky, "and I want to get it over with as soon as possible."
A straight-ahead song deserved straight-ahead talent. The NBA played the game. The likes of "Moon River" crooner Andy Williams and opera singer Robert Merrill did the honors at All-Star games past—safe, pleasant choices sure to please Mom and Dad America and their two and a half kids.
The time in America was ripe to keep the same treatment. The election of President Ronald Reagan in 1980, noted University of Southern California professor Todd Boyd, "signaled the beginning of a new America, a much more conservative and reactionary one." Under the former B-actor's conservative social agenda, it was "acceptable, even popular, to be openly hostile toward race issues." Reagan's appreciation of the counterculture is best summed up by his love of John Rambo, Sylvester Stallone's killing machine/atonement for America's underperformance in the Vietnam War. In private, he jokingly referred to himself as "Ron-bo."
Lakers owner Jerry Buss was no one's choice to carve the turkey in a Norman Rockwell painting, but he was a true American success story. One of Buss's earliest memories was waiting in food lines in Depression-era Wyoming. His life was defined by work. He awoke at 4:30 a.m. to dig ditches for his stepfather before school. Then he'd go to school and work until 9 p.m. He shined shoes. He started a mail-order stamp business at age thirteen. Two years later, chafing under his stepfather's despotic, greedy hand, Buss dropped out of school to work on the railroads. Thankfully, Buss decided to return to school and found an ally in his science teacher, Walt Garrett, who put Buss up in his apartment. Garrett then peppered him with chemistry questions as they played cards and chess. Buss hated school, but education provided a ticket out of Wyoming and a life of hard labor.
Like Stern, Buss contained multitudes. He eventually earned his Ph.D. in chemistry—"He loved being called 'doctor,'" said Mike Suscavage, the old guard at NBA Properties, "almost insisted upon it"—but his fortune came in real estate. Buss was an NBA owner, a stuffy, self-important lot, but he had a social life that rivaled his employees. A voracious partier, Buss kept photo albums of the young stunners he dated. After he lapped the L.A. nightlife, he retreated to the White House of the West, Pickfair, a sprawling 42-room estate previously owned by Hollywood's original glamour couple, Douglas Fairbanks and Mary Pickford.
Beneath his California cool—dig that chest hair; dig that big, thick mustache—resided a sharp intelligence. He was a genius, said Ron Carter, the former Laker who worked for Buss in his real estate company. He learned the business in a nontraditional way. "Everything was a statistical regression," Carter said. "It was a standard deviation from the norm. If the house is this size and it has this many bedrooms—I don't care where it is—we know based on the inflation rates over the next six years, with the taxes . . . Everything was math." Buss and his partners didn't even visit the property. If the land fit the formula, Carter said, they bought it. Buss was past the grandeur of owning a sports team. He was one of the first to take advantage of stadium naming rights, getting a line of credit and cash, Carter said, from Great Western Bank in December 1988. A couple of years earlier, Buss hosted his successful head coach, Pat Riley, after a season-ending loss to the Houston Rockets in the Western Conference Finals. The conversation was convivial and loose and went on for hours. The rum and Cokes were plentiful. Buss offered Riley a new contract. More talk, more drinks. Then Buss offered a chaser of condemnation: you just cost me $3 million.
"How do you figure that?" Riley asked.
We're not playing a seventh game at the Forum, Buss said. That's $350,000 in gate revenue. With the finals, there's TV and radio revenues, gate, concessions, licensing. That's about $3 million.
That's okay, Riley said. I've been to the finals four times, so I'm $9 million ahead.
Buss didn't laugh.
The Forum was more than a nice place to watch a basketball game. It was where sports and entertainment converged. The downtime needed to be filled with more than a snazzy tune on the organ. "Who would you pay money to go see?" said Jeanie Buss, Jerry's daughter. "It was all part of the show." He brought in members of USC's marching band to play live music. He turned the Forum Club from a stodgy hangout where Laugh-In cast member Arte "Very Interesting" Johnson was the biggest celebrity to a decadent party palace that served as a worthy rival to Studio 54. "If you couldn't get laid at the Forum Club," said Jeanie Buss, "you couldn't get laid." He agreed to have USC and UCLA coeds for a cheerleading squad.
People respected Buss for his intelligence, but he knew his best attribute. "What I am better at than anyone I've ever met is being a salesman," Buss once told an aide. "The secret of all this is being able to sell. I'm a great salesman." And he was thrifty. The marketing, observed Los Angeles radio personality Joe McDonnell, was on the floor.
The Laker Girls developed into a mainstreamed sexual phenomenon on par with the Dallas Cowboy Cheerleaders, the Rockettes, or Playboy Playmates. This was not just a group of curvy coeds shaking their pom-poms after every basket. "You had to be really qualified as a dancer," said Julie Ann Wasti, a Laker Girl from 1986 to 1988. Choreographers such as Donna Perkins and Paula Abdul kept everything fresh.
The squad performed dance forms that Annie Yee, another Laker Girl, had studied. "It was a performance outlet for me," she said. One routine was street. Another based in musical theater. The next, jazz. These weren't layups, but "intricate, detailed, and technical routines," Yee said.
"If we're not going to win we've got to at least show them something they've haven't seen before until we have a player who will do that."
Abdul inadvertently played hit maker via Tower Records' imports section, buying "whatever got under my skin and choreograph[ing] routines to it." A day after she choreographed a routine to Thomas Dolby's "She Blinded Me with Science," influential Los Angeles DJ Rick Dees introduced the song with "As heard on the Lakers floor." The golden touch extended to "One Thing Leads to Another" by the Fixx and "Freak-A-Zoid" by Midnight Star. "We took so many songs platinum," Abdul said. "It was like I was in A&R without knowing it."
Others devoted their attention elsewhere. "Oh, man, they took it to a whole other level," said actor Nathaniel Bellamy Jr. "There was one Laker Girl—man, I thought she was the finest thing I'd ever seen in life. I was like, 'Oh my God if I could get with her, I would be in heaven.' Oh, the Laker Girls. Oh my—" (Yes, the Laker Girls had bodyguards when they left the Forum.)
Wasti offered a more concise clarification: "We were sexy, man." It was by design, explained Donna Caravaggio, a Laker Girl from 1986 to 1988. "The minute we were walking out of our locker room, we were on," she said. Don't talk. Don't correct your hair or touch your nose. Drop something during your dance routine, too bad; keep going. There were weigh-ins. Laker Girls had to sit and get up in a ladylike way. Conservative and feminine and untouchable. "We had to be real classy gals, and we all were," Wasti said.
Buss wanted steak with his sizzle. "He relished in success," said Tony Acone, Buss's friend and cable television partner. "But it wasn't because of the notoriety and the fame that it brought—it was because he wanted to win. Winning was enough." The owner had the players necessary for style and substance, commonly referred to as Showtime. Kareem may have been a moody loner, but the charismatic showman Magic Johnson gave the Lakers a matinee idol. "Magic had—let's just call it magic. He just had this aura," said Dyan Cannon, the Oscar-nominated actress and longtime Lakers fan. "He shined. He just shined." Riley possessed dreamy good looks, gorgeous suits, and a hyperfocused, winning-is-everything attitude that embodied the 1980s corporate gladiator lifestyle. "I knew I was being packaged by CBS and everybody else in the media," Riley said years later. Magic and Riley got waylaid. Riley admitted to basketball writer Ian Thomsen that the image tripped him up. "There was no doubt that in the '80s I totally got full of myself," he said. And Magic's choir boy countenance and heavenly passes hid a voracious sexual appetite. Magic wasn't called "Buck" because of his spirited play. "During the days of slavery, the plantation owners would always use the strongest buck to impregnate all the women," Ron Carter said. "And Earvin was such a whore, we called him 'Buck.' The media never got that story right."
The Forum was an intoxicating scene. You were surrounded by celebrities, whom Buss initially courted with tickets. The usherettes dressed in togas. The real estate magnate knew what he had and priced the experience accordingly. Courtside seats were "beachside property," said Lon Rosen, the Lakers' former director of promotions. It was one hundred dollars per ticket. "The best real estate," Buss once said, "can be sold at any price." People gladly ponied up the money. "It was the event to go and be seen," Yee said. Pierce that clique, join that party, and "you were living a life that other people dream about," said Bellamy Jr., who later served as Michael Jordan's body double in commercials and on the hit 1996 movie Space Jam. The Forum, Bellamy concluded, was "Hollywood on steroids."
"It made you feel like you were going into a Hollywood performance," said Fred Mitchell, who covered the Chicago Bulls for the Chicago Tribune in the early 1980s. "It was as much an event and performance as it was an actual basketball game. The crowds were eclectic and yet they were good, knowledgeable basketball fans as well."
Buss may have been the most refined talent broker, but plenty of teams put on a show. Giveaways, after-game concerts, halftime acts, and other spectacles became a normal way of doing business in the NBA as ownership's old-guard faded away. The Utah Jazz hosted dancing squads and mascots from other teams. The Dallas Cowboy Cheerleaders and their ilk had tradition. "That's what we were promoting, because we didn't have it ourselves," said Grant Harrison, the Utah Jazz's vice president of game operations and promotions director. The Detroit Pistons brought in everyone: a Simon Says champion, tumblers, a contortionist named Rubber Boy, a master hypnotist. Tom Wilson spotted a mime at Sea World and brought him to Michigan for a 1984 playoff game, where referee Mike Mathis advised him to "get a fucking job." Thirty years later, Wilson ran into the mime at Universal Studios, where he now played the Grinch.
The Pistons were drawing 3,000 people a night to the Pontiac Silverdome, a cavernous football stadium that sat 80,000. For Wilson, adhering to the purity of the game was a principle he couldn't afford to follow. No rules applied. "Our job is to make this thing fun for people to come out here," Wilson said of his mind-set. "If we're not going to win we've got to at least show them something they've haven't seen before until we have a player who will do that."
Even when the Pistons drafted a superstar (Isiah Thomas) and a great white hope (Notre Dame star Kelly Tripucka), Wilson said the idea was to have fun. So, the team sold 20,000 tickets to Marathon Gas at a buck a piece, so the gas station could give them with a fill-up. It was a cheap, effective way to boost the attendance, Wilson said. Folks would read their newspaper and wonder why 27,000 people were at the Silverdome for a basketball game. And the people who got in for free later bought tickets to another game.
Not every promotion went according to plan. The Indiana Pacers' Sandy Knapp organized a green bagel giveaway at Market Square Arena that had a small glitch: fans got the frozen goodies before the game ended, not after. "I'm flying around the arena," Knapp said. "'Shut down the bagels! Shut down the bagels!' Frozen green bagels were flying around the arena. It was not a good night." The Utah Jazz thought that launching fireworks inside the Salt Palace would be a wonderful way to commemorate its first playoff appearance. The team did a test run, putting the fireworks in a big metal cage—ten or fifteen square feet—and then hoisting the contraption up through the Jumbotron.
The test run, supervised by the fire marshal, was a success, Harrison, an ABA alumnus, said. Then he and the general manager had a thought: You know, that's great, but not that impressive. Let's add more fireworks.
Game time arrived. The national anthem was performed, and the bombs indeed burst in the air. There were too many fireworks. The metal cage started to melt and drip onto the floor. Smoke was everywhere. The game was delayed to clean the molten droppings. "That was a hell of a mess," Harrison said. But there was no rule prohibiting that. Or having a cow-milking contest on the same floor where high-priced athletes plied their trade. Teams that were not Celtics had to justify the price of a ticket. They did whatever it took.
__________________________________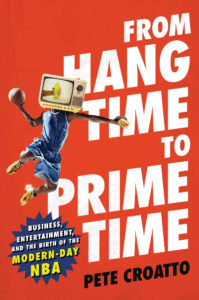 From the forthcoming book From Hang Time to Prime Time: Business, Entertainment, and the Birth of the Modern-Day NBA by Pete Croatto to be published by Atria Books, an Imprint of Simon & Schuster, Inc. Copyright © 2020 by Peter Croatto. Printed by permission.
---