How the Iconic Late-Night TV Character of Elvira Came to Be
Cassandra Peterson on Coming Up With the "Mistress of the Dark"
In August of 1981, Maila Nurmi was asked by KHJ-TV to revive her Vampira character for television. I'm assuming that after their initial meeting it was obvious that wasn't an option. Maila was in her sixties and was clearly not up to the task. The TV station came up with the idea of finding a new, younger actress to revive the role. KHJ promised Maila that in exchange for the use of the name, she would receive an executive producer credit on the show and collect a weekly royalty payment.
That week, I had a meeting with the director of the show, Larry Thomas; the station manager, Chuck Velona; and the program director, Walt Baker; along with Vampira herself, Maila Nurmi.
Vampira had hosted horror movies at the station for a brief period in 1956 and they explained that I would be playing Vampira's daughter. At this time, I had absolutely no idea there was an actual person named Vampira, probably because the show had aired only in the Los Angeles area when I was a child. I was familiar with the character Vampirella from Famous Monsters of Filmland creator Forrest J. Ackerman, but I assumed the name Vampira was a generic name for a female vampire. They showed me a few photos they had on hand of her when she was in her prime and I was thrilled that the character she'd played looked so much like one of my childhood favorites, Morticia Addams. Coincidently, Maila and I had a lot in common. She had previously worked as a showgirl and modeled for men's magazines before turning to horror hosting. She'd even worked as a hatcheck girl like me. And according to Hollywood legend, she was a bit of a star-fucker as well.
The idea for the Vampira character was born in 1953 when the young ingénue was invited to a masquerade ball and took her inspiration for her costume from Morticia as portrayed in The New Yorker cartoons of Charles Addams. She caught the eye of producer Hunt Stromberg Jr., who arranged for her to host horror movies on local Los Angeles television station KABC-TV. Maila's first of three husbands, Dean Riesner, came up with the name Vampira and the show premiered on May 1, 1954. It was canceled in 1955 and after leaving the station, Maila took The Vampira Show to their competition, KHJ-TV, where we now found ourselves. It aired on KHJ for only a few months in 1956 before being canceled again for the final time.
Vampira had hosted horror movies at the station for a brief period in 1956 and they explained that I would be playing Vampira's daughter.
Our meeting that day was seriously awkward. It was plain to see from the photos she shared that she'd once been a very statuesque and beautiful woman, but it was also clear that she'd lived a very hard life. She had only a tooth or two left in her head and she rambled on incoherently about subjects that didn't relate at all to what we were there to discuss. She talked a lot about her relationship with James Dean, but in the present tense, as if it was ongoing. I wasn't all that familiar with James Dean, but I knew enough about him to know he was dead. It was sad to see an older lady like her alone and down on her luck. I was happy the show would be an opportunity for her to make some money for the use of the Vampira name.
When the meeting adjourned, the first thing I did to prepare for the new show was go straight to my friend Robert Redding from Mama's Boys, who was now back in LA. In addition to being a performer, he was also a talented artist, so he and I threw some ideas around and he came up with sketches of what we thought the character might look like. The first version we both agreed on was a take on Sharon Tate's character from Roman Polanski's movie The Fearless Vampire Killers, or Pardon Me, but Your Teeth Are in My Neck, which had been a favorite of ours. The Sharon Tate look would utilize my own long, wavy, red locks and I would wear a pale pink tattered gown with "dead-girl" makeup: pale face and lips and dark, sunken eyes. That look didn't fly with the KHJ management at all.
"No, definitely not," came the response. "Has to be all black!"
That left us with the more typical vampire look, which was frustrating for both of us, but Robert managed to give it a cooler, edgier '80s spin. He'd recently wrapped a production of Macbeth at West Hollywood's Globe Playhouse, playing the witch Hecate, and had researched Kabuki theater books for his look. His makeup turned out to be perfect for me, too.
Robert's favorite performer of all time was Ronnie Specter of the '60s girl group The Ronettes—the original bad girl of rock and roll. Elvira's hairdo was inspired by Ronnie's beehive (only she called it a "knowledge bump") featuring long, black hair cascading from beneath a mile-high bouffant.
We were both a bit shocked that they didn't mind the plunging neckline that Robert had drawn. In fact, their only comment regarding changes to the costume was to ask that we make the slit on the leg a little higher. Ratings were ratings, and local stations back then didn't seem to get much flak from "standards and practices," so what the hell. Coming from my background, I was totally fine wearing a skimpy outfit. From time to time, I was asked in interviews how my parents felt about what I was wearing on TV and I always replied, "Heck, they're just happy I'm wearing anything!" Back then, my super-low-cut neckline and long, black nails were so shocking! Today, it seems like every woman on the Grammys and Academy Awards has adopted my look.
We were a bit shocked that they didn't mind the plunging neckline that Robert had drawn. In fact, their only comment was to ask that we make the slit on the leg a little higher.
The first day of filming almost turned out to be the last. After spending hours in the dressing room with Robert putting the finishing touches on my wig, makeup, and costume, I appeared on set for the first time. Larry and the crew were impressed with the transformation, to say the least. They set me in place to tape the introduction to the show. Just as we were about to begin, Walt Baker burst into the studio.
"STOP THE SHOW!" he commanded. "Maila Nurmi's attorney just called. We can't use the name Vampira!"
Apparently, she was unhappy that the station had cast me, a comedic actress, to portray her character. According to an interview in a 2005 Bizarre magazine, Maila wanted 39-year-old Lola Falana, an African American singer, to play the part. It was easy to see how I might be a big disappointment. So, there we were, me in full regalia, rented hallway flats propped up, fake spiderwebs blown into place and ready to go. I was completely verklempt—not another part snatched away at the last minute! Just as I was about to drag my sorry ass back to the dressing room, I heard a commotion. Larry suddenly turned around and shouted, "Okay, gang. Let's pick another name and get this show on the road!"
I breathed a huge sigh of relief—hey, a job's a job—and everyone on the crew began throwing out names. Larry came up with the idea of writing names on scraps of paper, tossing them into an old Folgers coffee can, and choosing one at random. Robert, Mark, and I, along with the cameraman, lighting and sound guys, stage manager, and whoever else happened to be on the set, threw our little scraps of paper into the can. I tossed in the name Cassandra. Thank God I didn't choose that!
"El-vi-ra?" I grimaced when I pulled the slip of paper from the can.
"Sounds like a country-western singer to me," I said, probably in reference to the song "Elvira" by the Oakridge Boys, which had recently been released.
Oh well. That was that. We fired up the ol' fog machine and got back to shooting the intro to the show—me, standing in a doorway at the end of a long, dark hallway, beckoning viewers to join me. Thus began Vampira's long, one-sided feud with Elvira.
The show was called Elvira's Movie Macabre and debuted in September 1981, just days before my 30th birthday. It ran in the Los Angeles area every Saturday night at midnight and repeated on Sunday afternoons as an alternative to the football games that were airing on all other channels. Our first show featured the 1972 horror snore-fest Grave of the Vampire. Mark and I watched my very first episode from home, excited and nervous. Not two minutes after it ended, the calls started pouring in, first from friends congratulating me, then from guys with important questions like, "Are your tits real?" That's when we realized that having my name and number in the phone book was a super-bad idea.
I had absolutely zero hopes of the show staying on the air long, much less leading to fame. I was just happy to have a weekly check coming in! Apparently, the station didn't hold out much hope for the show either, because years later, when the show came to an end and I asked to buy the red velvet sofa I'd reclined on, management discovered they'd been paying a weekly prop rental fee for the previous six years instead of buying it outright. I estimate that sofa had about $20,000 sunk into it. I got it for $200—deal of the century!
_______________________________________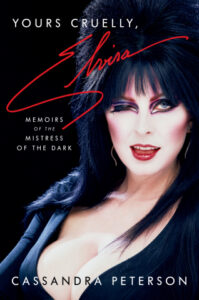 Excerpted from Yours Cruelly, Elvira by Cassandra Peterson. Reprinted with permission of the publisher, Hachette Books. Copyright © 2021 by Cassandra Peterson. 
---