How the Great Billie Jean King Challenged the Patriarchy
The Groundbreaking Tennis Champ on Her Fight to End Gender Discrimination
I almost didn't go to the 1972 U.S. Open. The Slims players had voted to boycott the tournament a month beforehand because the men's winner's share of $25,000 still far out-stripped the $10,000 that the women's champion received. Gladys talked us out of it, saying we should give the U.S. Open tournament director, Billy Talbert, more time to raise some extra cash. Billy was a terrific guy, even if he was unconvinced women should earn as much as men. I felt we were at another crucial moment. If we backed down completely, our push for equity across the board could fall short.
I met with Billy—just the two of us sitting on facing chairs in the small officials' hut near the courts at Forest Hills—and told him that we would show up in 1972, but I wouldn't play in the 1973 U.S. Open if they didn't level the prize money, and most of the top women would walk out with me. I reminded him about the results of Ceci Martinez's fan survey, and asked him if tournament organizers really thought that the men were bigger draws or more entertaining than Chrissie, Rosie, Evonne, Margaret, and the other great women we had.
Then I told him I had lined up a sponsor—a Bristol-Myers brand, Ban deodorant—to kick in the extra $55,000 to achieve the equal prize money we were seeking. He made the deal. As a businesswoman and an activist, I never forgot that lesson. Billy couldn't believe that I'd brought money to the table, not just rhetoric. I had concrete proof that we added value. By the end of our talks, Billy was persuaded, maybe more strongly than we knew. In 2019 when we went combing through the minutes of the USLTA meetings to find the exact date where the equal prize money vote took place, we couldn't find proof that it ever did. I think Billy might have just told the board, "We're having equal prize money. Case closed."
We agreed not to announce the arrangement until just before the 1973 tournament. And that's how the U.S. Open became the first major to pay women and men the same.
And that's how the U.S. Open became the first major to pay women and men the same.
My public profile had been rising sharply for a few years now, and I started to get involved in more issues beyond sports and the reproductive rights debate. In September 1972, I agreed to play an exhibition match for the National Women's Political Caucus to raise money for women running for office. In October, I was honored by the Manhattan Women's Political Caucus. That event was also a fundraiser, and it drew Gloria Steinem and other feminist movement leaders such as Muriel Siebert, the first woman to buy a seat on the New York Stock Exchange, the civil rights lawyer Eleanor Holmes Norton, and Bella Abzug, the U.S. congresswoman whose nickname was "Battling Bella." She showed up in her trademark floppy hat and auctioned it off.
Supporting political candidates was activism I could embrace. The voting age in America had just been lowered from twenty-one to eighteen, and there was a push to capture the ballots of the new voters and hopefully have Congress look more diverse, like the rest of the country. Bella's campaign slogan was "This woman's place is in the House—the House of Representatives." The 435-member House had only fifteen female members at the time, less than 4 percent. Shirley Chisholm had become the first African American woman elected in 1968.
One of the bills the women's activists were championing was the Equal Rights Amendment, which banned any discrimination on the basis of sex. Twenty-two states had ratified the ERA by the end of 1972, but a two-thirds majority of thirty-eight states wasn't achieved until January 2020. Even then, after the Democrat-controlled House of Representatives voted to make the amendment law, it touched off arguments in the Republican-controlled Senate about whether the deadline for ratification had expired. Majority Leader Mitch McConnell refused to schedule the ERA for a Senate vote.
I should've lobbied harder for the ERA at the outset. Until the word woman is included in the Constitution so it reads "all men and women are created equal" our rights can't be fully guaranteed. Early on, I felt I didn't have enough information and I wish I had asked for help, or that the feminist leaders had pulled me aside and explained why I should fight harder for the amendment. But all they asked me to do was help them raise money or march. I was rarely invited to speak from the podium. Some feminists thought sports overly reflected the dog-eat-dog ethos of the patriarchy. I thought some feminists sometimes intellectualized things too much.
Until the word woman is included in the Constitution so it reads "all men and women are created equal" our rights can't be fully guaranteed.
I asked Gloria why she didn't use more athletes to promote equality. She said, "Billie, this is about politics." I told her, "Gloria, we are politics. You're not using us right! We can sell this movement! We're on TV, we sweat, we're real! We're out here doing and proving all these things that so many feminists are only talking about!" I maintained that the women on the Slims circuit were the embodiment of independence and empowerment. We challenged the male-dominated system to demand a living, and we were out there every day making it on our own.
Throughout that year I was also tracking the work toward a new law called Title IX, which was one of the 1972 amendments to the Higher Education Act of 1965. I think Title IX is the third most important piece of U.S. legislation in the twentieth century after the Nineteenth Amendment, which assured women's right to vote, and the Civil Rights Act of 1964.
The push started when Bernice Sandler, a part-time lecturer at the University of Maryland, applied for a tenure-track position in 1969 and was told she came on "too strong for a woman." She began to research the laws on gender discrimination and found a footnote to a law on federal contracts that prohibited discrimination based on sex. She filed a complaint against her university. Then, after running an ad in the Saturday Review literary magazine looking for other examples of discrimination in higher education, Sandler gathered enough material to file 250 complaints against colleges receiving federal contracts. She sent copies of the complaints to members of Congress, asking them to urge the secretary of labor to enforce the law. One of the recipients was Edith Starrett Green, a Democratic congresswoman from Portland, Oregon.
Edith, a former educator and longtime champion of equal opportunity and women's rights, had wanted to address sex discrimination in education after she sat in on a congressional hearing where school superintendents were praising a program for under-resourced boys and she asked what the superintendents were doing for girls who walked the same streets. Edith was told only boys needed the program because "they're going to have to be the breadwinners." She was astonished to learn the Civil Rights Act of 1964 didn't provide any protection on the basis of sex, and eventually hired Bernice to be part of her staff. Together, they drafted the proposed legislation that became Title IX.
A version of Edith's original bill passed through Congress with bipartisan leadership from another U.S. congresswoman, Hawaii Democrat Patsy Mink, and Republican senators Birch Bayh of Indiana and Ted Stevens of Alaska. Patsy was the first Asian American woman elected to Congress. Stevens helped Alaska earn U.S. statehood in 1959 before turning into a guardian angel for Title IX during his forty-year career in Congress. Birch's first wife, Marvella, had been shut out of the University of Virginia because she was a woman. Birch never forgot that, or something his father, an athletic administrator and coach, told him and his sister when they asked their dad what he planned to say when he testified to Congress in 1940 about educational opportunities: "I'm going to tell them that little girls need strong bodies to carry their minds around just like little boys."
Bayh wrote the thirty-seven words that compose Title IX, and it is only one sentence long: "No person in the United States shall, on the basis of sex, be excluded from participation in, be denied the benefits of, or be subjected to discrimination under any educational program or activity receiving federal assistance."
His remarks on the Senate floor when he introduced the measure captured what women were up against.
We are all familiar with the stereotype of women as pretty things who go to college to find a husband, go on to graduate school because they want a more interesting husband, and finally marry, have children, and never work again. The desire of many schools not to waste a "man's place" on a woman stems from such stereotyped notions. But the facts absolutely contradict these myths about the "weaker sex" and it is time to change our operating assumptions . . . [and] provide for the women of America something that is rightfully theirs—an equal chance to attend the schools of their choice, to develop the skills they want, and to apply those skills with the knowledge that they will have a fair chance to secure the jobs of their choice with equal pay for equal work.
I still get chills reading that. Making a government serve its people is what statesmanship is about. Bayh always put the country before party politics and I wish more elected officials were like that today.
Title IX was signed into law by Richard Nixon on June 23, 1972. Those thirty-seven words sparked a sea change for women in the U.S. and eventually around the world. But anyone who tells you that they realized immediately that Title IX would lead to the resultant boom in women's sports opportunities, participation, scholarships, jobs, and other advances isn't remembering those early days correctly. The full impact became clearer only after the Office for Civil Rights was asked for interpretations of how, or even if, the law applied to sports. Compliance guidelines were set, challenged, and threatened again and again over the years. The law is still vulnerable to clawback attempts today.
I was part of a panel discussion at the Fordham School of Law in 2019 about Senator Bayh's work for Title IX, as was the Indiana Pacers executive Kelly Krauskopf, the first woman to be an assistant general manager in the NBA. Kelly told a story about inviting Bayh to the first WNBA game that the Indiana Fever played in Indianapolis after she had moved to his home state to start the franchise as the Fever's general manager.
Bayh accepted Kelly's invitation to attend opening night, and she told him, "Look at this, look at this . . ." as they stood together on the court, scanning the arena in wonder, absorbing the sight of the sellout crowd of sixteen thousand, the excitement, the players running through their pre-game warmups as rousing music played. When Kelly turned back to look at Bayh, he had tears in his eyes. "We didn't know—I didn't know what Title IX would mean for sports," he told her. "When I meet women and girls like you is when I understand."
________________________________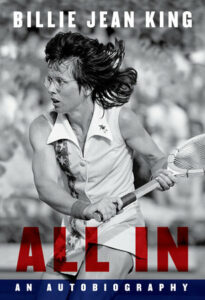 Excerpted from ALL IN: An Autobiography by Billie Jean King with Johnette Howard and Maryanne Vollers. Copyright © 2021 by Billie Jean King Enterprises, Inc. Excerpted by permission of Alfred A. Knopf, a division of Penguin Random House LLC. All rights reserved. No part of this excerpt may be reproduced or reprinted without permission in writing from the publisher.
---