How the Golden State Warriors Became the NBA Champions in a Changing World
David Hollander on the Principle of Human Alchemy in Basketball
In the summer of 1974, Clifford Ray was sent from Chicago to Golden State in a trade for the Warriors' beloved legend, leading scorer, and eventual Hall of Famer Nate Thurmond. Prior to the beginning of the season the Warriors also lost Cazzie Russell (second-leading scorer) and Clyde Lee (starter); Jeff Mullins, a starter and the third-leading scorer, was injured. It was a rebuilding year. The best prediction was for the Warriors to finish in fourth place in their division.
It seemed so certain that the team would not make it to the postseason that their home arena, the Oakland–Alameda County Coliseum, booked the Ice Capades during that time. If the Warriors did make it to the playoffs, they would have to play in the nearby Cow Palace in Daly City.
Ray had been in the league a few years and thus far had had a largely undistinguished career. But when he landed in Oakland, he was on a mission to win a championship. And he felt he knew how to do it—by changing the perception of the league's most hated player, Rick Barry.
Barry was well known for two things: his subversive, iconoclastic, underhanded free throw; and being the most arrogant, impossible SOB ever to play the game of basketball. Nobody got along with the guy. Even in his oddly premature autobiography, Confessions of a Basketball Gypsy (which, when it was released in 1972, was expected to be a semi-apology for his behavior), Barry admitted that he'd once punched a nun. In the same book, his own mother called him greedy.
The team transmuted into something that was more than the sum of their parts.
In Barry's second NBA season (1966–67), he scored 40.8 points per game in a losing effort in the finals (Michael Jordan was only two-tenths of a point better with a finals average of 41.0 points per game in 1992–93) and observers sniffed dismissively, calling Barry a ball hog. Despite his consistently high assist totals, fans derided Barry, as Ron Reid wrote in Sports Illustrated in 1974, as someone who "would sooner give blood than give the ball to a teammate."
An unflattering 1983 Sports Illustrated profile by Tony Kornheiser later cemented his poor reputation, featuring a string of stinging quotes from former teammates and associates: "He had a bad attitude. He was always looking down at you" (Robert Parish). "He lacks diplomacy. If they sent him to the UN, he'd end up starting World War III" (Mike Dunleavy). "You'll never find a bunch of players sitting around talking about the good old days with Rick. His teammates and opponents generally and thoroughly detested him" (former Warriors executive Ken Macker).
And then there's the Bill Russell "watermelon grin" incident, which is discussed at length in Bill Simmons's sublime The Book of Basketball. During the second half of Game 5 of the 1981 NBA finals, CBS play-by-play man Gary Bender drew attention to a 1956 Olympic team photograph, one in which Russell, the African American basketball legend, was smiling ear to ear. Barry, working alongside Russell as an on-air analyst, commented jokingly, "It looks like some fool over there with that, um, that big watermelon grin." Amazingly, CBS chose to cut to the announcing table after the exchange, focusing in as Russell physically turned his back on Bender. I defy you to find a more awkward sequence in television history.
There is nothing that can be said to defend Barry's attitude and terrible takes, but as far as his being a ball hog, Clifford Ray had some other thoughts on the matter, which he relayed years later, in 2014, to Peter Hartlaub at NBA.com.
"So I called a meeting with the guys on the team, had Rick leave and all the coaches leave. I asked them how many guys think they could score forty points per game. Nobody raised their hand, so I said if Rick plays forty-eight minutes a night, we can depend on him at least putting in thirty points. I said, 'How can you have any kind of jealously or resentment toward someone who is going to give and commit to that much every single night? What we should do is try to do everything we can to collectively bring everything that's needed for us to be competitive and see what happens.' Everybody agreed and from that day on, we started doing things like having breakfast at each other's house. Whenever we did things, we did them together. When you have that much trust, it's only going to create a positive thing. I know people say to me that I did this and I did that, but we all did it collectively."
What they did was win it all, alchemizing to pull off arguably the biggest upset in NBA Finals history. The Warriors had a 48–34 regular season record. Their finals opponent, the Washington Bullets, had a regular season record of 60–22. Only once has the disparity in regular season victories between the two teams in the NBA finals been greater, and only by one game: in 2016, Cleveland versus Golden State.
To get to the finals, the Bullets defeated the NBA defending champion, the Boston Celtics, in the Eastern Conference finals—a team that also had a 60–22 regular season record. The Bullets were overwhelming favorites in the media (many called the Bullets-Celtics series "the real Finals"), but in the best-of-seven series the Warriors swept the Bullets in four games straight. Not seven, not six, not five. Four straight.
Who we become and what the world becomes are inextricably linked.
The dramatic fashion in which the Warriors won games made their success even more stunning. The Warriors came from behind in nine of their twelve playoff wins and three of their four finals wins. The three finals comebacks overcame deficits of thirteen points or more. The comeback was the trademark of this team all season long. To heighten the drama, the Warriors' wins almost always seemed to come in close games. The average margin of victory in the 1975 finals was four points, still the lowest in NBA history, with two of the four games decided by one point.
As hard as it was to imagine before it happened, it was even harder to accept that it really did happen. After the Warriors won the 1975 finals, the sports world was in a state of shock and denial, which may account for the otherwise inexplicable lack of coverage and recognition for what was a truly miraculous accomplishment. They are the only NBA champions in the modern era—Trump anomaly aside—not to meet the president or make the cover of Sports Illustrated.
In the case of the 1975 Warriors, the team transmuted into something that was more than the sum of their parts. Yet the human alchemy of that team was not its greatest alchemical transmutation. The ultimate alchemy: Rick Barry transformed (momentarily) into a likeable person.
This single team created a unique relationship with Rick Barry. Though Barry, a "Top 75" all-time NBA star, was undoubtedly the best player on every team he ever played on—high school, college, and pro—his teammates and coaches never once voted him captain. Except for 1974–75. Now that's truly the transformative power of human alchemy.
That's our capacity to affect one another in ways that, as Gandhi wrote, get us to "be the change you wish to see in the world," by becoming someone neither you nor anyone else knew you could be.
In the case of the 1974–75 Warriors, the first catalyst to transform Barry and his teammates was Clifford Ray. But it wasn't just Ray. It was Ray meets Barry meets the rest of the team, plus all the other surrounding macro and micro world conditions. The 1974–75 Golden State Warriors experienced a remarkable confluence of internal and external factors contributing to their powerful alchemy.
The principle of human alchemy is how we combine with each other and the truth of the present world.
The Warriors were the first franchise in a major American professional sports league to have a full-time Black head coach, Alvin Attles. Attles, with his owner's blessing in 1975, broke the unwritten league rule for how many Black players could be on a team and how many would start at home games. Attles, ahead of his time, innovatively emphasized player interchangeability throughout the entire roster. He knew that giving players nearly equal playing time (most NBA teams of that era relied on their starters with minimal substitution) would motivate them as far as career advancement; in turn, he would get greater overall production from the sum of those parts.
Strikingly, racial barriers were being broken by the Warriors during a time when Madison Avenue, and concomitantly network television, feared that the NBA might be "too Black" (too much fighting, too many drugs, and overpaid players) for white fans. This fear-based perception was fed more by the popularity of what was considered an even Blacker league, the rival ABA, with whom the NBA seemed destined to merge.
Rick Barry, by the way, should be properly credited as the pioneer of modern sports free agency for legally challenging the reserve clause in 1967 two years before Curt Flood did with Major League Baseball. As the first NBA player (and a superstar, no less) to jump to the rival ABA, Barry started a salary war between the leagues, increasing player salaries by 500 percent over an eight-year period.
The world around that Warriors team was changing. That summer Hank Aaron incited Southern white anger by eclipsing Babe Ruth's home-run record, and Muhammad Ali stoked Black nationalism by beating George Foreman in Zaire. That August saw the resignation of President Nixon, the dawn of free agency in Major League Baseball, and the end of US involvement in Vietnam. Progressive politician Jerry Brown became governor of California while dating Mexican American music star Linda Ronstadt. The 1974–75 Warriors were in line with the zeitgeist of the changing nation and the Bay Area.
Who we become and what the world becomes are inextricably linked. The principle of human alchemy is how we combine with each other and the truth of the present world, transforming into what we need to be in order to make the world what it needs to be.
__________________________________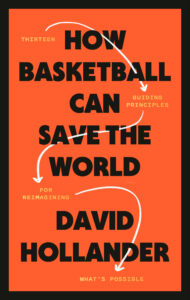 Excerpted from How Basketball Can Save the World: 13 Guiding Principles for Reimagining What's Possible by David Hollander. Copyright © 2023. Used by permission of Harmony Books, an imprint of Random House, a division of Penguin Random House LLC, New York. All rights reserved. No part of this excerpt may be reproduced or reprinted without permission in writing from the publisher. 
---