"A Plethora of Answers." Black Music as Nourishment and Inspiration
Janelle M. Williams on the Entry Point to the Self
While writing my debut novel, Gone Like Yesterday, establishing my voice meant resurrecting culture. It meant pulling out everything that was packed away, forgotten, repressed, not only the sound of who I am but the essence. The best way for me to capture that was through song—the songs of my ancestors, the songs of my youth, the songs of today. As a Black American writer, Black music is an entry point to self. For all writers, even those across the globe, Black music is contextual, a plethora of answers, a circle that could trap anyone into trying to pinpoint the start.
It starts with, "Give you a dollar if you can tell me who's singing this." My dad is somewhere in his early forties, a Black man with a penchant for music, and I am his duplicate daughter. Dad drives an old white Monte Carlo, and we ride with windows down, sweat beading our foreheads, music blasting, off key singing along. I end up with a crisp one dollar bill—enough for two quarter bags of chips and a few pieces of single wrapped candy from the corner store. I learn young that knowing my dad's music, Cameo and Randy Crawford and Con Funk Shun, is currency, is worth something.
It starts with Gigi picking cherries, and Papa Was a Rollin' Stone. My dad explains the magical memory of my great grandmother—a housekeeper who taught herself to read—dancing, and my grandfather, a rolling stone—a man whose tally of excuses ran longer than the song's extended instrumental intro. This is how I comprehend my family—through snippets of song and passed down dances.
Eventually, I learn that reading isn't limited to novels and newspapers, though Gigi loved the latter. My ancestors were reading (and writing) long before Gigi unfolded a broadsheet newspaper. Black people read in a myriad of ways—we can read the room or read you for filth. How else would we know to follow the Big Dipper unless we could read the stars?
It starts with Livin' for the Weekend. My sister and I turn into ninjas before the beat drops. We tiptoe, squeeze laughter tight in our bellies as if the slightest sound will wake the song up. When it happens anyway, we run around the house screaming. Ambassadors of the song, we learn to love Fridays. Nearly as much as Saturday mornings when we wake up to The Spinners, The Supremes. My mother does the robot, popping her neck out like it's detachable from her body.
When she and my dad do the bump, he drops to push-up position and meets her knee with his elbow. Black music is love. To this day, my godfather, whose silky, lilting voice reminds me of Bootsy Collins', text messages songs with no context other than, "This is a cold mix. Love ya." I learn that Black music is multifaceted, often ritualistic, always of love.
It starts with, "Bone bone bone bone…" My mother's mentee is a brooding boy with cornrows, a Starter jacket, and a smirk that says he knows what you don't. When Tha Crossroads comes out spring of 1996, listening to V103 at sunset is the peak of our day. "It's six o'clock, it's six o'clock, it's time for Street to rock." We pray the DJ plays our favorite songs. Bone Thugs rap so quickly, I can't make out the words. I murmur gibberish until the mentee breaks down the words like a first grade teacher. When he says them altogether as smooth as Bone Thugs themselves, he's a prophet, a superhero. When I learn the words to all the songs, cool points rack up like found coins. I learn that the sum of it all is culture.
I learn that you can travel through Black music, exist in multiple places, countries, continents at once.
It starts with Howard University, 2006. Black students whose lineages trace back to small, faraway countries—Togo or Benin, international students from St. Lucia, Trinidad, Nigeria. Music is ubiquitous—in the dining rooms, on the yard, seeping from under dorm rooms doors. The Howard Gospel Choir sings Even Me. The band rocks, shouts, Talking Out the Side of Your Neck. Students raise fists to Lift Every Voice and Sing. At parties, DJs play sets from everywhere. We do the Bunny Hop in New Orleans.
Then it's so cold outside in The D. We wu-tang through Philly, go hyphy in California. We sing Murder She Wrote a hundred thousand times. The Atlanta set folds into my identity like soft, worn leather. When I scream with Lil' Yola, "I just don't give a f$%#," I'm also saying, I'm from Decatur. Still, the music bonds us as Bison. Together, we belt Before I Let Go, preach This is How We Do It, croon Sexy Lady. Being at Howard is already an ode to Black love, but singing along to our countless anthems is the pentacle of it, a keen awareness of my body and what it means to be me. I learn that you can travel through Black music, exist in multiple places, countries, continents at once.
It starts with Chicago in black and white, a record store, a church, Black faces up close, in profile, hugging, smiling, in juxtaposition with Dionne Farris' Hopeless. The movie Love Jones indulges in Black culture, Black photography, Black poetry. It is a movie told through music just as much as dialogue. Maxwell, Duke Ellington, Lauryn Hill. The first "song" on the soundtrack is Darius' spoken word piece, Brother to the Night (A Blues for Nina).
The blues (in Darius' case a love blues)—derive from the call-and-responses, the ring-shouts of Black people, specifically African enslaved people, the use of melismatic riffs to convey a range of emotions. Though "classic" in nature, the Blues is far from America's modern definition of it. Unlike Mozart or Chopin, it has never largely been deemed worthy of study. I learn that the blues has many different meanings—music of African American folk origin or, "melancholy maybe, not sad."
It starts with Swing Low, Sweet Chariot, sampled over fifty times, keeping Fisk University from financial ruin when a group of students, the Fisk Jubilee Singers, sing it as a fundraiser in 1909. Whether attributing the song's origins to the Trail of Tears or a Tennessee plantation, whether its lyrics reference The Underground Railroad or the pearly gates of Heaven, Swing Low, Sweet Chariot reaches from the past and makes way for the future.
Consider George Clinton's Mothership as he sings, Swing Down Sweet Chariot in 1976. A silver spaceship on stilts. It's alive, with blue and red twinkling eyes. An emblem of Afrofuturism that according to Amelia Mason in WBUR, Boston's NPR news station, is a genre used "to grapple with social problems, propose better futures, or to imagine society's disastrous potential in dystopian worlds." I learn that Black music is liberation, a mothership, a transportive chariot.
It starts with a residential treatment facility for high schoolers where I do everything in my power to bond with the students, and it feels like they do everything in theirs to hate me. I lead creative writing games and am met with crickets. I present them with an article on Colin Kaepernick only for them to say that Kaepernick should've followed the rules. (Not sure what I expected from system-involved youth who haven't been taught to interrogate rules but have been literally adjudicated to abide by them.) We read from Poet X to waning enthusiasm.
Black music is contextual. It is a learning tool for readers and writers. Not only as a means for Black kids to better understand themselves, but a way for everyone to understand the greater world.
Then I have the notion to surf through rap songs without curse words. No matter that books are allowed to curse, rap is not. Chance the Rapper's Sunday Candy is a saving grace. A perfectly clean song. We listen to it. Heads nod. Slight interest. In all of their hate for me, they cannot hate this song. "This song is an extended metaphor," I say. "No, this isn't quite gospel." "His grandmother is his church, you see?" And like Ice Cube says, "Today was a good day."
It starts with smiling Black folks dancing in the street. Marcia Griffiths in a floral hat, the sky shades of orange behind her. Griffiths' rendition of Electric Boogie by Bunny Wailer popularized Ric Silver's 18-step line dance that is now used in more ways than a Crown Royal bag—at nearly every celebratory gathering of Black people in any city across America. Fifty years later, Black music is more global than ever.
Consider Beyonce's latest albums, Renaissance and Lemonade. Consider the impact of artists like Wizkid and Burna Boy, Tems and Master KG, the latter of whom's number one hit song, Jerusalema, is faith-based with lyrics like, "Don't leave me here. Jerusalem is my home." Essentially, Jerusalema is a modern day negro spiritual with its own viral electric slide to accompany it.
Black Music morphs into memories like a two-sided album. Everything is accompanied by a beat. Cookouts, countdowns, weddings, funerals, life. When working with young people, I urge them to contextualize their writing. What is a neighborhood without sound? What is a house with nothing hanging from the walls? Black music is contextual. It is a learning tool for readers and writers. Not only as a means for Black kids to better understand themselves, but a way for everyone to understand the greater world. Black music is to be observed, to be studied. Can you write Black lives without it? I've yet to find how.
Black Music is cool, culture, liberation. Love, context, metaphor. Like food, it keeps us alive. Like food, the act of consuming it is joyful, nourishing, cathartic. Black music pulls from our past, reaches into the future, and uses the two to create a blurry, beautiful family portrait. It ping pongs from country to country, across seas, between continents. It is a beautiful cycle, a ring shout, a call and response. It never really starts where you think it does. And maybe, hopefully, willfully, it never really ends either.
______________________________________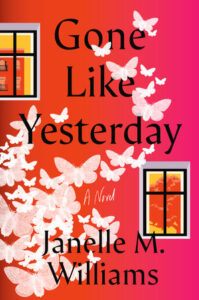 Gone Like Yesterday by Janelle M. Williams is available now via Tiny Reparations Books.
---