How the Early Internet Helped with the "Rebirth" of New York City
Thomas Dyja on the Big Apple as "High Tech Boomtown"
With Rudy Giuliani in City Hall and William Bratton as Police Commissioner, by 1995 the city had begun its evolution into Reformation New York, a safer, cleaner New York more like the rest of America. Lower crime, though, wasn't the only cause. Until now, technology had been the means to better management, the handmaiden to change, but over the next five years, technology would become the story, altering nearly every aspect of the city's culture and economy, launched by the search for the answer to the same questions Red Burns and the ITP had been asking since the late 70s: For one, What would the Internet be? The World Wide Web had made the Internet simply "work" for everyday people the way Apple had for computers; you no longer had to understand it to use it.
Out in its infinite reaches, past the playpens of AOL and Prodigy, you could do text-heavy things like explore Meryl Streep's credits on IMDb or read the Raleigh News & Observer. Ted Kennedy had a website, as did the Simpsons and NetBoy, or you could enter random words into a "search engine" like Webcrawler and see what popped up. You could watch things happening in real time across the globe, experience new and direct methods of exchange, interpretation, and connection. But how would it work as a business? Would it be doled out like cable or an open network like the telephone? Would people access it through their computers or their televisions? Would they buy content like books, subscribe like magazines, or watch with ads like network TV?
New York sat atop a deep well of underused human capital, a cohort of recent college graduates forced into McJobs along with thousands of writers, artists, graphic designers, and otherwise underemployed creatives who could make anything you might want to actually look at on the Internet. Those with little urge or opportunity to fall into corporate ruts realized they could try to make their own fortunes. In the fall of 1994, the New York New Media Association had hosted its first Cybersuds gathering under the Statue of Liberty crown at El Teddy's in TriBeCa. If unused real estate had created SoHo, all this unused talent would create Silicon Alley.
The debuts of Netscape and Mozilla, the first real browsers, began the shift from text to images; "People don't like to read," said one Tech journalist. The first banner ads appeared in Wired's website, HotWired, announcing that "The (Second Phase of the) Revolution Has Begun," and spring brought Lexington and Concord. The teaser created by Agency.com for the Sports Illustrated Swimsuit Edition got so many hits it crashed Time Inc.'s web portal and suddenly "every old-media company realized it needed a Website," said New York, "(although it wasn't clear to most of them precisely why)."
Corporate America poured into bare lofts equipped with card tables and whiteboards for meetings with graphic designers, semiotics majors, visionaries, and bullshit artists, holders of the secret knowledge for which they would now have to pay dearly. "The Internet was going to be an incredibly sweet revenge," wrote Michael Wolff, "because nobody who had a real job got it."
In the following three months, Agency.com alone took on HBO, Time, Hitachi, American Express, and MetLife as clients. "[T]here are two kinds of people:," explained The New Yorker (a little later), "those who get it, and those who don't. To get it means that you understand the extent to which the Internet will change work and commerce in the next millennium… " There were no rules or precedents, so the result was a creative explosion; while most of what was produced was unimpressive in practical terms even then, "Early True Believers" like Steven Johnson and Stefanie Syman created FEED, one of the first general-interest online magazines, Word.com, a mixed bag of writing, art, and online play edited by Marisa Bowe, and SonicNet, Nicholas Butterworth's music site.
This Pandora's box had cracked open the same summer as Derek Jeter's debut and those cunning new dinosaurs at the Museum of Natural History, the same summer when crime plummeted and the streets filled. Suddenly there was a future again for New York, and it wasn't just because of Giuliani and Bratton. Only a few mouse clicks away loomed the possibility of a city able to get by without dirty factories and less reliance on Wall Street; new, clean, high-paying jobs would build an infinite future for everyone. The standard bemused tone about computer geeks had disappeared in the face of some 10,000 New Yorkers in the field, and in November, New York declared the city a "HIGH TECH BOOM TOWN."
Of course, not everyone welcomed the Geek Rush. Modesty was not valued by most cybergurus, who believed everything everyone in the "Establishment" had ever known about media, content, and the written word had not so much been rendered stupid and irrelevant, but in fact had always been so. "Everything that can be digital will be," was the motto at ad agency Razorfish, founded in an East Village apartment, and there was no room for disagreement; any brakes, any planning were proof of old thinking.
"It's incredibly powerful to feel that you are one of the 17 people who really understand the world," said Rufus Griscom, who used that incredible power to create a website of "Literate Smut" called Nerve.com. Josh Harris at Pseudo came off to many as "glib and glad-handing, arrogant and solicitous," not to say crazy on those days when he showed up at business meetings dressed as his alter-ego, a sad clown named Lovey. Harris parlayed his sickly childhood in front of a TV into an innate understanding of how the Internet would produce cults of personality. His digital research firm made him a millionaire, and at a time when streaming barely existed, his site Pseudo offered channels for every possible taste.
Suddenly there was a future again for New York, and it wasn't just because of Giuliani and Bratton.
Those who Got It often blurred over the inconvenient fact that popular tastes and market forces don't equal democracy and embraced how the Internet's new forms of social connection overrode human intimacy. Silicon Alley created new society and spaces in real life, too. Along with its arrogance came a diffidence to the aspirations of earlier generations of New Yorkers, whether it be Downtown Cool or Upper East Side respectability. As venture capital rolled in, Geek Chic lived out that sweet revenge Wolff described in bigger and wilder parties and a post-Grunge understanding of cool that left the Bowery and the Lower East Side behind. Punk wasn't dead, but it wasn't dangerous anymore, either. Hackers were now the mysterious scary ones.
Though much of the $1.1 billion spent in 1995 seemed wasted on glorified commercials that took forever to load, cynicism now was like writing off television in 1941 because you thought the CBS Television Quiz was lame. With studies claiming that Tech would create up to 120,000 jobs and the World Trade Center 32 percent vacant, the City and State signed incentives and Wall Street beckoned. Silicon Alley was about to meet the People's Market, as venture capitalists groomed coders for their IPO road shows.
"Tech is the heart and soul of the American economy," wrote James Cramer, "the chief driver of its prosperity, the keeper of its newfound world dominance, and the place where its biggest profits are." If you wanted to pay for college and retire in a place that did more than change your bedpan, you had to invest in Tech. Awash in money, mutual fund managers shoved money at Tech, watched it grow, and then plowed their profits into even more Tech. Wall Street had finally Gotten It. The prospect of Java's landing in 1996, for instance, sent Sun's stock price up 157 percent, which sounded to the unconvinced like proof of tulip mania, but Java would soon bring all those static websites to life with movement and sound, ending Stacy Horn's cyberspace built of words.
You just had to Get It.
*
The Media Industry tended to process the Internet with nervous, patronizing references to "geek chic" while deciding whether to shift lunch from 44 at the Royalton Hotel to the suddenly hotter Michael's. "[T]o be Infobahn-hip… ," advised USA Today, "you have to have your electronic mail address on your business card." The Times ventured a tentative foray online with AOL in 1994, though, wrote Jon Katz, it "seemed embarrassed and slightly disgusted with itself, like a Victorian lady who'd stepped in dog poop." The supposedly democratic, even anarchic, qualities of the Internet that would allow anyone to put anything out there whenever they wanted, came at a nervous time as Boomers brought their teenaged tastes with them into adulthood, fearlessly wearing Disney apparel while relegating the Fine Arts to a quiet corner with a cup of tea. Even jazz had aged out and Japanese tourists now filled the seats at venerable clubs.
Old book publishing hands would say their business model had always been illogical, but "even though we knew the change was coming," says Joni Evans, "…we did it the old way." Nicholas Negroponte, the head of MIT's Media Lab, predicted that bound books would become a thing of the past as soon as "electronic paper" hit the market. Novelist Robert Coover hosted an "online writing space," and publishers, editors, and authors sat through a Microsoft presentation at the New York Public Library about the future of multimedia.
No one could say yet whether the Internet would be an experiment or a replacement. Email was on the way to becoming a part of daily life. All this added up to a growing fear that literature was becoming a luxury item. Esteemed editors like Jason Epstein and Gordon Lish retired, Dick Snyder was fired, and by the end of the '90s the consolidating urge that created Time Warner reduced a once-thriving ecosystem of nearly a hundred publishers in the late '70s into less than a dozen behemoths: HarperCollins took Morrow; Penguin took Putnam's; S&S bought Macmillan, which included Scribner's and Atheneum. Random House was in the hands of Harry Evans, deft at promotion but overheard the day after the National Book Awards grousing about "That poet" who "went on and on. Jacklyn… " A friend corrected him; her name was Gwendolyn. Gwendolyn Brooks.
Oprah came to the rescue. In September 1996, she announced a new monthly Book Club. "I want to get the whole country reading again," she said. Jacquelyn Mitchard's The Deep End of the Ocean immediately became a bestseller and going forward, selection became tantamount to winning the lottery for each lucky author. Evans left in 1997 for US News and World Report, and a year later German media conglomerate Bertelsmann took Random House off Si's hands. On the retail side, Barnes & Noble chief Len Riggio saw an almost spiritual promise in his superstores—"a chain becomes a network," he said, "so that people who participate in Barnes & Noble activities, which include shopping, feel something in common with people in faraway places who share the same activities."
Yet more than half of all books were now sold outside of bookstores. Powell's in Portland sold books online, as since July 1994 had a company claiming to be "The Earth's Biggest Bookstore," Amazon.com, whose founder, former Wall Street quant Jeff Bezos, had, according to The New Yorker, "beguiled the press and won the allegiance of trend-setting consumers by portraying his company as hip and innovative while casting Barnes & Noble as a predatory behemoth." Amazon grossed $16 million in 1996; a year later its sales were $148 million, and it went public at $18 a share.
Punk wasn't dead, but it wasn't dangerous anymore, either.
Magazines and newspapers found themselves in a trickier position when it came to the Internet given that their value came from their immediacy; newspapers in particular were kept afloat on classifieds that Craigslist was stealing away. Some immediately surrendered; the Village Voice turned itself into a giveaway in hopes of maintaining circulation, while Newsday retreated home to Long Island. Those remaining wrestled with the role of their online presence. The Telecommunications Act in February 1996 drastically changed all Media's future. Deregulating communications sounded very much in the spirit of the Internet, but allowing small fry to multiply just meant more protein for the top predators, and the Internet's good-for-me answers would destroy the economics of culture.
Underneath all these tense encounters between old media and new media, the old dinosaurs and the new ones, was now a three-way generational split. On one hand, Clinton's White House represented the ascendance of the Baby Boomers, though they still considered themselves the kids, permanently young at heart and sexy like Mick Jagger. When Microsoft and GE developed the looser, more immediate MSNBC, Time editor Richard Stengel compared an appearance to "having your parents finally listen to your opinions at the dinner table."
Some Boomers taking over as cultural gatekeepers did confront issues of identity and diversity, but most kept watching David Letterman and listening to Billy Joel, realizing their great expectations by embracing this New Economy and believing they'd never grow old. To which the Gen X era of slackers, Reality Bites, and Larry Clark's Kids just rolled their eyes. Along with the cohort right after them, the first to be raised entirely with computers, they made no secret that they didn't care about gatekeepers. Elizabeth Wurtzel, poster girl for her memoir of ennui and depression, Prozac Nation, canoodled with David Foster Wallace, en route to canonization for his sprawling and specific novel Infinite Jest.
Boomers looked suspiciously at this coming generation, but in order to stay on top of things, they needed to join them in cyberspace, a chilling prospect described with genuine poignance in The New Yorker by John Seabrook, who intrepidly expanded his contacts in cyberspace until a few months later when he was "flamed… a form of speech that is unique to online communication."
Worried that his computer may have been infected with "a worm," Seabrook actually breaks down in tears at the idea that another person has acted toward him with such random malice. The cyber city was cleaner. Its streets were safer. New York now had screens and televisions everywhere; the only form of architectural ornament, said critic Karrie Jacobs, "that's truly ours." Exciting new technologies kept coming—DVDs were here! But something dark was being revealed, and though street crime was reduced by eliminating opportunities, the Internet with its vaunted anonymity was creating infinite chances for new kinds of mugging.
__________________________________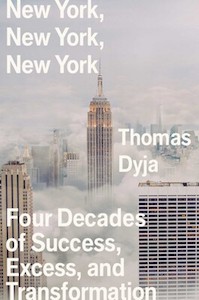 Excerpted from New York, New York, New York: Four Decades of Success, Excess, and Transformation. Used with the permission of the publisher, Simon & Schuster. Copyright © 2021 by Thomas Dyja.
---