How the Dopamine Rush of a Sale Price Keeps Us Consuming
Christine Platt on the Bad Spending Habits We Just Can't Shake
You might be surprised to know that the most difficult part of my journey was not the physical process of letting go of items that I did not need or use. Yes, decluttering was daunting and overwhelming, but owning up to the truth that I had so many things was hardest to accept. I discovered so many items with price tags still attached, it was beyond shameful. But they held one of the clues behind my why: Most, if not all, of the tags were red.
Markdowns. Price cuts. Sale stickers on top of sale stickers to denote just how much of a deal I was getting. I had plenty of evidence that I was a bargain shopper. But it took a lot of soul searching for me to realize that I was in love with the thrill of the hunt and less enthused with the prize.
Sales provided an instant rush of dopamine. Whenever I found a discounted item, I became excited with the idea of getting a bargain and usually purchased it. Besides, I had to get the deal before someone else did. From getting up early to wait in line on Black Fridays to considering whether I should petition to make bargain shopping an Olympic sport, I loved, seriously loved scoring a deal. Whenever I had free time on the weekends, more than likely I was in pursuit of the next great find.
That day I stood crying as I stared at piles of my belongings, I knew many of the items were the result of my emotionally driven shopping sprees. But I also knew there had to be more to it. Why did I resort to shopping in times of distress? Why did I find hunting for a deal more therapeutic than say, going for a run or seeking solace on my yoga mat? Why did I find joy in scoring a bargain, but then never or rarely used the items once I brought them home? As I asked myself these questions, I thought back to when my shopping habits first began. And I discovered that shopping for leisure instead of a purpose started in my childhood.
Some of my fondest memories are going on weekend shopping excursions with my mother. We frequented department stores and thrift stores, and there was nothing like finding something so discounted it would be criminal to leave it behind. For my mother, it was a way to decompress from a stressful workweek. But for me, these experiences became associated with having fun.
Weekends were our special mother-daughter time. We made trips to the mall during the best of times or at our local thrift stores when money was tight. No matter my mother's financial situation, the day always ended with ice cream—mint chocolate chip or rainbow sherbet for me and rum raisin for her. When we returned home, my mother was happy and relaxed. And I was a sticky, joyful, and satisfied mess, already counting down the days until our next weekend adventure.
In high school, I took on my first job as a salesclerk at a trendy retail store called Merry-Go-Round. In addition to being able to purchase the latest fashions with my generous employee discount, I was able to use this incentive at several other retail divisions. Every payday, most of my earnings usually went right back to my employer—the beginnings of my choice to seek personal fulfillment and enjoyment by getting a deal.
This behavior continued throughout my young adult years, and when I went to college, I obtained my first credit cards. Every Wednesday, creditors set up their promotional tables near the library or dining halls—locations where they knew cash-strapped students would find the allure of possibly getting a credit card and a free gift for completing the application irresistible.
So many free T-shirts and water bottles! So much excitement when the envelope containing plastic money arrived in the mail! So many purchases of 25-cent wings… with interest! Of course, such behavior is deemed predatory now. But I am among countless individuals who spent much of their adult years trying to rebuild their credit history after buying things on credit as a broke college student.
When I became an adult, shopping continued to be a way to lift my spirits whenever I felt down. It was a way to reward myself whenever I felt that I had worked too much. A way to pass the time when I was bored or uninspired. A way to feel proud of my accomplishments as I adorned myself in beautiful professional attire and decorated my home with furnishings that represented my success.
The emotional connection I had to shopping as source of enjoyment and relaxation began decades ago, on those weekends where I spent the day bargain hunting with my first best friend—my mother. Even as an adult, it was not uncommon for me to end a shopping spree with eating mint chocolate chip ice cream.
So much of who we are and how we behave or respond to certain situations is rooted in our childhood. Whether it's always looking for a deal, our innate response to stock our pantries because we grew up with food scarcity, or even conforming to gender roles, the behaviors and experiences from our childhood often inform our adult spending habits. What we watched, were told, and learned from our caregivers and community often has a profound impact on our relationship with money and how we spend it.
__________________________________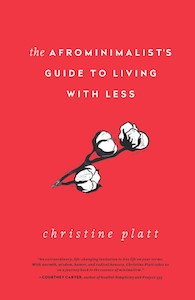 Adapted from THE AFROMINIMALIST'S GUIDE TO LIVING WITH LESS by Christine Platt. Copyright © 2021 Simon & Schuster, Inc. Reprinted by permission of Tiller Press, a Division of Simon & Schuster, Inc.
---