How the Advice Columnist Conquered America
And Why We're Unique in Our Hankering for Advice
I'll begin by getting something out of the way: I have no clear and easy tricks for a happier, healthier you. I have no instant remedies for sluggishness, or shyness, or social discomfort. I possess no secrets to success. My morning routine, which I am not suggesting you imitate, can be summarized as (1) Wake up. (2) Hurry.
But in writing my book Asking For a Friend, I researched the stories of 16 people who made their names, and sometimes their fortunes, by telling people what to do. They are all professional advice-givers, and they have been answering Americans' thorniest, most intimate questions since before the country was founded.
You've probably heard of many of the individuals, like Benjamin Franklin, "Dear Abby," Dale Carnegie, and Elisabeth Kübler-Ross. Others, like John Dunton, William Alcott, Dorothy Dix, Sylvia Porter, and Joan Quigley, you may not have heard of. All of them wrote, in one form or another—books, columns, letters, almanacs—and their words and ideas were so popular that they rumbled across all spheres of American popular culture, their maxims stitched on pillows, printed on mugs, recited at dinner; their faces fixtures on magazine covers and cable channels; and their books docked permanently on the bestseller list. They dislodged long-established norms about how Americans ought to date, mourn, work, and raise their children, and defined, and redefined, what was "right" and what was not.
Most so-called serious writers diagnose but never prescribe. A memoirist might probe her own experience with mourning for her readers' benefit, but she's unlikely to offer explicit instructions. Listening to Lena Dunham talk about her struggles as a woman in Hollywood may inspire you, but even she, with her porous definition of personal boundaries, stops short of providing a step-by-step guide. Advice-givers don't have these hang-ups—as a group, they tend not to have many hang-ups.
And yet few writers come close to possessing the power and influence advice-givers wield. They literally tell people what to do! And people listen! Even though they often aren't licensed to be giving advice; frequently their only qualifications are their imperviousness to embarrassment and their penchant for popularity. Most of them entertain as they counsel; they are skillful at coining catchy one-liners and composing sentences that play in your mind like a pop song. Often, their advice columns are designed to be playful. There is no telling if correspondents like End of the Line or Losing It are the melancholic people they claim to be or if they are pranksters, or editors making backhanded assignments.
Still, columnists have become the arbitrary authors of social rules, helping readers decide what is required of them. After Pauline Phillips, or "Dear Abby," wrote about the importance of writing a will, hundreds of thousands of people signed one for the first time. With one column, she normalized the idea that preparing for death, while one is still young and healthy, is not morbid but prudent. My book is filled with stories like this, of not particularly credible people issuing mandates that millions of Americans followed.
"Few writers come close to possessing the power and influence advice-givers wield. They literally tell people what to do! And people listen!"
America is unique in its hankering for advice. The British have their "agony aunts"—their equivalent of advice columnists—but rarely do they reach the same level of prominence as their American colleagues. The American self-help empire has been sprawling aggressively for decades, overtaking bookstores and the internet. It's estimated that Americans spend eleven billion dollars a year on self-help books. ("Here's Sound Advice: Write a Book, Become Rich," went one headline in Forbes.)
This multibillion-dollar industry employs many, many advice-givers. There are experts on finance and car maintenance and dog obedience. But the advice-givers profiled in this book are of a more ambitious ilk: they attempt to provide concrete solutions to the murkiest problems; they are brave—or foolish—enough to seek answers that have escaped philosophers, poets, and religious scholars for centuries, and to bill themselves as experts on topics as broad and impossible as love, health, and life itself.
The typical story about an advice-giver is about a phony or hypocrite. A person incapable of following his own sage wisdom, who espoused knowledge on subjects like dating or friendship even as he remained perennially single and friendless, or who encouraged moral or fiscal restraint while he was millions in debt with a family on every continent.
Miss Lonelyhearts, the 1933 novel by Nathanael West, is the classic example. It tells the story of an anonymous advice columnist for a New York paper. The novel begins with letters from the people seeking advice from Miss Lonelyhearts: there's one from a woman being pressured by her husband to have an eighth child against her and her doctor's wishes, another from a teenage girl born without a nose and bullied by the other teenagers at her school, and one pained letter from a boy who suspects that his deaf-mute little sister was molested and isn't sure what to do. Each letter is its own distinct melodrama, but their authors are all people who don't need just advice but an empathetic friend—someone who can say "It's going to be okay" with conviction.
Then we're introduced to the individual behind Miss Lonelyhearts, who is tasked with performing these significant feats of emotional labor. He is a depressed middle-aged man who dulls his loneliness with alcohol and chain-smoking and despises his colleagues and his readers. He churns out columns dense with mawkish one-liners such as, "When old paths are choked with the debris of failure, look for newer and fresher paths." Miss Lonelyhearts's advice is clear and straightforward, presumably helpful to those seeking clarity, but also a symptom of the columnist's own emotional limitations. He's an expert at dismissing dangerous feelings. "Her sureness was based on the power to limit experience arbitrarily," West writes of Miss Lonelyhearts.
Straight Talk, the 1992 film starring Dolly Parton, depicts a different kind of ruse: a hick with a heart of gold falls into a job as a radio psychologist in Chicago and claims to hold a PhD though she never went to college. One of the more notable advice-givers from the last few decades is Donald Trump, a person and brand that has become almost synonymous with deceit. (This isn't a political statement: every reality television star traffics in flash.) Trump's 1987 bestseller The Art of the Deal painted him as a cautious and expert deal maker, but within five years of its publication, four of Trump's companies had filed for bankruptcy.
But advice columnists aren't just hypocrites and narcissists, even if they do display those tendencies once in a while. They're all well-intentioned people who tend to get in the way of their own noble instincts. Many of them are social reformers who upended the status quo, expanded rights for women and minorities, and proselytized greater acceptance for different ways of living. Dorothy Dix, for instance, was an advice columnist at the turn of the twentieth century who used her platform to legitimize household work, urging her readers to strike until their husbands offered them a living wage. The writers I profiled are all idealists, eager to change the world, or at least get people to change their behavior. They share a curiosity for giant moral and emotional questions and an instinct for controversy.
While their wisdom may not always seem relevant today, advice-givers were all, at some point, responding to Americans' emotional needs.
__________________________________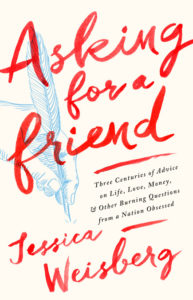 From Asking for a Friend: Three Centuries of Advice on Life, Love, Money, and Other Burning Questions from a Nation Obsessed. Used with permission of Nation Books. Copyright © 2018 by Jessica Weisberg.
---