How Survivor Uses the Threat of Hunger to Sow Chaos and Disruption
Sallie Tisdale on the Manipulative Tactics of Reality TV and Tone-Deaf Food Challenges
"You can keep the oysters and the snails," says Rob on All-Stars, as he eats his daily allotment out of a broken coconut shell. He laughs. "This is what Survivor is all about. Rice, baby, rice." Most of the time, tribes are given enough rice at the beginning of the game for each person to eat a half cup per day. People lose a lot of weight on Survivor. The hunger is made more peculiar by the fact that elaborate crew tents with plenty of food are nearby. (During season 16, players supposedly broke into the crew quarters and stole food. Security is tighter now.)
Such hunger is a new experience for most people playing the game. On Tocantins, when a few people start eating termites, one of the women says, "I'll eat one at a challenge if I have to, but not in real life." After two weeks, a player on season 24 shouts, "I haven't had soda in, like, forever!" On season 35, when his tribe is completely out of food, Devon says, "This is a lot more real than I thought."
Smart players eat termites, snails, and roots and rats and snakes. There is a rule in the extensive contract that players are only allowed to eat food approved by the producers. Tyson said in a recent interview, "They don't want anybody dying. That would be poor for a lot of reasons, to have someone die on your TV show. I mean, I don't know how the entertainment industry works per se, but." Malcolm caught and started cooking a poisonous eel during one of his seasons, and a producer did step in and stop him. "They're not really trying to kill us," he said later, "even though they're kind of trying to kill us." On Game Changers, a tribe catches a nanny goat and her kid. The group debates killing them, but there is a lot of resistance—except from Sandra, who is all for killing them both. They're afraid of Sandra, but finally, the goats are spared—at least, they are on television. In a postgame interview, Sandra claimed otherwise. In this game of survival, killing a cute little goat was too much for the editors in the end.
Hunger is used as motivation, as reward, as sacrifice, as punishment. People are hungry, they are weak from being hungry, they may be too weak to look for food and too tired to win a challenge where they might get fed. If you want to win the game, don't hoard food—or, as NaOnka did in Nicaragua, steal food and bury it in the jungle just to punish everyone else. Never eat more than your share. In season 3, in Africa, a tribe opens a can of cherries to share, passing it around and taking one cherry at a time. Ethan says of Clarence, "I saw him take two. Which is an issue." Later, when Clarence and Diane are left at camp alone, the two eat a can of beans. The others do not let them forget it.
On season 35, Cole takes food whenever he wants and then licks the spoon. He catches a fish and eats it by himself. Jessica says, "He eats food alone! You can't do that in Survivor!" Cole insists that he needs to be fed more than the others because he's big and strong. Even after 40 seasons, people misunderstand strength. Big, muscular men require a lot of calories and are often the first to collapse after days of little food. (On the other hand, I swear some of the women go on diets before the show, painfully aware of the cameras to come. Only a few savvy people gain weight; they have staying power.)
Food is used to sow chaos and disruption. Reward challenges almost always include food. An individual winner is often allowed to pick one or two of the others to share. They can't avoid angering everyone left behind. Judd wins a steak and lobster feast in Guatemala and invites Bobby Jon and Stephenie to share it. Then they are seated in front of their hungry, gaunt tribemates. The feast goes on for hours, with cocktails, cigars, and dessert, while Judd gets falling-down drunk. Sometimes the winner is told that the whole tribe will get a little food if the winner gives up their feast. On Game Changers, the players are excited to get food when they merge tribes. Then Jeff says they will feast only if one person from each tribe volunteers not to eat. We watch the silent, painful contemplation of sacrifice for a long time before anyone speaks up.
"It might be truly said, that now I work'd for my bread," said Robinson Crusoe. "Tis a little wonderful, and what I believe few people have thought much upon, the strange multitude of little things necessary in the providing, producing, curing, dressing, making and finishing this one article of bread." Bread is gold on Survivor. Most seasons include an auction—the commodification of hunger, capitalism at its best. The players are each given $500 and allowed to bid, but some of the items are not revealed until after the bidding ends. You might get a steak dinner and you might get a raw clam. The auction ends without warning; many people wait tensely for their fantasy meal to appear and then leave with nothing at all. On season 24, the items included peanut butter and chocolate, nachos, a BLT, some cocktails, doughnuts, and iced coffee, but also a shower, letters from home, an advantage in the game, and finally a whole cake that the entire group must eat in 60 seconds. They dig in like hyenas on a baby zebra.
The hunger on Survivor is real. It hurts. But Jeff makes it hurt so much more. Whenever he describes a food reward, he whispers, seductive. Sadism is important to storytelling. Every murder mystery has a corpse; every thriller requires an innocent in danger. Fairy tales have ogres and sometimes the hero dies and then Jeff brings a single slice of pizza and cuts it into nine tiny bites, just so they can have a taste. He says, "You can be so close to a cheeseburger, and not taste it if you don't win." Jeff can have a cheeseburger anytime he wants, though he looks more like an egg white and kale omelet guy to me.
Late in a season, players may get a letter from a "loved one," the term invariably used for family and friends. Sometimes it's a video and often, it's a visit. In the drawn-out scene, the loved ones are called out one by one: "It's your mother!" "Here's your wife!" and the players weep and clap for each other. Later the winners tell their relatives how much they hate everyone else. Usually the players get to greet their loved one for a few moments and then separate, because loved ones are doled out like food.
Hunger is used as motivation, as reward, as sacrifice, as punishment.
Jeff lets them take a small bite, then pulls it away. (At this point, they may have been playing the game for two or three weeks, perhaps away from home for a month or a bit more. The drama, the buckets of tears, the near-hysterics are a bit much.) To win more time with their loved one, the players must win a challenge—they must "win love." Also, food. Sometimes the loved ones have to participate in the challenge, awkwardly throwing balls or scooping water while the players shriek in frustration at their incompetence. The loved ones are well fed, wearing nice vacation clothes, a bit pink from the tropical sun. They aren't used to being filmed all the time, but they gamely walk the plank or crawl in the sand. At the end, after one person has won and chosen a couple of others to join, Jeff says to the rest, "Got nothing for you. Enjoy the afternoon."
A frequent food-related challenge on Survivor is a race to see who can eat the most disgusting local food fastest. On the fifth season, Thailand, the loved ones appeared after 31 days. Jeff brings the visitors in, and then tells the players that the winner will get 24 hours with their relative. "For the losers, nothing," he adds. "Hear me clearly: not a kiss, not a hug, not a handshake." Then he says that the winner will be decided in the disgusting-food challenge. The players are ready: bring it on, we're starving, we'll eat anything, let's go. Jeff says, "I believe you guys. I believe all of you would do just about anything to win this reward. But that's not the question. The question is, would they?" Will the well-fed, just-arrived loved ones eat insects to see a person who is going to be home in just over a week?
The loved ones don't look happy about this.
It takes only a few plates of ants, water bugs, and live grubs to eliminate most people. When only Helen's husband and Jake's wife are left, they must eat a boiled tarantula in one minute. They both do it, with difficulty. The tiebreaker is a boiled scorpion. Whoever is first to finish will win. Helen's husband wins, and Jake's wife turns around and pukes.
I'm not disturbed by the players' hunger; they scavenge for coconuts and catch the occasional rat or fish. They suffer as much from the monotony of what they do have to eat as the lack of calories.
The disturbing part, to me, is the enforcing of hunger and the constant reminders by Jeff of this enforcing. I am disturbed by the dangling of food in a hungry country, in places where getting enough to eat is the central task in life. Human history and culture are founded on the search for food, and on these islands, hunger may be a daily beast in a village that is more or less over the next hill.
I can't watch Alone and then Survivor. I can't go from the serious consequences of true survival to no real consequences. Alone is partly about interiority and reflection. Survivor is about exteriority and manipulation. On Alone, catching a single mouse is a real thrill; on Survivor, Oreos and potato chips are handed out like treats for eager puppies. I am aware that I have a kind of class bias here. I identify with the composed, careful intelligence of Alone contestants, despite being completely incompetent to do what they do. I resist identification with the scheming duplicity and clueless inertia of many Survivor contestants, even though I'm perfectly capable of doing those things. I see one as a superior class; I know which one I'd rather be.
I am disturbed by the dangling of food in a hungry country, in places where getting enough to eat is the central task in life.
One kind of hunger, endured to satisfy another. Is Survivor a microcosm of social divides, a miniature political system? The season called Worlds Apart divided players into three tribes by class. Jeff described the White-Collar tribe as the ones who "make the rules"—that tribe included a talent agent, a corporate trainer, and a Yahoo executive. The Blue Collars "follow the rules" and included a postal worker, a hairdresser, and a state trooper. The No Collars, who "break the rules," had a jewelry designer, a sailing instructor, and a coconut vendor.
"None of us know how to make fire," says Joaquin, a marketing director. "Why would we? White Collar. We hire Blue Collar to go make us a fire." And Blue Collar does make fire, for itself. Meanwhile, No Collar is struggling with its hang-loose vibe. Joe and Vince clash on how to build shelter, and the clash is as much about process and trying to avoid being a boss on a tribe where people don't like bosses as it is about shelter.
Survivor more or less created the popular form of elimination show where a group of people is whittled down to a single winner. Every three days, someone will be voted off the island. The tribe has spoken, and sometimes it's your closest friend and trusted ally who speaks. (The whole elimination thing has come full circle with The Great British Baking Show, where the weekly loser is announced with a teary eye and a catch in the host's voice. It's so hard, she says, because "we get to know you a little bit more. And we are incredibly fond of you. We don't want to lose anybody. But the journey has to end this week for somebody." They could just change the rules.) But Survivor digs its cruelty. How about that schoolyard pick, when the numbers are uneven and one person will be left out?
Survivor can only exist in a market economy, because stoking envy is part of the game. Mark Burnett called the lies of the first season "queasy-making"; I get a little queasy thinking about how much money Burnett made elevating Donald Trump's profile. I get a little queasy thinking about how many times gazillionaire Jeff says the magic words: You have a shot at a million dollars. This is potentially a million-dollar challenge. You're in the game for a million dollars. This could be a million-dollar decision. One mistake can cost you a million bucks.
The show has made a lot of money for CBS and the VIPs. But, with a few exceptions, the players are middle-class or working-class or just plain poor. It's another Queen for a Day, a competition of need where we watch factory workers and waitresses starve for money. If you are voted out, if you are one of the 15 or 18 people who don't win the single prize, you've failed. When Ben made a mistake in the final immunity challenge, he says, "It just hurts that a silly mistake is going to cost my dream and my family's dream. My kids' college. Retirement. I just let it slip away. And that hurt." I don't blame Ben, or even Survivor, for that concern. I blame capitalism for that. (And when it was all done, Ben won a million dollars. He isn't a failure after all. Everyone else is.)
It's times like that when I hate the game. Reality television, which is definitely television and a kind of reality and most of all a kind of shared fantasy about reality, can be as depraved as a Roman arena. "The spectacle is the moment when the commodity has attained the total occupation of social life," wrote Guy Debord in his manifesto against capitalism. "Not only is the relation to the commodity visible but it is all one sees: the world one sees is the world."
__________________________________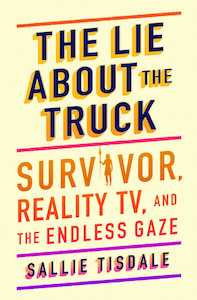 From THE LIE ABOUT THE TRUCK: Survivor, Reality TV, and the Endless Gaze by Sallie Tisdale. Copyright © 2021 by Sallie Tisdale. Published by Gallery Books, a division of Simon & Schuster, Inc. Printed by permission.
---