Chelsea G. Summers on Anaïs Nin, Dracula, and The Bloody Chamber
Rapid-fire Book Recs from the Author of A Certain Hunger

Welcome to the Book Marks Questionnaire, where we ask authors questions about the books that have shaped them.
This week, we spoke to the author of A Certain Hunger (out now in paperback), Chelsea G. Summers.
*
Book Marks: First book you remember loving?
Chelsea G. Summers: Frank L. Baum's Ozma of Oz. I liked Wizard of Oz, but I passionately loved Ozma. I was captivated by Ozma, the titular bitch, and her cabinet of petulant heads, as well as the Hungry Tiger, a large cat who really wants to eat babies, which he morally cannot allow himself, thus relegating himself to eternal unsatisfied hunger. I overly relate to both these characters, somewhat disconcertingly.
BM: Favorite re-read?
CS: My comfort books may dismay people. My mom recently died, and I consoled myself with rereading Thomas Harris's Red Dragon. My maternal great-grandmother believed that everyone should read Hamlet every year, and I do. Finally, Bram Stoker's Dracula is the tits; I am never sorry that I took the time to reread Dracula.
BM: What book do you think your book is most in conversation with?
CS: There are two: Elizabeth Gilbert's Eat, Pray, Love and Brett Easton Ellis's American Psycho. From the very beginning, I saw my debut novel, A Certain Hunger, as putting those two books in bed together and relishing the offspring.
BM: A book that blew your mind?
CS: For fiction, it's Jeanette Winterson's The Passion, a fabulist novel about Napoleon's final years, told from the perspective of a queer gondolier. I remember reading it and thinking that I had no idea fiction was allowed to do what it did, and the language is insanely beautiful
For nonfiction, it's Virginie Despentes' King Kong Theory. So many friends had recommended it to me that I thought, "Oh, this can't possibly live up to the hype." It did. It does. It's a brutal, funny, go-for-the-guts memoir/manifesto on sex, sex work, and gender that defies categorization. You hop on the ride, latch the safety bar, and throw your hands in the air to the dizzying end.
BM: Last book you read?
CS: As I answer these questions, I'm in the middle of Megan Abbott's The Turnout, her latest novel, and I'm loving it. Abbott has an uncanny ability to evoke the culture and experience of these intensely private, feminized cultures, like gymnastics, cheerleading, and ballet, and so doing, she illuminates the rusty, angry, violent underbelly of American femininity. Previously, I finished Patrick Radden Keefe's Empire of Pain, the story of the Sackler family, Purdue Pharma, and the opiod epidemic; every American should read this book.
BM: A book that made you cry?
CS: Contrary to my carefully crafted façade of a cast-iron bitch, I cry at the drop of a hat, and I reliably lose it when characters in YA novels die, so every death in The Hunger Games, Harry Potter, His Dark Materials, the Narnia series, and Watership Down. As far as adult literature goes, Toni Morrison makes me cry, every time. I also often cry at poetry, which is why I tend not to read it.
BM: What book from the past year would you like to give a shout-out to?
CS: Amy Gentry's Bad Habits. My grad school experience was congenial and supportive, but academia is a generally horrendous, dark place. Bad Habits explores the murderous impulses of grad school with a bright light and a shiny scalpel. 
BM: A book that actually made you laugh out loud?
CS: Little Me by Patrick Dennis. I stumbled on a copy of this 1961 faux memoir of an aging starlet when I was a kid (like, seriously, I had no business reading this book at a formative age) and it remains as ridiculous, campy, and fabulous as when I first found it.
BM: What's one book you wish you had read during your teenage years?
CS: The 1970s were not an awesome time to be an angsty teen girl, and I wish I'd had access to Tumblr. 
BM: Favorite book to give as a gift?
CS: The Nutshell Studies of Unexplained Death by Corinne May Botz. In the 1940s and 1950s, Frances Glessner Lee painstakingly constructed accurate reproductions of actual crime scenes, which she called the Nutshell Studies. These dollhouses were complete not only with tiny furniture and wee cunning bloodstains but also with itsy-bitsy stockings that Glessner knit with pin-sized knitting needles. The book puts lavish and loving photographs of these gory dollhouse dioramas within the context of proto-feminist work, and I live for it.
BM: Classic book you hate?
CS: Everything by James Fennimore Cooper. What a racist poser. I hate him.
BM: Classic book on your To Be Read pile?
CS: Basically all of Susan Sontag, whom I fear I'm not smart enough to read.
BM: What's a book with a really great sex scene?
CS: Angela Carter's short story collection The Bloody Chamber. I almost always hate sex scenes, but Carter's prose seduces me with hungry wolves, shifting tiger skins, and a singular ruby necklace that looks like an "exquisitely slit throat."
BM: Favorite book no one has heard of?
CS: Leslie Marmon Silko's Almanac for the Dead. It's a haunting, echoing speculative novel that rips apart American history with poetry. I also have an abiding love for Roxane Gay's An Untamed State, which is a masterclass in plotting and narrativity. 
BM: Favorite book of the 21st century?
CS: So far, I think it's Carmen Maria Machado's In the Dream House. What a gutting, rigorous, emotional tour-de-force of postmodernism and memoir.
BM: Favorite book you were assigned in high school?
CS: I read a lot of Anaïs Nin in high school, none assigned.
BM: Book you wish would be adapted for a film/tv show?
CS: Mine. May the Hollywood gods grant my gory angel baby the gift of silvery flesh, twelve feet wide and luminous.
*
Chelsea G. Summers is a freelance writer whose work focuses on sex, politics, tech, fashion and culture. She is a former academic and professor with Ph.D. training in eighteenth-century British literature, a discipline that has proven to be shockingly useful when writing about contemporary culture. She was a columnist for the now defunct ADULT magazine, and her work has appeared in VICE, Fusion, Hazlitt, The New Republic, Racked, The Guardian, Roxane Gay's Medium imprints, and other fine publications. She splits her time between New York and Stockholm, Sweden, and can be found on twitter @chelseagsummers. A Certain Hunger is her first novel.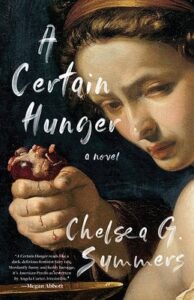 A Certain Hunger is out now in paperback from Unnamed Press
*
---