How Slavery Lives On in the American Prison-Industrial Complex
Jabari Asim on Policing–and Profiting From–Black Bodies
"Race came up again when the jury heard four other phone calls to the police by Mr. Zimmerman reporting suspicious people in the neighborhood, all of them black."
–Lizette Alvarez, The New York Times

When black people first set foot in the territory now known as the United States, they stepped onto contested ground. Before there was a legal term for what they were, before the law carefully circumscribed their hearts and loins, each of their footfalls was subject to contention. How many strides until the end of their world? How far could their limbs take them? To the edge of the plantation? To the back door of the big house? As far back as the 17th century, long before Trayvon Martin took his last steps in a gated community in Sanford, Florida, his ancestors confronted similar boundaries. Gated neighborhoods? Try gated states. By the 1860s, several of them, including Illinois, Indiana, Iowa, and Oregon, prohibited black people from traveling anywhere without proof of permission.
Your name?
George.
What's going on there, George?
I'm with the Neighborhood Watch, and we've had some burglaries and vandalisms lately. And this gentleman was walking in the neighborhood. And I've seen him before on trash days, going around picking up trash. I don't know what his deal is.
Is he white, black, or Hispanic?
Black.
Wherever such laws or customs prevailed, bands of dutiful citizens took on the task of enforcing them. Slave patrols, the forerunners of police cruisers and neighborhood watch squads, first emerged in South Carolina around 1704.
The patrols were based on earlier efforts in Barbados, where the Act for the Better Ordering and Governing of Negroes empowered all whites with the right to stop and investigate black people who, left to their own devices, were considered likely to steal or run away.
Up to No Good
In the view of patrollers, Negroes were as dishonorable as thieves. Consequently, they were to be apprehended and punished for moving or walking about without permission. In modern terms, patrollers were expected to be on the lookout for black people who were "up to no good."
Nineteenth-century black people wrestled with a dilemma in which "everything Negroes did was wrong," according to W.E.B. DuBois. "If they cowered on the plantations, they loved slavery," he observed. "If they ran away, they were lazy loafers." When everything they did was wrong, even something as innocuous as breathing could be cause for harassment or death. As Trayvon Martin discovered, 21st-century racial maladies often pose the same trap.
"This guy looks like he's up to no good, or he's on drugs or something. It's raining and he's just walking around, looking about," George Zimmerman reported during his 911 call on February 26, 2012, moments before he gunned Martin down in cold blood. Zimmerman's easeful assumption of authority is both significant and historically resonant, but no more so than the notion that a black man simply walking—in his own neighborhood, no less—is automatically suspect.
Zimmerman's eagerness to take matters into his own hands reflects an implicit mandate that white citizens are as responsible for their safety as police officers are. Inheritors of a Patroller Complex deriving from those early acts for the better ordering of Negroes, they are, in effect, deputized to investigate any persons (read "black people") who seem out of place. When law enforcement officials speak to civilian groups, they seldom hesitate to reinforce this understanding. Following a highly  publicized murder in Washington, D.C., in July 2006, Andy Solberg, then-acting commander of the city's Second District, instructed a group of Georgetown residents to report anything suspicious—such as, say, the presence of African Americans. "This is not a racial thing to say that black people are unusual in Georgetown," he said. "This is a fact of life."
Solberg's language was only slightly more diplomatic than that of Sheriff Harry Lee, a notorious lawman who conducted an intrusive surveillance campaign against young black people in Jefferson Parish, Louisiana, in the 1980s. "If there are some young blacks driving a car late at night in a predominantly white neighborhood, they will be stopped," Lee promised. "There's a pretty good chance they're up to no good."
Pipeline + Prison = Cheap Labor
At least Lee's mythical troublemakers were driving a car; Solberg's scenario suggests that black people needn't do much more to deserve scrutiny than be seen standing on a corner or, to borrow Zimmerman's phrase, walking around and looking about. The idea that African Americans can commit a crime simply by existing is more than just a deeply entrenched racist misconception; it is also an idea rooted in capitalism's need for a cheap, exploitable labor force. These two barbed strands came together early in American history in the philosophy of prosperous landowners such as George Washington, who cast his practice of working slaves to death as a humanitarian gesture. Without constant work, he argued, they would be "ruined by idleness." Those strands can be tracked, as easily as a trail of spilled Skittles, to a modern prison-industrial complex that runs on equal parts racism and greed.
In the 17th century, forced labor was still something of an equal-opportunity injustice. States such as Connecticut and Florida arranged their prosecution and parole dockets according to planting schedules so that whites incarcerated in debtors' prisons could be conscripted to help with the harvest. They found themselves paying off their debt to society by toiling like slaves. The industry became less diverse after the Southern Rebellion, when Emancipation proved highly inconvenient for ambitious Confederate planters eager to shake off the dust of their inglorious defeat. Black Codes emerged, making criminal offenses of vagrancy, loitering, and public drunkenness.
There is [sic] two suspicious characters at the gate of my neighborhood and I've never seen them before. I have no idea what they're doing. They're just hanging out, loitering.
Okay, Mr. Zimmerman, can you describe the two individuals?
Two African American males. They look uh, I know one is in a white Impala.
How old do they look to you?
Hmm, mid- to late twenties, early thirties.
With the help of cooperative judges, black men and women unfortunate enough to be caught moving around, looking about, or even standing still in the wrong place at the wrong time were hauled back to the same fields where they previously sweated. (To get an idea of the durability of these underhanded practices, compare Black Code offenses with grounds for suspicion established during New York mayor Michael Bloomberg's stop-and-frisk reign of terror. They included "furtive movements," "fits a relevant description," and wearing "clothes commonly used in a crime.") Southern law officers, taking full advantage of the 13th Amendment's timely loophole allowing compulsory labor "as a punishment for crime," set out to turn as many newly freed blacks into criminals as they could. States and counties filled their depleted coffers by convicting those they swept from the streets and leasing them to farmers and businessmen. Prison populations swelled, foreshadowing the incarceration disparities we see today—and a generation of "convicts" was sentenced to hard labor planting and harvesting crops, doing the most dangerous factory tasks, digging in mines, logging timber, and building railroads—ultimately laying the groundwork for the South's resurgent infrastructure.
Douglas Blackmon described the process in his Pulitzer Prize–winning book, Slavery by Another Name: "It was a form of bondage distinctly different from that of the antebellum South in that for most men, and the relatively few women drawn in, this slavery did not last a lifetime and did not automatically extend from one generation to the next. But it was nonetheless slavery—a system in which armies of free men, guilty of no crimes and entitled by law to freedom, were compelled to labor without compensation, were repeatedly bought and sold, and were forced to do the bidding of white masters through the regular application of extraordinary physical coercion."
Pipeline + Prison = Profit
Convict leasing, begun soon after the Southern Rebellion was crushed, officially ended in 1928, when Alabama terminated its program. Unofficially, states continued it under different guises. For example, in the state where Trayvon Martin breathed his last, prison officials added license plate, laundry, and shirt factories to their facilities after the state ended convict leasing. The practice continues today as a mainstay of private prisons, whose owners reap huge financial profits by using their inmates as low-wage and unpaid laborers. Companies such as CoreCivic (once named Corrections Corporation of America) and Geo Group owe their success to the American Legislative Exchange Council (ALEC), which they in turn sponsor through financial contributions. ALEC's work includes creating the template for the Prison Industries Act, a state legislation enabling the employment of inmate labor across the country. Just as Southern legislatures created Black Codes to establish a captive labor force, ALEC has abetted modern lawmakers' attempts to push through "three strikes" laws, mandatory minimums for nonviolent drug offenders, "truth-in-sentencing" laws, and anti-immigration measures designed to keep African Americans and Latinos off the streets and behind bars where, presumably, they'll be most useful. New agreements between state governments and private prisons can also include guaranteed minimum occupancy rates (see CoreCivic's purchase of Ohio's Lake Erie Correctional Institution in January 2012, for example), making "tough on crime" laws even more critical for profiteers of captive labor.
The Sunshine State
Few states have followed ALEC's guidebooks more zealously than Florida, home of 48 state prisons, seven private prisons, and 41 prison work programs. Black people make up 32 percent of the state's prison population, according to the Florida Department of Corrections, while making up around 16 percent of the state's entire population. In addition, at least one out of every five black people in Florida is banned from voting resulting from a felony conviction.
Unsurprisingly, Florida is the birthplace of Stand Your Ground (SYG), a law that most people weren't aware of until it was invoked—repeatedly—following Martin's violent death. With the help of National Rifle Association lobbyist Marion Hammer, Florida launched the law in 2005, empowering residents to use force to defend themselves against a perceived threat. Critics of such measures condemn them as Black Codes given a fresh coat of paint, but their complaints have mostly gone unheeded. Since 2005, ALEC and the NRA have helped more than twenty states add versions of the law to their own statutes. With SYG in mind on that rainy February night, the police permitted Zimmerman to do what law and custom made sure Martin could not: They let him walk.
Does he live in the neighborhood or is he just out walking?
I don't know. It's the first time I've ever seen him.
"A conversation about brutality and identity goes right to the body," the author and legal scholar David Dante Troutt has observed. The body, he goes on to argue, becomes "the currency of control." Consequently any discussion of black bodies, at least regarding their sojourn in America, must also include the idea of ownership. For black people to claim possession of their bodies, they must also declare themselves persons, capable of agency, language, and independent thought. Perhaps unsurprisingly, that humanizing impulse remains partly indigestible in a nation whose economic foundation depended on the idea that black people were not humans to be respected but property to be maintained. Property cannot be maintained if it dares to move about freely and—even worse— resists being apprehended.
__________________________________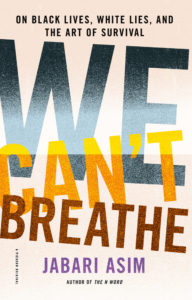 From We Can't Breathe: On Black Lives, White Lies , and the Art of Survival by Jabari Asim. Used with permission of Picador. Copyright 2018 by Jabari Asim.
---