How Sergei Diaghilev and the Ballets Russes Revolutionized Dance
Rupert Christiansen on the Modernization of Ballet
One defining characteristic of Sergei Diaghilev's personality, complementary to his capacity to make things happen and get things done, was a low boredom threshold. It was this almost irritable restlessness that lay behind his much-quoted exhortation to the young poet Jean Cocteau, a tiresome opportunist hanging on to the Ballets Russes's coat-­tails in Paris as he angled to be given his big chance. "Étonne-moi, Jean," Diaghilev challenged him, perhaps with a note of impatience. Buzz off until you can show me something fascinatingly different. Cocteau would certainly try.
By the beginning of 1912, London and Paris were conquered territory, and throughout that year the Ballets Russes would also lay siege to the Middle European cultural centers of Berlin, Vienna, Dresden and Budapest as well, with tours of the Americas on the horizon too.
But Diaghilev already felt that the product was stagnating. He was bored by the shenanigans of star dancers such as Pavlova, Kschessinska and Ida Rubinstein, who were either disloyal or greedy or narrowly self-­interested, or all three. He was bored by attempts to resuscitate dainty white-­tulle ballets such as Giselle, just as he was bored by Benois's nostalgic infatuation with the court of Versailles and Renaissance Italy. More problematically, he was also beginning to be bored by one of his greatest assets—the choreography of Michel Fokine, which had to date provided virtually all the company's original work.
Fokine's ballets for Diaghilev had been brilliantly varied in subject matter and atmosphere—from the folkloric Petrushka and The Firebird to the subtle salon perfume of Carnaval and the exoticism of Scheherazade—as well as offering showcases for the talents of Karsavina and Nijinsky. Yet his newer creations palled: the classically themed Narcisse proved insipid, while two orientalist fantasies, Thamar and Le Dieu bleu (based on a scenario that was Cocteau's first vain attempt to meet Diaghilev's demands for étonnement), contained nothing original or striking, despite Bakst's fabulous designs. Worse, Diaghilev insultingly short-­changed Fokine's work on Daphnis et Chloé and the exquisite score that had been commissioned from Maurice Ravel; its rehearsal schedule was curtailed and the première postponed.
One defining characteristic of Diaghilev's personality, complementary to his capacity to make things happen and get things done, was a low boredom threshold.
Now was the time to rewrite some of the rules—to turn on his paymasters by taking them out of themselves and showing them what they didn't know they wanted. His twenty-­three-­year-old lover Nijinsky would lead the charge. In him Diaghilev had detected, on nothing but a hunch, a genius that went beyond his capacity to incarnate other identities and leap like a big cat. Nijinsky danced to a different drummer as he inhabited his mysteriously unconventional view of the world. Could he be the choreographer to push ballet out of the realms of fairy story and lurid romance into uncharted aesthetic territory?
In private, their relationship was becoming tetchy—Diaghilev twitchily jealous and possessive, Nijinsky uncommunicative and sexually reluctant—but over the next year they would be intensely engaged in a great adventure.
Much of the initial impetus for Nijinsky's first creative essay came directly from Diaghilev. It was he who selected Debussy's voluptuous tone-­poem of 1894, Prélude à l'après-midi d'un faune (only ten minutes long, and therefore damage-­limited) as the music he should use; it was he who introduced Nijinsky to the new philosophies of theatre proposed by Adolphe Appia and Edward Gordon Craig, with their focus on light and movement rather than fixed text and scenic realism; and it was he who led Nijinsky to Hellerau, a garden-­city suburb of Dresden. Here, in a theatre modeled on Athenian lines, the Swiss guru Émile Jaques-­Dalcroze taught eurhythmics, a form of dance not dissimilar to that practiced by Isadora Duncan, based on an instinctive and improvisatory response to music.
But Nijinsky had own ideas. If these influences were absorbed, something quite different from them emerged from the maelstrom of his imagination. Articulating the intensity of his vision would be the problem. Never easy with words or social interaction, he seemed in rehearsals—of which there were something like a hundred—to have very precise ideas of what he wanted without being able to explain to the increasingly exasperated and exhausted dancers what they might be.
Certain aspects of the piece were not original: the idea of moving in profile with the palms of the hand held flat, evoking figures on Ancient Greek vases or friezes, was even something of a cliché (prevalent, for example, in a ballet by Fokine for Wagner's opera Tannhäuser, in which Nijinsky had himself appeared). Amorous fauns and shy nymphs in laced sandals weren't unfamiliar either.
What was unprecedented, however, was a ballet in which all the rules of classical elegance of line were entirely flouted. There were no graceful poses here, no curving of the arms or rolling of the neck, no pirouettes or jetés, indeed nothing that would commonly be called dancing. With their feet rocking flatly between heel and toe, the dancers seemed to jerk robotically rather than bend and stretch fluently. Conveying no emotion through their mime, they moved without any direct relation to the meter of the music, which provided an atmospheric background soundtrack rather than a series of beats that cued steps.
Could he be the choreographer to push ballet out of the realms of fairy story and lurid romance into uncharted aesthetic territory?
What also shocked was an eroticism far more perverse than anything in Scheherazade: played by Nijinsky himself costumed in a fig-­leaf body-­stocking designed by Bakst, the faun was presented as an amoral animal with pointed ears and stubby phallic tail lounging in a rocky landscape, indolently self-­absorbed until his eye lands on nymphs in search of a bathe. As the one singled out as the object of his desire flees his unwelcome advances in fright, she drops her shawl. The faun picks it up and caresses it, before laying it on the ground, lowering himself on top of it and graphically arousing himself to orgasm. The overt representation of masturbation—with further phallic overtones suggested by the pipe on which the faun idly blows—was too much for the first-­night audience to stomach, and the final ecstatic spasms were subsequently toned down.
Diaghilev positively wanted a scandal and, with the help of Astruc's address book, that is what he got. Tactics were carefully planned. Few dress rehearsals can ever have been packed with more A-­list celebrities—Jean Cocteau, André Gide, Pierre Bonnard, Édouard Vuillard, Aristide Maillol, Hugo von Hofmannsthal and Max Reinhardt among them—invited in order to talk the ballet up in fashionable circles; and two days later, the audience for the première at the Châtelet would be graced with a glut of high society.
Gratifyingly, they greeted Nijinsky's first ballet with wild cheers mixed with hissing catcalls and, as if to ratchet up the furor, Diaghilev appeared before the curtain to order an immediate repetition of the performance. Over the following days, the press divided, with the editor of Le Figaro leading the attack and deploring L'Après-midi's obscenity, while an article in Le Matin signed (but not written) by the elderly Auguste Rodin took up the cudgels in its defense. In commercial terms, it all worked a treat: the theatre was soon sold out.
This electrifyingly strange work marks a watershed in the story of the Ballets Russes. Its sensational success left Fokine feeling old hat, and in the words of his friend Sergei Grigoriev, it became "almost impossible to work with him"—not least as the short-changed Daphnis et Chloé, on which he had sweated, opened ten days later only to be received without éclat. So when he flounced out in high dudgeon, many in the company, sick of his tantrums and paranoia, thought it good riddance.
Ever afterwards, he would declare himself dismayed by what he regarded as the wrong direction on which Diaghilev had embarked, presenting himself as a conservative reformist, upholding the canons of good taste and seasoned experience, in contrast to the greenhorns resorting to ephemeral, jejune gimmickry. But Fokine would live to have the last laugh: a clutch of his creations, the heart of the Ballets Russes's first wave of success, would remain box-­office bread and butter throughout Diaghilev's life and sustain their popularity worldwide for a further generation. Nijinsky's work survived only in fading memories and passed into legend. A century on, it is a moot point which of them has left the greater legacy.
_____________________________________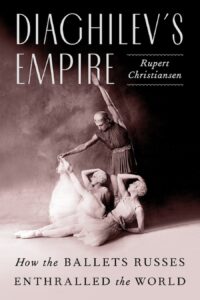 Excerpted from Diaghilev's Empire: How the Ballets Russes Enthralled the World by Rupert Christiansen. Copyright © 2022. Available from Farrar, Straus and Giroux, a division of Macmillan.
---