How Ronald Reagan's Time at General Electric Pushed Him to Conservatism
Daniel Lucks on the Birth of a Movement
By the mid-1950s, Ronald Reagan had found a political home in a new conservative movement that crystalized with the launch of William F. Buckley's magazine, National Review. Considered the bible of the conservative movement, National Review opposed the civil rights struggle and sided with the southern segregationists.
In the throes of his zealous conversion to staunch anti-communist, Reagan jettisoned his passion for racial justice. By the early 1960s, Reagan's view of liberalism as the opening wedge to totalitarianism had progressed so far to the right that he was accepting awards from fervent racists such as Mississippi governor Ross Barnett and Arkansas governor Orval Faubus. Though Reagan's anti-communism and fears of an omnipotent, centralized US government remained his paramount preoccupations, in 1964, the year the civil rights movement moved to the front pages of history, Reagan chose Barry Goldwater's brand of states' rights conservatism over human rights.
*
Although Reagan's acting career never returned to the level of his prewar success, by the early 1950s, his status as SAG president made him one of the most commanding figures in Hollywood. His most significant relationship was with the powerful talent agency MCA (Music Corporation of America). Early on, Reagan's agent, Lew Wasserman, and MCA co-founder Jules Stein had seen Reagan's potential to not only ensure labor peace but also help MCA fulfill its quest to become the most dominant force in Hollywood. They were right, as Reagan helped MCA become what a federal judge termed an "octopus" with "tentacles reaching out to all phases and grasping everything in show business." By the same token, Reagan's proximity to Hollywood power brokers, especially MCA, increased his personal wealth and propelled his political career.
Nonetheless, Reagan's tenure as SAG president, from 1947 to 1952, was controversial because of a series of deals that he and MCA brokered to their mutual benefit. In 1949, Wasserman persuaded Warner Brothers to release Reagan from half of his exclusive contract and would be free to work with other studios. This unusual concession allowed Reagan to secure a new, lucrative deal with Universal Studios, a financial windfall for an actor whose career was in decline. More significantly, a few years later, the SAG board—which included Reagan, his new second wife, Nancy, and four others—helped MCA obtain a "blanket waiver" from the rule prohibiting talent agents from being producers. With this unprecedented privilege, MCA became the only talent agency able to move into the burgeoning television industry while also maintaining its base as a premier talent agency. MCA went on to monopolize Hollywood television production.
Even after Reagan's tenure as SAG president ended in 1952, the deals continued. In 1954, with Reagan's acting career in steep decline, MCA secured him a lucrative contract with General Electric to become the host of its General Electric Theater, the first major production of MCA's new television unit, Revue Productions. MCA eventually gave Reagan 25 percent ownership in the show itself, which further increased his wealth. In another twist of the rules, Reagan, who was now officially a producer, never quit SAG's executive board, and the union approved a permanent extension of MCA's blanket waiver.
Reagan looked back on his GE years as a "postgraduate course in political science" and an "apprenticeship for public life."
In 1959 SAG reelected Reagan as its president, a move that coincided with a period of labor unrest involving television residuals. even though Reagan owned a stake in General Electric Theater, he was instrumental in resolving the strike. SAG agreed to receive a onetime payment of $2.65 million for its approximately 13,500 members in exchange for surrendering its members' rights to any royalties from the over five thousand movies made prior to 1960. MCA had purchased Paramount Studio's film library and stood to benefit greatly from the deal. Even though the $2.65 million seeded SAG's pension and welfare fund, for decades, the Hollywood acting community derided the agreement as "The Great Giveaway." even Reagan's fellow conservative Bob Hope grieved, "The pictures were sold down the river for a certain amount of money." over the years, Reagan's mutually beneficial relationship with MCA continued and perhaps peaked in 1966, when MCA's Jules Stein negotiated the sale of Reagan's Malibu property at a tremendous profit that made Reagan even more wealthy.
The Justice Department would later investigate Reagan's dealings with MCA. Investigators subpoenaed his tax records and called him before a federal grand jury. During his 1962 testimony, Reagan failed to recall if SAG had granted him the waiver in exchange for residual fees. The Justice Department eventually absolved Reagan of any illicit activities because investigators could find no corroborating evidence that Reagan had received a quid pro quo from the MCA waiver. Given Lew Wasserman's penchant for secrecy and his refusal to take notes, this result was not surprising. Nonetheless, the investigation—especially Reagan's testimony—raised credible questions of cronyism.
Besides hosting the Sunday evening broadcast of GE Theater, Reagan served as a corporate pitchman and roving goodwill ambassador for GE, traveling at least 16 weeks a year. It was this work that drove his metamorphosis from actor to politician. He visited all of GE's 139 plants across the US and delivered thousands of speeches to approximately a quarter of a million employees. Afraid of flying at the time, Reagan traveled by train, and the long rides afforded him the opportunity to read right-wing fare, including the journals Human Events and Reader's Digest, books such as Whittaker Chambers's Witness and F. A. Hayek's The Road to Serfdom, and his favorite biweekly periodical, National Review. Reagan looked back on his GE years as a "postgraduate course in political science" and an "apprenticeship for public life." Reagan distilled the talks he gave to GE employees into what become known as "The Speech," which became the basis for the one he gave in support of Barry Goldwater's 1964 presidential campaign, "a time for choosing."
Reagan's growing conservatism matched GE's corporate politics and culture. After the war, GE had also been beset by labor strife. Like many other corporations at the time, GE was closing plants in the industrial north and moving to the south, where labor costs were low and unions were weak. However, under the leadership of Lemuel Ricketts Boulware, an ardent conservative who served a GE executive, none of GE's 16,000 workers went on strike. GE took notice and promoted Boulware to vice president of labor and community relations. In this capacity, Boulware eliminated labor unrest among company workers by cultivating GE's image as a benevolent employer. He also hired Reagan, who had just resigned as SAG president, to spread the anti-union gospel to GE's many thousands of blue-collar workers that their interests were in harmony with the company's. Boulware also became a mentor to Reagan and a benefactor to National Review and other conservative causes.
Reagan's 1952 marriage to aspiring actress Nancy Davis was another step along his path from Cold War liberal to staunch right-wing conservative. By all accounts, without Nancy's ambition, devotion, love, and support, Reagan would not have become president. Reagan's second marriage was both a lifelong love affair and a political partnership. Nancy's preference for the society of wealthy people thrust Reagan closer to conservative friends such as the actors Richard Powell, William Holden, and Robert Taylor. Nancy shared Reagan's disdain for left-wing causes and never showed any interest in or sympathy for the civil rights movement. Like her husband, Nancy had had a troubled, unsettled childhood.
Her parents—a peripatetic stage actress named Luckett and a used-car salesman named Kenneth Seymour Robbins—separated shortly after her birth. Nancy lived in Queens, new York, for her first two years. Busy with her acting career, Edith later sent young Nancy, an only child, to live with an aunt in Bethesda, Maryland. When she was eight years old, Nancy settled with her mother in Chicago, after Edith married a wealthy, esteemed, and archconservative Chicago neurosurgeon, Loyal Davis. Nancy revered her stepfather, who adopted her when she was fourteen, and embraced both his conservative politics and his meticulous dress. Loyal Davis developed an instant rapport with his future son-in-law Reagan and, after the Davises retired to Arizona, would introduce him to his Phoenix friend and neighbor senator Barry Goldwater.
At the time Reagan underwent his political conversion, an organized conservative movement did not exist in the United States.
Nancy's parents harbored racist views that contrasted vividly with those of Nelle and the now deceased Jack Reagan. Edith had been reared in the slums of Washington, Dc, though she claimed that she came from an elegant plantation background in Virginia. She was prone to indulge in racist banter. As for Nancy's stepfather, allegations of his virulent racism and anti-semitism dogged him throughout his illustrious medical career. The medical interns who worked with Davis were so aghast at his racist views that when they delivered babies in Chicago's Black ghettos, they encouraged the mothers to name their sons "Loyal" as a way to privately taunt their boss. Despite the explicit racism of Nancy's mother and stepfather, Reagan formed a warm relationship with his in-laws, and Dr. Davis became one of Reagan's mentors on political conservatism. His stature and overall comportment made him a personal role model for Reagan to emulate in a way the by now deceased Jack Reagan never could.
At the time Reagan underwent his political conversion, an organized conservative movement did not exist in the United States. In 1950, the literary critic Lionel trilling famously remarked, "In the United states at this time liberalism is not only the dominant but the sole intellectual tradition. For it is the plain fact [that] there are no conservative or reactionary ideas in circulation but only irritable mental gestures which seem to resemble ideas." Discontent stirred among the remnants of the America First committee, composed of opponents of Roosevelt's New Deal, isolationists drawn to Ohio Senator Robert Taft, and supporters of senator Joseph McCarthy—all of whom vied to oppose the dominant postwar liberal consensus. But it wasn't until William F. Buckley Jr. launched National Review in 1955 that conservativism gained intellectual coherence. on racial issues, both Buckley and the National Review were infused with a virulent dose of racism that had infected the conservative movement since its inception.
__________________________________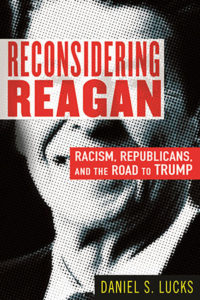 From Reconsidering Reagan by Daniel Lucks. Used with the permission of Beacon Press. Copyright © 2020 by Daniel Lucks.
---