How Rewatching an 80s Film With My Mom Informed My Politics on Motherhood and Time
Michael Koresky Reconsiders Baby Boom
Over the course of 1987, my mother would introduce me to movies headlined by women that would in one way or another become Koresky household staples: Holly Hunter as one of the most idiosyncratic working women of the decade in Broadcast News; Debra Winger and Theresa Russell in Black Widow, a kind of proto–Killing Eve; Jennifer Grey coming of age, morally and sexually, as "Baby" in Dirty Dancing; Glenn Close as the tragic one-night-stand-from-hell in Adrian Lyne's slick but essentially misogynist Fatal Attraction; Lindsay Crouse as an unflappable grifter-in-training in David Mamet's House of Games; Cher, that year's Best Actress Oscar winner, as an inspiringly confident Italian-American widow in Moonstruck; Barbra Streisand as a high-priced call girl accused of murder in Nuts; Goldie Hawn nearly overcoming the brain-poisoning sexism of Overboard; and, the pièce de résistance, Cher, Michelle Pfeiffer, and Susan Sarandon joining forces to outwit Jack Nicholson's chauvinist pig and literal devil in The Witches of Eastwick.
Any of these would have been appropriate to revisit with my mother for our ongoing journey into our shared movie past. My mind kept returning, instead, to Baby Boom.
Unlike Nine to Five before it and Working Girl after it, Baby Boom is specifically invested in what it means for a woman to juggle work and motherhood, and the unfair sacrifices she is expected to make to negotiate a male-dominated world. Diane Keaton's high-powered corporate advertising executive J. C. Wiatt had sworn off having children yet finds herself suddenly saddled with a toddler after a distant cousin's sudden death. The premise is screwball absurd, but the questions it raises are anything but.
*
Aside from the sheer pleasure it affords, it was the lack of children in my life that ultimately led me to want to reconsider Baby Boom. My husband and I have decided not to raise children, and for gay male couples this does indeed increasingly seem, oddly, like a choice. We have not felt a biological urge to procreate, yet the growing number of our gay male friends having children through complicated and expensive surrogacy procedures makes it a recurrent, even expected, topic of conversation. Once upon a time it was an inspiring aberration for same-sex couples to even be asked if they wanted children; today it's regularly inquired of us. Even beyond the query "Do you want kids?" is the occasional assumption "When are you going to have kids?" It's a reflection of the positive advancements of our young century that such a presumption is made, though the persistence of people's questioning certainly has made me more sympathetic to my female friends who have chosen not to have children and must deal with the bombardment of social expectation.
The film Baby Boom is specifically invested in what it means for a woman to juggle work and motherhood, and the unfair sacrifices she is expected to make to negotiate a male-dominated world.
There's a strain of queer theory that's focused specifically on the temporal experience of gay and lesbian people, about how historically, because we've been left out of the dominant, heteronormative narrative, we feel time differently, we exist in its folds rather than at its forefront. Though there's no true way to quantify time, it's been traditionally understood, studied, and discussed in a basic cause-and-effect, linear way: time marches forward. But forward motion—the sweep of human history—is naturally wedded to the idea of human civilization as a procreative force. Theorist Heather Love wrote of this in her book Feeling Backward: "For queers, having been branded as non-modern or as a drag on the progress of civilization, the desire to be recognized as part of the modern social order is strong." This is why we fight, and this is why we bask in the shared glow of every triumphant move ahead. At the same time, for gay people to suddenly be a part of a narrative they have historically been left out of—to be suddenly assumed as helping push civilization forward—is both a positive development and the beginnings of a potential queer identity crisis.
*
My mother finds Baby Boom cathartic. As a child, I simply found the film funny. It was directed and cowritten by Charles Shyer, but other than from Keaton, the film's true personality stamp undoubtedly comes from its other credited screenwriter, Nancy Meyers.
In retrospect, Baby Boom seems like a Meyers film to its core, an amusing but not unserious wrestling with genuinely hard-to-reconcile social conditions and expectations foisted upon white, upper-middle-class women. When the film was released in late October 1987, Meyers was the mother of seven-year-old Annie, and twelve-week-old Hallie (who has gone on to become a filmmaker herself, directing the Reese Witherspoon rom-com Home Again, released exactly thirty years after Baby Boom). So for Meyers, who had been pregnant during the shooting of the film, the concerns of Baby Boom were not just political, they were personal. One can see Baby Boom's merciless corporate world as a metaphor for her experiences in Hollywood, a realm that was and remains male-dominated, even today after the long-overdue mainstreaming of discussions around gender inequity in the wake of the #MeToo movement. In a Sun-Sentinel interview from that November, Meyers said, "Though I vote for having it all, the pressure to do it all is very hard and very exhausting. Getting past the comedy in Baby Boom, this is a pretty serious subject. We dealt with what it's like for women who find there is little child care available and hardly any help from major corporations."
Watching today, Baby Boom seems fairly progressive in this way, detailing how J.C.'s flirtation with and eventual devotion to motherhood brings her nothing but grief from her wildly unsupportive male bosses and colleagues. As the film begins, she is being aggressively courted for a partner position in the prestigious New York management consulting firm, a company that grosses $200 million a year and where she's earned a corner office.
My mother finds Baby Boom cathartic. As a child, I simply found the film funny.
Fearsome, career-driven J.C. says, with a shrug, that she works "seventy, eighty hours a week." In response, her boss, Fritz (Sam Wanamaker), gives her what he must assume is the ultimate compliment: "Normally I don't think of you as a woman." Keaton's reaction is priceless—a snicker that contains f lickers of pride, shame, and bafflement all in about three seconds of screen time. By the film's midpoint, however, J.C. has been left in the lurch by an unsupportive boyfriend (Harold Ramis), demoted and humiliated at work, and finally all but coerced by Fritz into quitting. The only thing that's really changed about her life is that she's become a sudden single mother, creating the perception with her superiors and colleagues that she's now insufficiently dedicated to her job. J.C.'s treatment is reflective of the era: a whopping ninety-five percent of women claimed to have suffered discrimination at work and unequal pay by the close of the decade. Though a clear victim of gender discrimination—with the minimal legal protections of the era—J.C. leaves the company rather than fight, escaping from New York entirely. With the goal of restarting her life with baby Elizabeth, she uses her copious corporate earnings to purchase her Vermont dream home, setting up the film's second section, which follows her daffy, screwball romance with Dr. Cooper, a charming local veterinarian (Sam Shepard), and the rapid rise of her own gourmet baby food startup.
Keaton's distinct selfhood makes J.C.'s treatment at the hands of faux-benevolent men in power all the more stomach-turning. Due to her particular star persona, it's almost preposterous—we surely cannot imagine Keaton herself putting up with this. Perhaps that's where the power of Baby Boom lies: that even the strongest fighters—the Diane Keatons of the world—have too long been subject to a system that treats them as subordinates. That's also why the movie's kicker is so satisfying. J.C.'s new made-in-Vermont company, Country Baby, has hit it big across the US, and "The Food Chain," a major client from her old firm, wants to buy it for a hefty sum. She leaves her idyllic New England town for the day, returning to the city in triumph. At a huge conference table at her old office, she's offered a mega-deal: three million in cash up front plus a huge salary as its chief operating officer. Fritz, seeing dollar signs of his own, is clearly thrilled to take on her lucrative company, hoping all between them is "water under the bridge." After consideration, and instilling her smirking former colleagues with hope, she turns them down. It feels both like revenge and a moment of final self-definition. She vows instead to grow her business herself in Vermont—while also continuing to date Dr. Cooper and, of course, raise Elizabeth.
I've gone through different phases in my feelings about Baby Boom and its somewhat fraught political terrain. J.C.'s ultimate decision is undoubtedly an assertion of her independence and go-it-alone business savvy, yet she's also walking away from "the deal of a lifetime" so that she can assume what is a more traditionally feminine role: mother, lover, owner of a warm domestic space. The last shot is of J.C. cuddling her adorable daughter in a rocking chair in the most idyllic pose imaginable: the camera pulls back, sunlight streaming in through gauzy curtains. She is firmly entrenched in an image of motherhood, far away from the urban rat race. Trying to be a good feminist, I have long been troubled by this wrap-up. It seemed to dictate an idea of conservative femininity so pure it was almost propaganda.
Rewatching it with my mother, however, Baby Boom felt like a wise and warm refutation to Fritz's claim that a woman cannot have it all. By that final shot, you don't get the sense that she's leaving everything behind to be a housewife, but that she's about to build an empire. And that she didn't have to choose one over the other. In the film's calculus, she was lucky.
__________________________________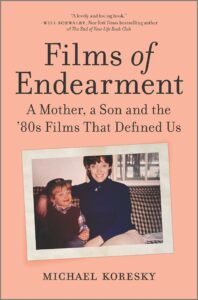 From Films of Endearment: A Mother, a Son and the '80s Films That Defined Us by Michael Koresky. Used with the permission of Hanover Square Press. Copyright © 2021 by Michael Koresky.
---