How Reading and the Thirst for Knowledge is at the Heart of Mary Shelley's Frankenstein
Heather Cass White on the Almost Sinful Allure of Self-Enlightenment
In Hesiod's Theogony, Prometheus, seeing humankind cold and miserable, brings us fire. Fire, the "inexhaustible," had specifically been withheld from mortals by Zeus, making Prometheus's gift one that has implicated humankind ever since in a transgression against our own divinely ordained limitations. From this unstable, unpredictable, flickering gift all of our strength, our culture, our knowledge follows. Its heat is what we carry inside, the essential thing we pass to and receive from others: "ardor comes before thought. Thoughts are given off like steam from a boiling liquid." Fire is heat, and it is also light in the darkness. The human mastery of fire angers the gods who see it "twinkle… from afar," because light is inextricable from knowledge. Light under human control frees us to pursue knowledge at unnatural hours, which leads inevitably to pursuing unnatural knowledge. From Quixote reading "from dusk till dawn" by candlelight, to a present-day child under her covers reading on a smartphone, "the real literary experience" is transgressive, and depends on Prometheus's illicit gift.
Reading is at the heart of the most resonant retelling of Prometheus's crime and punishment, Mary Shelley's Frankenstein; or, The Modern Prometheus. Victor Frankenstein, the maddened scientist who animates a stitched-together corpse, is the first candidate for the "modern Prometheus" of the book's subtitle. His crime, like Prometheus's, is trespassing on divine ground by stealing for himself knowledge withheld from mortals. After years of fevered reading in disreputable, forbidden books, he describes a gift of fire: "a sudden light broke in upon me," he says; "I succeeded in discovering the cause of generation and life; nay, more, I became myself capable of bestowing animation upon lifeless matter." He is cagey about the specifics of this illumination, because, he explains, the punishments that followed it were so severe. "I will not lead you on," he tells his interlocutor and, by extension, his reader, "unguarded and ardent as I then was, to your destruction and infallible misery. Learn from me, if not by my precepts, at least by my example, how dangerous is the acquirement of knowledge."
Frankenstein's punishments are doled out by the Creature he makes, the living embodiment of the knowledge he regrets having acquired. Before he is through, the Creature murders Frankenstein's younger brother, best friend, and foster sister/fiancée, each a paragon in his or her own way. Seen in this light, the Creature is the serpent in the garden, bent on the destruction of the Rousseauvian childhood Eden in which Frankenstein was educated:
Our studies were never forced; and by some means we always had an end placed in view, which excited us to ardour in the prosecution of them. It was by this method, and not by emulation, that we were urged to application.
…
Neither of us possessed the slightest pre-eminence over the other; the voice of command was never heard amongst us; but mutual affection engaged us all to comply with and obey the slightest desire of each other.
Seen in another light, Frankenstein's Creature, product of his hands and flower of his learning, is Frankenstein's liberator, doing what Victor himself cannot: eradicating the demands of domestic life by destroying those who embody them. Frankenstein himself speaks piously of limitations, urging abstinence from "unlawful" study that "weakens your affections and… destroy[s] your taste for those simple pleasures in which no alloy can possibly mix." His Creature, meanwhile, powerful beyond containment, has no check on his feelings, and no inhibition in their expression. He is alloyed all through, his adoration mixed with hatred, erudition permeating his elemental existence.
Victor Frankenstein is one model of Prometheus, stealing fire under the name of "the cause of generation and life." His Creature, however, is another, and it is his story of transgression and punishment that echoes in the mind of the reader. This is because the Creature's crime is reading itself. He steals literacy, the spark of his nascent self-consciousness, from a world designed to keep it from him. His theft leads him to knowledge of himself, a poisoned gift that bestows a soul and the suffering that goes with it. Both creator and Creature are "ruined by reading," though it is hard to say exactly what is wrong with Frankenstein's reading. It is untutored, and it awakens fantasies of "unlawful" power that persist even when his formal education begins and he no longer believes in outmoded scientific doctrines. Perhaps he does too much of it. But none of this would seem so bad without the deus ex machina that descends to hand over, behind a modesty screen of his discretion on the subject, "the cause of generation."
Few readers have to worry about this kind of thing. Godlike power, for better or for worse, is not the usual outcome of too much unsupervised reading. The Creature's reading is another story altogether, because it bestows only, but exactly, the power and pain of self-knowledge. His circumstances may be unusually heightened, but his problem is not: because he reads, he knows more than he wants to, and he knows it too well to forget it. If Victor Frankenstein is a "modern" Prometheus, a transgressive thief born of the science of his age, his Creature is both a modern and an ancient one, repeating a crime as old as Eden and suffering the same punishment: an understanding of himself and of his origins. His story is the one of which lifelong readers live out endless variations.
The crime of knowledge, which for the Creature is the crime of reading, is its own punishment.
Why do popular reimaginings of the Frankenstein story in the movies omit his literacy? It's a striking change from the novel, in which the essence of Shelley's creature is that he can argue his case. In Shelley's vision, the Creature is his creator's match in learning and eloquence, superior in wits as well as physical strength to the human world that hates him on sight. One answer is that literacy turns monsters, which are frightening, chaotic, and destructive, into villains, who may be all of those things but are also, inevitably, seductive.
A monster and a villain both might kill you, but a villain may convert you to his cause first. A villain is usually just a step away from being a story's hero. A monster's muteness can also evoke our pity, allowing us, in conquering it, the possibility of a double victory: defeating a monster eliminates an external threat, while pitying it restores our internal sense of power that fear takes away. Monsters can be made into pets—villains cannot. Frankenstein's Creature, in the grunting, illiterate form the movies have given him, is less menacing to our egotism than the creature Shelley imagined. Once that creature can tell his own story—once he knows himself as having a story to tell—he is lost to us as a pure object of pity or terror. He is a self without reference to us at all.
For Shelley's Creature, then, the transgression against the man who made him, as well as against boundaries that divide the human from the nonhuman, is not reading one book or another; it is reading at all. Victor Frankenstein's inaugural act of fatherhood is to reject the newly animated Creature's first words by running out of the room. Quick to take the hint, the Creature flees to the woods, where he lives alone, learning the uses of his own senses, discovering fire, and eventually finding a family from whom he can learn to be human. That education centers on literacy, which he pursues by means of eavesdropping, listening in as the family teaches French to a young woman in their care. He first learns to follow their spoken language and then, cataclysmically, to read.
As the Creature learns "the science of letters," they initially "open before [him] a wide field for wonder and delight." As he becomes proficient in reading, however, the words "turn him toward himself," and he falls irrevocably into self-consciousness. Like Adam and Eve before him, the creature comes away from his encounter with the tree of knowledge with a fatal question: "What was I?" He arrives at much the same answer: naked and ashamed. The crime of knowledge, which for the Creature is the crime of reading, is its own punishment, as he learns to his cost: "Of what a strange nature is knowledge! It clings to the mind, when it has once seized on it, like a lichen on the rock."
__________________________________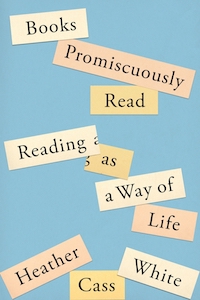 Excerpted from BOOKS PROMISCUOUSLY READ by Heather Cass White. Published by Farrar, Straus and Giroux, July 6th, 2021. Copyright © 2021 by Heather Cass White. All rights reserved.
---