How Perfume Becomes an Evocative Clue for Mystery Writers
Megan Volpert on the Role of Fragrance in Stories
Mystery novels offer a more nuanced perspective in which perfumes are one intriguing tool in the box of dark communication strategies. Beyond seduction, by "dark communication" I mean that a perfume can create avenues for deception, subterfuge, transgression, deviance and so on. Napoleon is said to have gone through more than 100ml of his lime and rosemary cologne in baths and dabs every day. Copies of this invigorating scent are still a bestselling formula and the political writings of a Renaissance diplomat, the Italian philosopher Niccolò Machiavelli, help explain why.
In his 1532 treatise The Prince, he famously argued that one's benevolent ends may justify the use of any necessarily fraudulent or violent means, and that leaders ultimately do better to be feared than loved. Napoleon seemed cool for a short while because an elected official utilizing dark communication is presumably off the hook when it helps achieve big benefits for the citizenry. Or at least big profits for the politician's backers. But in the land of mystery novels, the agents of a bad action almost always get foiled or caught. Their goals are seldom validated as righteous, and it is most often the villains who are mixed up with perfume.
Take the latest book by best-selling Canadian mystery writer Louise Penny, for example. All the Devils are Here is the sixteenth installment in a series she began publishing in 2006, wherein Chief Inspector Armand Gamache of the Quebec Provincial Police always succeeds in finding out who the murderer is and why they did it. Penny pours on the perfume in a variety of meaningful ways, situating Gamache in Paris for the birth of his grandchild when his godfather is nearly killed by a suspicious hit and run. Sixty pages in, readers are introduced to a highly intelligent engineer who reeks of Dior's Sauvage.
This archetypal aromatic fougère for men beats one over the head with pepper and lavender, a loud blue smell repped in the ad campaign by Johnny Depp, whose own real-life characterization seems to grow more villainous all the time. Dior profits by Depp's bad boy image. This woman in the story may or may not be a mole, double-agenting on behalf of the bad guys, a possibility that opens in the moment she is portrayed simply as a woman who wears men's cologne.
Cologne is also a literal clue in the story. Upon finding the freshly dead body of a stranger in his godfather's apartment, Gamache and his wife suddenly realize they've stumbled into imminent danger because the murder's cologne still lingers in the air. It's a citrus scent, so the trail must be fresh because citrus notes don't tend to linger, leading the couple to conclude the villain is still in the apartment with them.
Later, the wife explores a department store perfume counter in search of the murderer's cologne. It turns out to be 4711, a slightly herbaceous, lemony fragrance produced since 1792 in the city of Cologne itself. Two or three suspects in the novel may be wearing it, repeatedly producing the dark communication conditions for mistaken identity and red herrings, and the Gamaches must literally sniff out the killer. Echoing the presumption of a romance novel, Inspector Gamache himself smells merely of a brandless and unspecific sandalwood. The hero doesn't do product placement.
As the mystery unfolds, it's clear our hero is no expert in matters of fragrance. The good guys rarely are. This is most in evidence in the quintessential character of Detective Sherlock Holmes, brainchild of Sir Arthur Conan Doyle. Holmes is always portrayed as having an acute sense of smell and a widely catholic interest in smells. Using just his nose, he might trace an object left at the crime scene to the one and only dock where the criminal's lair is hidden, or he might distinguish between a variety of suspects by the scent of their shoe polish. He always hits it rather quickly on the nose. Yet there is something about Sherlock that leaves a reader uneasy. Subsequent film and television portrayals of him have leaned heavily on his interest in fragrance as a mark of his intellectual giftedness and equally a sign of his darkness.
Sherlock is ripe for interpretation in perfume, with most homages anchored by the smell of pipe tobacco and leather.
He is the kind of protagonist who is not very likable, being either melancholy or rebellious most of the time—a Byronic hero, named for the English Romantic poet Lord Byron. Holmes is classically anti-heroic in this vein, and still we root for him to solve mysteries with his no less mysterious power of deductions formed from trace evidence. He literally pulls a fragrant clue from thin air, all the while berating his naïve wing man Watson or the bumbling officers of Scotland Yard in his curmudgeonly way, unraveling the crime methodically as only a prodigy can, reliant on the simultaneous talent and curse that is his superior ability to apprehend and comprehend smells. His astuteness is its own burden, and he knows it—and dulls it in his off hours through drugs or sex or making a mess of his apartment or playing the violin. Sherlock is a volatile bohemian, but he has benevolent ends, solving crimes while remaining isolated unto himself as a tortured individual. The police overlook his ill-temper because they need his help.
In an amusing reversal, the character of Sherlock has proven good fodder for perfumers. It's common to find fragrancers creating intricate backstories to set the stage of a specific perfume. Imaginary Authors is a brand predicated on this intensively narrative style of marketing, and Sucreabeille is an example of a brand that offers scents for the fans of particular stories. Their collections include thirteen scents based on Joss Whedon's cult classic television show Firefly, and a series of scents based on the beloved sitcom Golden Girls with one named for each of the four protagonists and a fifth called Thank You for Being a Friend, after the show's theme song. Sherlock is ripe for interpretation in perfume, with most homages anchored by the smell of pipe tobacco and leather. There are online fan blogs devoted to tracking Sherlock's attention to smells in various stories, as well as others delivering speculative fiction on what fragrances the character might wear.
In the BBC adaption Sherlock, the perfume worn by his Achilles heel is not a matter of conjecture. Irene Adler, the cunning femme fatale who haunted Sherlock through many stories, wore Chopard's Casmir, an "oriental" vanilla with a very peachy top note that launched in 1992. From here, we could slide gracefully down a slippery slope into all the literary bad girls, from Old Testament Eve giving Adam a whiff of the apple to movie legend Elizabeth Taylor, who likely made as much money from her Passion and White Diamonds fragrance lines as from her blockbuster films like Cat on a Hot Tin Roof and Cleopatra.
Such a deep dive would be a gay old time, too, with dips into the poetry of Charles Baudelaire's Fleurs du mal—a primary source of inspiration often cited by especially French perfumers—or Oscar Wilde's costly libertine adventurism in The Picture of Dorian Gray. But all this examination of fallen women and queer prisoners will pile up into a garbage heap of stinky moralizing, so in support of the fine tradition of dark communication's deceits, let's not and say we did. As an alleged bad girl myself, I'd rather take this opportunity to give the world's most beloved novel about perfume a kick in the shins.
One cannot simply prattle on in praise of Patrick Süskind's Perfume: The Story of a Murderer and never bother to zoom out on the reasons why this book haunted bestseller lists for nearly a decade. With over twenty million copies sold it is one of the most profitable German novels of the twentieth century. Hollywood even picked it up and turned it into a blockbuster movie, because it offers such an easy moral judgment against dark communications: beware the dangerous seducer, avoid the fragrant deceiver, keep on your toes against the intellectual schemer.
Its protagonist is a serial killer, gifted with a peerless nose but shackled in a scentless body, who makes a sublime perfume out of young virgin girls. He is eventually caught, whereupon by means of his most powerful perfume yet, an orgy ensues instead of his execution. There's also some cannibalism. Very heady stuff in this German novel from 1985—the kind of stuff that can only be answered by an offer of context provided by German philosophy from 1885. Simply put, Nietzsche's Zarathustra is a better novel than Süskind's Perfume because it succeeds in offering a mystic symbolism for perfume without all the attendant moralizing.
Romance and mystery stories are often made into a series. Their use of perfume symbolism becomes constrained by conventions that congeal across repetitions until we expect them as stereotypes and mistake them for moral laws. They repeat endless variations on the same few ideas where just a handful of conflicts constantly recur. This is in part because we feel stupidly satisfied each time by the naïve belief that the resolution of the conflict will last forever. This is a ruse, as more novels will publish more variations of the conflict.
Yet we do not judge Louise Penny for engaging in the dark communication of producing sixteen different copies of Armand Gamache to foil sixteen different criminal enterprises. Imagine Sherlock Holmes for once truly not catching the killer. Even his nemesis Moriarty eventually ceases to be elusive. And we never tire of respecting Sherlock in equal measure for his keen sense of smell as well as the drug habit he forms to cope with it.
__________________________________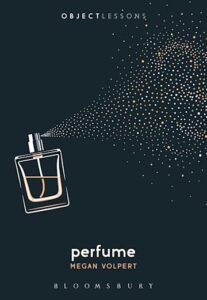 Excerpted from Perfume by Megan Volpert, available via Bloomsbury.
---