How Performances of Othello Can Spotlight White Supremacy, Past and Present
Farah Karim-Cooper on Analyzing and Appreciating Shakespeare Through the Lens of Race
An African American actor walks out on to a stage to audition for the part of Othello; the director can't be seen; he's just a "disembodied voice" from the stalls:
Actor: Her father loved me; oft invited me;
Still question'd me the story of my life,
From year to year, the battles, sieges, fortunes, That I have passed.
I ran it through – Fuck me!! … Shit, Sorry, I'm sorry…
Director: You were doing great. You can pick it up right there…
Actor: I ran it through, even from my boyish days,
To the very moment…
Any gift of oratory that he has…
He tosses the book to the floor.
If we're quoting lines here? … He says, when he's first brought before the senators, he says,
"…Rude am I in my speech,
And little bless'd with the soft phrase of peace…"
He says,
"…little shall I grace my cause In speaking for myself…"
Shit, don't I know it…in other words, "If I tell you mugs what's really on my mind—sans the soft phrase of peace—y'all are gonna get your noses all outta joint and say, 'Oh oh! This n 's gettin' all obstreperous n'shit.' Any scant communication, is gonna break right down, and I ain't gonna get nothin done here…" He knows his purpose for these men, and his value to them. The combination of humility and the knowledge of one's own worth is called "self-possession." If anything, it breeds composure, stillness, and it too has forever been disquieting to white men when they see Black ones wearing it, so, yes, it is…pragmatic for him to "mind his place…" He's here to do a job he knows he's damn good at if folks would just get over themselves and let him…But meanwhile he stands here, in front of you, having to play this game of civility and field your stupid comments with a look of interest and a smile while wanting nothing so much as to slap you knowing, if he did, that the ages of ancestral animosity accumulated in that single stroke would probably kill you dead.
Race is the very motor of this play.
In this moment from American Moor, a play by African American actor and playwright Keith Hamilton Cobb, we feel the modernity of Othello's experience. Interspersed in the extracts from Othello, are the protagonist's thoughts as he auditions. As he swings sometimes gently, sometimes hard, between Shakespeare's words and his own, he offers thought-provoking, emotional commentary on a play that speaks to his own painful experiences of playing Shakespeare in a white-dominated profession. The anger is palpable, the passion for Shakespeare powerful. Reflecting on his play and its many performances, Cobb says that he
spoke back to Shakespeare. I spoke back to the white-owned and operated American Theater and to Shakespeare in his safe, unassailable fortress within it. I spoke back to the obliviousness of the obliviousness of white Americans who perceive everything that I am and do from within a framework of ancient, intricately wrought privilege so meticulously constructed that I can barely blame them for not being able to see beyond it. I spoke back—a cardinal transgression of the American order since the time slaves first learned English. I was honest, adamant, and indicting—and I apologized for nothing.
Nor should he. Cobb's play shows how the encounter with Shakespeare for a Black man can be a wholly different, more alienating experience than for a white person. The power of American Moor lies in its direct confrontation with Shakespeare's original and Cobb's deep affinity with its title character. Later in the play, Cobb shows just how profoundly he identifies with the Moor:
First up, a little white man is asking me if I have any questions about being a large Black man, enacting the role of a large Black man in a famous Shakespeare play about a large Black man which, for the last fifty, sixty years or so has been more or less wholly the province of large Black men…
No…I ain't got no questions…But you should.
American Moor offers a challenge to the structures of racism entrenched in the theatre industry. It speaks honestly to whiteness and the ways in which the construction of Shakespeare as the Bard—or what Cobb calls "the framework of ancient, intricately wrought privilege so meticulously constructed"—can be oppressive to people who can't possibly fit the mould. Not only is Othello a play about race because it centers upon a racialized figure, a Moor, but it is also a play about race because it centers upon whiteness and the white spaces that Othello is employed to defend.
Othello is a painful play, as Cobb's emotional journey through it makes clear. Many Black actors who perform the role feel traumatized during the production and even for a while afterwards. In a festival on Shakespeare and Race I curated in 2018, I gathered together a panel of four actors who had played the part to speak about their experiences.The word "trauma" was used often throughout the conversation. But why is this? The Nigerian poet Ben Okri reflected upon what it feels like to watch the tragedy unfold from his perspective. Race becomes inescapable even if it isn't for the white spectators: the "black person's response to Othello is more secret, and much more anguished, than can be imagined. It makes you unbearably lonely to know that you can empathize with them [whites], but they will rarely empathize with you. It hurts to watch Othello." Cobb corroborates this view in his play as he describes how it feels to be locked into that role as a Black man:
No! No, Gotdammit, no! What brand of credulous, self-loathing baboon, I thought, must such a man be?…
And why?! I was ashamed of him. I was ashamed that any reasonable person could look at me and see him, and I could no sooner portray him than I could show up for one of those Black urban dramas…
Okri's perspective does not define how all Black actors feel about the role. Cobb's play shows how complicated the actor's journey really is through Othello, realizing that as dignified and self-possessed as the character seems, the white world he finds himself in objectifies his difference so relentlessly that it makes him un-incorporable into that world: "I have a brother who can't defend himself…[N]ow I'm here. And I'm gonna defend and protect this much maligned, misunderstood, mighty character…my brother's dignity…or maybe my own." Hugh Quarshie, who played Othello in 2015 for the Royal Shakespeare Company, had wondered almost a decade before whether "[o]f all parts in the canon, perhaps Othello is the one which should most definitely not be played by a black actor." In a lecture delivered at the University of Alabama Hudson Strode Theater, he argued that,
if a black actor plays Othello does he not risk making racial stereotypes seem legitimate and even true? When a black actor plays a role written for a white actor in black make-up and for a predominantly white audience, does he not encourage the white way, or rather the wrong way, of looking at black men, namely that black men, or "Moors," are over-emotional, excitable and unstable…
Quarshie offers a completely valid response and important provocation. What partly fuels the reproduction of centuries-old stereotypes is that white directors cannot fully comprehend what it feels like to be a black person in a white-dominated society, as Cobb's play attests to in the exchanges between the white director in the dark and the Black actor auditioning onstage. In the centuries that followed its first performance, the play has been a favorite of white directors, theatre critics and scholars. The question of race, however, even now, is not seen as central to the play even though the well-known twentieth-century Shakespeare scholar G.K. Hunter stated in his British Academy lecture in 1967 that Othello's skin color was a tangible force in the play and "significant to our understanding of it." Despite very rigorous scholarship on race in Shakespeare, many white directors and scholars still argue race is just "one of " the playwright's themes, and that military bonds, jealousy, domestic abuse or misogyny are far more prominent. I do not need to echo that Othello, as with all Shakespeare's oeuvre, has many strands. One of the playwright's extraordinary gifts is his capacity to weave together a multiplicity of the perspectives, emotions and concerns of his day, as well as our own in intersecting ways. But race is the very motor of this play.
It is also a play about race because it centers upon whiteness and the white spaces that Othello is employed to defend.
We do not meet Othello in the opening scene. Instead, he is introduced through rhetoric by the army's ensign, Iago. Adapted from one of the tales in Giovanbattista Giraldi Cinthio's De Gli Hecatommithi (One Hundred Tales; 1565), the protagonist of the source story is referred to as simply "the Moor," whereas Shakespeare gives his Moor a name, a deep history and complex identity. Other key characters in the source are "Disdemona," the evil "Ensign" and the "Corporal." In Cinthio's version, the Ensign has a very clear motive for his actions: he is in love with Disdemona so he plots to poison "the Moor" against her, persuading him that she has been unfaithful with the Corporal. A handkerchief is stolen and placed in the Corporal's house to dupe the Moor. Together the Ensign and Moor scheme to murder the adulterous couple. The Corporal is only wounded, but they both beat Disdemona to death with a sand-filled stocking, a more brutal method of dispatch than in Shakespeare's version. While Cinthio's text is limited by facile caricature, our playwright saw the dramatic potential in centralizing the complexities of race on stage.
Shakespeare's play jarringly opens in a way that feels comedic when Iago and his dupe, the Venetian fop, Roderigo, wake up Brabantio in alarmed tones, all the while keeping the audience entertained. Brabantio's daughter has secretly married "the Moor" and this seems to be the stuff of scandal. Brabantio is a patrician of Venice; in other words, he is of the ruling, elite class. In Renaissance Italy, patricians were notorious for their dedication to keeping their bloodlines "pure." Clandestine marriages would therefore have been dealt with punitively. The social and racial purity of patrician families were non-negotiable, since daughters of these mega-elite households were viewed literally as property and commodities to be exchanged in the game of power. In the opening scene from Shakespeare's play, we learn very little about Othello from Iago at first, except that he is black. Iago hammers this point home through a performance of extreme racism; he deploys familiar racializing strategies of evoking the opposition between black and white and using dehumanizing rhetoric to set the stage for the tragedy to come. In modern performance, the comic effects of this scene work against what we deem acceptable given that its racist humor and stereotypes tend to elicit laughter from majority white audiences. Humor always lives on the edge of palatability and Shakespeare is still testing us four hundred years on.
Iago refers repeatedly to Othello by pronouns—"him," "his," "he"—before we learn anything else about his person or identity; as he describes how the Florentine Michael Cassio has been promoted to Lieutenant, Iago becomes increasingly and strategically specific to draw us in: "the Moor," a phrase that appears over forty-five times in the play lest we might forget his "otherness" for a brief moment. Once at Brabantio's window, Iago tells the patrician that Othello is "an old black ram" who is "tupping your white ewe!" (1.1.87–8); he is "the devil" that may make a "grandsire" of him. The fear-mongering crescendos when Iago threatens, "you'll have your daughter covered with a Barbary horse; you'll have your nephews neigh to you, you'll have coursers for cousins and jennets for germans!" (110–112). Invoking "Barbary" of North Africa and the notion of barbarousness, Iago agitates Brabantio's elitist anxiety about miscegenation. Animal/horse imagery dehumanizes Othello and any prospective offspring of the couple and is a final flourish to Iago's racist rhetoric. It lays bare his hostility to sex itself; for him, sex is bestial and interracial sex is barbaric. If Iago were real and alive today, he'd spend most of his time in a Reddit chatroom provoking misogynistic, racist and homophobic involuntary celibates to deepen their fear and hate.
__________________________________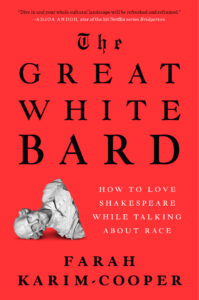 From The Great White Bard: How to Love Shakespeare While Talking About Race by Farah Karim-Cooper. Copyright © 2023. Published by Viking, an imprint of Penguin Publishing Group, a division of Penguin Random House, LLC.
---