How Paul Cézanne Taught Émile Zola to Look with a Painter's Eye
On a Deeply Influential, Lifelong Friendship
Émile Zola was 40 years younger than Balzac. He was 12 when the older novelist died. Balzac's most important works date back to the Restoration and  the July Monarchy; Zola's to the first 30 years of the Third Republic, which was founded in 1870. Between the two periods lies the Second Empire, during which France underwent an industrial revolution and shifted from a mostly rural and artisanal population toward a commercial and industrial society. The developing railways, increased mechanization, and a population influx into cities contributed to an acceleration in the pace of life. In the late nineteenth century the art world also experienced a transformation: it became far more active and more innovative, and also rather quarrelsome. This shift in mood nourished a growing mistrust and misunderstanding between the conservative bourgeoisie and contemporary artists, some of whom were, quite justifiably, seen as revolutionary; these included the naturalists, who abandoned historical painting in order to depict peasants and factory workers, and the plein air painters, precursors of the Impressionists, who deserted their studios to paint nature without gods, nymphs, or mythical heroes. In Balzac's day, painting did not provoke such violent reactions as it did in the ensuing generations, when writers engaged determinedly in the polemics sparked by exhibitions, and none did so as continuously or with as much intelligence and energy as Zola. He saw this role as a sort of mission because, as he said  in his essay on contemporary criticism, "the general public, which is alarmed by originality, needs reassurance  and guidance." Even though Zola was a very influential art critic, he was first and foremost a great writer, and his enduring interest in art along with his knowledge of the art world left a mark on his literary work.
Unlike Balzac, Émile Zola always lived among painters, and had done so since childhood. He lost his father when he was seven, and was raised by his mother in difficult circumstances. Thanks to a scholarship, he was accepted as  a boarder at the Collège in Aix-en-Provence, the town where his father, who was of Italian descent, had settled  to oversee the construction of a canal which would supply the city with water. The young Zola's friendship with two fellow pupils—Paul Cézanne and Baptistin Baille, a future lecturer at the prestigious École Polytechnique—brightened these years made tough by the dirt, bad food, cold, bullying, and lack of freedom that went hand in hand with boarding school life. Cézanne was a year older, bigger, stronger, and wealthier (his father was a banker), and he took Émile under his protection, which was of great benefit to this shy, puny boy who was the butt of his classmates' jibes. In contrast to the other pupils, whose only aspiration was to lounge around on café terraces and play cards, the three friends escaped to the countryside whenever they could. Cézanne never set out without his "powder flask and his box of color cartridges," while Zola "always had a book of poetry in his pocket." They walked for hours; if it was hot they would take a dip in the river Arc, which ran through a series of gours, pools deep enough for swimming; but mostly they talked, they talked endlessly. Years later, in 1866, in his dedication to Cézanne of his Salon de 1866, Zola reminded his friend that "we have been talking about art and literature for the past ten years." Cézanne shared Zola's enthusiasm for the Romantic poets and gladly saw himself as a poet, while Zola enjoyed drawing and actually won the drawing prize at their school. But Cézanne's passion for depicting the world around him soon asserted itself. On their outings he was constantly stopping to draw things, and he revisited some favorite haunts years later: in a letter to Zola dated June 20, 1859, he sketched three young boys playing at the river beneath a large tree; one wore a straw hat, another was swimming with his head above the water, and the third was doing a sort of somersault—only his backside and feet were visible. The  image needs no explanation.
A few years later, Zola was still trawling back through the memories and reminded Baille that the hot-tempered, violent one, the live wire with the mood swings, beaming with joy or roaring with fury, was Cézanne. He, Zola, ever conscious of his mother's financial difficulties, was more sensible, even criticizing the older boy for being spendthrift, which provoked a comically aggressive response from Cézanne: "If I die tonight, you wouldn't want my parents to inherit, would you?" he growled, thereby reducing his level-headed friend to silence.
So Zola learned to look—and to look with a painter's eye—at a young age. As F. W. J. Hemmings points out  in his biography of Zola, the description of a house in Balzac's work always steers us toward imagining its occupant, whereas Zola paints a picture of the house itself. One could also say that when Balzac refers to the ocean, as he does in Father Goriot (Le Père Goriot), it is to imagine the mysteries of the deep and their potential riches: "But Paris is truly an ocean. Try sounding it, you will never know its depth . . . you can always find virgin areas of it." And he grants his hero, the young Rastignac, 15 months to "fish for fortune" there. For Zola, on the other hand, the ocean is primarily a color, a vast expanse of blue. In The Kill (La curée), Paris looks like an ocean to Aristide Saccard and his first wife because they see the higher ground of Montmartre as "an ocean of houses with bluish roofs like hurrying waves filling the vast horizon." It is in comparison with Balzac that we can gauge the visual power of Zola's imagination. Zola is carried away by the image, Balzac by the mystery.
Zola left Aix at 18 when he moved to Paris with his mother. He maintained close contact with Cézanne and Baille, and the friends' letters were as free as conversations, sometimes in verse—they liked to dash off pastiches of Musset, whom they greatly admired—sometimes in prose, occasionally in Latin. Cézanne, as we have seen, illustrated his, and they are especially entertaining. Zola put great store by his friendships, "in order to form an association . . . a powerful, tightly packed bundle for the future, to give each other mutual support, whatever lies in store for us." In the meantime, life in Paris was not easy. Zola was not a good pupil and failed his baccalauréat (because of his French!). His friend Paul Alexis remembered how the examination process went:
The science section: superb! Physics and chemistry, natural history: very good! Pure mathematics, algebra and trigonometry: good! Nothing but straight A's! There is already no doubt these examinations are a success. It is only a matter of which grade. Zola winks at a classmate, who gets up, leaves the examination hall, and runs to tell the boy's mother it is a triumph. Finally, he comes to the last teacher, responsible for interviewing him about living languages and literature.
"Now then! A little history first," says the examiner. " . . . Tell me, sir, in what year did Charlemagne die?"
Clearly distressed, Zola hesitated and eventually stammered a date. He was only 500 years out. He had Charlemagne dying in the reign of François I.
"'Let's move on to literature,' the teacher said tartly." And Zola was failed.
He then had to resign himself to earning a living working as a customs official: "Since I have been in Paris, I have not had a moment's happiness," he wrote to Cézanne on February 9, 1860. The next two years were indeed miserable, dull, and discouraging.
In the end Zola boldly changed tack. He resigned and found work in a brand-new advertising department set up by Louis Hachette, who was not only a bookseller but also an editor and book distributor. Here he learned the ways of modern publishing and established professional connections with some of the most remarkable writers of his day, including François Guizot, a historian, highly regarded philosopher, and former minister to Louis-Philippe; Alphonse de Lamartine, the poet and politician; Jules Michelet, author of a monumental history of  France in 16 volumes and a no less exhaustive history of the Revolution; and finally Ernest Renan, a historian of religion whose Life of Jesus (La vie de Jésus) caused a scandal because he cast a critical eye over his subject. Zola was responsible for sending out press releases about new works by these writers, and he made it his duty to visit them beforehand, thereby compiling a useful address book. Two years later he launched himself into journalism, essentially as an art critic. The name of his first article, "Mes haines" (My Hatreds), is enough to give an idea of his verve and acute ear for publicity.
At 25, Zola wanted to be a writer and saw himself as one, but it was his taste in art that set him apart and gave him his own place in the artistic avant-garde of the day. Cézanne, who soon joined him in Paris, spurred him on, guided him, and introduced him to the group of young artists who would breathe new life into painting in France. First he presented him to Pissarro, whom he had met at the Atelier Suisse (Swiss Studio), nicknamed "the sanctuary of art and carousing."11 This institution was neither a school nor Swiss but simply a large studio directed by Charles Suisse (commonly known as le Père Suisse), a former model of David's. For a modest sum, painters and illustrators could use the services of a live model and work in complete freedom, and this may be what fostered the studio's often turbulent atmosphere. Cézanne was quickly drawn to other artists such as Renoir; Daubigny, who became a critically acclaimed landscapist; Bazille, a very talented painter who enlisted during the Franco-Prussian war and was killed in action; and finally Guillemet. Guillemet was an ardent revolutionary in his youth, and in 1866 he wrote in a letter to a friend: "We are painting on a volcano, the '93 of painting will sound its grim knell, the Louvre will burn, museums and antiques will disappear . . . to arms, we must feverishly grasp the dagger of insurrection, we must demolish and build! Courage, brothers. We must close ranks, we are too few not to fight the common cause—we are being thrown out the door. We shall slam the door in their faces." This frenzy appealed to Zola, and the two men became close friends. Guillemet certainly calmed down with age, but their friendship lasted. Guillemet had a fine career as a landscape artist and was always respected by his colleagues. He was closely associated with Manet, having posed for him behind the two women in The Balcony, and it was Manet who introduced him first to Cézanne and then to Zola. Guillemet remained Zola's most faithful friend, providing him with a wealth of detail for The Masterpiece (L'œuvre) and giving him inspiration for the raging tirades of the novel's revolutionary artist, Gagnière.
Zola's apprenticeship in Parisian life thus took place among artists, painters, and sculptors in an ambience of warm friendship. "I mingled with a whole group of young artists, Fantin-Latour, Degas, Renoir, Guillemet,  and  still others, whom life has dispersed, scattering them at various levels of success . . . Yesterday I went to the 1866 Salon with Manet, Monet, and Pissarro, whose paintings had been harshly rejected." Here Zola is referring to the annual exhibition of paintings and sculptures organized by the Académie des Beaux-Arts. The Cénacle, the intellectuals' club dreamed up by Balzac in Lost Illusions, brought together a painter, Joseph Bridau, a writer, Daniel d'Arthez, and a scientist, the doctor Horace Bianchon, while the group that gathered around Zola  comprised  only one literary figure, himself. "I am surrounded by nothing but painters here," he wrote to the poet Antony Valabrègue, one of his friends in Aix, "I have not a single literary man with whom to talk." It would take Zola much longer to gain access to literary salons and befriend his fellow writers.
For now, though, Zola held get-togethers every Thursday. Even before he achieved a degree of financial comfort, he had taken to inviting the whole pack once a week, and these gatherings were conversation enough for him, because—although they always revolved around painting—he found the discussions and comparisons stimulating. Delacroix, Courbet, and Manet met with their unanimous approval but that did not preclude some animated debates. Zola would write a few years later in L'œuvre that each of them was in pursuit of something new. They fought against the musty atmosphere of studios that the sun never reached: "Do you understand, perhaps what is needed is the sun, fresh air, a clear young style of painting [to grasp] things and people as they are in true light."
In fine weather, these young men were keen to escape into the countryside around Paris. In the summer of 1866 the entire group spent several weeks in Bennecourt, a village on the right bank of the Seine, and they whiled away the evenings in heated conversations that went on until midnight. "We smoke pipes while gazing at the moon. We call each other idiot and cretin for the tiniest difference of opinion." The poets defended Romanticism, and the painters were fervent (enragés) realists.
It was at around this time that Zola forsook his first infatuations (particularly with Greuze) and became enthusiastic about the new school of plein air painters who were not yet referred to as the Impressionists. He became a regular at the café Guerbois on the rue des Batignolles, where he would meet Degas, Renoir, Fantin-Latour, and Bazille. Not only did Zola spend time with all these young painters. He also visited them in their studios, watched them work, and, when needed, posed for them.
Fantin-Latour and Bazille each featured him in a group portrait in 1870. He had first posed for Cézanne in 1861, and the sessions were far from uneventful: on one occasion in Paris, Cézanne—frustrated with his work—flew into a temper, ranted, threatened to give it all up and go back to Aix, and eventually hacked through the canvas. Zola calmed him as best he could and took him out for lunch. He knew Cézanne well enough not to be offended by this outburst. "Proving something to Cézanne would  be like persuading the towers of Notre-Dame to dance a quadrille . . . he is made from one solid, immutable lump . . . Paul may have the genius to be a great painter, but he will never have the genius to become one. The least obstacle makes him despair." Of course Cézanne never went back to the painting, but Zola would not forget the artist's hopeless, exasperated struggles. He himself also experienced doubts and hesitations but always persevered with his work. Zola never gave up. Cézanne would not paint his friend until 1869; he made him pose sitting crosslegged on the ground "like an Arab," as he liked to say, listening to a reading by one of their friends, the novelist Paul Alexis, who was also from Aix.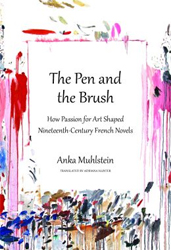 From The Pen and the Brush. Used with permission of Other Press. Copyright © 2017 by Anka Muhlstein.
---