How New Orleans Became the Paris of the Mississippi
A Cultural Magnet and Melting Pot, From the 1920s to Today
More than 80 years have passed since George Orwell wrote Down and Out in Paris and London, which intimately described the experiences of poverty in the great modern metropolises of his time. The literary critic and philosopher Walter Benjamin may have captured 1920s Parisian social life as a flâneur strolling through the city as a connoisseur of the street, but Orwell lived and worked in the urban underbelly beneath the iron-and-glass-covered arcades. The interwar Paris of Benjamin's and Orwell's writing attracted a creative community of bohemian artists and intellectuals who frequented coffee shops and participated in lively nightlife.
In bourgeois Paris, creative artists and intellectuals—the heart of Stein's "lost generation"—attempted to find meaning in a world that had proved worthy of distrust and cynicism. The Paris of the 1920s became the breeding ground of Hemingway's battered but not lost resilience and Fitzgerald's disillusionment with extravagance and the failed promises of Western society. It attracted migrating expatriate urban dwellers searching for meaning in an irrevocably damaged world. And beneath the surface of Benjamin's bourgeois Paris, Orwell depicted life on the fringes of the city's Latin Quarter as he stood in breadlines, worked lowly restaurant jobs as a plongeur, experienced near-destitution, and traversed the unseen and often hidden spaces of the city. During this same period, many artists and intellectuals were also arriving in New Orleans, making that city—the cradle of jazz—a Paris on the Mississippi.
While the uptown neighborhoods attracted the bourgeoisie, who lived along St. Charles Avenue, the grit of the Vieux Carré just downriver attracted, à la Montmartre, artists and intellectuals. "Dixie" Bohemia—where the beer was cheap and rents were low, women entertained for agreeable prices, and tolerant attitudes for the madness of creativity prevailed—became fertile ground for alternative and resistant lifestyles. New Orleans in the 1920s, the Vieux Carré in particular, became a literary hotspot, beginning with the journal The Double Dealer, which published the works of, among others, Sherwood Anderson, William Faulkner, and Ernest Hemingway—all literary giants who either lived in New Orleans or who had spent considerable time there during this period. It was where William Faulkner and William Spratling wrote the pamphlet "Sherwood Anderson and Other Famous Creoles," and it was a place composed mainly of migrant bohemians, writers, preservationists, intellectuals, and artists, all participating in the social and cultural life of what was then "surely the most civilized spot in America." It's the place where Tennessee Williams has Stanley shout "Stella" into the humid, uneasy air, where Louis Armstrong Muskrat Rambles the Basin Street Blues of Storyville, where F. Scott Fitzgerald drinks sazeracs at the Red Room in the Roosevelt Hotel, and where Sherwood Anderson writes about sexual freedom in Dark Laughter, based on his experiences in New Orleans while living in the historic Pontalba Apartments of Jackson Square.
Fast-forward a century, to post-Katrina New Orleans. It still attracts a flow of modern bohemian transplants, all migrating to the city to become part of its distinct culture and in search of cultural authenticity, artistic expression, self-actualization, identity transformation, and alternative lifestyles. Just as in 1920s Paris, beneath this bohemian surface lives a huge urban and mostly unacknowledged class of willful outsiders, people who exist on the edges of the postindustrial tourist economy.
*
The city is a site of cultural creativity. It is where urban dwellers carve their subjective imprint on the hard spaces of urban design and architecture. New Orleans is a place where a Rabanesque image of the soft city—the human, flexible, malleable, and fluid city—springs to life. New Orleans culture is as thick as the humidity; it weighs its people down with the intense burdens of the city's dark past while simultaneously lifting them to a transcendental, intoxicating awareness of its colorful and resilient history.
New Orleans is a unique blend of contradictions. It's simultaneously a shithole and a place of mysterious charm, a great display of extravagant wealth and dirt poverty, dog-tired and magically alive, empty despair and bursting possibility, static and kinetic, notoriously corrupt and courageously honest, otherworldly yet in this world, cutthroat violent and selflessly friendly, hostile and peaceful, ordinary and magical, naïvely innocent and wickedly tainted, subversive and submissive, highly resilient and passively succumbing.
The culture invents words and sounds that require new vocabularies of style. Its people "make groceries," walk on "banquettes," cross "neutral grounds," expect "lagniappe," say "who dat?" eat po-boys, ask "how ya' momma and dem?," inquire "where y'at?," and exclaim "laissez les bons temps rouler" in the face of an uncertain future and a precarious existence. "Making groceries" instead of merely "buying" them linguistically reflects active participation and involvement in the most mundane activities. The people sing when they talk. The culture is as diverse as its gumbo—creative, eccentric personalities living together while maintaining their unique individuality—and its people retain their subjective essence, refusing to become a homogeneous mass.
New Orleans is a highly reflexive culture, and it is constantly aware of itself. New Orleanians drink to celebrate their sense of being connected to something much larger than themselves; simultaneously, they sense their isolation from the outside world. They dance to brass and jazz bands to embrace life, knowing it can all fall apart with little warning. They embrace "the moment," knowing that one day it will all be gone. They indulge in cuisine as unique as its city—seafood gumbo, crawfish étouffée, shrimp creole, rabbit jambalaya, red beans and rice, raw oysters, fried catfish, turtle soup, muffulettas, spicy boiled crawfish, barbecue shrimp—to dull the sadness of the constant threat of extinction from both manmade and natural disasters. External happiness masks internal suffering. To be from New Orleans is to long for it even while in it. New Orleanians in exile wax poetic for their city. They drink to forget, which makes them remember better. They revel in the precarious uncertainty of their lives, a future destined to falter, to feel life—to feel how deep the word "alive" actually means. Their mystery is as real, perhaps more real, than the conventional outside world. It's a place just as unique in death as it is in life: Mourners second line from the cemetery, refusing to accept death, instead celebrating life. Funeral homes in New Orleans's black communities sell package deals that include memorial T-shirts that celebrate the dead along with a church service and second-line parade.
"New Orleans is a unique blend of contradictions. It's simultaneously a shithole and a place of mysterious charm."
In the City That Care Forgot, the people dance to revel in the human condition. The people work jobs to make time for real life, best expressed through the fests—Jazz Fest, French Quarter Fest, Voodoo Fest, 23 Satchmo Fest, Zydeco Fest, Essence Fest, Decadence Fest, Mardi Gras Fest—where they release the collective sigh of their oppression-resistant creature. There even exist festivals to celebrate the city's unique cuisine, including the Mirliton Fest, Oak Street Po-boy Fest, Creole Tomato Fest, Seafood Fest, and Tremé Creole Gumbo Fest. And, of course, there's the Tales of the Cocktail Fest to celebrate the city's fine drinking traditions. New Orleanians go to coffee shops—Sacred Grinds, P.J.'s, Morning Call—to discuss local music, politics, existentialism, and theology. But mostly they talk about their city.
Stepping outside from a local café to take a break from writing, I overheard two transplanted locals waxing poetic about the city. "Everywhere is fake kindness," one says. "New Orleans is a forgiving kindness."
In New Orleans the locals complain about the endless corruption, the proposals to tear down their housing projects, the devastation of gentrification, the rising housing and rental prices, the crooked politicians, the old money, Hurricane Katrina, the new transplants affecting the culture, and the shocking murder rate. (New Orleans is often ranked as the deadliest city in the United States.) But if an outsider dares to point out these same gaping flaws, that Southern charm fast dissipates. Only insiders can rag the city. Outsiders ain't earned dat right. Dey don't know where dey at.
New Orleans residents constantly repeat the phrase "only in New Orleans," reveling in the many eccentric and peculiar characters that produce the fascinating visual scenes of the public sphere. New Orleanians deeply feel their sense of being. They are in the here-and-now but transcend their immediate realities to connect deeply and intimately to the larger culture of the city.
New Orleans culture is like an onion: The more you peel, the more layers get uncovered, the more complex it gets. The people see the taste of the oysters, smell the sounds of brass bands, feel the sights of their second lines, and hear the visual movements of the dancing revelers. The music scene captures the collective nomic isolation of the people, who celebrate their cultural products through their actions. They celebrate as a collective and, in doing so, produce the cultures of which they are a part, yet they feel the individual isolation that exists within that same culture. They find belonging in their collective isolation. To be from New Orleans is to be part of something larger, connected to something unique, while finding comfort in loneliness.
New Orleans culture is a verb; its people understand and see their part in shaping it with their own subjective unique human imprints. Existing in this culture, breathing in its cultural aroma, affects its denizens just as it does the gumbo and French bread they eat. And, in turn, they simultaneously affect the culture.
The Tulane geographer Richard Campanella admits his need to use other languages when explaining the local sense of what it means to be a New Orleanian: "It's the tout ensemble of laissez faire plus carpe diem with a little joie de vivre thrown in as lagniappe." He stresses the importance of geography in explaining how "the live oaks, the heat, the humidity, the sinking soils, the termite-infested shotgun houses, the tragedies, the triumphs, the uncertain future" serve as essential ingredients in intimately connecting New Orleans culture and its people to the physical and sociohistorical environment. Campanella declares: "You've got to live here—you've got to cast your lot here —to lay unconditional, nonfigurative claim to the demonym 'New Orleanian.' It's not just a state of mind. It's a state of place."
Yet the city—and its mental life as a state of place—has changed in crucial ways in the years following 2005's Hurricane Katrina: an accelerated gentrification process (especially in the Bywater, Tremé, and the Lower Ninth Ward), a sharp increase in poverty, growing inequality of epic proportions, an epidemic of shocking violent crime, increased racial hypersegregation, and a sharp increase in un- and underemployment. In many pockets of the city, from the Seventh Ward to Hollygrove, the rates of poverty, illiteracy, and infant mortality rival some of the poorest countries on Earth, seriously challenging the myth of first- and third-world distinctions. These changes have been accompanied by an increased distrust of police and public officials, who have often done more harm than good. Some of these striking changes involve the regulation of the city's very culture, including the performance of music in the public space, under the auspices of Mayor Ray Nagin, the city's chief executive during Katrina and in the tumultuous years that immediately followed, and his successor, Mitch Landrieu.
The United States has pre- and post-9/11 worlds. New Orleans has pre- and post-Katrina worlds. The post-Katrina world is one of contradictions that involve, among other things, increasing gentrification and "yuppification" of many of the city's historic neighborhoods, shadowed by increased poverty and misery in some of its other neighborhoods. Even ten years after Hurricane Katrina, New Orleans continues to experience an increasing rate of migrant transplants, greatly changing the city's culture, visible in its oldest neighborhoods—from the Vieux Carré to the Faubourgs, including the Tremé, Marigny, and Bywater neighborhoods. Already a mecca for bohemian artists, writers, musicians, and other creative types before the hurricane, the post-Katrina transplants have revitalized an urban creative scene reminiscent of 1920s Paris and Jazz Age New Orleans—where jazz was born in Congo Square before spreading throughout the world.
__________________________________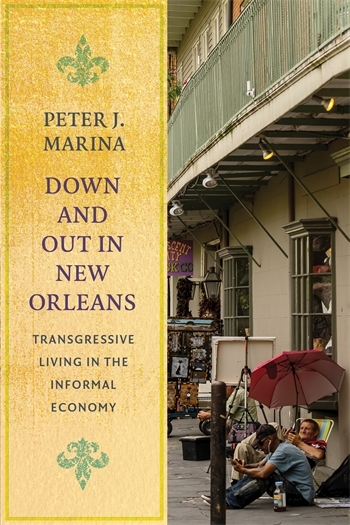 Adapted from DOWN AND OUT IN NEW ORLEANS by Peter J. Marina. Copyright (c) 2017 Columbia University Press. Used by arrangement with the publisher. All rights reserved.
---