How My Mother Taught Me to Be a Book Fanatic
And Why I Hope to Do the Same for My Own Children
I was raised by a book fanatic who turned me into a book fanatic.
Everyone always assumes my mother named me after the famous Fleetwood Mac song, since it was released only a couple of years before I was born. Actually, she named me after a Welsh princess named Rhiannon whom she read about in a collection of historical lectures published by the University of Wales Press in 1953. I'm going to tell you a little secret I hope won't get my mother in trouble all these years later. She discovered this collection of lectures shortly before I was born, at our local library in Bremen, Germany and she still owns that book today. And by "owns" I mean she never returned it to the library—she "permanently borrowed" it because it meant so much to her. Her excuse: "Well, they never sent me an overdue notice, so it's like they wanted me to have it."
My mother was a teacher and she is still the most book-crazy person I've ever met. She devours books at an astonishing speed; I don't recall a single day when I haven't seen her with a book in her hands. Every wall in our apartment was lined with bookshelves. Every few months my mother planned an entertaining weekend activity: my sister and I had to dust off the books . . . all the books. This involved taking each book off the shelf and clapping it together through an open window. A long, weekend-filling endeavor, because inevitably, we would get sidetracked as one of the dusty books tempted us to take a quick peek. My mother would come in to check on our progress only to find us engrossed in the Grimm Brother's fairy tales or Pippi Longstocking's next exciting adventure.
Growing up, family vacations meant camping in the dunes of Amrum, in the North Frisian Islands off the German North Sea coast, for weeks at a time. It meant roaming the deserted beaches that stretched for miles with my sister, shelling prawns, washing dishes in small tubs of water we collected from the community kitchen, and it meant hunkering down in the tent to read.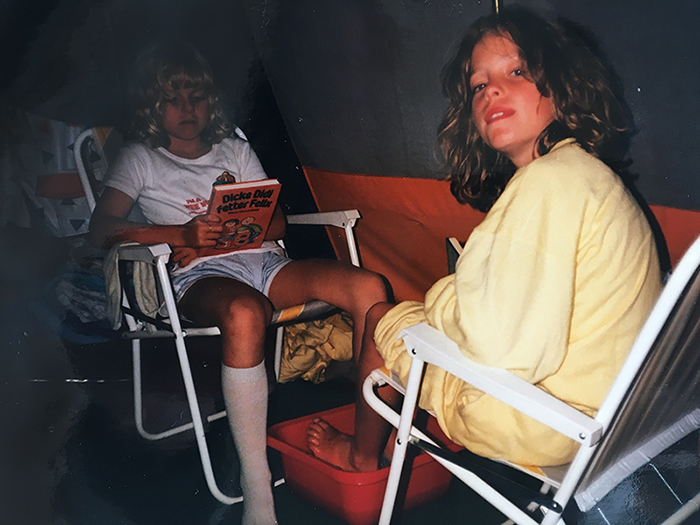 I remember my mother loading our VW bus for our epic camping adventures, trying to fit our oversized tent, air mattresses and sleeping bags, camping stove and propane tanks, and suitcases. There were always four suitcases, even though there were only three of us. Suitcase number four was for books. This little piece of photographic evidence shows my sister and me (in the fancy yellow ensemble), age 11 and 12, riding out a storm in our tent, doing what we loved most—reading. (I don't remember what the foot soaking was about, and apparently my mother didn't pack hairbrushes, but there we are, perfectly content plowing through our book-filled suitcase.)
Now I have three children of my own and I hope I will be as successful as my mother at instilling a deep, life-long love for reading in my children. I am happy to report that so far, the abounding passion for books appears to be hereditary. "I'm glad tomorrow is Saturday, because I really just want to spend the morning in bed, reading," my seven-year old daughter proclaimed the other day, and this instantly ranked in the top five of my proudest parenting moments ever. Nothing would make me happier than knowing one day my kids might write an essay that starts with I was raised by a book fanatic who turned me into a book fanatic.
This past year, my family had an epic summer vacation of reading on Fire Island, a narrow barrier island off the south shore of Long Island, New York. I wanted to replicate my carefree childhood summers for my kids . . . with certain concessions. My husband insisted on a base level of amenities, such as indoor plumbing and a Corona-chiller, AKA fridge. But overall, we came close.
Fire Island is car-less and families-full during peak season, and so my kids roamed free, on foot or on bike, and I went (reasonably, not irresponsibly, yet nonetheless unnervingly at first) long stretches of time without knowing exactly where they were. We went barefoot, showered outdoors, picnicked on the beach, and we read. After a couple of days the initial electronics-withdrawal shakes subsided—for me, too, because I just so happened to spill water on my phone on the first day we arrived. Heard you loud and clear, universe!
Fire Island was my kids' favorite vacation, they tell me, and we'll be back this summer. In the meantime, we're desperate to escape the brutal Northeastern winter for a little time in the Caribbean sun, and so I'm currently in the middle of packing suitcases for our family of five. On the morning of our departure, I will line up the suitcases by the front door and my husband will sigh and shake his head before loading up the car for the drive to the airport. Somehow he will shove and rearrange to make room in the trunk for the suitcases—all six of them.
---