How Mary Jane Drips Barnes Protected Indigenous Family Land
Anne F. Hyde on the Implications of the Homestead Act on Indigenous Land
The nation's new beginning, charted in Civil War-era legislation, required two things: empty land and White settlers. The Homestead Act energized the old promise of open land for Americans and lured people west. When homesteaders arrived in distant western places, ready to create new lives after the war, they discovered that the region wasn't empty and the inhabitants weren't White. Homesteaders made their first claims in Kansas, in French-Indian communities that had briefly been abandoned during Civil War guerrilla raiding. The Ingalls family, who became characters in the widely read children's book series, made their own new beginning on Osage lands in Kansas in 1868.
Mary Jane Drips Barnes struggled to manage homesteaders who threatened her Nebraska land on the Great Nemaha Half-Breed Tract. The intermarried Dripses and Barneses used Indian and Anglo-American family strategies to protect their land, heritage, and children. Mary Jane's mother's (Macompemay) Otoe people had lived there for generations, and now, she hoped, so would her children.
Mary Jane's White husband, Francis Barnes, moved into her Native world in the 1860s. Even with a deed, a legal survey, and a non-Native husband, she found that hanging on to land was difficult. Her stepmother, Louise Geroux Drips Goulet, lost her land and didn't stay in Nebraska, but she still survived. Taken together, their two very different stories illustrate how mixed-descent families and Native nations persevered.
To the new settlers of the West, Indian land ownership, like citizenship, was apparently invisible. In the 1860s, when the Otoe reservation and the Great Nemaha Half-Breed Tract became Nebraska Territory, White men tried to create counties and administrative structures required by a new territory. They drew a proposed county around the Otoe reservation but learned that it couldn't become a county because it had "no settlers or citizens" among the hundreds of Otoes who lived there.
Six White men arrived in a wagon from Kansas, but they failed to meet the 60 day residency requirement. With no settlers to represent, Gage County nearly disappeared. Francis Barnes, Mary Jane's husband and a White resident by anyone's definition, formed a new townsite company and saved the new county. To preserve the fragile counties around the Nemaha tract, residents had to count their "half-breed neighbors" as "citizens" to get initial recognition, but refused to let them vote or serve in county offices.
When homesteaders arrived in distant western places, ready to create new lives after the war, they discovered that the region wasn't empty and the inhabitants weren't White.
The Indigenous and trader worlds went underground. The first townsite in Nemaha County, named St. Deroin, was laid out by a French-Otoe man named Joseph Deroin, who ran a ferry across the Missouri River. Deroin sold land lots to new settlers until one of them shot him when he came to collect money owed for that land. Although in their accounts White settlers from this era included tales of finding "Indian camps," going to "Indian dances" at the reservation, and locating the first county seat on an Indian reservation, the grand leather tome detailing the founding of Nemaha County insisted that "Nemaha had no Indians of its own."
Those disappeared Native people, however, reappeared in 2010. Lorena Deroin, an Otoe elder descended from Joseph Deroin and living in Oklahoma, visited the old townsite to get some dirt from her ancestors' lands so she could be properly buried when the time came.
Like Lorena Deroin, Mary Jane Drips Barnes refused to be written out of Otoe history. Knowing her rights as an Otoe woman and a U.S. citizen, she carried on an effective campaign of letters, court appearances, and lawsuits through the 1870s. She wanted Nebraska officials and the federal land office to recognize her ownership of land on the Great Nemaha Half-Breed Tract. That sliver of land on the Kansas-Nebraska border encompassed a long history of family connections between French-Canadian and Anglo-American trappers, traders, and military men, and women of several Indigenous nations. Now its future lay in the hands of mixed-descent women.
Native landownership remained invisible to White men because, often, Native and mixed-blood women owned it. The Drips family, who received thousands of acres of land in the 1860 allotment, had almost no land on the Great Nemaha lands by 1870. The record shows rapid transfers of land and "half-breed scrip," with Drips family land ending up in the hands of local bankers. We know this story: the tragic loss of land for Indigenous people and Native women exploited by White land speculators, including their own husbands.
Mary Jane's story, however, was different. She and her entire extended family used their connection to a White man, her husband Francis Barnes, to create a family compound on an Indian reservation.
In 1870, with more options than the Cheyenne Bent family in Oklahoma, the Dripses and Barneses chose a reservation as the safest spot to make their lives visible and legal. Even as the Otoe agent warned that "1/4 or 1/8 bloods who had drawn lands on the half breed tract" were "defrauding the Otoe tribe by trying to regain tribal rights," Mary Jane did exactly that. Never considering that she wasn't Otoe, she spoke to her relatives and got a certificate stating that the chiefs of the Otoe tribe "do recognize Mary Jane Barnes, wife of Francis M. Barnes to be a member of our tribe." Now she could settle, along with Francis, on the Otoe reservation.
Francis Barnes and Mary Jane's brother, the former Union soldier and riverboat pilot Charles Drips, became model farmers hired by the Indian Service to teach Indians to farm. Francis, like so many White men married into Native families, served as agent for the Otoe. In 1873 Barnes used a gun to threaten squatters who tried to settle on Mary Jane's kinfolk's Otoe lands. The Otoes had the only remaining large stands of timber along the Republican River; the rest had long since been chopped down by overland travelers for firewood. During cold winters, new settlers found Otoe trees the only fuel available. Barnes arrested several ax-wielding settlers but never managed to convict any.
Like Lorena Deroin, Mary Jane Drips Barnes refused to be written out of Otoe history.
Louise Geroux Drips Goulet used a different strategy. Now married to Henri Goulet, also widowed with four children, they both had claims on the half-breed tract. Henri couldn't keep that land after his first wife's death. After he married Louise, they farmed Louise's land. By 1870, they had fourteen children living in their household. Like many settlers old and new, they risked losing that land to local storeowners who lent them money for seed and supplies. Worried about such loss and to protect the children of her first marriage, to Andrew Drips, Louise gave Francis Barnes control of her children's land.
By 1875 a new wave of pressures beset the Dripses, Goulets, and Barneses along with the entire Otoe nation. According to their agents and Nebraska newspapers, Otoes clung to hunting and showed no interest in becoming American farmers. They held their good land in common, and raised corn in riverbeds. A series of corrupt agents ensured that the Otoes received no seeds, supplies, or farming tools, so they hunted bison. Otoes, Kaws, Shawnees, and Poncas all made more money selling hides than corn, which frustrated their agents.
However, the Otoes' horse population, a source of pride and wealth, was down to four hundred, not enough to mount a good hunt. Drought and economic hard times made corn hard to grow, and after 1873, many Otoes went hungry.
Federal officials responded to this crisis in two ways. First, they insisted that the Otoe reservation be converted to individually titled plots of land. Second, they threatened that if the Otoes didn't sign away their rights to the reservation that remained after allotments, they would send them all to Oklahoma. Officials believed that these measures ensured that fine farmland would no longer lie unused and wasted. White Nebraskans could take "left over" land that was not part of Otoe individual allotments. Such leftovers included the land the Drips and Barnes family had settled and farmed.
Mary Jane Drips Barnes could see exactly what the future held. Having been educated in St. Louis at exclusive boarding schools, she wrote to her well-connected friends for help. Those friends included the St. Louisan Julia Boggs Dent, now married to Ulysses S. Grant, president of the United States. In 1875 Mary Jane wrote to Julia, "I know the President can make us a grant of our land." She explained that she and her family had worked hard and did not want to "leave our comfortable farms under duress and go south with the tribe to Oklahoma, which is surely their fate." When Mrs. Grant didn't respond, Mary Jane wrote to the commissioner of Indian affairs, demanding that he provide land titles to "deserving and industrious tribal members" like herself who had papers proving ownership and residency.
A crucial piece of Mary Jane's strategy was to make use of family connections. When she and Louise Drips Goulet moved to Nebraska and became farmers, they made sure their children had options. Their sister and co-parent Catherine Drips Mulkey had never left Kansas City. Catherine bought the house that her father, Andrew Drips, had left to Louise and immediately sold her land on the Nemaha. She raised her younger half-siblings, Louise's children, and took care of Mary Jane's children when they attended school in Kansas City. Catherine never left her Otoe life behind. She labeled herself an Indian in her letters and in the census. Like other Kansans, Native and White, she and her husband, William Mulkey, invested in cattle.
Catherine used her money and her fur trade connections to push her family into the new economies developing in the West. She went into business with an old friend from the convent school she had attended in St. Louis, a Wyandot woman named Sarah Pagne. Sarah had married Lucien Dagenett, a French-Odawa man who traded on the Wyandot reservation in southern Kansas.
Long threads linked Catherine and Sarah's lives because of the Wyandots' surprising path through the fur trade and U.S. history. They started as Huron refugees from Canada called Wendats—a name that evolved into Wyandots—who settled in Odawa and Ojibwe villages around the Great Lakes in the early 1700s. Following the fur trade, Wyandots moved south into Michigan and Ohio and joined other Native groups. From there, in the 1830s they were removed to Kansas, where, like the Drips family, they were promised new land. And like most Kansas Indians, the Huron-Wendat-Wyandots were removed again after the Civil War, this time to Indian Territory.
Sarah and Lucien Dagenett raised cattle on the Oklahoma-Kansas border, using Wyandot cowboys and drovers. When the business thrived, Catherine Drips Mulkey invested. She got Kansas City cattle merchants to pay better prices than the French-speaking Lucien had managed. These new linkages between the fur trade communities along the Missouri River to new Native communities in Oklahoma became a piece of Indian country's survival.
________________________________________________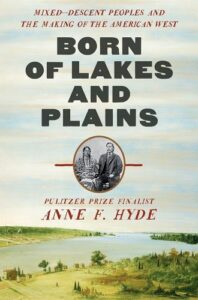 Excerpted Born of Lakes and Plains: Mixed-Descent Peoples and the Making of the American West. Copyright (c) 2022 by Anne F. Hyde. Used with permission of the publisher, W. W. Norton & Company, Inc. All rights reserved.
---