How Louisa May Alcott Landed on the Front Lines of the Civil War
"The door of opportunity opened just a crack."
During the height of the holiday season, in December 1860, Louisa May Alcott and her neighbors in the tranquil town of Concord, Massachusetts, were buzzing with worry over the bitter divide of the United States. In November, Abraham Lincoln had won a contentious presidential election and had plans to prevent slavery in the westward-expanding nation. Shortly after he was elected, South Carolina was the first slave state to rebel and secede from the Union, and more Southern states were threatening to follow.
The Alcott family supported Lincoln, and if women had been allowed to vote, Louisa would have joined her father, Bronson, at the Concord Town Hall to cast her ballot. It was no secret that the Alcotts were red-hot abolitionists as well as feminists. They were outspoken and unwavering in their belief that men and women, regardless of race, deserved equal rights and opportunities.
Louisa was so passionate in her belief that when the Civil War broke out in April 1861, she wanted to be a soldier in the Union army. Since women weren't allowed to join the military, Louisa resigned herself to any opportunity to help abolish slavery and focused on more ladylike, acceptable pursuits, such as sewing uniforms for soldiers.
But then the door of opportunity opened just a crack, and Louisa was eager to push her way through. The Union army announced it was allowing women to be paid nurses, an unheard-of development at a time when it was not considered respectable work for a woman. Even so, practicality and the needs of wartime won out in this particular gender fight. The fierce and bloody battles of the war had resulted in an overwhelming number of casualties. There were too many sick and wounded and not enough male nurses to help, convincing the military to relent. Despite this new opportunity, there wasn't a mad rush of women signing up. Louisa, however, made the exceptional decision to enlist right away.
But Louisa wasn't from a typical family, and she wasn't a conventional woman. An avid runner—also unheard of for women at the time—and single still at age twenty-eight, her belief system had been shaped intellectually and emotionally by the environment she grew up in, and it was one of exceptional educational riches and desperate poverty. Her parents, who were friends with some of the greatest philosophers and reformers of the time, including Ralph Waldo Emerson, embraced ideals and beliefs that remain progressive by today's standards. Louisa had a front row seat watching her father and mother risk their livelihood, freedom, and lives hiding, teaching, and even living among freed and fugitive slaves.
The Civil War offered Louisa the opportunity to go to the front lines, where she would push the boundaries for women and test her beliefs.
But her father's self-absorption in pursuing his philosophical dreams and his careless disregard for his family's most basic needs of food, clothing, and shelter kept the Alcotts teetering on the brink of ruin. Louisa's mother tried to find work to support the family, but there were few respectable and profitable job opportunities for women. Many times, Louisa's mother felt like a beggar, having to ask her relatives again and again for money, writing, "My life is one of daily protest against the oppression and abuses of society."
While her mother fought for the family's survival, Louisa was writing her observations, thoughts, and feelings in her journals and letters. She was working on her plan to not only rescue her family from poverty but also to help drive change in the fight for human rights. Like her parents showed her, Louisa was going to lead by example.
The Civil War offered Louisa the opportunity to go to the front lines, where she would push the boundaries for women and test her beliefs, while gaining life experiences that would translate into an influential and lasting literary contribution—Little Women.
When it was first published in 1868, Little Women was a "radical manifesto." Louisa expertly wove her progressive beliefs and empathetic insights into her novel, creating original and unforgettable characters. Little Women was an instant best seller and has never been out of print. Millions of copies later (and counting), the trials and tribulations of the March sisters are still relatable, speaking universally to the hearts and minds of readers worldwide. Reading Louisa May Alcott's classic coming-of-age story is a rite of passage for most young girls, many of whom find themselves reading it again and again throughout their lifetime and passionately recommending it to the next generation of little women.
__________________________________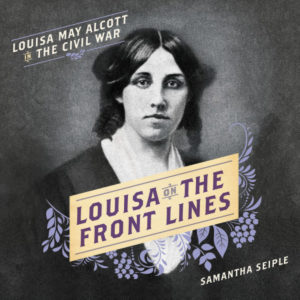 From Louisa on the Front Lines: Louisa May Alcott in the Civil War by Samantha Seiple. Used with the permission of Seal Press. Spiegel & Grau. Copyright © 2019 by Samantha Seiple.
---