How Leonora Carrington's Self-Portrait Helped Me Tell Her Story
Michaela Carter on the Mysteries of Writing Breakthroughs
When I first realized that I was going to act on the wild presumption of writing a novel based on the life of the artist and writer (and real-life genius) Leonora Carrington, I was terrified. I was in awe of her work, and the spirit with which she lived her life, and the more I discovered about her the more awestruck I felt.
She was one of the twentieth century's greatest artists, but more than that, she was a fierce individualist, feminist, mystic and shaman. She made more than two thousand works of art during her 94 years on this earth, and every chance she got she spoke up for the rights of women and the earth.
In spite of my fears—or, perhaps, because of them—I began to write about her. I was particularly fascinated by the drama and trajectory of her early adulthood, and her emergence as a fully realized artist producing her best work. When she was twenty she fell in love with the 46-year-old Surrealist artist Max Ernst and spent two years in a relationship with him, first in Paris, then in the countryside of southern France. During the Nazi invasion of France, the two were separated, and she fled for the border. In Spain, she had a breakdown and was locked in an asylum—a trial she managed not only to survive, but also to grow from, emerging with the newfound self-knowledge and strength that would enable her to access and believe in her genius.
Max Ernst and the art collector Peggy Guggenheim made their way into the story, but my protagonist was chiefly Leonora, and there was something about her I didn't understand. I knew she left Max before she moved to Mexico, where she became one of the country's most celebrated artists, but I didn't know why. Had she fallen out of love? Or was there another reason she needed to break off their affair?
One of her earliest serious paintings was a self-portrait, and she did almost no other self-portraits in her long career, so that is where I thought I would start.
Leonora had wiped something out, but she'd left its shadow—which looked, I thought, like a hunched gnome.
She began painting Self-Portrait, Inn of the Dawn Horse just after she met Max, in 1937, and the following year it hung in the Exposition of Surrealism, in Paris, among works of Picasso, Dali, Ernst, Miro and Man Ray, where it was viewed by six thousand people within the show's first week. I'd seen a number of reproductions of the painting, but the images were flat and small. I knew that to better understand her process, and who she was when she painted it, I needed to see the painting in person.
Carrington's Self-Portrait belongs to the Met's permanent collection, and in March of 2015 I flew from Phoenix to New York City to visit it. I was to be in the city for two full days, plenty of time, I thought, to see it. But my first day at the Met, I found that gallery 901—where her painting hung alongside other Surrealist works—was closed. The help desk said it would definitely be open the next day, but when I returned the following morning, once again, the gallery was closed, a red velvet cord drawn across its entrance.
The help desk told me the gallery would open at noon, which was a full hour away. I was planning to meet a friend that afternoon, and I still needed to visit MOMA to see Ernst's painting Two Children Threatened By a Nightingale, which also appeared in my novel. I didn't have time to wait, and so, with as much authority as I could muster, I walked purposefully around the velvet cord. My pulse raced. It had been a long time since I'd disregarded rules to get what I wanted.
I was following Leonora's lead, I realized, how she behaved as she wanted to in spite of society's edicts. But maybe, I thought, her heart had beat the way mine was beating. Maybe being bold didn't mean she wasn't scared, but that she did what she needed to regardless.
I found her painting around the first corner. I was taken aback by it, stunned to finally see the actual work. Leonora was already a character to me. I'd imagined her desires and thoughts, and I'd dreamed the world through her eyes. And here was her vision of herself, how she wanted the world to view her. Every painting is a kind of snapshot of the artist at the moment they painted it, but a self-portrait is even more revealing, like one of those magnified mirrors in which you can see into every pore.
The painting vibrated with color and energy. Though I'd studied it in books, I noticed new things. In the room with the open window, the artist sat in her white riding pants, her hair wild, with a rocking horse hovering above her. But now I saw just how red and shiny the seat of the chair was, like a tongue. I saw the wry smile on the hyena's lips, how human the animal's eyes looked, and I saw—for the first time, somehow—the blur on the tile floor. Leonora had wiped something out, but she'd left its shadow—which looked, I thought, like a hunched gnome.
Immediately, I was filled with questions. What had the blur been? Why did she wipe out the figure and why hadn't she fixed the blur?
I'd begun to write in my notebook when a guard approached and asked if I was staff. I told him I was not, but I was writing a novel about Carrington and had travelled to New York just to see this painting. "Well," he said. "You have to leave. The gallery will open at noon." I followed him out.
Noon was only a half hour away, and I wanted more time with the painting, so I waited. As I waited, I fixated on the smudge of paint on the floor of the room in her self-portrait, wondering what she might have painted. Since Leonora was a child she'd loved stories of the Sidhe (pronounced Shee), the fairy folk from the Irish tales her mother, grandmother and nanny had told her. She felt a kinship with them, and later in her life she celebrated them in her paintings. The notion that she may have painted and then wiped away one of the mythical beings, which she depicted with such assurance later in her life, excited me. What if Max hadn't liked it or understood it, and so she took a cloth to it, angrily, but left the blur as an act of defiance? I spent a little more time with the painting, and took many photos, but I'd already had the epiphany I'd come for.
To realize her genius, Leonora Carrington had to actively believe in it, which wasn't a simple matter for a woman at that—or at any—time.
After my visit to the Met, as I continued to work on the novel, the blur in Leonora's Self-Portrait, and the mystery of what she might have wiped out, became an essential thread, and her connection to the Sidhe, as well as her struggle to have confidence in her own artistic vision, came more sharply into focus. As a result, the character of Leonora—my version of her—became more human. She had more doubts, more of an inner world she kept to herself, not even sharing it with Max.
As Leonora's relationship with the Sidhe grew, I uncovered the intensity of her visions, and the fear that accompanied them, and these two things became the underbelly of her genius, making her accomplishments and creations even more extraordinary. I realized, too, just how deeply her love for Max was colored by her need for his approval, and how, if she had stayed with him, she'd have always stood in his shadow.
To realize her genius, Leonora Carrington had to actively believe in it, which wasn't a simple matter for a woman at that—or at any—time. She had to stand on her own and show up, year after year, for her art. This sort of self-discovery is a journey, and her art suggests the arc of the impulse toward individuation—how it sprouts in darkness and must grow to reach the sunlight.
Ultimately, Leonora's Self-Portrait turned out to be the key to my gaining some understanding of her. I just had to realize through it all that I could never contain her. She was too vast. But maybe, just maybe, I could tell a small part of her story.
__________________________________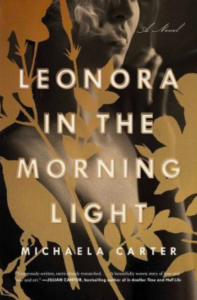 Leonora in the Morning Light is available via Avid Reader Press.
---