How Judy Blume Changed My Life
Lily King on the Book That Got Her Through Her Parents' Divorce
The book that changed my life was It's Not the End of the World by Judy Blume. I had already loved Are You There God? It's Me, Margaret, and it was natural that I would want to read Blume's next novel. But there was a much bigger reason that this one changed me. It helped me process my parents' divorce.
No one else I knew had parents who were getting divorced. It was 1973, and my parents split for good in the summer of 1974. I know that I read It's Not the End of the World in hardcover, as I read all of Blume's books, because my mother would buy them for me.
Even though the circumstances were very different between my parents and Karen's in the novel, reading her story made me feel that I had a friend going through this, experiencing her family coming to an end. I read that novel many times—and I'm sure my mother was aware of what she was trying to do in giving it to me.
But aside from the narrator and her voice, from the moment I read Blume, she spoke to me in a way no writer had before. When I was growing up, there were a lot of talking animals in children's literature, and a lot of science fiction for slightly older kids. There was nobody just telling family tales. So when I stumbled on Judy Blume, I not only felt "I love this kind of writing, I love this kind of book," but I understood for the first time "I want to do this. I want to write these kinds of things." And I'd never had that before. I really, really credit Judy Blume for that.
Blume was willing to speak to young people. She was at my level, but at the same time guiding me, helping me be aware, not to think just about the pain of my parents breaking up, but through to the larger picture. It's such an interesting and powerful combination: I needed that book, but I also got so much pleasure out of it. There are great characters, like the friend the protagonist makes in her father's new "bachelor" apartment building. This new friend is much more sophisticated and cultured; she reads the New York Times.
I grew up in Manchester, Massachusetts, and a lot of the books I found in the library were set in the country, on farms. Judy Blume is mainly suburban, but you get a little hit, from things like that girl reading the Times, of something bigger and more metropolitan.
For a while, I did want to write for the young adult audience; I felt that I would grow up authoring for children. But, of course, other books came along that shifted my ideas and made me more interested in writing for adults. Finally, I realized that what Judy Blume had taught me is that writing about family, writing about psychological dramas, writing about people in a household—that's vital stuff. I think I've always been interested in the claustrophobia of family.
At first I thought Euphoria was such a departure for me, because it wasn't about that. But then I went back to what had originally drawn me to the story of Margaret Mead and her husband and lover, which was a scene in a biography of Mead where all three of them are living together in a little hut, and it's such a pressure-cooker situation. I wanted to write about a domestic group under pressure. Here I am, back to 1973, thinking about a domestic group that is splintering. Anyone who has ever said the phrase "just YA literature" does not understand that a book can change your life and keep resonating in your life for decades.
___________________________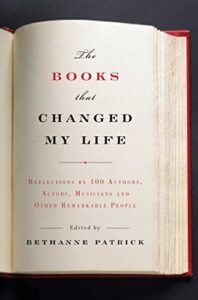 Excerpted from The Books That Changed My Life. Used with permission of Regan Arts. Copyright © 2016 by Bethanne Patrick.
---