How Hacks Captures the Disconnect Between Two Generations of Feminism
Alison B. Hart on the Sophomore Season of HBO Max's Biting Comedy
"How many women do you have to care about to be a feminist?" That's the setup of a joke in the HBO Max comedy series Hacks, but it's also the question that lies at the heart of the show's second season. The answer to the joke—"One woman: me"—is less a punchline than a bold truth, part of the new routine that legendary standup Deborah Vance (Jean Smart) is workshopping with her Gen Z comedy writer, Ava (Hannah Einbinder). The answer for the show, however, is more complicated.
When we left our leading ladies at the end of season one, they'd weathered a series of power struggles, mutual recriminations, and even a slap to the face to make a fresh start on a new comedy set, culled from the true stories of Deborah's rise to fame. The confessional style comes naturally to Ava, who has a compulsive need to share everything, from the nuances of her bisexuality to her poop shape, but it's anathema to her boss, who's protected herself with a larger-than-life reputation, carefully curated even as it frequently tips into caricature: three parts Joan Rivers-esque celebrity (insult comic, fashion police, and QVC queen) plus a dose of volatility that includes burning down her cheating husband's house. Still, if baring her soul is what Deborah needs to do to revive her faltering career and reclaim the adrenaline high that comes with truly earning a laugh, she'll do it—and she's counting on Ava's help.
There's just one problem. In a fit of pique, Ava emailed a screed detailing Deborah's failings as a boss to the producers of Bitch PM, a comedy pilot about a monstrous prime minister starring Helen Mirren, to use as fodder for their new show. A brief glimpse into the email's contents is damning. "Every person in her life is on her payroll and would never be around her if their livelihoods didn't depend on it," Ava writes, "myself included."
This season the Deborah Vance machine reconstitutes itself, with all its politicking and humiliations, on the tour bus.
The consequences of that rash confession ripple through the second season, jeopardizing the duo's creative partnership. Ava's determined to turn over a new leaf and stop self-sabotaging, vowing to give up drugs and alcohol, drink lots of water, and surrender her smart phone for one without the capability to send hasty emails and tweets. Meanwhile, their mutual manager, Jimmy (Paul W. Downs), scrambles to keep the producers from using the email and to keep Deborah from ever learning about it.
The road is the best place to test a new act, and this season the Deborah Vance machine reconstitutes itself, with all its politicking and humiliations, on the tour bus. Ava and the rest of the staff bunk in beds stacked like coffins while Deborah takes the blinged out, don't-call-it-a-master bedroom. Personal assistant Damien (Mark Indelicato) fetches provisions at rest stops, and CEO Marcus (Carl Clemons-Hopkins)—at loose ends in his personal life without Deborah's grueling schedule to ground him—soon replaces the cantankerous tour manager (a hilarious Laurie Metcalf). Even blackjack dealer Kiki (Poppy Liu) joins the tour briefly, hoping to bring Deborah some good luck after a string of lackluster shows.
Despite her talent, Ava's place at the bottom of the staff hierarchy is unchanged. Her bunk is the smallest, there's no room in the refrigerator for her kombucha, and she's still the babysitter to Deborah's demanding daughter, DJ (Kaitlin Olson). But after betraying her boss, she's too guilt-ridden to challenge the pecking order. It's a side we've never seen of Ava, whose take-no-prisoners approach to her career is what brought her to Vegas in the first place.
In season one, Ava's ambition provided the narrative gas as she fought to re-establish herself in Hollywood and simultaneously modernize her boss's nightly show, while Deborah was content to idle in third gear. This season, it's Deborah's ambition accelerating the story, while Ava's remorse taps the brakes.
Repeatedly, Ava gives Deborah a pass on her failure to support other women.
Ava's not aiming to get staffed on another TV show anymore, and the critical eye she usually brings to Deborah's work is now looking out through rose-colored glasses. She's a yes woman, reaching for easy slogans like "Go, girl!" and "Pop off, slut!" whenever Deborah steps on stage. Repeatedly, Ava gives Deborah a pass on her failure to support other women. On a lesbian cruise Marcus mistakenly books (he thought it was a gay cruise), Deborah alienates her audience so deeply that they vote her off the ship, but Ava says nothing about the offensive material (to be fair, she's on molly and not good for much besides threesomes and dancing).
Ava's earlier disappointment about the way Deborah's generation silently endured sexual harassment teed up one of last season's most satisfying moments, when Deborah paid a disgusting male comic $1.69 million to walk away from his career forever. But this season, when Deborah admits that, back in the 80s, she erased a female competitor's name from a showcase lineup because she (probably correctly) assumed only one woman would be chosen for the college circuit, Ava brushes it off.
Instead, it's that comedian—a grandmother named Susan (Harriet Sansom Harris) who's now selling shoes in rural Illinois rather than hosting her own talk show—who puts Deborah in her place. With a withering look of pity, she says she didn't quit comedy because of what happened at the showcase but because she was pregnant and didn't want to become a shark like Deborah, who put the needs of her child second to her career.
This storyline is just one of the ways that Hacks continues its biting commentary on the restrictions of gender in the professional sphere. In the world of the show, if not Hollywood itself, a manager (of all people!) is the moral compass. A white man whose father helped found the agency, Jimmy has never questioned his place in the entertainment industry. Sure, maybe he "earned" his desk through nepotism, but at least he's got the good grace to work overtime to prove himself, unlike his assistant, Kayla (Megan Stalter), the other boss's kid who's failing upwards while making unwanted passes at Jimmy.
Nevertheless, watching him squirm through negotiations on his female clients' behalf, as if their schemes to come out on top are all a bit distasteful, is one of Hacks' great pleasures, and only confirms how little Jimmy's had to compromise his beliefs to succeed so far. None of this is fair! he telegraphs with every eye roll. But he knows that his continued success is dependent on Deborah and Ava's. At times, he's hustling more for Ava than she is for herself.
Why does any woman work for less than she's worth or stay too long in a stagnating role?
But why? Why is Ava so determined to bury her own ambition this season? Why does any woman work for less than she's worth or stay too long in a stagnating role? Why do talented women punish themselves when society's more than ready to do it for them?
Perhaps in Ava's case, it has to do with her reasons for sending that hateful email: not to get the Bitch PM job (that ship had already sailed), but to hurt a powerful woman. It's a cutthroat move that Deborah—who destroys Susan and her grandsons in a harmless carnival game at the Illinois state fair, after swearing she'd be nice—can entirely understand. But whereas Deborah came up in a time when women's professional opportunities were more limited and solidarity with other women doomed your chances for success, Ava holds herself to a different standard, one that she's violated.
By trying to ruin Deborah, she's not just harming both their careers, she's also making herself a tool of the patriarchy, complicit in a toxic belief system that says any strong woman who rises must also fall. Deborah wouldn't lose a moment's sleep over such a thing (she'd probably say that whining about the patriarchy is for children and lesbians), but for Ava it's an unforgivable sin, one she spends most of the tour trying to atone for.
This betrayal is the gun on the mantelpiece of season two, and in due time the gun goes off, with consequences I won't spoil. But it's Deborah's late-stage epiphany that promises to bring Ava out of her self-hating slump. After a string of middling sets that bum out even Axel, one of her 11 living stalkers whose obsession is waning, Deborah realizes that she has to hold herself accountable on-stage for her failures off it. Ava doesn't want her to—she'll be making herself the butt of the joke yet again—but Deborah knows that acknowledging the sacrifices and mistakes she made as a wife and mother will create space for the audience to laugh again.
Telling the truth doesn't have to mean wearing a hair shirt of shame, just owning her desires and imperfections. Once they land on the winning formula, the networks come calling with a televised hour for Deborah (called, fittingly, My Bad) and job offers aplenty for her young writer. Season one Ava would've jumped at the chance to return to LA. This season, she'd rather stay in Vegas, in the shadows of their partnership, but Deborah won't have it. "Be a shark," she tells her instead. In Deborah's brand of feminism, you have to care about "one woman: me."
___________________________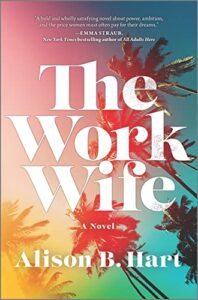 Alison B. Hart's Work Wife will be published by Graydon House in July.
---