How Do You Talk to Your Patients About Death?
Doctor Sunita Puri Recalls Her First Days in Palliative Care
On June 30, 2013, I completed my last day of internal medicine residency in San Francisco. Hours later, on July 1, I began my fellowship training in palliative medicine in Palo Alto. I'd spent most of June 30 driving back and forth between my old apartment in San Francisco and my new apartment in Burlingame, packing and dropping off boxes and bags I'd hastily filled with clothes and books. A quaint town midway between Palo Alto and San Francisco, Burlingame was home to a spacious tiled library, a main street lined with bakeries and restaurants, and an independent bookstore that stocked bestsellers and gossip magazines alike.
I'd visited the town when I'd driven down to have dinner with an old friend who lived there with her husband. I liked the church steeple that came into view as I drove to my new home, an olive apartment complex set behind a garden filled with rosemary bushes and neatly arranged cacti. My street was home to trees adorned with leaves so green they seemed fluorescent; just a few months later, the same leaves would burn a deep burgundy. Across the way, a solitary willow bowed to the sky in reverence. Living here felt like respite. After making at least ten trips between the two cities in the span of a half day, I arrived at Stanford University Hospital bleary-eyed and lost, trying to make my way to the palliative care team office in the basement of the main hospital.
Certain things would remain the same in both residency and fellowship. I would spend one-month blocks rotating between three different hospitals—the university hospital, the Palo Alto veterans hospital, and the county hospital. I still worked under the supervision of an attending physician, whose role it was to teach and mentor me, and who was ultimately responsible for the care of the patients I saw.
But in many ways, my role had changed overnight. Instead of admitting patients from the emergency room and addressing all of their medical problems throughout their hospital stay, I saw patients only when another doctor requested a consultation for a patient, usually to treat certain symptoms (such as cancer pain, nausea, shortness of breath) and to talk with patients and families about their treatment goals—what patients considered most important and dear to them when living with a serious illness. I'd gone from assuming that many of my patients would live for years after their hospital stays to knowing that some of my patients would die within the coming weeks or months after returning home.
After accidentally meandering into the cubicles of various social workers and the heart transplant team, I finally found the palliative care team's cubicles. A petite woman with warm brown eyes and shoulder-length brown hair greeted me with a wide smile. "Hi, Sunita! It's so nice to have you here! My name is Charlotte, and I'm the social worker on the team." I wondered how she already knew my name, and noticed that someone had written on the whiteboard in red marker, "Welcome Sunita Puri to Stanford Palliative Care!"
"It's great to meet you, Charlotte!" I said, already sensing that she and I would become good friends.
"Here, I printed you a list," she said, handing me a roster of 15 patients. "We just got a couple new referrals from the oncology team, but we'll talk about them on rounds."
I scanned the list filled with patients' names, ages, and diagnoses. There are some young patients here, I thought. Age 21, lymphoma. Age 45, metastatic gastric cancer. Age 35, ICU day 30, acute respiratory distress syndrome.
"Charlotte, are there patients on this list that I'm supposed to see before rounds?"
"No, it's your first day! So on our team we have two nurses and an attending physician and me. Everyone usually shows up for rounds at 9:30 or so, and we will talk about each of the patients on our list. The attending this month is Dr. Harris, and she'll assign you a few patients to see. Oh, and you'll need that," she said, motioning to a pager on the corner of my cubicle. "The teams will page you when there's a new consult to see."
"I think what's tough is that I don't know if this is her new normal or if she'll ever get any better."
Charlotte showed me how to look up pager numbers on the hospital directory and told me what days of the week the cafeteria food was worth eating. She asked me where I was from and what brought me to Stanford, and showed me photos of her two children. "This rotation can be intense," she mentioned in a low voice, "so please make sure you have some way to let off steam. And always let me know if you need anything."
Dr. Harris arrived shortly, followed by the two nurses on the team. A short woman with bouncy black hair cut to her shoulders, Dr. Harris wore the sort of conservatively stylish outfit you might find at Ann Taylor. Businesslike and efficient as she introduced herself, Dr. Harris told me that her day was packed with meetings, but that she would assign me several patients to see and we would talk about them later in the afternoon. "We tend to get quite a few consults, usually around four or five new ones each day in addition to the other patients we are already seeing. You will definitely see a lot this month," she told me.
I listened as the team discussed each of the patients on our list. The 21-year-old's lymphoma was getting worse, as was her bone pain and kidney failure. The 45-year-old wanted to go home with hospice care but his wife told him she refused to let him give up on his life. The 35-year-old had a high fever overnight and the ICU team suspected he had a new pneumonia. Almost all of our patients required family meetings, and some also required better control of pain. Everyone was open to the suggestions of others; Dr. Harris suggested what medications and doses the nurses should use for patients in significant physical distress, and Charlotte offered ways to discuss hospice constructively with the 45-year-old patient's wife. The discussion was thorough but matter-of-fact, devoid of emotion. Then again, I thought, for this sort of work to be sustainable, maybe it must also become routine.
"By the way, the neurology team saw me in the hallway and said they needed help with a patient," one of the nurses said, turning to me. "She's 80 years old and had a large stroke. One daughter wants to be really aggressive about her care and put a feeding tube in her, but the other daughter says that her mother would never want a feeding tube." I jotted down the bones of the situation and agreed to see her right after rounds.
Masaki had short black hair cropped close against her round face. She may have been 80, but her skin was luminous and her hands were soft and delicate when I held them and introduced myself to her even though I knew she couldn't respond. Her daughter Emily sat in a brown chair. She had been typing away furiously on her computer but set it aside when I entered the room.
"Hi, I'm Dr. Puri. I'm a member of the palliative care team. It's really nice to meet you," I said as I extended my hand toward her, both excited and nervous.
Emily took off her glasses and squinted at me. She didn't shake my hand. "I'm sorry. You're from the who?"
"I'm from the palliative care team. I . . . um, I was here to see how I might be able to help with the, uh, with what your mother is going through," I said, unprepared for her surprise and uncertain how best to explain my role. "The neurology team had requested that I stop by to talk with you and your sister about how best to take care of your mother given her recent stroke."
"Our neurologist Dr. Scott never told me about this," Emily said sharply. "I still don't understand. What is pal . . . I'm sorry, what's the word you used to introduce yourself?"
"Palliative," I said. "I know that's kind of a weird word, but basically what it means is that I'm here to make sure that your mother is comfortable and not suffering from any of her symptoms. I'm also here to help you and your sister discuss the issue of the feeding tube for your mother." I wished I could stuff my words back in my mouth. I'd plunged right into a delicate discussion without really defining my role.
I'd forgotten to acknowledge the enormity of the question she faced: How do we make the right decisions for people we love?
"Okay," Emily said. "But I don't know if we are ready for hospice or anything like that, if that's what you mean," she said.
"No, not at all. That's not what I am here to discuss," I said, flustered. "The neurology team had explained that your mother had a pretty severe stroke, and that you and your sister might have had different opinions about what your mom might want for herself in this situation," I said, trying again.
"Yes, that's true," Emily said. "I mean, this was all completely unexpected. Mom had filled out a living will or something where she said she wouldn't want anything aggressive when she's dying, but I don't think feeding her is aggressive. My sister disagrees. That's the basic problem."
"These types of situations are very tough, and my role is to help with the discussion about whether the feeding tube will help your mother in the . . . the right ways," I said, reminding myself not to appear as nervous and inept as I felt. "We call these discussions 'goals of care' discussions. It's another nebulous term but it means that when someone is really sick, we discuss their medical condition and what they are hoping for. From there, we consider whether doing certain procedures will actually help them to reach their goals."
"So there's a possibility that feeding my mother won't help her?" Emily said, her brow furrowed in confusion.
"No, that's not what I'm trying to say," I responded. "I'm sorry, I don't mean to confuse you more. I know you are in a really tough situation right now, and my only intention is to help you make decisions on your mother's behalf that she might make for herself."
"But that's what is so hard," Emily said, sighing. "My mother is a very private person and she never really shared any personal thoughts with us. We don't know what she would say about this situation, but I can tell you I'd never forgive myself if she starved to death." Her voice softened slightly. "What is the harm in just giving her the feeding tube?"
Masaki opened her eyes and stared at the ceiling. "Mommy, can you hear me?" Emily said, walking over to smooth her mother's hair. I looked on awkwardly, feeling as though I'd interrupted an intimate moment. "I think what's tough is that I don't know if this is her new normal or if she'll ever get any better," Emily said as she reached for lemon-scented lotion and began applying it to her mother's arms.
"That's a really difficult piece of this puzzle," I said, "and it is also part of the reason I think it will be useful to arrange a meeting with your sister, you, the neurology team, and our team to talk about that. I think what I was trying to say earlier is that if we think someone is going to recover, then doing certain things like placing a feeding tube can help. But if this is, as you said, your mother's new normal, we would really need to think carefully about the role of a feeding tube for her."
Emily took a deep breath. "Here's the thing. Maybe that makes sense in your head, but to me that sounds like you saying if Mom is only going to be lying in a bed, then there's no point giving her nutrition."
"I'm . . . I'm really sorry, that's not what I am trying to say," I stammered. "How about this: Is it possible for us to meet again tomorrow with your sister here? I'll be sure to get Dr. Scott from the neurology team to join us as well."
"Okay. I think around this time tomorrow should work." Emily refocused her attention on massaging her mother's arms and I snuck out of the room sheepishly. As I tried to find my way back to the palliative care office, I realized I'd been so caught off guard by Emily's initial questions and so focused on explaining how I could help that I'd forgotten to acknowledge the enormity of the question she faced: How do we make the right decisions for people we love?
When I described my meeting with Emily to Dr. Harris later that day, she told me that I would need to come up with a way of explaining my role. If patients, families, and other physicians don't understand what palliative medicine is, I can't effectively do my job. As I drove home that evening, I thought about how, in the last twenty-four hours, I'd gone from being a resident to a fellow, from living in San Francisco to living in Burlingame, from being a doctor who made every effort to keep patients alive to one who would likely lose each one she met. Yet the biggest shift was my new relationship to language, my attention newly focused on the words I used with patients and colleagues, and the words I heard them use.
But learning to participate effectively in family meetings actually meant un-learning some of the communication habits I'd learned in residency.
*
It wasn't an option for me to ease my way into my new role. I hit the ground running in fellowship, just as I had in residency, seeing patients who presumed I had an expertise that I was still cultivating. Controlling patients' bothersome symptoms was easier for me than navigating family meetings; after all, I knew the physiology behind cancer pain or chemotherapy-related nausea or the awful shortness of breath that accompanied heart failure. But learning to participate effectively in family meetings actually meant un-learning some of the communication habits I'd learned in residency. So when I could, I found myself taking on the role of an observer, taking in the communication missteps between doctors and patients that widened into consequential misunderstandings.
"I want you to set the timer on your watch when this meeting starts," Dr. Harris told me before we entered a meeting led by an oncologist in training. "Take note of how long the oncology fellow talks before allowing the family to speak." The oncologist, a brown-haired man with a kind face, spoke for twenty-five minutes about the gravity of the patient's diagnosis, the chemotherapies that theoretically could be used, and all the reasons why the patient was too sick to qualify for them.
"So you're saying there are still options for my dad?" the patient's son asked the oncologist, legitimately confused because the doctor had spent more time describing treatment options for lung cancer instead of the reasons this particular patient couldn't receive them. In a meeting with the wife of our 45-year-old patient, I jotted down notes as Charlotte gently corrected her misunderstandings and fears about hospice care, but without insisting that the patient choose hospice. I cringed when I heard the neurologist taking care of Masaki tell Emily that there was "nothing more to be done" for her mother, that a feeding tube was the least of her problems.
I sighed with relief when Dr. Harris spoke. "We may not be able to fix the stroke, but we can put together a plan to make sure that your mother is comfortable and not suffering from it. Your concern for her nutrition is very understandable, and we can talk about how to address that." As a resident, I'd made or witnessed the same well-intentioned mistakes I observed, though not always with a Charlotte or Dr. Harris around to steer a conversation back on course.
My intense engagement with language made every patient visit unpredictable in new ways. A patient with a failing liver asked me how much time I thought he had to live and begged me not to mince my words. Another patient, a woman with end-stage breast cancer, pleaded with me not to tell her adult daughters that she had chosen to stop chemotherapy. "I don't want them to think of me as a quitter," she said tearfully. "But I can't do this anymore." A confrontational patient asked Dr. Harris and me to leave, telling us that he knew we were only there to talk him out of treatments so the hospital could save money. The next patient we saw, a gentleman with kind eyes, took our hands and kissed them, thanking us for the medications we'd recommended to ease the shortness of breath caused by his failing heart.
Colleagues reacted to our team in equally variable ways. We were both the death squad and angels of mercy, sometimes regarded with suspicion and at other times with admiration. Some thought that our main function was to send people to hospice and start morphine drips. Others understood the difference between palliative care and hospice.
"Wait, we aren't withdrawing care on this patient," a nurse told me, glancing at my badge before I went to introduce myself to a patient with advanced emphysema and a severe pneumonia.
"Oh, I know," I said. "But the medicine team called me to help with a family meeting," I explained.
"Yeah, but you're from palliative. So when you get involved, doesn't that mean that we kind of back off on taking care of the patient?"
I began to practice introducing my role, and memorized responses to the questions I fielded daily. "Hi, I'm Dr. Puri," I'd say in front of my bathroom mirror, looking at my reflection with a warm smile. "I'm from the palliative care team. What that means is that I'm a quality-of-life doctor. I'm here to help treat any pain or other discomfort you have, and to understand what you define as quality of life so that I can make sure we are doing what we can medically to make that a reality for you." I told fellow physicians and nurses that a palliative care consult simply meant a patient needed some expert help with their pain management or a conversation about their treatment goals. It didn't mean that a patient was imminently dying, or that they needed to stop their current treatments, or that they needed hospice care, or that their doctors and nurses had somehow failed and given up on them. It simply meant that their quality of life could in some way be improved.
The words and phrases I'd started to use routinely in fellowship still felt like a foreign language, one I stumbled over and used imperfectly. If language reflects something about culture, I thought one evening as I drove home, then maybe my verbal fumbling made sense. The language of medicine reflected its biggest priorities—identifying and solving problems, saving and extend- ing lives. It was about CT scans and laboratory tests and survival benefit. Medical language atrophied when matters of suffering and mortality needed to be discussed, giving way to euphemism and avoidance. Lacking the language to discuss mortality is the ultimate way of erasing it. If we could somehow normalize instead of avoid the fact of death, perhaps phrases like "goals of care" and "advanced directive" would roll off our tongues as fluidly as words like "antibiotics," "chemotherapy," and "surgery." Or maybe in normalizing the language around mortality, the culture of medicine would evolve. After all, practicing medicine requires the drive to enable survival I'd learned to cultivate during residency, tempered by the acceptance of life's impermanence I was learning to articulate in fellowship. Physicians and patients needed fluency in both.
__________________________________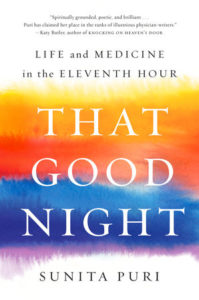 From That Good Night by Sunita Puri, published by Viking, an imprint of Penguin Publishing Group, a division of Penguin Random House, LLC. Copyright © 2019 by Sunita Puri.
---