How Do the Police in New York City Deal With Animal Cruelty?
On the NYPD's Animal Cruelty Investigation Squad
Outside an expansive seventh-floor auditorium, I gaze at the sweeping Manhattan skyline. The Police Academy in Queens, New York, is holding a training session today on animal cruelty for its police force. I first reached out to the New York Police Department (NYPD) to learn how police today would handle a call about animal abuse. It turns out that New York is ahead of its time. Headed by Sergeant Mike Murphy, the NYPD's Animal Cruelty Investigation Squad is the nation's first-ever unit of detectives who work full-time investigating animal cruelty.
Murphy invited me to attend this training session, which is jointly taught by the NYPD and the ASPCA. The police were always required by law to investigate animal cruelty if they saw it or received a tip-off. But up until a few years ago, the bulk of that policing role fell to the ASPCA. Whenever a 911 call of animal abuse came into the police system, it was usually routed to the ASPCA. Now, through a new collaboration, the NYPD takes the primary role in investigating animal cruelty and enforcing animal cruelty laws in New York. This change has led to rippling effects. Suddenly, the number of men and women inspecting animal abuse went from about eighteen ASPCA employees to the thirty-four thousand police men and women throughout all five of New York's boroughs. Additionally, the NYPD formed a new unit of detectives to solely investigate animal cruelty cases. Now the ASPCA can focus its energies and expertise on providing instrumental support, such as training the entire police force in identifying animal abuse, understanding animal protection laws, and knowing what to do if a 911 call comes in pleading for someone to help a dog, cat, or other animal in need.
On this Saturday morning, three hundred men and women—rookie cops to senior sergeants and detectives—pack into the auditorium. I sit near the front row with a cup of hot, black coffee in hand. First up to the podium is Sergeant Murphy. His soft voice, tinged with a Brooklyn accent, doesn't quite match his body type. I keep expecting a deep roar to emanate from his thick neck and body.
"Ted Bundy. Jeffrey Dahmer. Dennis Rader," he announces to the audience. "They all had histories of hurting animals before killing, eating, and mutilating people. When they do bad things to animals, they do bad things to people. When investigating these crimes, be nosy. When investigating people, look at the animals. When investigating animals, look at the people."
After Murphy's brief introduction, a young woman from the ASPCA takes over. "If you have an animal case, call us at the ASPCA. We'll help you. We have a hotline. We'll walk you through it." The ASPCA's helpline operates twenty-four hours a day to support the NYPD and instruct the officers on how to handle and transport animals. The ASPCA directs the police to take animals to their animal hospital on Ninety-Second Street in Manhattan or to one of many partner veterinary hospitals in the area. At the hospitals, veterinarians will provide medical care for free, if needed, and initiate forensic examinations and documentation. This last action has proven to be instrumental in successfully prosecuting animal abusers.
"Be prepared; there may be media," the ASPCA representative says. "There was [footage] of a man who kicked a cat twenty-five feet in the air. That video went viral."
An attorney with the ASPCA gets up next and asks the audience, "Who here has investigated an animal case?" I look around. Only a smattering of hands is raised. "The most common forms of animal cruelty you will see are inadequate shelter, abandonment, confinement in vehicles, an animal in extreme temperature, and animal fighting. Animal cruelty can be an overt act or an act of omission, and it applies to any animal." She next shows photos. Audience members, whose eyes were glazed, are suddenly alert. One photo is of a cat drowned in bleach, another of a squirrel riddled with gunshots. "Overt acts," she says. Then she shows photos of emaciated animals and animals with open, painful-looking sores. "Cruelty by neglect. Owners have an obligation to provide veterinary care. 'I can't afford it' is not an excuse."
One by one throughout the morning, miserable images and videos are displayed on the screen. Images of bloodied, beaten cats. Poisoned raccoons. Burned rabbits. Then a speaker projects a series of photos of animal fighting rings and equipment: a concrete dog-fighting pit covered in feces and blood; treadmills where dogs are forced to run up to three hours at a time to prepare for a dogfight; rape stands used to breed dogs; weight-pulling machines, heavy chains, and spurs. All equipment made for the sole purpose of watching animals maim and kill one another. This is big business.
Some of the largest cases the NYPD investigates involve animal-fighting rings. These operations run deep underground with extensive networks throughout the country and even the world. Murphy described to me how one of the men they are investigating for running a cockfighting network in New York frequently travels back and forth to Mexico. He is suspected of overseeing further animal-fighting rings there and possibly other crimes. "Crime doesn't happen in a vacuum," John Goodwin of the Humane Society of the United States once said. "When you have violent people betting large sums of money, you're going to have problems."
Dogfighting, cockfighting, and other similar activities partner with money laundering, drug cartels, human trafficking, prostitution, gambling, and gangs. Murphy frequently sends members of his team undercover to penetrate the heavy defenses surrounding animal-fighting networks. These investigations take months, sometimes years, and they usually include detectives outside of his squad, each focusing on different connecting crimes. "Where there's animal fighting," one of the presenters say, "there's gangs, guns, drugs, and lots of money involved."
The room erupts into laughter, and I look up from my coffee cup. The large screen shows an image of cockfighting paraphernalia, including a blue, passport-looking book embossed with gold lettering on the cover that says in large print: EL COCK OFFICIAL RECORD BOOK.
I laugh along with the audience, but then we all quickly sober as a video of a cockfight runs. I've never seen a cockfight before and am shocked at how violent and swift they are. In the video, men strap two cocks with spurs, place them into a concrete pit, and stand back and watch. In barely a minute, the two birds attack and practically annihilate each other. Feathers, skin, bonebits, and blood fly everywhere. I hear someone in the audience gasp, "Holy cow!"
The presenter says, "Whoever loses the most blood is the loser in the cockfight."
As I look upon the image of the bloodied fighting pit and imagine the mindset that enables people to cause such suffering, I think, no, the presenter is wrong. Everyone loses in this fight.
Over the lunch break, I sit with the other detectives of Murphy's squad in a private room reserved for the presenters and hosts. Eight detectives are assigned to the squad, formed in 2015. All had been working for the NYPD for years—some worked on homicides, some on gang violence, others on drug crimes. All highly experienced. The detectives are so eager to share their animal investigation experiences with me that I get the sense that many other cops dismiss them for not working on "serious issues" anymore.
One of the detectives, Lisa Bergen, shows me a photo on her cell phone of her dogs, Paco and Pebbles. The two dogs lounge in a kiddie swimming pool in their backyard as Paco holds a water-spouting garden hose in his mouth, looking extremely satisfied. "I had been in the force for almost seven years," Lisa tells me, "but when I heard of this new unit, I put in a request to join."
When I ask her why, she shows me a photo on another phone. I wince. The photo shows a dog's body, burned and charred.
Someone had wrapped the dog in a blanket, then set him on fire. "For reasons like this," Lisa says. "They're innocent. You're being the voice for the voiceless. Look, I did a lot of DV [domestic violence]. You get a victim calling for help. We go out, then they drop the charges. They call for help again another time and then drop the charges again. They don't want to press charges. With animals, you don't need them to press charges. You help on their behalf and they're always so grateful to be helped. Doesn't matter how abused they are, they still show love when helped."
This last point is reiterated almost word for word when I speak to another detective on the squad. Tara Cuccias tells me, "In our unit, we have hardened street cops, and this is the most rewarding thing we've ever done. Animals are so thankful. No matter how abused, they are always so grateful."
How we define abuse is influenced by our beliefs, cultural mores, and, perhaps most importantly, the biases of those in power.
After our lunch break, we head back to the auditorium to look at images of x-rays of bone fractures, broken ribs, and skull trauma. I don't want to look at any more sad photos so I spend more time watching the audience members, curious about their reactions. Some cops appear bored. A few others lean forward in their chairs, eyes glued to the screen, scribbling down notes. Most look somewhere in between. Howard Lawrence, who worked for the NYPD for twenty-five years before joining the ASPCA to serve as their NYPD liaison, later tells me that the feedback he has received about the class ranges from cops demanding that they "show less pictures, they're disgusting" to "this is one of the best classes I've ever taken." He tells me, "We got a lot of kickback in the beginning. People saying we already have enough to do. I worked in the police force since 1983 and back then DWIs [driving while influenced], domestic violence—they weren't taken seriously. Now they are. It's routine. I expect the same to happen with animal cruelty. More cops now are getting it."
What more cops are now getting is that animal cruelty is part of a much larger social picture of violence. And not just the most extreme forms of violence. The Keith Jespersons of the world are the exceptions, at the end of the spectrum of behavior. Most animal abuse links with "everyday" crimes.
Who hurts animals?
The elderly woman, I learn, committed a misdemeanor for neglecting two water turtles. She turned them over to animal control because she no longer wanted them, unaware that she had committed a crime. Animal control called the police.
"One turtle lost a leg," Nick tells me. "The other's shell flattened out." The water turtles were so sick, animal control euthanized them. One turtle's limb turned black and fell off, a common scenario when people buy aquatic turtles from pet stores without knowing how to care for them. Forced to live twenty-four hours a day in filthy water without a place to dry off their limbs, turtles frequently contract infections. The second turtle whose shell flattened out probably suffered from softshell syndrome. A metabolic bone disease due to a lack of calcium in the diet from severe malnutrition or from insufficient sunlight exposure, softshell syndrome causes shell deformities. The turtle grows, but the shell does not. Over time, the turtle becomes weak and has trouble walking due to the softened bones, which easily fracture. Both diseases, especially the deformed shell, take days, months, even years to develop. And both cause tremendous pain. The woman could not have failed to notice that the animals were severely sick. She would have walked by the two small turtles languishing in their dirty aquarium day after day, saw them literally rotting away before her eyes and done nothing.
The woman likely didn't hurt the turtles out of malicious intent. But did the suffering she caused these animals who were completely dependent on her care constitute abuse? To this woman and to many others, probably not.
It's easy to think of the serial killers, the severely mentally disturbed, the outliers, as perpetrators of violence. There is a twisted comfort in believing that monsters crouching in the shadowy underpasses of society are the problem; these are people who are clearly abnormal. But if "normal" people abuse animals, then what does that say about humanity?
At the end of the NYPD training session, as everyone was departing, I turned to several older cops and asked them why the audience laughed at Michael Vick's photo. They replied, "Here you have a photo of a professional football player up on the same slide with serial killers. You don't expect someone like him to abuse animals. They still don't believe it." Lisa Bergen echoed the two officers' response. "When I first started giving this lecture," she told me, "I was surprised that most people reacted the same way every time I put up Vick's picture. They see him as one of the guys. 'Yeah,' they would tell me, 'but he's such a good football player.'"
Cruelty is in the eyes of the beholder. Throughout the ages, cultures have shaped the definition of violence like bread dough. It's been pinched, stretched, punched, expanded. This has been especially true for definitions of domestic violence and abuse of children. How we define abuse is influenced by our beliefs, cultural mores, and, perhaps most importantly, the biases of those in power. For these reasons, domestic violence has been downplayed and only recognized as a legitimate concern, even by law enforcement, in recent decades. Men have historically determined what constitutes violence toward women. Adults decided what child abuse is. Worst of all, victims often believed these definitions.
For too long, people have buried any suggestion of sexual abuse of children, especially by family members (or in my case, by a close family friend). It was taboo. It was shushed. It was ignored. If you think getting recognition of familial child sexual abuse was bad in the Western world, imagine what it was like in a Pakistani family. My parents' radars were fixed on strangers,not on friends and family. My father continuously admonished me as a child every time I tried to sneak out the door wearing short sleeves and shorts. He genuinely believed that by telling me to cover up, he was protecting me from strange men's roving eyes. The irony was not lost on me, even as a child.
Though there is still a ways to go, much has been improved in how we look upon violence toward the less powerful. Women, people of color, gays, and sometimes children, are rightly calling violence as it is. But what about animal abuse? Humans define it. We decide whether an animal has been abused or not. As to determining who hurts an animal, we hold the paintbrushes. To many of the NYPD officers, a successful football player doesn't fit their portraits. To probably most of us, little old ladies who bake cookies don't fit our portraits. But give the paintbrushes to the dogs and turtles who suffered at their hands, and I think we would get a painting to rival that of Henry Fuseli's The Nightmare.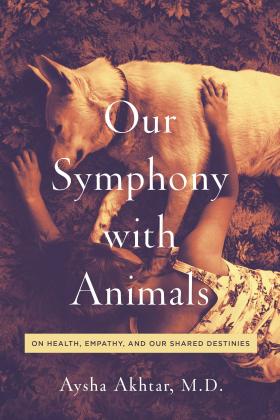 Excerpted from Our Symphony with Animals: On Health, Empathy and Our Shared Destinies by Aysha Akhtar. Published by Pegasus Books. © Aysha Akhtar. Reprinted with permission.
---