How Did a Fictionalized Leonard Cohen End Up in My Novel?
Francesca Giacco on Taking From Fact to Add to Fiction
I got to know Leonard Cohen in the dark.
It started in a gallery at the Jewish Museum, three screens hung side by side and the lights turned low. Interviews from different stages of his life and performances of greatest hits played on a loop. Instead of benches, bean bag chairs, enveloping enough to encourage people to linger, were scattered around the room. I lay in one, looking up, for what felt like a long time. I watched him sit on a rooftop, writing a song and strumming a guitar. I listened to his deep, inviting voice. Curiosity had brought me to the exhibit, a celebration of Cohen's life, as well as a hunch that he could be important to me, somehow. The time I spent there confirmed it.
A few weeks later, I sat in a movie theater on Second Avenue, watching a documentary that traced the relationship between Cohen and his longtime, inconstant lover Marianne Ihlen. I watched them swim and drink and kiss in Greece, where they met and lived together. I watched her self-destruct and him leave her behind. A film that was supposed to be an excavation of their love story slowly became all about him. There was only one showing—before noon on a Sunday. I was surrounded by people my parents' age, humming along to songs they knew by heart.
As Cohen became more familiar to me, I was feeling my way through the darkness and light of an idea that would become my debut novel. Certain characters and dynamics would flicker in and out of focus as I wrote rough drafts of scenes and jotted down ideas or lines of dialogue I thought might be valuable later, once more had become clear. Before long, his presence was a constant.
I'd like to say what drew me to Cohen was complex or hard to define. It was neither—he simply seemed like my kind of guy, the type of man who would pique my interest. Charismatic, challenging, quietly brilliant, openly selfish. But more than that curiosity or attraction, I could see him, or parts of him, becoming useful to me, the story I was starting to tell, and the people within it.
I realized I was meeting Cohen at precisely the right time, experiencing the kind of serendipity I've only ever felt when lovers or close friends have crossed my path. He was providing me with the foundation of a character who was slowly becoming clearer. The real man, one I would never meet, filling in blank spaces of the imagined one—with splashes of color and kindness and cruelty.
In my novel, Emilia, an artist in her thirties, travels to Rome alone. Her trip overlaps with the aftermath of a break-up, but, as she mourns her relationship, she's also contending with the fallout from a fight with her father, a long-simmering resentment that's boiled over. Reminders of him seem to be everywhere, from a man finishing a crossword puzzle in a café to water dripping from her hair to the tile of the bathroom floor.
Emilia's father is a famous musician, known for soulful lyrics, loving women, mixing the sacred and profane. He first appears in the book as a pervasive presence, heavy like fog. Walking along the Lungotevere, Emilia hears a few lines from "I Hope That I Don't Fall in Love with You" through an open car window, and her mind drifts to her father, who I imagine to be Tom Waits's contemporary and friend. Because, at Emilia's parents' house, Tom Waits shows up for dinner and smokes on the patio after dessert. Because her father has given her that kind of life. He's also inspired misplaced loyalty, offered real affection, and saddled her with a confusion of legacy and shame she can't shake.
Maybe it's because I never delved too deep, but the more I wrote and thought about Cohen's outlines, the more seamlessly he fit into my story.
When Leonard Cohen died in 2016, it would be two years before I started writing my novel. For a while, his words and music were everywhere. I liked the songs everyone liked, but had never been much of a fan. He became relevant to me through an interview I heard with his son Adam, promoting The Flame, a book he'd compiled of his late father's lyrics, drawings, and poems.
The conversation offered a window into a dynamic that's long interested me: what it is to be the child of a famous, successfully creative parent, especially when the child in question is an artist herself. I was struck by the way Adam Cohen, a musician in his own right, spoke about his father: in a reverent, deferential tone.
Soon after listening to that conversation, I sought out the museum exhibit, the documentary, whatever I could find. I wanted to ask and maybe answer this question: Are imagination and ambition passed down, and how?
*
You could argue that all fictional characters are based, at least in some small part, on real people. Writers seek out details as simple as the distinctive way a stranger holds a cigarette or as complex as the intricacies of our parents' marriage, as we imagine them to be. I never met Leonard Cohen, but I saw and thought about him the same way I would someone intriguing I met at a party. He started to become real to me—in a new way, as a new person.
Lauren Groff put it memorably on Twitter: "I have held every human I've ever met upside down by the ankles and shaken every last detail that I can steal out of their pockets." I bristled at those words when I first read them, probably because I recognized their truth. But there's a caveat. Writers aren't indiscriminate thieves; we steal selectively.
When I watched the documentary, I memorized Cohen's telegrams to Marianne and his Isle of Wight performance, ignored his conversion to Buddhism and the years he spent in a monastery. When I listened to "Tower of Song," I heard bravado, didn't focus on the contemplation. Simply put, I took what I wanted and left the rest—a practice Cohen, given the songs he wrote about women throughout his life, would no doubt recognize.
Cohen was Jewish; my version of him is Catholic. Both started every morning on tour by swimming naked in the hotel pool, wherever they happened to be. I have no idea what Leonard Cohen was like as a father, if he in any way resembled the weak, loving one I created. But the two men share an undeniable pull, the kind of magnetism that makes it possible to love them while they minimize you or break your heart. It's power, that type of allure. And I felt powerful, pulling inspiration from so much of it.
Public figures are ultimately unknowable—maybe his fame and ubiquity made it easier for me to mold him into the shape I dreamt up.
I gave myself enough room to play, too. I asked questions and wrote him into the answers. For example, how would a man who subsists on adoration react to someone else stealing his spotlight, even momentarily? I set a scene at one of his shows, which ends with a marriage proposal in the crowd during the encore. He responds by launching into a cover of Al Green's "Let's Stay Together," dedicating and singing it directly to the newly engaged woman, keeping her in his thrall.
Emilia's parents' relationship was inspired by a simple hypothetical: what if Marianne and Leonard had stayed together, built a close, dysfunctional family, despite the obstacles? I experimented with the ways both men seemed to glide through life, as some people can, with few consequences holding them back.
That experimentation extended to his bond with Emilia: the love he has for her, the high standard he holds her to, combined with his own demons and insecurities. The fight they have became the novel's crescendo; the shame Emilia is running from hinges on it. He sends her a note of apology on thick, expensive stationery, but doesn't sign it, knowing his trademark scrawl is identification enough. The words he writes are a twist on one of Cohen's more famous lyrics: The older you get, the more forgiveness you need.
But I was careful never to know Cohen too well, never to get so close that I lost that initial spark of potential and flexibility. I didn't read authorized biographies or listen to deep cuts. It wasn't about facts, but what felt right. As long as he stayed elusive enough, I could build from him, make something new.
Maybe it's because I never delved too deep, but the more I wrote and thought about Cohen's outlines, the more seamlessly he fit into my story. Other characters' details and histories started to blend and overlap with his. I listened to Rufus Wainwright and Jeff Buckley and Nina Simone cover his songs. The assumptions I'd always made about creativity and selfishness were suddenly being tested in new, surprising ways.
For months, everything seemed to open up to make room for him and the directions he pushed me in. That kind of synchronicity may never happen again in my creative life, but I will always be grateful to have had a stretch of time when everything felt fated.
What about him made this possible? Public figures are ultimately unknowable—maybe his fame and ubiquity made it easier for me to mold him into the shape I dreamt up. I like to think it's because he was flawed in the right ways. Cohen had everything I was looking for in abundance—creativity, humanity, familiarity. All of which made it easy to see why he's meant so much to so many, myself included.
On Emilia's second day in Rome, walking through Trastevere, she thinks about her own work, her distance from it, and the risk inherent in letting more of herself show:
"Even if I took a chance and drew or wrote something especially personal, I'd just be taking something of mine and making it theirs. If Dad's songs have taught me anything, it's that. How strangers, people who know nothing about you, will consume your most vulnerable thoughts and feelings and make it all about them. Even when you're trying to be coy or opaque, people will understand enough, and take what they want."
_____________________________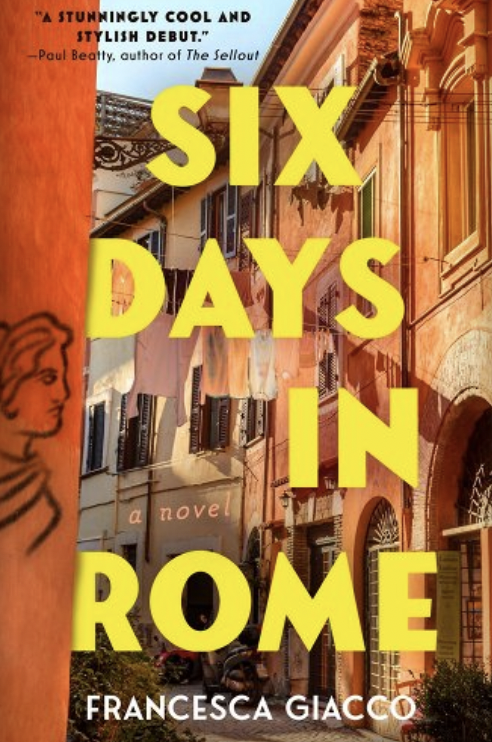 Francesca Giacco's Six Days in Rome is available now from Grand Central.
---