How Detective Fiction Took Hold of Los Angeles
Sam Wasson on the Creation of a City's Mythology
In 1969 Jack Nicholson appeared in Easy Rider, and he became, if not quite a leading man, a name costar. His touch of rebellious everyman howled out the national ethos, the distress of an entire population waking up from a happy dream. The end of the 1960s, the beginning of Vietnam, of blatant and widespread corruption, the end, in short, of the just American promise, had a surrogate in Nicholson's impotent outrage, the way his characters, standing for the oppressed good, could do nothing but rail—absurdly, pitifully, triumphantly—against the organized bad. He went on to star in Five Easy Pieces for his friend Bob Rafelson, and Carnal Knowledge for his friend Mike Nichols, and after writing and directing Drive, He Said, would star in The Last Detail, written by Robert Towne and directed by Hal Ashby, good friends both. Success, his oldest allies discovered, did not sway Nicholson's loyalty; if anything, success enhanced it. Nicholson shared. He opened his home to all in his circle, gave them work, looked after their interests. They were his family, but better; family was fate; friends chose one another. In gratitude, the Weaver kept his chosen safe.
Safe in their hotel room in Oregon, Towne and Julie Payne settled in for the evening.
"I want to write a movie for Jack," Towne told her. That is, he wanted to write a leading-man part for Nicholson, his first. Jack had had his share of big roles in small movies and small roles in big movies, but he never played a big part, the romantic lead, in a big Hollywood movie. Towne would change that.
"What kind of movie?"
"A detective movie. Maybe Jane Fonda for the blonde." "What's it about?"
"Los Angeles. In the 30s. Before the war." He was still thinking about Raymond Chandler, about the Los Angeles they had both lost.
"What happens?"
"I don't know. That's all I know."
"I'll go to the library," she said. "Let me see what I can find."
Writers of LA detective fiction "radically reworked the metaphorical figure of the city."
Payne went to the Eugene library the next day and pulled off the shelf Southern California: An Island on the Land, by Carey McWilliams. She had never heard of it, and flipped to the table of contents, "The Folklore of Climatology," "The Cultural Landscape," "'I'm a Stranger Here Myself,'" "The Politics of Utopia," "The Island of Hollywood," and "Water! Water! Water!" and drove the book back to Towne. What he found inside enchanted him: "It is this combination of mountain ranges, ocean breezes, and semi-desert terrain that makes the 'climate,' and the climate in turn makes the land"; "As a region, Southern California lacks nearly everything: good soils, natural harbors . . . forest and mineral resources; rivers, streams, and lakes; adaptable flora and fauna; and a sustaining hinterland"; "Virtually everything in the region has been imported: plants, flowers, shrubs, trees, people, water, electrical energy, and, to some extent, even the soils"; "San Francisco is a consciously historical city, mindful of its traditions, enamored of its past; a city of parks and monuments and statues. One can look in vain for a statue in Los Angeles"; "Other American cities have gone through a boom phase and then entered upon a period of normal growth.
But Los Angeles has always been a boom town, chronically unable to consolidate its gains or to integrate its new population." Los Angeles, it keeps changing. "In the past the region has been variously titled, usually with eloquence or contempt, with devotion or repugnance. Not a neutral land, it has long aroused emotional reactions ranging from intense admiration to profound disgust." Why?
It began at the turn of the century, as a fresh-start frontier, the way to freedom. "This was the old rural American dream in full romantic maturity," wrote Richard G. Lillard. New industries were founded, work and land were plentiful, and Los Angeles was, as advertised, a functional paradise. But it grew too fast. "Los Angeles, it should be understood, is not a mere city," wrote Los Angeles historian Morrow Mayo. "On the contrary, it is, and has been since 1888, a commodity; something to be advertised and sold to the people of the United States like automobiles, cigarettes, and mouthwash." Other cities experienced booms, whose migrants settled gradually and came from neighboring regions, but Los Angeles, the most advertised city in America, experienced constant booms, drawing migrants from all corners of the country, and at such an incredible rate, that each boom, to accommodate the influx, inflicted destructive erasures on self and city. If the city ever knew what it was, it kept forgetting.
Into the thirties the automobile furnished Southern California with "the largest internal migration in the history of the American people," Towne read in McWilliams, and the city, once again, changed. Los Angeles had always been home to America's largest nonindigenous population, and perhaps for that reason, it could be argued, was America's most American city, but the combined impact of alienated migrants and the Great Depression initiated a peculiar strain of isolation that cast a cloud over the city once promised to be Eden on earth.
Short on work, dislodged from their families, their communities, their traditions, Angelenos of the thirties were uncommonly lonely. Exiles all, they were, in addition, geographically isolated from one another by a sprawling metropolis built nonsensically on a scramble of unnumbered streets and boulevards. (Was Wilshire north or south of Olympic?) And where other American cities grew outward from an urban center, Los Angeles, growing too fast, too far, lost its hub. There is no meeting place in Los Angeles, no commons. "Quadrangular, reticulated cities (Los Angeles, for instance) are said to produce a profound uneasiness," wrote philosopher-critic Roland Barthes. "They offend our synthetic sentiment of the City, which requires that any urban place have a center to go to, return to, return from." Downtown LA? It was the ocean sound in a seashell. In 1938 the average apartment tenancy in Los Angeles was six weeks long.
"I like a conservative atmosphere, a sense of past," Raymond Chandler protested against the changing city one year later. Attempts by migrant communities, or the city itself, to construct a past were prone to kitsch, self-consciousness, and fraudulence, characteristically and erroneously ascribed to Hollywood's influence. The resultant incongruity impedes whatever exists of a native past. What is inherent to the city? Does it even matter? When one is always in one's car, after all, one isn't really in one's city. One isn't with people. No wonder Los Angeles, into the forties, had the largest number of dog and cat hospitals in America, and the nation's most prestigious animal graveyard, the Hollywood Pet Cemetery. It was loneliness.
"The succession of booms has bred in the people of Los Angeles a rather easy code of commercial ethic," McWilliams wrote. "To put it bluntly, the booms have periodically corrupted the civic virtue of the body politic." Thus was Los Angeles, contrary to its pretty face, vulnerable to corruption: It grew too fast. Either the cops couldn't keep up with the growing vice industry, or they were in on the action. In the twenties Los Angeles was the national leader in embezzlement, bank robbery, narcotic addiction, and bizarre murders. In the thirties Los Angeles led not just in the number of bankruptcies but also in total net losses due to bankruptcy. Into the forties the divorce and suicide rates of Los Angeles were more than double the national average.
"It doesn't have to be great writing, it doesn't even have to be terribly good. It just has to be mine."
It was a good place to be Philip Marlowe.
As the Great Depression eclipsed the city sun, and the latent criminality of a country emerging from Prohibition started to manifest, detective fiction took hold of Los Angeles. Along with the postwar introduction of European artists and intellectuals into Hollywood, many of them critical of their new setting, which felt to them like a decadent Weimar-by-the-Sea, writers of LA detective fiction "radically reworked the metaphorical figure of the city," according to Mike Davis, into a "pessimistic antimyth" of American free enterprise that the German exile Theodor Adorno, adept at recognizing totalitarianism, would decry as "the absolute power of capitalism," and the French, when they saw its likeness on screen, would call noir. But the fiction—distinctly Southern Californian—preceded the film. On the heels of Dashiell Hammett's The Maltese Falcon, set in a San Francisco that could be Any City, USA, came the stories and novels of Chandler; James M. Cain's The Postman Always Rings Twice (1934), Double Indemnity (1936), and Mildred Pierce (1941); Horace McCoy's They Shoot Horses, Don't They? (1935); and Nathanael West's The Day of the Locust (1939). Their nightmare was the city.
As critic David Wyatt observed, these were tales characterized by speed of a particularly Angeleno strain. It was the boom sound, the race of get-rich-quick, of get-'em-before-they-get-you. "[The novel of speed] tends to be short," Wyatt wrote, "and to be marked by striking economies of style. It leaves little room for the direct expression of emotion, preferring fascinating surfaces to mere depth. And it is a kind of novel that seems to arise from, and to be especially suited to, the place called Los Angeles," where haste is always a question of life or death, and contemplation, or any consideration of the past, is intolerable.
These authors, each compromised by his tenure writing for Hollywood, its own microcosm of the capitalist antimyth, used hardboiled fiction as an emotional exhaust valve. It was desperately needed. Since Hollywood had only started talking in 1927, this first wave of screenwriters had been early and unprepared to discover what their scions would almost take for granted—that their kind, in the words of Lester Cole, were "the niggers of the studio system." "Like every writer, or almost every writer who goes to Hollywood," Chandler wrote, "I was convinced in the beginning that there must be some discoverable method of working in pictures which would not be completely stultifying to whatever creative talent one might happen to possess. But like others before me I discovered that this was a dream." Be they dreamers or detectives, the original heroes and antiheroes of LA crime were palpably screenwriters in disguise, losers of varying degrees of honor as far from their big score or big bust as were screenwriters, divested of their creative ownership, from their dream, their writing.
For, as Chandler wrote near the end of his Hollywood career, "I am a writer and there comes a time when that which I write has to belong to me. It doesn't have to be great writing, it doesn't even have to be terribly good. It just has to be mine." (The Screen Writers Guild was formed in 1933, in tandem with the hard-boiled takeover.) Chandler's portrait of the archetypal screenwriter—a figure of "brief enthusiasms  [that] are destroyed before they can flower," who "wears his second best suit, artistically speaking, and doesn't take things too much to heart," who has a touch of cynicism "but only a touch," who is "scrupulously honest about his work, but should not expect scrupulous honesty in return," who, when he's ready to quit, says "goodbye with a smile, because for all he knows he may want to go back"—could easily describe his alter ego, Philip Marlowe. Why don't they quit if they're so miserable? Just like a screenwriter, "Marlowe knows everything," Chandler wrote in The High Window, "except how to make a decent living." Yes.
A Southern Californian. A screenwriter. Towne's patrimony was crime.
__________________________________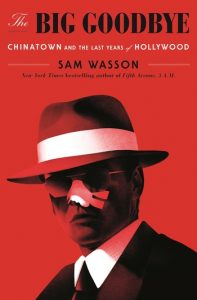 Excerpted from The Big Goodbye: Chinatown and the Last Years of Hollywood. Copyright © 2020 by Sam Wasson. Excerpted by permission of Flatiron Books, a division of Macmillan Publishers. No part of this excerpt may be reproduced or reprinted without permission in writing from the publisher.
---