How Depression and Trauma Cast Multigenerational Shadows
Alex Riley on Family History and the Evolution of Modern Psychiatry
Like thick curly hair, mental illness runs in my family. Psychosis and mood disorders, the two major groups of psychiatric classification, can both be found in the last three generations. Rumors and realities of institutionalization have been passed down my maternal line. My mum remembers the day when my grandmother, Renee, was taken away to a mental institution in the 1970s.
"That is one of my worst memories," she told me over the phone in August 2017. "We didn't know whether she was going to come back."
Called High Royds, it was just one so-called asylum within a short van drive from their home in Thornton, a village just outside of Bradford in northwest England. But this memory is blurred in its details and may not have even happened. She was a child then and memories can be manufactured like nightmares. There's no doubt that Renee struggled with depression, especially after her husband, Eric, my grandfather, died of lung cancer in 1975.
At a time when SSRIs like sertraline hadn't yet been put into prescriptions, she was given diazepam (Valium) to calm her anxiety and dampen her grief. When at her worst, she described her mental anguish as "tearing down the wallpaper." But no one else in the family remembers Renee being taken away for any period of time. The patient reports from High Royds, although incomplete with whole years missing, hold no trace of her.
I never met Eric or Renee. Lung cancer also claimed Renee's life, in April 1987, just a few months before my mum gave birth to her first child, my older brother. Renee had named the bump "Rupert" and, after she died, my brother couldn't be called anything else. His middle name is Eric. Her parents' passing left a dark shadow over my mum's future, one that she would never truly recover from. She pined for her parents as she became a parent herself. In her mind, it was the greatest tragedy that Renee and I were never able to meet. She always said that I was a lot like her. There was my love of nature. My studiousness and passion for science and literature. Today, I wonder whether we also suffered similarly.
Whatever our life experience, the main difference between Renee and myself is the treatments that were available to us. While she was prescribed a mild tranquilizer, I had the option of a range of SSRIs and evidence-based talk therapies such as cognitive behavioral therapy and interpersonal therapy. These two options—the biological therapies such as antidepressants and the psychology-based talk therapies—have been a central theme in the treatment of depression for decades.
With the image of Renee being taken away from her, my mum has always held a deep mistrust of psychiatric treatment. She has never reached out for professional help for her own mental struggles. Her own depression was a common feature of my childhood. There was the lack of sleep, the waking up at three in the morning and pacing downstairs. There was the drinking. The thoughts of being better off dead. Looking through old family photographs, I can see the hallmark signs that have followed me through my adulthood. In the rare photograph in which she appears—her long, dark, and curly hair like that of her girlhood crush Marc Bolan, the lead singer of the glam rock band T. Rex—she seems distant, as if there is a gulf between her and the child sitting on her lap. Her thick glasses frame a glazed expression.
As a child, I often felt like there was an impenetrable gap between us. Today, I know that we share more than we care to imagine. I wish I could reach back into my childhood to tell her that it's okay to be struggling. She might not feel a connection to her children at times, but that was perfectly normal for someone who's been through the trauma that she has. After years with barely a word between us, we can now speak over the phone and I can think of all the things, despite her past, that she taught me. My cooking, my northern twang, the comfort of making do with what you have: I hold them all dear, and they all came from her.
My own experience with depression has provided a new perspective on my mum's past. Thinking of the years just before I was born, I now wonder whether her move from an apartment in the city of Bradford to an old farmhouse in the sticks of the Yorkshire Dales was her way of starting afresh, hoping to leave the past behind her. Moving with my dad—then a skinny, half-marathon running, mullet-sporting Queen fan who wore tight white trousers—she helped transform a dilapidated house into a home. With rotten floorboards, moss growing in the dining room, and only one fire for heating and cooking, they were spartan beginnings.
For two years, Dad tried his hand at raising and milking goats, ended up losing money, and returned to his former occupation in construction. Mum was a mobile hairdresser who would drive through twisting country lanes to reach her clients. (There was also a fish-and-chips van that similarly brought one of the norms of towns and cities into remote villages.) She was also skilled on the sewing machine, fashioning trousers for me and my brother out of odd bits of material and old curtains. For family weddings, she would make waistcoats and smart trousers that were strange combinations of tailored and ill-fitting.
It was a healthy upbringing, but there was a shadow following all of us during these times. Although it isn't infectious like a virus, depression thrives on proximity, traveling down familial attachments, especially from mother to child. The latest studies show that having a depressed parent increases the risk of depression in children threefold. This predisposition isn't destiny, however. Nature, as far as depression is concerned, is nearly always bound by nurture. Only in the presence of environmental triggers is this underlying risk activated.
*
In 2015, after years of mistrust, arguments, and silence, my parents separated after 30 years of marriage. It wasn't unexpected, but it shattered the life I once knew. The family home—the only home I knew—was put up for sale. I visited my parents separately in their unfamiliar rented accommodations. At the same time, I was transitioning into a new career. I had left my PhD at the University of Sheffield and was working as a researcher at the Natural History Museum in London. Using the latest CT-scanning technology, I studied the teeth and skeletons of sharks and rays, both living and extinct. There were aptly named cookie-cutter sharks, rays with whiplike tails, and deep-sea oddities known as chimeras or "ghost sharks" for their translucent skin.
Although it isn't infectious like a virus, depression thrives on proximity, traveling down familial attachments, especially from mother to child.
After a childhood of scrapbooks filled with dinosaurs and other megafauna from different continents and geological eras, this was a dream job. On my breaks, I walked around the museum's maze of corridors and came to know each specimen like an old friend. Giant marine reptiles splayed out on a wall, stuffed lions and pandas with fur faded by time, and the skeletons of dinosaurs that I had learned the names of when I was so young that I couldn't yet tell time or ride a bike. A giant sloth stood at the entrance to our Earth Sciences Department.
After seven months at the museum, the first—and only—scientific paper I coauthored was published: "Early Development of Rostrum Saw-Teeth in a Fossil Ray Tests Classical Theories of the Evolution of Vertebrate Dentitions." Quite a mouthful. Peer-reviewed research is the bedrock of science, but I didn't think much of it. Although I had worked hard—writing sections of the study, analyzing the data, and drawing schematics of our theories—I didn't think my name should grace the paper. Any positivity in my life didn't seem to sink in. I wasn't worthy. Like the fossils that I pored over, I felt delicate and brittle, capable of breaking at the slightest drop.
A few months later, I was sitting in my supervisor's second-floor office, ancient fish fossils, cardboard boxes, and paleontological journals covering every surface. She was a prolific writer, a respected name in paleontology. I told her that I was struggling, that I couldn't continue. I began to cry. I thought I was a failure. We agreed that I needed to take some time off. I never returned to academia.
Unemployed and trying to make ends meet as a freelance writer (a hobby that I had started in 2012), my motivation waned and my interest in love and life ceased. My girlfriend told me that I was depressed and that I needed to talk to a doctor or a therapist. She couldn't support me anymore. We broke up soon afterward and, although I had seen it coming for months, I was devastated. Shortly after, the old farmhouse was sold. I felt unwanted, unloved, unmoored: drifting into a dark place that threatened to swallow me whole.
*
Ever since then, I have sought a deeper understanding of my own experience with depression. Where did our fixation on SSRIs and cognitive behavioral therapy come from? Are there alternatives that might be better suited to my symptoms? Rather than handing out antidepressants through trial and error, can we predict who will respond to a certain treatment before they are prescribed? Can depression be prevented before it arises? What novel treatments might be available in the future?
As I learned, my experience is not representative of depression as a whole. Just as I had once studied the diversity of the animal kingdom, I soon started to discover a similar diversity of depression, the many shapes and forms it can take, and treatments that I once thought to have been long dead and buried were transformed into modern miracles. What's more, I learned that the word depression is almost meaningless when seen from a global perspective. Other idioms of distress are better suited to this particular form of mental suffering.
Whether it's known as heart pain or thinking too much, a person's language and culture need to be taken into account before talk therapies can be effective. While I personally sought reassurance that more effective treatments are on the horizon, I found that one of the most important missions for psychiatry today is expanding the reach of current therapies to people who have no access to mental health care. As well as invention, the treatment of depression depends on investment.
It is hardly surprising that a single diagnosis doesn't capture the reality of depression. It is a syndrome, a collection of different—but overlapping—mental states. Depression is a product of upbringing, trauma, financial uncertainty, loneliness, social bonds, diet, behavior, sedentary lifestyles, neurotransmitters, and genetics that cannot be encapsulated in a word. It can be mild or severe, recurrent or unremitting. It can emerge once and never appear again or it can cast a dark shadow throughout adulthood. Some people sleep too much, others suffer from insomnia. Some eat too much while others shrink toward starvation. Depression can emerge alongside cancer, heart disease, diabetes, and dementia and can make these diseases more lethal; it is a catalyst of mortality.
But it is also highly treatable. From antidepressants to talk therapies and electroconvulsive therapy, to some of the more novel treatments such as exercise, diet, and psychedelic substances, there are a range of options that can lead a large percentage of people back to a healthy state of mind. Current treatments are far from perfect and some remain unproven, but when faced with such a diverse disorder as depression, it's amazing that there are a range of options that are effective.
"We should be aiming towards complete remission for everyone with depression," says Vikram Patel, professor of global mental health at Harvard Medical School. "The problem is that these treatments are seen as competing with each other, which is not the case."
They work for different severities or symptoms of depression. Even the most debilitating forms of depression—mental disorders that come with a high risk of suicide and crippling delusions of guilt—can be treated within a few weeks. For people who have failed to respond to every type of treatment available, experimental methods such as deep brain stimulation have the potential to lift decades of suffering in seconds.
As well as invention, the treatment of depression depends on investment.
Another problem is that current treatments aren't always used correctly. Talk therapies are often restricted to four or five sessions that can be insufficient when dealing with the complexities of depression. Antidepressants aren't given at the right dose or for a long enough course. A healthy diet and exercise can be as effective as SSRIs and cognitive behavioral therapy but aren't prescribed alongside these first-line treatments. And many psychiatrists are no longer trained to provide electroconvulsive therapy, a potentially life-saving treatment that has been used for decades. History teaches us to learn from our mistakes, but it also reminds us not to leave our successes behind.
Although I feel comfortable talking about my experience with depression, there is still a lot of stigma and misinformation about the treatments that are available. If you see a therapist you are weak, unable to cope with stresses and strains of everyday life. If you take antidepressants, you're a machine with broken parts. Even if electroconvulsive therapy saved your life you can't discuss—never mind celebrate—the reason for your recovery, for fear of being judged.
All treatments have the potential to do more harm than good, but each one has to be seen as a balance between the potential benefits and the risk of side effects. Does the pain of depression or the chance of suicide make any side effects relatively unimportant? Treatments also have to be seen in the context of history; why were they initially developed, what other options were available, and how have they evolved over time? When seen through this temporal prism, stigma can vanish and treatments that were once seen as barbaric can be welcomed back into medical practice.
__________________________________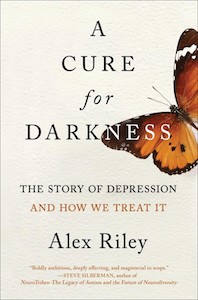 Excerpted from A Cure for Darkness: The Story of Depression and How We Treat It. Reprinted with the permission of the publisher, Scribner, a Division of Simon & Schuster, Inc. Copyright © 2021 by Alex Riley.
---