How Clara Hale and Audre Lorde Helped to Make New York
An Excerpt from Julie Scelfo's Anthology of Illustrated Biographies
When I set out to write The Women Who Made New York, an illustrated collection of more than 100 biographies of women who were instrumental in making New York City into a world capital, I had no idea to what extent the book would deal with social justice, or the many issues and ideas central to developing an understanding of what is right.
But that's exactly what happened: the same female visionaries who helped make the Big Apple a thriving, exciting, clamorous city likewise reshaped the ways in which nearly all members of society think about our relationships to one another.
The legacy of these pioneers was on display last weekend all over the world, where humans of every gender, age and persuasion took to the streets in protest of US President Donald Trump's hate-speech, and to affirm the equality of women and other human rights values.
Marchers carried posters that paid tribute to Shirley Chisholm, Eleanor Roosevelt, Ella Baker, Margaret Sanger, and Susan B. Anthony, all women featured in the book. Another galvanizing force: the poet Audre Lorde, whose work unwraps the complexity of self-identity and resistance, and provides a road map of how the personal becomes political.
Notably absent among the posters was another hero, Clara Hale, who, like too many of our foremothers, is often forgotten. But Hale's enduring gift represents the essence of what marchers worldwide aimed to demonstrate: that love—and not hate—is the only force guaranteed to generate a positive outcome.
* * * *
In 1932, Clara Hale (1905-1992), 27 and newly widowed, wanted to give her children the same nurturing and support she and her four siblings had received from her own widowed mother in Philadelphia, but the handful of cleaning jobs she relied on for financial support greatly limited that possibility. So she quit those jobs and opened a daycare in her Harlem home.
Given the high poverty rates among her neighbors, and how many of them were forced to travel long distances for work, Hale had no shortage of customers. But Clara's day care was more than just a safe place, and Hale had a generous spirit and a gift for understanding children's needs. She offered such a nurturing environment that many of her charges—whose parents, often single mothers themselves, were perpetually exhausted—remained with her for the entire work week, returning to their own mothers only on the weekends.
In the 1940s, Hale began fostering a number of children in her Harlem community. She also taught parenting classes and helped find permanent, quality placements for homeless children. She continued this work throughout the 1950s, eventually taking in and lovingly raising more than forty foster kids.
In 1969 Hale's biological daughter, Lorraine, brought home a drug-addicted mother and child; Hale nursed them back to wellness. As word of this care spread, more babies born with drug addictions were sent to Hale for similar aid, and a year later, in 1970, she founded Hale House, a fully licensed child-care facility. A few years after that she purchased a five-story home and opened her doors, free of charge, to any addicted child. She cared for these children until they were healthy, at which point she tried to reunite them with family members, or, if that wasn't possible, helped them find families interested in adoption. Many of these children have since reflected on how assiduously "Mother Hale," as she was known, ensured every adoptive family was the right match for each child; she wasn't above turning away families she considered not good enough for "her" babies.
Beginning in the 1980s, she expanded her care to include infants who'd lost their parents to HIV/AIDS—or who themselves were born with HIV. She later also provided assistance to troubled teens, and started a variety of programs to help keep women on track after detoxification. In all her years of work, Hale helped over one thousand young citizens of New York, her Hale House serving as a beacon to countless families during some of the City's darkest periods.
* * * *
As one of the few black girls among a sea of white teenagers attending Hunter High School in Manhattan in the late 1940s, Audre Lorde (1934-1992), a daughter of West Indian parents, experienced life like an outsider, both at school and at home. Her mother and father frequently spoke of their fondness for the Caribbean and about feeling out of place in New York.
While attending Hunter College in the 1950s, Lorde spent time with friends in Greenwich Village, sometimes hanging out at the Waldorf Cafe, which was often frequented by Amiri Baraka, Robert Earl Jones, and James Baldwin. She also began to explore her attraction to other women. But, though she lived in an era when interracial relationships were slowly gaining acceptance among the political left, homosexuality was still taboo, leaving her feeling alone and ostracized. Desperate to survive a dark depression, Lorde began to wonder "what being safe and free could mean."
In high school she had written poetry to try to work out feelings she was unable to speak. In her young adult life, as she began to accept her identity as a lesbian and poet, she challenged herself to practice the freedoms of owning her truths—she had internally defined. And so she began setting down on paper difficult, wrenching verses about what it meant to be a member of multiple oppressed communities, and slowly she began to share them.
Over the years, while working as a librarian and raising her kids (the product of an eight-year marriage in the 1960s), she gave voice to the oft-ignored, difficult-to-articulate experience of otherness in a series of works she initially conceived as only for herself.
While a poet-in-residence at Tougaloo College—a historic black college in Mississippi where the campus was under siege by whites who routinely shot at or arrested students for non-crimes—Lorde realized she wanted to use poetry as a weapon against social and political forces that assailed marginalized members of society. "I realized I could take my art in the realist way and make it do what I wanted," she said, "altering feelings and lives."
Over a two-decade-plus career in New York, the woman who called herself a "black, lesbian, mother, warrior, poet" fearlessly confronted love and death, self and otherness, need and fear, shining light on important truths many people were too terrified to face. She stripped away the lies of difference, showing that "liberation is not the private province of any one particular group." She did this by asking whites to confront their treatment of blacks, by asking heterosexuals to reflect on same-sex love, and by inviting prominent white feminists (like Mary Daly) to reflect on the unconscious biases and privileges inherent in a political movement they claimed was on behalf of every woman.
The poet Sapphire once recounted to an interviewer how, at a meeting of black nationalists, where many gathered men embraced centuries-old homophobic teachings, Lorde stood up and declared, "I am a lesbian," which amounted to "not just moving the mountain, it was creating a new world." Lorde held teaching posts at multiple universities, was named New York State Poet Laureate, and cofounded Kitchen Table: Women of Color Press in Harlem. Throughout, her pioneering message about seeing difference as an opportunity for acceptance and love rather than for division and hate—laid the foundation on which nearly every other liberation cause in the City was built, from Third World feminism to transgenderism to pansexuality.
In her award-winning book The Cancer Journals, Audre Lorde chronicled her long battle with cancer—to which she ultimately succumbed at the age of just 58. Striving for meaning in identity to the end, before her death she took a new name in an African naming ceremony: Gamba Adisa, which means "Warrior: She Who Makes Her Meaning Known."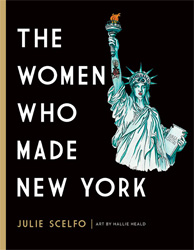 Excerpted from The Women Who Made New York by Julie Scelfo. Copyright ©2017. Available from Seal Press, an imprint of Perseus Books, LLC, a subsidiary of Hachette Book Group, Inc. Art by Hallie Heald.
---