How Claire Malroux's Translations of Emily Dickinson Shaped Her Own Poetry
Marilyn Hacker on Memory, Materiality, and Family
Claire Malroux was born in the Albigeois, in southwestern France, between the two world wars. World War II, the political engagement and death of her résistant father, and the survival of her family are one backdrop to her work. As a child, she left the south for Paris when her father was elected a deputy in the short-lived socialist Popular Front government of 1936. She completed her education at the prestigious École Normale Supérieure in Paris. She has remained in the capital for most of her adult life, except for a postwar sojourn in England that led to her engagement with the English language and its poetry (at university, she had studied classical languages and the French canon).
She claims as a signal event in her own literary life her discovery in 1983, when she was already the author of two collections of poems and was working as a literary translator, of the poetry of Emily Dickinson, which she describes as "an encounter with the uncanny," and "the awakening of a "personal affinity." Malroux's ongoing project of translating Dickinson began then—and to date includes five volumes of poems, and two of correspondence—and her own work evolved and developed along with it.
She is now the author of eleven books of poetry and prose, seven published since 2000; three collections of her work have been published in the United States in bilingual editions. She is also the translator of numerous other Anglophone poets, including Elizabeth Bishop, Derek Walcott, C. K. Williams, Anne Carson, Wallace Stevens, Charles Simic, and Henri Cole. Her work on Dickinson has earned her the Grand Prix National de la Traduction, and was surely one reason she was named a Chevalier de la Légion d'honneur in 1999.
While entirely French in its approach to language, form, and (perhaps) even the paths of thought it traces, Claire Malroux's work has been subtly inflected by the Anglophone poets she has translated, Dickinson in particular. Her work has developed as well in dialogue with the French poets she most admires, including Jean Follain, Yves Bonnefoy, and Mallarmé. She is one of those rare poets whose work is informed by day-to-day intimacy with a second language in its greatest variations and subtleties.
Malroux's poems might be said to be, in their own idiom, Dickinsonian, in their heightened, emotive landscapes, their metaphoric shorthand, and their familiar manner with mortality. But they are often Dickinsonian with the "significant absence" of the narrating / lyric "I." A bit of wordplay that only works in English: the "I" in many of Malroux's poems is more often an "eye," observing, juxtaposing, concluding. Malroux's lapidary earlier work drawing on landscape, seascape, and "inscape" was more elusive and aphoristic than narrative.
Most of the poems written in the early 2000s are not autobiographical, and use narration obliquely, though they are often intensely visual, painterly: something not surprising to a French reader but more so to readers whose models for poetry are in contemporary English. This is not the case in all Malroux's work, though, neither in the poem-narrative of childhood on the cusp of 20th-century history, Soleil de jadis, nor in the recent collection of elegies, Dans le brasier de l'absence.
Claire Malroux's intersection with the work of Anglophones like Walcott, Bishop, and C. K. Williams may have led to increasing reflection in her own writing on how the agglomeration of events we call "history" acts on the interweavings of change, memory, and words. Her more recent poems both distance and embrace narrative as the poet examines the texture of memory and of thought itself.
Malroux's poems might be said to be, in their own idiom, Dickinsonian, in their heightened, emotive landscapes.
Malroux's poems move between an intense but philosophical and abstract interiority and an acute engagement with the material world. The inevitabilities of time and change, the recuperative but potentially treacherous actions of memory, and the way thought is made concrete through the word are themes central to her work, whatever else is in view. Equally central is the poet's deliberate, sometimes daring work upon syntax itself, as the sentence is meticulously opened out to possibilities instead of contingencies, and played contrapuntally to the rhythm and breath established by the poem's lineation.
"L'histoire" is a triple-barreled word in French, implying at once the macro-pattern of political and economic change, any sequence of events that occurs in fact or fiction (like your grandfather's childhood), and the story that begins "Once upon a time" (Il était une fois . . .) in the evening close to a parent's knee or at a child's bedside. Malroux's 1998 Soleil de jadis (published in the United States in 2000 by the Sheep Meadow Press with my translation as A Long-Gone Sun) examines that verbal ambiguity.
Soleil de jadis is a book-length sequence which observes, through a child's eyes, the approach and the devastation of World War II in southwestern France, and the career of her résistant schoolteacher father, an innovation both in the poet's own work and in contemporary French poetry in general. "History" partakes of all the above mentioned three meanings.
The narrative metamorphoses from an incantatory evocation of awakening consciousness in a rural world into gathering fragments of a bildungsroman where family history intersects with self-discovery, fragments that are in turn exploded, dispersed by the arrival of something—the war, and the German occupation of France that followed—which seems external and implacable, but is implicated intimately in the protagonist's life.
"I have told this story many times," the poet begins, implying too that it is a story which has been told in many times and places, by different voices, to different audiences. It is one of the quintessential narratives: how a child gains consciousness at the cost of "innocence" when she realizes in precise detail that harm is done, that the seemingly eternal moment of childhood is part of the irrevocable passage of history: not "history" in the abstract, but that of the specific time and place in which/of which she becomes aware.
Malroux's place here is the Tarn, the southwestern French countryside near Albi, and the time, the 1930s, up until the outbreak of war in 1939, France's devastating defeat in 1940, and the German occupation (and French collaboration)—resulting in the arrest, deportation and death of the poet's father Augustin Malroux, résistant and, from 1936 to 1939, member of the Chamber of Deputies.
When his daughter's story begins, her father and mother are young elementary school teachers, living, as teachers did in rural France, in an apartment above the schoolhouse which came with the job (since teachers, like soldiers, were assigned to their posts)—and she is not yet old enough for school. When it ends, she is a woman of an age he never reached, re-visioning the choices and consequences she only can imagine, made by a man she could know only as a child knows her father.
Soleil de jadis is not, though, a poetry of historical narrative or political engagement. The events that are her story's background, indeed, its backbone, occur almost between the lines. This is primarily a book about memory, how it is inextricably linked to the life of the senses, to objects: the fissured stone of a low wall marking a child's bare thighs on a summer day, the stiff crusted texture of an embroidered cushion, the acrid smell of disinfectant pervading the rudimentary toilets in the school courtyard.
All the poet's ideas are indeed embodied in numinous things from which events reverberate: even her father's death is prefigured by the older narrator's finding in a bureau drawer a pair of white shorts, innovative sportswear for a young man of the 1930s, never worn and immaculate as a shroud.
Claire Malroux's work of the last two decades includes two innovative hybrids. Chambre avec vue sur l'éternité (2005), traces the encounter of two poets—Emily Dickinson and Claire Malroux. Neither a biography of the former nor a memoir of the latter, it is a work of the imagination that reenacts the fascination the American poet has for her French "correspondent," a fascinating hybrid of literary criticism and poetry, enabling a reader to sense the concentration, the disciplined lightness necessary for a poet to immerse herself in, and then emerge from, such a project of translation.
The collections of poems Malroux published between 2000 and 2020 demonstrate an acknowledged cross-fertilization by some themes and obsessions of Anglophone poetry.
Traces, sillons, published in 2009, takes the form of a journal of the poet's process, as she reflects on books newly read, reread, or remembered, on translating some of those books, on the changing seasons and interior weathers, and on the emergence of new poems, also given, sometimes in multiple versions, in the text. A "sillon" is the furrow left by a plow, here, the mental furrows left by tutelary gures like Proust, Rimbaud, Wallace Stevens, Georges Perec, and, of course, Dickinson.
The writer's two residences, Montparnasse and Cabourg—Proust's "Balbec"—are present. So are lively anecdotes about her apprenticeship as a literary translator, in a Paris where literary publishing still proliferated. The book is discreet about companions, family, politics, that which is not writing—but the act of writing is presented with clarity as a confrontation with mortality, the most intimate of relations.
The "voice" of the book, while neither autobiographical nor anecdotal, is self-revelatory in a tradition that arcs from Montaigne to Roland Barthes, and includes Auden: the poet marks out, as do those writers, a continuity with the texts she interrogates and praises.
The collections of poems Malroux published between 2000 and 2020 demonstrate an acknowledged cross-fertilization by some themes and obsessions of Anglophone poetry. These include meditations which arise from memories and childhood recollections; specific evocations of place—Normandy, as a scene of the poet's later childhood, and, at Cabourg, the second location of decades of her adult life. They integrate myth with quotidian detail, focus the idea of exile and displacement, show the poet's attraction to a longer line and, often, to a concrete, almost painterly setting which would not have been alien to Elizabeth Bishop.
In Malroux's work of the last decade, often more specifically urban in its focus, the strand of historical inquiry is elaborated in a contemporary context, while manipulating both metaphor and syntax with a deliberately disconcerting and innovative grace. In almost every poem, there is a purposefully unsettling interpenetration of past and present that collapses distance and incarnates through metaphor.
The last selections in Daybreak include sequences from Malroux's most recent collection Météo Miroir (2020) and from two that have yet to be published, Intervallaires, and Dans le brasier de l'absence, a series of elegant and devastating elegies that the poet began to write after the death of her life partner, the novelist and essayist Pierre Silvain.
The "personal" returns to Malroux's poetry, but in an entirely different register, eschewing—mostly—the retrospective details of a shared life for a larger, Rilkean consideration of death, bereavement, grief, and ultimate loss, set against the mythologized cityscape on which so many of her ekphrastic or painterly poems focus, and cadenced by the seasons.
Daybreak is a necessarily abbreviated introduction to the work of a poet, critic, and scholar who has, among her other accomplishments, quietly inscribed both the quotidian details and imaginative/intellectual pursuits of a woman's life and a woman's mind into the corpus of French poetry, which has long been resistant to such inclusion.
__________________________________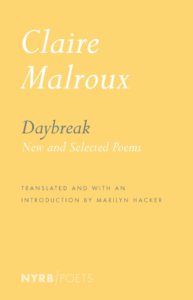 Adapted from the introduction to Daybreak: New and Selected Poems. Used with the permission of the publisher, New York Review Books. Copyright © 2020 by Marilyn Hacker.
---