How Can Natural Soundscapes Provide a Refuge from Our Hyper-Stimulated World?
Bernie Krause on the Healing Powers of Quietude, the Ba'Aka tribe, and Japanese Forest Bathing
Ever give much thought to what types of sounds make you feel good? Maybe you have, but not in a fully conscious way. When that question is asked, most of us default to a choice of some type of music. But there's more to that question than meets the ear. For example: When most of us plan a vacation, one of the first considerations is to get to a place where you can unwind and relax—far away from the noisy environments of our everyday lives. Could be a place by the ocean or a lake in the mountains. Or it could be a remote spot in the desert, or a cabin in the woods. These ideals really exist. But then we complicate our plans filling our precious downtime with activities.
I'm astonished by the number of people I've met who haven't even tried to imagine spending free moments without having to organize something to do. To be fair, the subject of true respite is not high on our cultural, emotional, or physical fitness priority lists. People will readily flock to yoga and Pilates classes, but how many show up for soundscape therapy or take a sound-walk? From the anecdotal interviews I've conducted, most folks, young and old, seem vaguely curious about quietude or finding an escape from noisiness. It's just not at a level to pursue beyond a passing curiosity. So, let's cut to the chase and identify some of the most nourishing types of soundscapes that would sustain you and that you will want to check out.
For a lot of us, these choices are very personal. One size does not fit all. However, there are some soundscape environments that appear to be more beneficial than others. You may want to try some by yourself. These hints come from sources that we don't normally think of or read about. What is surprising is that these groups have been using these soundscapes as antidotes for thousands of years. There are other examples, but let's imagine what these places might conjure for you.
Members of the Ba'Aka tribe, a group of forest-dwelling Pygmies who live in the most remote section of the Dzanga-Sangha rain forest located in western Central African Republic (CAR), best convey this idea because it is such a deeply embedded feature of their lives. The rain forest biome has long been home to this seminomadic ensemble that traditionally relied solely on the resources the habitat provided to them, the bush meat they hunted for food and the wild plants they harvested for additional sustenance and medicines. The forest was there to supply whatever they needed although Ba'Aka lived relatively light on the land.
No medication, prescribed or otherwise, came close to that woodland therapy.
One morning in 1984 in New Jersey, an American musicologist named Louis Sarno happened to be listening to a radio program of Ba'Aka music. He was so captivated by the beauty of the music that he sold everything he owned, bought a one-way ticket to Bangui (the capital of the CAR), a recorder and some microphones, and cut most ties with his birthplace, friends, and family. Once on the ground in his newly adapted country, Sarno traveled for several days until he finally caught up with the tribe all but hidden in their rain forest home.
Of the many remarkable attributes of Sarno's life as a musical anthropologist and field recordist, one in particular made me think long and hard about the connection between the biophonies of the natural world and their restorative properties. In fact, my own experience was only amplified by Louis's narrative.
As Sarno told the story, during the late decades of the 20th century a second wave of colonialism, including large conglomerates from Asia and the EU, began large-scale resource removal from the Ba'Akas' home territory. With accelerated logging of hardwood forests, extraction of diamonds, oil, and poaching of ivory from the elephant families of the surrounding jungle, the cash economies imposed on the country's ancient cultures by major companies replaced the small-scale as-needed traditional barter exchanges more familiar to the groups like the Ba'Aka.
Drawn into the competitive economic and resource-driven models of the West and Asia, tribal members now had to purchase their meager necessities within the imposed cash systems in order to thrive. To acquire enough hard currency, males were enticed into the forest to illegally hunt bush-meat protein for the miners, loggers, and the administrative personnel, and elephant ivory for export to the black markets of the US and Asia. Meanwhile, the women were lured into prostitution. The neo-capitalistic trade-offs and intimate contact with the foreigners shredded the fragile social and economic structure of their community and introduced levels of trauma and disease not previously known. The strain on Ba'Aka culture caused many members to become quite ill or to die, raising the question of how they could mitigate the physical and emotional crises that now confronted them.
To manage this dilemma, Ba'Aka did what they had always done when faced with turmoil and illness. They disappeared all at once deep into the forest—sometimes for months on end—in an effort to separate themselves from the colonial noise and to heal in secret locations where their forest was still intact. The shamans, who had retained the ancient knowledge of which herbs and vegetation affected certain diseases and mental conditions, were still able to ply their magical art and craft. And, most important, they still understood how to integrate the biophonies and geophonies of the forest as curatives for just about everything else.
With the biophonies serving as a natural karaoke orchestra with which they performed, the Ba'Aka would reinstate their ritual songs and dances, again finding solace in the reanimated spirits that could be found everywhere. After sufficient quiet and healing time, the tribal members would reemerge from the forest, healthy and vibrant, only to engage once again with the downward spiral of civilized contact.
During the nearly 35 years Sarno and I worked together, what struck me most of all was the way in which the Ba'Aka, dependent on their ancient connection to the rain forest, were able to sever their addictive ties to civilization and restore some measure of sanity back into their lives, if only momentarily. Can you imagine a healing sonic environment for yourself? What would that sound like?
I grew up in a large midwestern industrialized city in the mid-20th century, during a war-time economy, a time when it produced enormous amounts of military and, later, consumer goods. As a kid, while I knew a lot about mechanical things, I hardly knew what a forest was or anything much about the animal world. The only exceptions were the mental images I got from fairy tales my dad read to me when I was very little. Aside from occasional summer trips to a beach, a few weeks in camp when I was very young, or a quick tour of a national park, my family's draw to the wonders of the natural world was not a priority.
Born with a chronic ADHD condition that has tracked well into adulthood, I was desperate to find ways to feel less anxious and depressed, having been dismissed as less worthwhile than my peers. I was a mediocre student because the disorder left me dyslexic and incapable of concentrating, issues I still confront today. I'm certain that I disappointed my parents, never quite able to meet either their unspoken or stated expectations. And they, in response, weren't shy about calling out my deficiencies, which didn't instill a lot of self-confidence.
At times, there seemed to be no exit, no way out, until that moment in a Northern California forest when I first experienced the power of a forest biophony and felt such an overwhelming sense of relief both physically and emotionally. It was a safe remedy I would rely on for the rest of my life. Later visits to wild habitats near and far helped validate that first experience, one where a sense of anxiety that had so totally dominated my life was now manageable. No medication, prescribed or otherwise, came close to that woodland therapy.
My asthma, affected by tree and grass pollen in spring, and my allergy to cats and dogs, diminished to the point where I could tolerate these things in ways that otherwise would have landed me in an ICU just a few years before. I was so embarrassed to share this secret with others that I rarely spoke of the issue until very recently. While there were a few murmurs about natural soundscapes in the literature from folks like Thoreau, Paul Shepard, Mary Oliver, Aldo Leopold, Rachael Carson, and Ellen Glasgow, it never occurred to me that other people might have experienced the same kind of relief until I met Sarno and he told me stories about the Ba'Aka forest healing practices. I am not alone.
Much later, around the year 2000, I learned about shinrin yoku, Japanese forest bathing—a quest through time spent in forested habitats for more intimate and spiritual connections to the natural world. A simple nature therapy program introduced in the early 1980s by Yoshifumi Miyazaki, a university professor and the codirector of the Center of Environmental Sciences at the University of Chiba in Japan, is a largely passive methodology that I was already familiar with from my own encounters with wildlife in the field. Shinrin yoku, loosely translated, means "taking in the medicine of the forest." This evidence-based wellness practice was a direct response to declining health in the Japanese population at the time. The healing energies of the natural world have been known for millennia. This practice is another simple yet powerful way for us to tap into those healing energies that are readily available to all of us—particularly those related to the sonic properties of natural habitats.
Extensive research shows that forest bathing can offer relief from anxiety and depression, bestow a deeper sense of mental relaxation, better sleep, and an increased feeling of gratitude for being alive, and deliver an overall sense of well-being. When forest bathing, we walk into designated areas after first being given a set of carefully crafted invitations, ways to slow down and to experience the more than human world through a variety of new techniques and our senses. You don't have to cover much distance, but you do need to find a forest. Miyazaki's writings and the stories of the Ba'Aka confirmed the efficacy of this practice, a process that had taken me many years to acquire. Most of all, it helped me give voice to my own experiences.
Shinrin yoku inspires us to make time for leisurely strolls in tranquil wooded areas, the simple idea being that a break from the noise of our technosphere in exchange for a closer relationship to natural-world phenomena conveys enormous benefits. It's a contemporary antidote to the distractions brought on by the constant acoustic dissonance emblematic of our presence.
__________________________________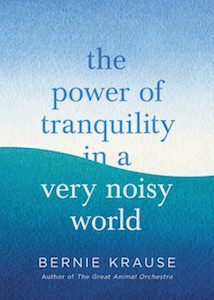 Excerpted from THE POWER OF TRANQUILITY IN A VERY NOISY WORLD by Bernie Krause. Copyright © 2021 by Bernie Krause. Reprinted with permission of Little, Brown and Company. All rights reserved.
---