How Black Spiritual Songs Gave Rise to New Musical Genres
Joseph Horowitz on Melodies of "Pathos and Exaltation"
Indelible accounts of plantation song were set down by Frederick Douglass and W.E.B. Du Bois—​the one born into slavery (and so with no birth date), the other born in 1868 and hence a witness to former slaves and their songs. In his 1845 "narrative" of an "American slave," Douglass remembers the "wild songs" slaves would sing tramping through the woods to the Great House Farm, "revealing at once the highest joy and the deepest sadness."
They would sometimes sing the most pathetic sentiment in the most rapturous tone, and the most rapturous sentiment in the most pathetic tone… They told a tale of woe which was then altogether beyond my feeble comprehension; they were tones loud, long, and deep; they breathed the prayer and complaint of souls boiling over with the bitterest anguish. Every one was a testimony against slavery, and a prayer to God for deliverance from chains. The hearing of those wild notes always depressed my spirit and filled me with ineffable sadness. I have frequently found myself in tears while hearing them. The mere recurrence of those songs, even now, afflicts me; and while I am writing these lines, an expression of feeling has already found its way down my cheek.
Du Bois wrote in the The Souls of Black Folk (1903):
Little of beauty has America given the world save the rude grandeur God himself stamped on her bosom; the human spirit in this new world has expressed itself in vigor and ingenuity rather than in beauty. And so by fateful chance the Negro folk-​song—​the rhythmic cry of the slave—​stands to-​day not simply as the sole American music, but as the most beautiful expression of human experience born this side the seas. It has been neglected, it has been, and is, half despised, and above all it has been persistently mistaken and misunderstood; but notwithstanding, it still remains as the singular spiritual heritage of the nation and the greatest gift of the Negro people.
What are these songs, and what do they mean? I know little of music and can say nothing in technical phrase, but I know something of men, and knowing them, I know that these songs are the articulate message of the slave to the world. . . . ​They are the music of an unhappy people, of the children of disappointment; they tell of death and suffering and unvoiced longing toward a truer world, of misty wanderings and hidden ways.
Through all the sorrow of the Sorrow Songs there breathes a hope—​a faith in the ultimate justice of things. The minor cadences of despair change often to triumph and calm confidence. Sometimes it is faith in life, sometimes a faith in death, sometimes assurance of boundless justice in some fair world beyond. But whichever it is, the meaning is always clear: that sometime, somewhere, men will judge men by their souls and not by their skins. Is such a hope justified? Do the Sorrow Songs sing true?
The origins of these singular songs were equally singular. West Africa is pertinent, but so are Anglo-​American hymns. The ring shout—​circling singers, quickening in pace and intensity—​was an African import. The drums of Africa were prohibited by slaveholders; clapping, foot-​stomps, and the beating of sticks took their place. Slaves who went to church sang Protestant hymns before creating hymns of their own. Revivalist camp meetings, with their feverish vocalizing, were often interracial. Over time, these varied strains coalesced as a body of songs known as spirituals. They were sung in the praise house, on the campgrounds, in the fields, and in crude cabins flanking columned mansions.
The Fisk Jubilee Singers of Nashville, Tennessee, were the first to popularly purvey African-​American spirituals in concert, beginning in 1871. Their formal renditions replaced raw timbres and impetuous improvising with synchronized harmonies and precise intonation. The arrangements were diatonic—​not fancy, but homespun and sincere. Their first national tour, in 1872, impacted greatly. Abroad, beginning in 1873, their impact was if anything even greater. They spawned rival Jubilee troupes. The singers were invariably Black, the arrangements always choral. In contradistinction to blackface minstrels singing Stephen Foster, the Fisk Singers mainly purveyed the slave songs of the South, whose spiritual properties they both celebrated and preserved. They sang their share of Foster, too.
He discovered the sorrow songs: an epiphany. It struck with lightning speed.
Among the many vivid witnesses to the Fisk phenomenon was Mark Twain. A connoisseur of vernacular speech, he naturally cherished vernacular song. Of his many musical affinities, he held in highest esteem not the Schubert songs and Wagner operas he knew, or the minstrel tunes he adored, but the concerts of the Fisk Jubilee Singers. He testified: "Arduous and painstaking cultivation has not diminished or artificialized their music." He wrote a publicity blurb for the Singers' 1873 European tour:
I think these gentlemen and ladies make eloquent music—​and what is as much to the point, they reproduce the true melody of the plantations, and are the only persons I ever heard accomplish this on the public platform. The so-​called "negro minstrels" simply mis-​represent the thing; I do not think they ever saw a plantation or heard a slave sing.
I was reared in the South, and my father owned slaves, and I do not know when anything has so moved me as did the plaintive melodies of the Jubilee Singers. It was the first time for twenty-​five or thirty years that I had heard such songs, and heard them sung in the genuine old way—​and it is a way, I think, that white people cannot imitate—​and never can, for that matter, for one must have been a slave himself in order to feel what that life was and so convey the pathos of it in the music.
Twenty-​four years later, Twain hosted a visit from the Jubilee Singers at his home in Lucerne, Switzerland. Six of the Singers were already known to him from an encounter in London in 1873. Of these, three were born in slavery and the others were children of slaves. He accompanied the group to a local beer hall crowded with Swiss and German imbibers—​"self-​contained and unimpressionable looking people, an indifferent and unposted and disheartened audience." The Jubilee Singers cast a spell. "No one was indifferent any more; . . . ​the camp was theirs. . . . ​Away back in the beginning—​to my mind—​their music made all other vocal music cheap; and that early notion is emphasized now. It is utterly beautiful, to me; and it moves me infinitely more than any other music can."
By the time Twain hosted the Fisk singers in Lucerne, the pathos and exaltation of the spirituals had spawned new African-​American musical genres, remote from the cotton field. At every stage, their complex fate was pondered with amazement—​not least by a famous European visitor whom they ambushed in Manhattan.
*
Antonín Dvořák's American sojourn of 1892–​95 is a protean topic that remains unknown to general practitioners of American cultural history. The story begins with Jeannette Thurber, a visionary educator who sought to create an American music conservatory of international consequence. Her larger goal was to keep gifted young American musicians from studying abroad—​and so further the creation of an "American school." America already had plenty of composers, even good ones. But they mainly evinced their German training. Thurber chose Antonín Dvořák to direct her National Conservatory of Music, on East 17th Street in Manhattan, knowing that he would instantly supply a pedigree.
Dvořák was one of two candidates for this 1892 appointment, the other being the Finn Jean Sibelius. Thurber chose Dvořák partly because she had heard that Sibelius was overly fond of drink. (She evidently was not apprised of Dvořák's own alcoholic propensities.) But her paramount criterion was musical: both Dvořák and Sibelius were cultural nationalists—​believers that great art sprang from deep native soil. With Bedřich Smetana, Dvořák had created a Czech compositional style widely noticed and acclaimed.
His Slavonic Dances of 1878 clinched his high European reputation, backed by Johannes Brahms, Joseph Joachim, and the German publisher Simrock. Dvořák proceeded to triumphantly apply his burgeoning style to the hallowed forms: symphony, opera, string quartet. These works pay knowing homage to Beethoven and Schubert, Brahms and Wagner. But their appeal equally derives from their rustic Bohemian stamp: a firm national bedrock. It was just what Jeannette Thurber wanted for America.
And Dvořák seized her mandate. He went looking for America's folk music. Naturally, he gravitated to Native Americans. And he discovered the sorrow songs: an epiphany. It struck with lightning speed.
Dvořák came to know Indian music from a variety of sources, including Buffalo Bill's Wild West in New York and the Kickapoo Medicine Show in Iowa (where he spent the summer of 1893). He also adored the most popular work of American literature: Henry Wadsworth Longfellow's The Song of Hiawatha (1855), a putative American Beowolf. Longfellow's vision of a noble savage, embodying a state of nature more benign than not, fired Dvořák's imagination.
Even more was Dvořák stirred by the sad fate of the Indian and the pathos of the slave. His empathy found expression in his Symphony From the New World—​to this day, the most beloved orchestral work composed on American soil. It begins with a sorrow song and ends with an Indian dirge. Its most famous tune, later reconstituted as the synthetic spiritual "Goin' Home," memorializes the tragic servitude of Black Americans.
The symphony's widely celebrated, widely debated premiere, on December 16, 1893, at Carnegie Hall, posed perennial questions: What is America? Who is an American? Very different answers materialized in New York and a few days later in Boston. Boston writers were incensed by Dvořák's assumption that "Black" and "red" Americans be considered representative or emblematic. Dvořák was denounced as a "negrophile." Invoking hierarchies of race, Boston critics scientifically categorized Dvořák's music as "savage" and "barbarian."
New York was another planet. Thurber was one of many convinced that African Americans owned America's musical seedbed—​beginning in 1893, she would pack her conservatory with Black students on full scholarship. The "dean" of New York's music critics was Henry Edward Krehbiel of the Tribune. Krehbiel studied Black spirituals and Native American chant. At Chicago's World's Columbian Exposition in 1893, he assiduously reported the "ingenious use of contrasted rhythms" by the Kwakiutl Indians presented by Franz Boas. And he alone treated the war dances of the Dahomeyan village as other than animalistic; "the players showed the most remarkable rhythmical sense and skill that ever came under my notice," he wrote.
Any copious reception history of the New World Symphony and other Dvořák works in Boston and New York will discern that Boston defined "Americans" as descendants from the Mayflower and that New York more understood Americans as immigrants. The New York discourse on Dvořák is comparatively free of explicit racial bias; the ethnic ladder with Anglo-​Saxons on top and "barbarian" Slavs down a rung—​a fixture in turn-​of-​the-​century American thought—​is hardly applied. Leading New York critics did not write, as Boston's did, of "barbaric modulations" and "barbaric musical means" defacing Dvořák's Requiem, or complain of getting "heartily tired of the uncivilized in chamber and symphonic music."
To be entertained by a surpassing national anxiety, such as race, paradoxically holds out the prospect of unmooring it.
Certainly Dvořák—​a Bohemian outsider to Hapsburg Vienna—​harbored no prejudice against the creative potential of Black Americans. His New World enthusiasms were many and varied. He absorbed the loneliness of the prairie. He studied the songs of the Kickapoo Medicine Show. He appreciated the novelty of New York's ethnic diversity and the range of musical inspiration it might afford. But his most audacious, most emphatic prophecy espoused the creative prowess of Black Americans.
I am now satisfied that the future music of this country must be founded upon what are called the negro melodies. This must be the real foundation of any serious and original school of composition to be developed in the United States. When I first came here last year I was impressed with this idea and it has developed into a settled conviction. These beautiful and varied themes are the product of the soil. They are American…
These are the folk songs of America and your composers must turn to them. All of the real musicians have borrowed from the songs of the common people. I myself have gone to the simple, half-​forgotten tunes of the Bohemian peasants for hints in my most serious work. Only in this way can a musician express the true sentiments of his people. He gets into touch with the common humanity of his country.
In the negro melodies of America I discover all that is needed for a great and noble school of music. They are pathetic, tender, passionate, melancholy, solemn, religious, bold, merry, gay or what you will. It is music that suits itself to any mood or any purpose. There is nothing in the whole range of composition that cannot be supplied with themes from this source.
What was Dvořák thinking? What did he know? In his lexicon, plantation song and Stephen Foster—​"Swing Low" and "Camptown Races"—​were all one thing: "negro melodies." Dvořák surely knew Foster to have been white—​and his inspiration to have been partly Black. "Old Folks at Home"—​for decades the most popular American song (better known to us as "Swanee River")—​satisfied a criterion dear to Dvořák's heart: its authorship had already blurred into the anonymous realm of folk culture. Dvořák even transcribed it for soprano, baritone, chorus, and orchestra and—​an event unthinkable in Boston—​in 1894 conducted the premiere at the Madison Square Garden concert hall with a Black chorus and an interracial orchestra. The soloists were his African-​American assistant Harry Burleigh (about whom more in a moment) and the most prominent Black concert artist of her day: Sissieretta Jones. Of "Old Folks at Home," with its repeated expostulations of "All the world is sad and dreary!", Jones said: "Is there a soul so insensible that it cannot be stirred to the very depths by the heartbroken cry of the poor old homesick darkey?"
As the most prominent composer for blackface minstrel entertainments, Foster of course today bears a taint. And yet, conditioned by his own marginality, he was an empathetic observer of the outcast. "Old Folks at Home" (1851) exhibits a developing political consciousness. Its slaves live happily enough, "way down on de Swanee Ribber." But its Black protagonist is adrift, longing for lost family and friends. Its mourning tone of existential loneliness was widely appreciated—​not least by Dvořák, longing for verdant Bohemia in hectic Manhattan. With "My Old Kentucky Home" (1853), Foster dispensed with the dialect of de and dem. Its narrative of disruption and death depicts a family of slaves whose father figure has been sold downriver. No consoling vision of plantation cheer penetrates its imagery of backbreaking labor without surcease. Harriett Beecher Stowe's Uncle Tom's Cabin was published but one year earlier. Foster at first titled his song "Old Uncle Tom, Good Night." Its searing chorus stresses the verb "Weep!"
The music historian Dale Cockrell has portrayed Foster, in this final stage of his brief career, embracing a politics of radical change. Cockrell emphasizes the ambiguities of minstrelsy and the subversive power of music.
By the time of Dvořák's pronouncement, the blackface minstrel show had long been wildly popular. Its history had served to sharpen the lines in the ongoing public discourse on matters of race. Minstrelsy was, on the one hand, manifestly about degrading African-​Americans in favor of white Americans. In these ways, and others less explicit, it was a powerful vehicle for affirming the values of the powerful. Yet it was not unambiguously that. In fact, entertainment has always served to some extent to disrupt the status quo; most fundamentally, people seek entertainment because their lives are colored by varying degrees of dullness, boredom, sadness, and insecurity. To be entertained by a surpassing national anxiety, such as race, paradoxically holds out the prospect of unmooring it.
This is something Dvořák might have sensed.
__________________________________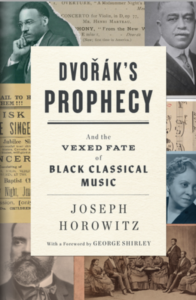 Excerpted from Dvorak's Prophecy: And the Vexed Fate of Black Classical Music. Copyright (c) 2022 by Joseph Horowitz. Used with permission of the publisher, W. W. Norton & Company, Inc. All rights reserved.
---