How Billie Holiday and Simone de Beauvoir Invented Cool
Without defying limits and social conventions, There would be no cool
Billie Holiday was streetwise tough as a Baltimore teenager and was already known for her love of singing even before coming to New York in 1929. In her career, she exercised a great deal of control over her songs, her accompanists, and her recordings, even long after her heroin addiction. She always said she crafted her musical hybrid of jazz and blues by combining Bessie Smith's vocal power and self-expression with Louis Armstrong's swing and rhythmic nuance. In addition, she fought and drank as hard as Bessie Smith and had Armstrong's melodic imagination. Often when a boyfriend hit her she punched him right back, according to her friend Carmen McRae. More than once, she beat up racist sailors who called her a "nigger bitch" with a bottle outside the Onyx Club on 52nd Street, according to eyewitnesses. She was opinionated and impolitic about other musicians and despised imitators, much like Lester Young. "I can't stand copycats," she once said about Ruth Brown in Downbeat, and about Count Basie's band in 1950, "tell the truth I'm ashamed of them" for their decline and for "how great it [the band] used to be." Holiday once mooned an audience at Café Society in an evening gown for no apparent reason except general frustration: it was just a way of "saying 'kiss my black ass,'" according to the club owner.
Simone de Beauvoir wrote that women were in a state of becoming, of emergence. If Woman was the Other of Man, recognition of that tension—of her inferior social status and unlimited potential—was not only a necessary beginning but a philosophical manifesto. After all, French women only got the vote in 1944. Beauvoir transformed all ideas of gender in The Second Sex, a magisterial work with no precedent. Beauvoir was probably a better young philosopher than Sartre—their professors thought so—and her body of work may turn out to be of more lasting social import. Her novels and memoirs were bestsellers in postwar France, and she may have created the opposition of Self and Other still credited to Sartre.
Both Beauvoir and Holiday were defiant young artists and bisexual women in their early twenties. Holiday rolled as an equal on the bus with the Count Basie Orchestra in the late 1930s, shooting dice, drinking, and carousing. Beauvoir was a free-thinking novelist and philosopher, living with Sartre and taking all manner of lovers. During the Nazi occupation of Paris, Beauvoir began to craft a new ethics: it owed a larger debt to Heidegger's concept of the Other and her friend Merleau-Ponty's concept of embodiment than to Sartre's work. Similarly, "Billie [always] went her own way," Barney Josephson recalled. "She was . . . a free soul who did what she liked," leaving the club as often with a man as a woman, smoking hash in a cab while driving around Manhattan.
So why does public memory and artistic history still ascribe the two women as either tragic and vulnerable (Holiday) or literary and secondary (Beauvoir)? Holiday was beloved by all black jazz musicians and writers, including Miles Davis, and was held up as a postwar voice of African-American resistance and historical suffering by everyone from James Baldwin to Malcolm X to (more recently) Angela Davis. The keynote of her performance style was the cool aesthetic of a relaxed attitude and, in addition, she often wore a mask of cool. She is, quite simply, one of America's greatest artists.
So why don't Holiday and Beauvoir come to mind when we think of cool?
Cool was a postwar masculine aesthetic, and its paragon figures are ethical rebel loners. Cool is based on self-authorizing: its characteristics are independence, rebellion, and a capacity for violence. Lacking autonomy and agency, the female caretakers of homes, husbands, and children could hardly resonate in a similar manner in the cultural imagination. In addition, the dominant artistic genres that carried cool into American and global consciousness—jazz and film noir, philosophy and literature—were dominated by male authors and critics. Holiday wore a mask of cool, yet it was only perceived by African-Americans. "She was shrewd . . . like an urchin is shrewd who's going up the street and has to get some food," Marie Bryant recalled. "But inside you're vulnerable. It's a role you assume." Yet the dominant society recognized neither her resilience nor the transmutation of suffering into a cool vocal aesthetic.
When amateur sociologists began constructing a canon of postwar cool in the 1980s, it focused almost entirely on men. Cool connoted a certain rogue artistic masculinity in Gene Sculatti's The Catalog of Cool (1982), Roy Carr's profiles in The Hip: Hipsters, Jazz, and the Beat Generation (1986), and Lewis MacAdams's Birth of the Cool: Beat, Bebop, and the American Avant-Grade (2001). Gwendolyn Brooks's "We Real Cool" (1959) was the only contemporary feminist riposte to the era's African-American hyper-masculinity and her concise seven-line poem anticipates the millennial feminist critique of cool in Susan Fraiman's Cool Men and the Second Sex (2003), bell hooks' We Real Cool (2003), Marlene Connor's What Is Cool? (1995), and in particular, the sociological study by Richard Majors and Janet Billson, Cool Pose (1993). In contrast, the critique of cool for white men depends on their appropriation of black culture: Andrew Ross's long essay, "Hip and the Long Front of Color," Ingrid Monson's "The Problem with White Hipness," or bell hooks's "Eating the Other."
"From starkly different backgrounds, Beauvoir and Holiday still mythologized their lives as beholden to a dominant man, whether an intellectual or a street hustler."
In crucial ways, Holiday and Beauvoir promulgated their own myths of passivity and deference to men in their memoirs and texts (whether literary or musical). Beauvoir always deferred to Sartre's superior intellect and declined to call herself a philosopher while he was alive. And so it is that a French philosopher chose to stand by her man rather than to claim her own intellectual inheritance as a rogue free agent. Billie Holiday was raised among pimps and prostitutes such that she carried the dynamic of male violence and female dependence into her own love life, idolizing "nightlife strongmen . . . from whom she demanded protection." She brought autonomy and authority to her music, but in her personal life, she had a psychological need to be dependent and dominated by a man. From starkly different backgrounds, Beauvoir and Holiday still mythologized their lives as beholden to a dominant man, whether an intellectual or a street hustler.
The emphasis on drugs and victimization in Lady Sings the Blues has long been blamed on the racism of her co-writer (William Dufty), yet we now know Holiday was a willing co-conspirator in the projection of a tragic damsel in need of rescue by powerful, often violent men. In Wishing on the Moon, biographer Donald Clarke revealed Holiday's early ambition as a jazz singer (at 12 and 13) and her youthful rounds on the streets of Baltimore. Interviews with her Baltimore crowd revealed Holiday's story of immaculate artistic conception in 1933 to be a fairy tale rescue of a damsel in distress that placed producer, impresario, and musical scout John Hammond in the role as white knight. In Lady Day, Robert O'Meally suggests that, when she dated "fast hustlers" as a young teen, she was always seeking men with her dreams of upward mobility rather than to serve white people (like her mother) and with the freedom of her jazz musician father, Clarence Holiday.
Lady Sings the Blues might be better understood as a narrative illuminating the singer's subjective sense of vulnerability after a decade of addiction and the death of her mother. By 1943, Holiday had already recorded some of the classic music of the 20th century. After 1945, her best friends from the Basie band often kept their distance rather than to become entangled in her junkie rounds—trumpeters Harry Edison and Buck Clayton, and most importantly, Lester Young. (Young and Holiday did not speak for 14 years.) By the time of Lady Sings the Blues, it was "as if, in the face of her pitiable life," Balliett wrote in the New Yorker, "her art were not an inestimable feat."
Yet even in the midst of her addiction, Holiday never poured out her emotions in song but, rather, through the "elegant inventiveness"  of her musical technique, she generated subtle pathos through "cool understatement," as Albert Murray observed. Pianist Teddy Wilson was the leader on many of Holiday's best early chamber jazz sessions and assessed Holiday's art as an organic projection of her subjective modes: "Her singing, in a very integral way, was a reflection of her whole psychology, her experience." Holiday enacted a form of artistic introspection and, in effect, performed the process of mediating experience into self-knowledge. Trained in the blues, her performances partook of something close to group therapy as conducted by a social artist.
Two images of Holiday point up the distance between her public image among white Americans and her artistic street cred among AfricanAmericans. Holiday appeared in a single Hollywood film—New Orleans (1947)—in which she played a jazz-singing maid. She hated wearing the maid's costume, and her resistance in the film is apparent: she is sullen and uninterested throughout New Orleans, except when she is singing. Holiday's style was innovative and influential—furs, matted hair, fit-and-flare dresses, the gardenia in her hair—and seemed an emanation of a personal glamor. Being seen on the screen as a maid was humiliating. This is a woman who, on being arrested for heroin possession in 1949, came down to the police precinct in a mink coat and shades, creating an iconic photo of a badass woman for Postwar I.
Jazz drummer Specs Powell was eighteen when he first encountered the new postwar "cool, reserved attitude" in 52nd Street clubs, and in retrospect he distinguished between the pose and the artistry. "Anybody who carried this attitude was very worldly, and to an 18-year-old boy this was something—[a] very slow-moving matter-of-fact way of looking at life." Yet some people affected this world-weary front where others carried themselves with the confidence of their artistic ability: "Billie never affected anything. She was authentic." To tap dancer and raconteur Honi Coles, Holiday was very young but "very cool, very gentle," and "she had that confidence," which others described as "her style and her arrogance," the same qualities in men often ascribed as cool.
Yet so hermetic is the fusion of masculinity, rebellion, and cool that only now can we begin to sound out the tenor of a postwar women's cool.
In the aftermath of the Holocaust, artists, politicians, and philosophers began to deconstruct obsolete ideas of fixed racial identities and genetic predispositions. If the case study was "the Jew," as Beauvoir first acknowledged Sartre's Anti-Semite and Jew (1946), it soon extended to "the black," "the Indian," and "Woman." Beauvoir considered the problem under the influence of Richard Wright, whose understanding of being Other as a black man (a racial Other) in the United States provided a lens for writing about women (Woman as Other). Women were raised for dependence on men, who did not recognize equal humanity across gender lines. Any individual woman was constantly "being reduced to what she was" (only a woman) or, more to the point, to being framed by specific subsets of feminine traits defined by men. The Second Sex went even further: Beauvoir declared the individual human being a "historical idea" and argued that every person is constantly redefined by other humans. In so doing, she quietly declared intellectual war against all hierarchies of race or gender and paved the way for considering a "relational self " against modernist ideals.
"So hermetic is the fusion of masculinity, rebellion, and cool that only now can we begin to sound out the tenor of a postwar women's cool."
"Woman is not a fixed reality but a becoming," Beauvoir wrote in The Second Sex, "that is, her possibilities have to be defined." Neither Beauvoir nor Holiday represented themselves as heroic rebels in their own work. In effect, their lives and works are a simultaneous testament to existential rebellion and the oppression of women. They defined the possibilities in their time through their lives. To their credit as artists, they represented the subjective lives of women within realistic frameworks rather than offering assertive, empowered women in literature and music. And yet without individual defiance, without the rebel drawing a line in the sand . . . no cool.
Social conditioning allowed no space for a woman's individual rebellion. "In particular, the attitude of defiance, so important for boys, is unknown to [girls]," Beauvoir wrote. Straitjacketed within conventional frameworks of femininity, girls were discouraged from participation in sports or intellectual contests and conditioned to suppress individuality and anger.
To take one fascinating example, author Annie Dillard grew up in Pittsburgh as a tomboy and loved playing tackle football with boys: nothing girls did in the early 1950s rivaled the sport's demand of will, skill, improvisation, and physical exertion. Then one day in 1952, during a blizzard, she and one of her football buddies were pummeling a passing car with snowballs. A man in his twenties stopped his car in the street and chased the two kids ten blocks through the neighborhood's streets, alleys and backyards. When she was caught, she felt no fear: in fact, she felt as if she'd won an Olympic title. What could the man do? There was no punishment that mattered. The chase itself was a challenge and an honor. Reflecting back at the age of forty she wrote without irony, "Nothing before or since had ever required so much of me."
During adolescence, there was an emphasis on sports and violence for boys, Beauvoir showed; for girls, there was only preparation for marriage. Girls were conditioned to find satisfaction through a man, not her own acts. Such conditioning was reflected back through popular culture. In music, a blueswoman or jazz singer was seen as more an erotic figure (to men) than an artist engaged in moral introspection or social protest. In film noir, an independent woman with a criminal's savvy was a femme fatale (to men), not a figure of resistance acting out a quest for abstract freedom. Beauvoir distilled the difference:
At about thirteen, boys serve a veritable apprenticeship in violence, developing their aggressiveness, their will for power, and their taste for competition. . . . [Yet] at this moment the little girl renounces rough games . . . in many countries, most girls have no athletic training. . . . They are banned from exploring, daring, pushing back the limits of the possible.
It bears repeating: without defying limits and social conventions . . . no cool.
__________________________________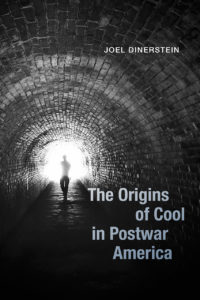 From The Origins of Cool in Postwar America. Used with permission of University of Chicago Press. Copyright © 2017 by Joel Dinerstein.
---