How Bill & Ted's Excellent Adventure Taught Me to Write
Lucie Britsch on Not Taking Yourself Too Seriously
If you haven't seen Bill & Ted's Excellent Adventure: Why not? But also, do it immediately, unless you are dead inside and don't like joy, which is fine. It is stupid, yes, but it's also an example of someone's weird creative vision coming to life and taking its place in pop culture history. Someone wrote Bill & Ted. Someone summoned them into being. And now we all get to enjoy them.
If you don't know what Bill & Ted is (again, why not?) it's a movie from 1989 about two slackers in a band who are failing history class and then stumble upon a time traveling phone booth outside Circle K, like you do, and then use it to go back in time so they can  bring prominent figures from history back to school for their final paper. Genius. I've been trying to do that exact thing ever since. The people they steal from history include Freud, Napoleon, Joan of Arc, Billy the Kid, Genghis Khan—you know, all your favorites. Jam them all in a time traveling phone booth and let the comedy hijinks ensue.
These characters are ingrained in my brain and heart. Back in the late 80s and early 90s you had to wait years for movies to come out on video (RIP Blockbuster) but as soon as it did, I rented it back-to-back for weeks and then saved up all my money to buy it as soon as I could. My best friend and I watched it every day that summer. We would quote it and jump on her mom's coach, air guitaring. We even called each other Bill & Ted. I was Ted, because I was in love with Keanu, and she was Bill because I had to be Ted. We wrote to each other as them, confusing our parents and the postman when letters came addressed to Bill S Preston Esquire and Ted Theodore Logan.
When I wasn't annoying everyone with my air guitaring I was writing weird little things, not actual stories, because that would mean finishing something, but almost stories. I wanted to write so badly, to have my own Bill & Ted one day, to write beloved characters, to make people laugh—but mostly to finish something.
It's the story that got me. These two drop outs, failing at school and life, more interested in their band Wyld Stallyns, pull together in the only way they know how.
And then Bill & Ted's Bogus Journey came out and it wasn't as good, but we didn't care. We just loved Bill & Ted as much as two teenage girls can love anything, which is a lot. We were older by the second movie and had progressed to liking real boys and real bands, but we made room in our busy lives for Bill & Ted and continued to write to each other as them.
I started trying to write film scripts and even sent some off to Hollywood, I was 13 and they were sent back, because they were handwritten, and almost all spelling mistakes; also, I was 13. But just having an envelope back from Hollywood saying No thank you and Have you heard of a computer was thrilling.
No one else really understood our Bill & Ted obsession. I was having trouble at school and at home and in the world, but those dumb movies made me happy. They distracted me, but also sparked something in me to want things; not material things, but to want to make art, and have a creative life. Bill & Ted wanted to live their dreams, and I wanted to live mine.
I went on to study English and literature as a means to an end—to be a writer—but while I studied Austen and all the other snoozers, I consumed all the television and all the movies and all the rock music and wanted my two worlds to meet in the middle someday, in middlebrow books for people like me, that liked to read, but liked pop culture more.
It's the story that got me. These two drop outs, failing at school and life, more interested in their band Wyld Stallyns, pull together in the only way they know how to make the best history project ever. To dismiss Bill & Ted as pure nonsense is snobbish. It's weird, yes, silly, definitely, but it's so joyful.
So, when the rumors started a few years back about a Bill & Ted reboot my heart exploded. I was flooded with nostalgia and glimpses of who I once was.
Another Bill & Ted movie was always the dream; well, for me and a niche bunch of Gen X's. The friend that was Bill to my Ted lives in Australia now and has grown up and moved on but I still messaged her to tell her. It was my version of I'm pregnant.  She was excited for me, obviously, because like most grownups, she secretly doesn't really want to be one; she wants to be back with me jumping on her mom's couch air guitaring, being told to go outside, do something else, anything but watch that god damn movie again. I hope she watches the reboot this summer and thinks about me anyway, back when I was the best version of myself and full of hope, hope that I would actually marry Keanu Reeves one day.
I'm sure the Bill & Ted reboot will be bad. I'll watch it through my fingers maybe, walk out of the theatre feeling like my childhood is now really truly dead, but there will also be a small piece of me that remembers everything Bill & Ted was to me, and no one can take that away. And if anyway dares say anything bad about it I'll air guitar in their face, like a lady should.
They ultimately taught me to not take myself seriously, which I think is the kiss of death for any writer (or person, even); they taught me to go after what I want, and always be on the lookout for time traveling phone boxes in the way other people are always nosing around in people's wardrobes for Narnia.
It's just a dumb movie to some people, but for me, it reminds me who I am.
__________________________________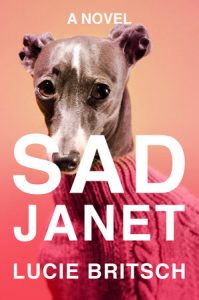 Sad Janet by Lucie Britsch is available via Riverhead.
---