How Ayn Rand Became the Spirit of Our Time
Lisa Duggan on the Influence of the Original Mean Girl
As I write in 2018, every news day delivers a fresh jolt. Since the election of President Donald Trump, the questions arise: Is the news surreal, hyperreal, or unreal? How do we grasp the daily spectacle of cultural contempt—for immigrants and minorities, for women, for political dissent, for "losers"? How do we comprehend the level of social and political indifference—toward those who cannot buy security and access to power? How can the US Congress pass a hugely unpopular tax "reform" bill that vastly expands economic inequality? Who are these people in power, making these decisions, and what makes them tick?
Ayn Rand is the writer whose dour visage presides over the spirit of our time. Author of the hugely popular novels The Fountainhead and Atlas Shrugged, Rand is the original Mean Girl. Her heroes and heroines prevail over inferior others in ruthless hierarchical worlds not unlike the high school at the center of the 2004 megahit movie Mean Girls, the quotable bible of millennial meme culture—now also a Broadway musical. The mass popularity of Mean Girls, which was based on interviews with high school girls conducted by Rosalind Wiseman for her 2002 book Queen Bees and Wannabes, reflects the emotional atmosphere of the age of the Plastics (as the most popular girls at fictional North Shore High are called), as well as the era of Wall Street's Gordon Gekko, whose motto is "Greed is Good." 
The culture of greed is the hallmark of the neoliberal era, the period beginning in the 1970s when the protections of the US and European welfare states, and the autonomy of postcolonial states around the world, came under attack. Advocates of neoliberalism worked to reshape global capitalism by freeing transnational corporations from restrictive forms of state regulation, stripping away government efforts to redistribute wealth and provide public services, and emphasizing individual responsibility over social concern. From the 1980s to 2008, neoliberal politics and policies succeeded in expanding inequality around the world. The political climate Ayn Rand celebrated—the reign of brutal capitalism—intensified. Though Ayn Rand's popularity took off in the 1940s, her reputation took a dive during the 1960s and 70s. Then after her death in 1982, during the neoliberal administrations of Ronald Reagan in the United States and Margaret Thatcher in the United Kingdom, her star rose once more.
During the global economic crisis of 2008 it seemed that the neoliberal order might collapse. It lived on, however, in zombie form as discredited political policies and financial practices were restored. But neoliberal capitalism has always been contested, and competing and conflicting political ideas and organizations proliferated and intensified after 2008 as well.
Protest politics blossomed on the left with Occupy Wall Street, Black Lives Matter, and opposition to the Dakota Access oil pipeline at the Standing Rock Sioux reservation in the United States, and with the Arab Spring, and other mobilizations around the world. Anti-neoliberal electoral efforts, like the Bernie Sanders campaign for the US presidency, generated excitement as well. But protest and organizing also expanded on the political right, with reactionary populist, racial nationalist, and protofascist gains in such countries as India, the Philippines, Russia, Hungary, and the United States rapidly proliferating. Between these far-right formations on the one side and persistent zombie neoliberalism on the other, operating sometimes at odds and sometimes in cahoots, the Season of Mean is truly upon us.
Ayn Rand's influence is ascendant across swaths of our political culture—including among public figures who see her as a key to the zeitgeist, without having read a word of her writing.
We are in the midst of a major global, political, economic, social, and cultural transition—but we don't yet know which way we're headed. The incoherence of the Trump administration is symptomatic of the confusion as politicians and business elites jockey with the Breitbart alt-right forces while conservative evangelical Christians pull strings. The unifying threads are meanness and greed, and the spirit of the whole hodgepodge is Ayn Rand.
Rand's ideas are not the key to her influence. Her writing does support the corrosive capitalism at the heart of neoliberalism, though few movers and shakers actually read any of her nonfiction. Her two blockbuster novels, The Fountainhead and Atlas Shrugged, are at the heart of her incalculable impact. Many politicians and government officials going back decades have cited Rand as a formative influence—particularly finance guru and former Federal Reserve chairman Alan Greenspan, who was a member of Rand's inner circle, and Ronald Reagan, the US president most identified with the national embrace of neoliberal policies. Major figures in business and finance are or have been Rand fans: Jimmy Wales (Wikipedia), Peter Thiel (Paypal), Steve Jobs (Apple), John Mackey (Whole Foods), Mark Cuban (NBA), John Allison (BB&T Banking Corporation), Travis Kalanik (Uber), Jeff Bezos (Amazon), ad infinitum.
There are also large clusters of enthusiasts for Rand's novels in the entertainment industry, from the 1940s to the present—from Barbara Stanwyck, Joan Crawford, and Raquel Welch to Jerry Lewis, Brad Pitt, Angelina Jolie, Rob Lowe, Jim Carrey, Sandra Bullock, Sharon Stone, Ashley Judd, Eva Mendes, and many more. The current Trump administration is stuffed to the gills with Rand acolytes. Trump himself identifies with Fountainhead character Howard Roark; former secretary of state Rex Tillerson listed Atlas Shrugged as his favorite book in a Scouting magazine feature; his replacement Mike Pompeo has been inspired by Rand since his youth. Ayn Rand's influence is ascendant across broad swaths of our dominant political culture—including among public figures who see her as a key to the zeitgeist, without having read a word of her writing.
But beyond the famous or powerful fans, the novels have had a wide popular impact as bestsellers since publication. Along with Rand's nonfiction, they form the core texts for a political/philosophical movement: Objectivism. There are several US-based Objectivist organizations and innumerable clubs, reading groups, and social circles. A 1991 survey by the Library of Congress and the Book of the Month Club found that only the Bible had influenced readers more than Atlas Shrugged, while a 1998 Modern Library poll listed The Fountainhead and Atlas Shrugged as the two most revered novels in English. Atlas Shrugged in particular skyrocketed in popularity in the wake of the 2008 financial crash. The U.S. Tea Party movement, founded in 2009, featured numerous Ayn Rand-based signs and slogans, especially the opening line of Atlas Shrugged: "Who is John Galt?" Republican pundit David Frum claimed that the Tea Party was reinventing the GOP as "the party of Ayn Rand."
During 2009 as well, sales of Atlas Shrugged tripled, and GQ magazine called Rand the year's most influential author. A 2010 Zogby poll found that 29 percent of respondents had read Atlas Shrugged, and half of those readers said it had affected their political and ethical thinking. In 2018, a business school teacher writing in Forbes magazine recommended repeat readings: "Recent events—the bizarro circus that is the 2016 election, the disintegration of Venezuela, and so on make me wonder if a lot of this could have been avoided had we taken Atlas Shrugged's message to heart. It is a book that is worth re-reading every few years." Rand biographer Jennifer Burns asserts simply that Ayn Rand's fiction is "the gateway drug" to right-wing politics in the United States—although her influence extends well beyond the right wing.
In a word: sex.

Ayn Rand made acquisitive capitalists sexy.
But how can the work of this one novelist (also an essayist, playwright, and philosopher), however influential, be a significant source of insight into the rise of a culture of greed? In a word: sex. Ayn Rand made acquisitive capitalists sexy. She launched thousands of teenage libidos into the world of reactionary politics on a wave of quivering excitement. This sexiness extends beyond romance to infuse the creative aspirations, inventiveness, and determination of her heroes with erotic energy, embedded in what Rand called her "sense of life." Analogous to what Raymond Williams has called a "structure of feeling," Rand's sense of life combines the libido-infused desire for heroic individual achievement with contempt for social inferiors and indifference to their plight. Lauren Berlant has called the structure of feeling, or emotional situation, of those who struggle for a good life under neoliberal conditions "cruel optimism"—the complex of feelings necessary to keep plugging away hopefully despite setbacks and losses. Rand's contrasting sense of life applies to those whose fantasies of success and domination include no doubt or guilt. The feelings of aspiration and glee that enliven Rand's novels combine with contempt for and indifference to others. The resulting Randian sense of life might be called "optimistic cruelty." Optimistic cruelty is the sense of life for the age of greed.
Ayn Rand's optimistic cruelty appeals broadly and deeply through its circulation of familiar narratives: the story of "civilizational" progress, the belief in American exceptionalism, and a commitment to capitalist freedom. Her novels engage fantasies of European imperial domination conceived as technological and cultural advancement, rather than as violent conquest. America is imagined as a clean slate for pure capitalist freedom, with no indigenous people, no slaves, no exploited immigrants or workers in sight. The Fountainhead and especially Atlas Shrugged fabricate history and romanticize violence and domination in ways that reflect, reshape, and reproduce narratives of European superiority and American virtue. Their logic also depends on a hierarchy of value based on racialized beauty and physical capacity—perceived ugliness or disability are equated with pronounced worthlessness and incompetence.
Through the forms of romance and melodrama, Rand novels extrapolate the story of racial capitalism as a story of righteous passion and noble virtue. They retell The Birth of a Nation through the lens of industrial capitalism. They solicit positive identification with winners, with dominant historical forces. It is not an accident that the novels' fans, though gender mixed, are overwhelmingly white Americans of the professional, managerial, creative, and business classes. Ayn Rand's identification with dominance was not seamless, however. As a Russian Jewish woman, her experiences of ethnic/religious and gender inequality gave her fiction's sense of life some important kinks, some twists and turns. These kinks attracted readers from a range of viewpoints, not all unalloyed procapitalist zealots.
Where are we now? Is the long career of optimistic cruelty, of contempt and indifference to human inequality, at its height? Or is the culture of greed surrounding zombie neoliberalism so pronounced now that it is effectively exposed and may finally be displaced as an acceptable political feeling? Cultural critic Slavoj Žižek has argued that Rand's mad adoration of capitalism, her excessive overidentification with it, only serves to make its inherent ridiculousness clearly perceptible.
__________________________________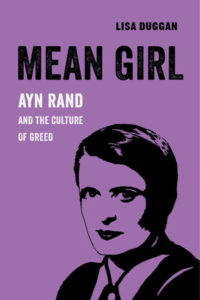 Excerpted from Mean Girl. Used with permission of University of California press. Copyright © 2019 by Lisa Duggan.
---