How Ancient Rome's Descent Into Autocracy Mirrors the Fragility of Our Own Political Systems
Barry Strauss on the Rise of Octavian, Julius Caesar's Imperial Successor
Octavian was born on September 23, 63 BC. Or, rather, we might ask: Who was born then? Even Octavian's name is a matter of public relations. He was born Gaius Octavius. After accepting the offer of posthumous adoption in Caesar's will, Octavius became known as Gaius Julius Caesar Octavianus. Or, rather, he should have been called that, according to standard Roman naming practices. But he rejected the name Octavianus and insisted on being called Caesar. Most historians today call him Octavian, but only until he reached the age of thirty-five in 27 BC. From then on, he took the title by which he is best known today: Augustus. It is complicated, but so was the man behind the names.
His father, also Gaius Octavius, was wealthy and ambitious but not a Roman noble, and he came not from the capital but from a small town to its south. His ticket upward was his marriage to Julius Caesar's niece Atia Balbus, but he died suddenly when Octavian was four years old. Although Atia remarried soon, she entrusted Octavian to her mother, Julia, who raised the boy during his formative years. Julia's brother was in the process of conquering Gaul and becoming the first man in Rome.
While Octavian grew up, Caesar was revolutionizing Rome, which functioned as a self-governing republic. The people and the elites shared power through institutions such as assemblies, courts, elected officials, and the Senate. In theory, at any rate: in practice, the republic could not prevail against a conquering general like Caesar and his tens of thousands of loyal soldiers.
Rome, it seems, was caught in a maze of political, military, social, economic, cultural, and administrative impossibilities. Only someone who could tame Rome and its empire could bring lasting peace. Caesar was not that man. He was a conqueror, not a builder. But if Caesar couldn't do it, who could?
Triumviral Rome was an age of traitors and turncoats, defectors and double agents.
Caesar had no legitimate son of his own, although, as mentioned, he probably had sired Caesarion. Technically, Cleopatra might well have held Roman citizenship, as her father had, but what mattered in the public eye was that she was queen of Egypt. Instead of Caesarion, Caesar chose Octavian as his heir.
Burning with ambition, Octavian was a natural politician: intelligent, charming, and careful in his choice of words. He was bright eyed and handsome, with slightly curly blond hair. Short and somewhat frail, he was not imposing in his looks, but he made up for it by the force of his character. Although not a born soldier, he was tenacious, cunning, and brave, with an iron will. And he had his mother, Atia, who surely sang his praises to Caesar at every opportunity.
A prominent boy such as Octavian had many friends, one of whom turned out to be his lifelong right-hand man, Marcus Agrippa. Like Octavian, he came from a prosperous Italian family, although without any connection to the Roman nobility. What Agrippa had in abundance was practical genius. He was courageous, assertive, and, above all, loyal. To be sure, Octavian had a gift for making men follow him. In Agrippa's case, Octavian went to Caesar and got Agrippa's brother freed from imprisonment even though he had fought against Caesar. Agrippa was grateful.
Young Octavian had many mentors in developing guile: his mother, who talked her way into a hiding place with the vestal virgins when the Senate wanted to take her hostage; his sister, Octavia, who might have had something to do with her first husband Mark Antony's surprising conversion from staunch enemy of her family to docile friend; his stepfather, an ex-consul who survived a civil war without taking sides; his great-grandmother and grandmother, who together gave detailed evidence in court of a female in-law's adultery, thereby sparing the man of the family, Caesar, from having to dirty his hands in public in order to get a divorce. And last but not least, there was Julius Caesar, one of history's masters of deceit. An hour at the feet of Caesar was worth more than a term of lectures by a professor. And Octavian spent many hours there.
In practice, the republic could not prevail against a conquering general like Caesar and his tens of thousands of loyal soldiers.
First, Caesar favored young Octavian with a series of public responsibilities. The seventeen-year-old even marched in Caesar's triumphal parades in Rome in 46 BC, an honor usually reserved for a victorious general's son. The next year, Octavian made his way to his great-uncle's military campaign in Hispania. Caesar was sufficiently impressed by the maturing youth to change his will in Octavian's favor. The document was deposited with the vestal virgins in Rome and, as far as we know, kept secret.
Caesar planned a three-year war of conquest in the East. He aimed to conquer Dacia (modern Romania) and to avenge an earlier Roman defeat at the hands of the Parthians, who ruled much of southwest Asia and represented the only state strong enough to challenge Rome in the Near East. Caesar named Octavian, at the age of eighteen, his master of the horse, a position that offered visibility and networking opportunities. The expedition was scheduled to begin in March 44 BC. Around December 45 BC, Octavian left Rome at Caesar's command and, along with Agrippa, crossed the Adriatic to Caesar's military headquarters in what is today Albania. There Octavian made very useful contacts with legionary commanders.
But the Ides of March changed everything. In the aftermath of Caesar's assassination, Octavian returned cautiously to Rome, escorted by some of Caesar's partisans and soldiers.
After a slight hesitation, and against his mother's and stepfather's advice, Gaius Octavius accepted Caesar's adoption. He insisted from then on that he be addressed as Caesar. His mother was the first to do so.
Though only eighteen, Octavian aimed high. After an apprenticeship under Julius Caesar, he was ready to take the Forum by storm. It was as if by some sudden shock all the springs of an immobile Roman catapult had been set in motion.
Obstacles, however, abounded. Antony was consul and wanted to brush Octavian aside in order to claim Caesar's mantle. Conservative republicans, for their part, had no use for Caesar's adopted son, because they wanted to rid themselves of the dictator's legacy for good. Meanwhile, a throng of ambitious people wanted to use Octavian to advance their own agendas.
Only someone who could tame Rome and its empire could bring lasting peace. Caesar was not that man.
Caesar had been an extremely wealthy man. Octavian would have been one too, had he gotten his hands on that three-quarters of Caesar's estate that was promised to him in the will. He never saw it. Antony took control of most of the funds and refused to release them, claiming the need to investigate what part belonged to Caesar and what part belonged to the Roman people. Instead, Octavian got his money from several other sources: (1) Caesar's treasury in Apollonia (in today's Albania) to subsidize the Parthian War—or at least some of the funds, since Octavian claimed to have turned some or all of this over to the Roman state; (2) loans from Caesar's supporters, including bankers and wealthy freedmen; (3) money borrowed from his mother and stepfather; (4) the proceeds from selling or mortgaging his own property and that portion of Caesar's property that he was able to take over; and (5) the one-fourth of Caesar's estate that the dictator had left to Octavian's cousins. Not bad, but not in a league with the funds that Antony would later haul in from the East.
Octavian was a crafty young politician on the make, possessed of plenty of glowing prospects. He faced potential ruin or supreme possibilities, could he but master the situation. Master it he did. Octavian wasn't just a Roman, but a Caesar. Antony once dismissed him as a boy who owed everything to his name, but Antony missed the point. As far as Octavian was concerned, what mattered wasn't the name but the heritage it represented.
Octavian was motivated by a sense of honor, and that played well with the Roman public, who set high store on a person's reputation. In the Forum in November 44 BC, eight months after Caesar's assassination, he gave a speech while stretching out his right hand to a statue of Julius Caesar and swearing by the hopes of attaining all his adoptive father's offices and honors. It was no small claim for a nineteen-year-old to aspire to the status of Rome's first dictator for life.
Around the same time, young Octavian succeeded in convincing two hardened Roman legions to defect to him from Antony. Octavian's agents mingled with the troops and exploited their anger at Antony's stinginess and harsh discipline. It was a lesson in how to leverage military from political power, and it was a skill that Octavian would hone to perfection over the years ahead. It was also a demonstration of Octavian's lack of interest in republican traditions. He had no legal authority to raise troops. His was, in effect, a private army.
An hour at the feet of Caesar was worth more than a term of lectures by a professor. And Octavian spent many hours there.
But that did not prevent the last lion of the Roman Senate, Cicero, from supporting Octavian. The great statesman and orator had abhorred Caesar's dictatorship and supported his assassins. Cicero had little reason to trust Caesar's heir. But Octavian appealed both to Cicero's hatred of Antony, a personal and political enemy, and to the old man's vanity. With Cicero's endorsement, the Senate empowered Octavian and his private army to join the two consuls in a war against Antony.
In April 43 BC the two sides fought two battles outside of the city of Mutina (now Modena) in northern Italy. It was Octavian's first test by fire, and Antony claimed that his much younger foe failed and turned coward. But, if no natural warrior, Octavian was capable of courage. At the second battle in 43 BC, for instance, he picked up the eagle when his legion's eagle bearer (aquilifer) was wounded. In war, as in all else, Octavian displayed self-control. In wars, as in all else, Octavian displayed self-control, down to and including moderate drinking, even in the rowdy company of soldiers.
As it happened, the two consuls died shortly after being wounded in these battles. Octavian now became commander of the Senate's armies. No surprise that suspicion has fallen on him for poisoning the consuls.
[Caesar] was a conqueror, not a builder. But if Caesar couldn't do it, who could?
Antony withdrew, with his surviving troops in good order, and went over the Alps to Gaul, where he built up wide support among Roman commanders. At this point, Octavian decided to switch sides, dropping his support for Cicero and the Senate as quickly as he had offered it a year earlier.
Octavian had concluded that the Senate was getting ready to turn on him now that he had defeated Antony and driven him north across the Alps. The Senate, in fact, preferred to support Caesar's assassins. Antony, for his part, made an alliance in Gaul with Marcus Lepidus, another of Caesar's former generals. This gave him control of nearly twenty legions—about as many as Octavian had. Knowing that Marcus Brutus and Gaius Cassius, two of Caesar's assassins, were raising an army in the East to fight Caesar's partisans, Antony and Octavian concluded that they were better off joining forces.
In autumn 43 they agreed to govern Rome jointly, along with Lepidus, and to divide control of legions and provinces. Their government was known as the triumvirate. A law was formally passed in Rome instituting it for five years on November 27, 43 BC. Rome still had a Senate and the various other instruments of government, but in practice, the triumvirs ruled.
Brutus and Cassius plotted to reconquer Rome and restore the old republic, with rule by the Senate and the traditional nobility. Fighting them would take money, which the triumvirate planned to raise through taxation as well as extortion. They published lists of political opponents and personal enemies—men whose property was to be confiscated and whose lives were forfeit; each had a price on his head. These were by and large supporters of the republic.
Many fled, but in the end, more than two thousand of the wealthiest Romans died: three hundred senators and two thousand equestrians, or Roman Knights, the class just below the senators in wealth and honors. Because the lists were called written public notices, or proscriptiones in Latin, these attacks are known as the proscriptions. They lasted about a year and a half. Cicero was the most famous casualty. Antony wanted his archenemy dead. Octavian said later he tried to save Cicero, but, if so, he didn't try very hard.
During the triumviral era, Romans who wanted to survive raised the practice of hedging their bets to an art form. It was prudent to make multiple contributions to rival politicians, to be friendly to everyone, and to maintain a cautious ambiguity about one's opinions. Some withdrew from public life; a few had the resources and talent to turn to writing. Sometimes, of course, principle or ambition required boldness, and one had to take a stand, but not necessarily for long.
Rarely in history have so many powerful people changed sides so often—and with such good reason. There were three triumvirs, but only Antony and Octavian mattered. Every day, the balance shifted between them; today one up, tomorrow the other. Marcus Lepidus never had the power or the ambition of the other two. A "slight, unmeritable man," Shakespeare's Antony calls Lepidus, and history tends to bear this out. Octavian eventually fired him and sent him into internal exile south of Rome for the rest of his life.
Triumviral Rome was an age of traitors and turncoats, defectors and double agents. Most of the major actors themselves switched loyalties at one point or another, often more than once. It was the rare person such as Marcus Agrippa who throughout his career remained faithful to one leader: Octavian. Or Gaius Asinius Pollio, the general, statesman, and historian who refused Octavian's offer to betray Antony and join him. Few other Romans could match Pollio's stubbornness or his success as a survivor, come what may.
___________________________________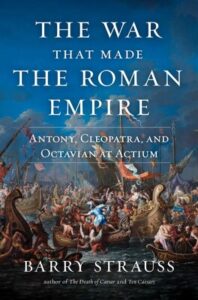 Excerpted from The War That Made the Roman Empire: Antony, Cleopatra, and Octavian at Actium by Barry Strauss. Copyright © 2022. Available from Simon and Schuster. 
---