How an Irish Syntactical Peculiarity Helped Me Find My Protagonist's Voice
Kia Corthron on the Challenges of Dialect in Historical Fiction
I was eager to jump into my second novel. The setting would be lower Manhattan's Five Points district—a vibrant, poverty-stricken neighborhood of mostly Irish and African Americans—during the years leading into the Civil War. I wanted to deliver the reader to that 19th-century slum, and I deemed my reach for credibility to be a matter of person, place, and temporal position: establishing a tangible reality through the characters and their environment as situated within the historical timeline.
But months into the work, I hadn't written a word. Research, yes, research galore! I could see it: the tenements, the grocery-groggeries (liquor stores with a few food items), the muck-covered cobblestone streets. But the most distinctive feature of Five Points was its inhabitants, and that was the aspect that paralyzed me. I waited for the magic moment when they would speak: my child protagonist Theo—orphan daughter of a black father and Irish Famine refugee mother—as well as her grandmothers, her aunts. But their voices remained elusive.
I reminded myself that, for contemporary readers, Thoreau and Alcott and Douglass and Twain are readily accessible (and so was my online etymology link). As an African American writer, I felt on somewhat solid ground with Theo's father's side, though the escaped slave—fostered into the black family as Theo's aunt—I approached with caution. I'd read plenty of narratives and black-authored plantation fiction and linguist John McWhorter's Talking Back, Talking Black, and still I contemplated carefully the implications of every s I might add to a first-person singular verb.
And what of Theo's Irish immigrant relations? Of their F.O.B. boy adoptee? Of course, dialogue may be spare or nonexistent in fiction, but I was a playwright decades before I wrote my first novel: if I were to catapult readers to antebellum New York, then it would be, in great part, through the characters' speech.
I spent March 2019 in Ireland, twelve of those days at the Cill Rialaig retreat on the island nation's southwest "fingers" jutting into the Atlantic. Green mountains with grazing sheep, the cliff down to a roaring sea, and wedged in the narrow land strip between about seven pre-Famine (before 1845) stone dwellings renovated as artists' studios. As instructed, I found the key under the stone in front of my assigned cottage. I was examining the space, unpacking, when I heard a knock on the door. I let in the off-site caretaker. He was friendly, explaining things in his local County Kerry accent, and I strained to understand. Kerry is Gaeltacht: the first language is Irish (which, contrary to many American assumptions, is a language, one of several under the Gaelic umbrella) and therefore, in speaking English, he was not communicating in his native tongue. Before he left, I asked if he could tell me his name again. He said something that I didn't catch. At my request, he repeated it. I finally asked him to spell it. M – I – C – H – A – E – R—oh, L? L. Oh! Michael!
But whatever he said sounded nothing like "Michael" as I'd always heard it. Kerry made the most sense as the home county for the Irish side of Theo's family. So how could I write these characters with any authenticity if I struggled to understand every word of Kerry English?
My comprehension was better with other locals. When a Dublin-based Irish visual artist resident and I walked the several miles to the nearest town (Ballinskelligs, population 375) for their St. Patrick's Day Parade (maybe 15 minutes start to finish, including little girls doing traditional Irish dance and trucks carrying sheep partially dyed in Irish green and orange), an emcee gave a play-by-play, and I could easily grasp his every syllable. After the event, my colleague and I had a cup of tea, and the barista's inflection was somewhere between Michael's and the commentator's. As with my experience in Liberia many years ago, the most universally comprehendible accents are those whose unique flavor, for better and worse, has been neutralized by class or education or too much American and British television.
But then I wouldn't be writing an accent; I would be suggesting one. Since the Irish family of my novel had been living in New York a decade, and the newcomer a child and thus prone to pick up language quickly, my undertaking was moderated by the fact that the brood would be quite Americanized. Still, there would be lingering articulations of home, especially by those who'd arrived as adults. I wasn't going to kid myself that I could reach any fluency, but I sought a syntactical peculiarity that I could use to prompt in my readers' minds the music of the vernacular.
And then I happened upon "after." The American English preposition doubles as an auxiliary verb in Irish English for the recent past tense, a remnant of Irish grammar passed into the colonialist tongue. "I went to the market" could be expressed as "I'm after going to the market." "I just ate my dinner" would be "I'm only after eating my dinner." I inserted other idiosyncrasies into the manuscript: a few phrases in the Irish language; "herself" and "altogether" for emphasis. But "after" was my anchor. So, while my long awaited eureka of dialect enlightenment never materialized, at this point I apprehensively concluded that I'd gathered enough tools to give myself a gentle shove into the broguish waters.
I have a natural facility for children's parlance, though I'd certainly presented myself with a challenging objective for a first-person narrative: to manage for the reader to be, at times, more aware of the significance of a scene than the child narrator. But in another sense, my juvenile protagonist provided me with an advantage. While adults tend to become desensitized to their environment, a child sees all. Theo's circa seven-block square would be, for her, ever new and exciting, and therefore its description organic to the storyteller. Compared to my grappling with dialogue, the task of immersing the reader in the sights and sounds and smells of Five Points appeared complicated and rigorous but exponentially less intimidating.
I wasn't going to kid myself that I could reach any fluency, but I sought a syntactical peculiarity that I could use to prompt in my readers' minds the music of the vernacular.
Among my first reads was Tyler Anbinder's seminal Five Points, each chapter illustrating a characteristic of life in the legendary neighborhood—tenement living, hardscrabble employment, recreation: saloons, dance halls, the theatre (far from posh), the bowling alley (literally an alley). I began searching online for ways a little girl of the era might entertain herself and, at some point, stumbled upon Barnum's American Museum. Long before his forays into the circus, P.T. Barnum oversaw a spectacular exhibition house at the southern end of Five Points near City Hall: five floors of jugglers and fortune tellers, dancing fleas and dancing bears, rhinos and elephants, and so-called "human oddities" (among them, international star Charles Sherwood Stratton a.k.a. Tom Thumb). I found several online sites with flashy glimpses, but to transport readers I needed to know the particulars: What was the entrance fee? Where were the live animals? What sort of performances were produced in the three thousand seat "Moral Lecture Room"? Were refreshments for sale and what were they?
I found more than I needed, including maps of every floor, in P.T. Barnum: America's Greatest Showman by Philip B. Kunhardt, Jr., et al., a large, colorful treatise on the lord of spectacle. As a research-oriented writer, I was presented with my own thrill since the volume was stored in the Rare Books collection at the New York Public Library's stunning flagship "lions" building. I had to make a reservation days before, leave everything save a pencil and laptop at the first-floor coat check, and climb the marble stairs to the special room where I sat and waited for my order to be placed in front of me, along with the weighted page holder to ensure my touch to the pages would be minimal.
Another setting was the Brooklyn cigar factory that employed Theo's adolescent cousin Hen and, briefly, Theo. I became interested after noticing a brief reference to an infamous fire set to an outfit where many black women labored. Such workshops were numerous, recruiting men, women, and children, and often favoring (as in, offering higher pay to) African Americans, some of whom formerly had been enslaved and had become adept at the craft on plantations. I could find no books on the assembly shops, so I slowly pieced together images from websites: rooms for the bales of tobacco, for the table around which the cigar rollers were seated, for the decoratively packaged finished product. Eventually I ascertained the Brooklyn Daily Eagle's firsthand report on the notorious conflagration, which at last provided me with the institution's name: Watson's Tobacco Company.
Having addressed all the seeming out-of-reach aforementioned, the job of penning the thirty-six chapters on this community felt relatively straightforward. Like most authors, I would just focus on the task before me, not needing to worry about the next chapter till I'm after finishing this one.
_______________________________________________________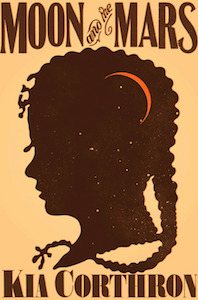 Kia Corthron's novel Moon and the Mars is available now via Seven Stories Press.
---