How 19th-Century Gun-Makers Helped Preserve the Union
John Bainbridge, Jr. on the Weapons That Won the Civil War
As the gunmakers' markets matured through the Civil War era, some began mastering the art of product promotion, following the lead set by Samuel Colt. For Oliver Winchester that promotion came from his own fan base on the front lines. Among his enthusiasts was Capt. James M. Wilson of the Twelfth Kentucky Cavalry, who said he owed his life to a Henry rifle.
Living in a Confederate-leaning part of Kentucky in 1862 was risky for a solid Union man like Wilson, so when neighbors threatened to kill him, he stashed a Henry rifle and a Colt revolver in a log crib not far from his front door, just in case they tried. One day they did. Seven armed guerrillas burst into the Wilson home while his family sat at the dinner table, shooting on their way in, shattering a glass of water in his wife's hand, but hitting no one. "For God's sake," Wilson shouted, "if you wish to murder me, do not do it at my own table in presence of my family." All right, the intruders said, step outside.
The moment he reached the front door, Wilson leapt for his hidden guns, while bullets tore through his clothing without touching flesh. He grabbed his Henry rifle and fired five shots, each one killing a man who was shooting at him. The other two guerrillas then sprang for their horses. As one grabbed the pommel of his saddle, a bullet from Wilson's repeater blew off four of his fingers, but the man was able to mount his horse anyway and was trying to flee when another bullet toppled him to the ground, dead. Wilson's eighth shot killed the seventh man.
Word of Wilson's shoot-out reached a delighted Oliver Winchester, who wrote him on New Year's Eve 1862:
A few days since I heard a detailed and thrilling account of your adventures with Guerillas, in which your coolness and courage were conspicuous, aided by a skilful use of Henry's Rifle. I do not know how true the account is, but feel a great interest in obtaining a reliable statement of any facts showing the efficiency of our arm in competent hands….I trust I am not asking too much of you, and will esteem your compliance a great favor, which I shall be happy to reciprocate in any way in my power.
Seven weeks after it was sent, Wilson finally received Winchester's letter.
Yes, he told the gunmaker in a letter from Kentucky, he did use a Henry against seven guerrillas, finding it "particularly useful" in the number of shots he could fire and "its fatal precision." As far as he was concerned, Wilson wrote, "the Henry Rifle is decidedly the best gun in the service of the United States." Give him "sixty men armed with the Henry Repeating Rifle, with a sufficient quantity of cartridges," he claimed, "and it is not an overestimate to say that we are equal to a full regiment of men armed with muskets."
The prospect of being armed with a repeating rifle was so appealing it was used to lure men into enlisting.
Winchester harvested more testimonials, including one from Maj. Joel Cloudman of the First District of Columbia Cavalry. Cloudman and several fellow troopers were captured, along with their Henry rifles, and spent some time in the Confederacy's infamous Libby Prison. There he heard a rebel say, "Give us anything but your d__d Yankee Rifle that can be loaded Sunday and fired all the week."
And the president of the strategically located Louisville and Nashville Railroad asked Secretary of War Stanton to "supply him with 300 repeating rifles, those of Henry preferred," to protect trains from marauding Confederates. "The increase of guerrilla bands has been such that unless those engaged in running the trains are armed it will not be possible much longer to retain them in the service."
Other accolades came in letters to newspapers from a sender identified only as "L.W.W.," who warned that Henry rifles in Confederate hands, which happened on occasion, "could cause terrific losses among gallant fighting men, causing this conflict to drag on eternally, and cause loss of spirit." Already there was discontent in the ranks, he said, "and if these terrible weapons fall into the wrong hands, the hurt will be too great to bear.
Our boys, who are willing to sacrifice all, must be provided with the latest and most modern arms. Nothing else will satisfy the Union and all loyal citizens." L.W.W.'s enthusiasm for the Henry rifle is easily explained. He was Oliver Winchester hiding his identity.
The prospect of being armed with a repeating rifle was so appealing it was used to lure men into enlisting. In March 1863, three weeks after Congress passed the first wartime draft in the nation's history, Capt. C. A. Barton placed an advertisement in an Ohio newspaper with the heading "An Easy Way to Avoid the Conscription." Join his company of sharpshooters, Barton promised, and you would receive a bounty. What's more, "We also can give you Spencer's Repeating Rifle, the most effective weapon now in use."
The Spencer also had a champion in Union Brig. Gen. Edward W. Hinks. At the end of April 1864, Hinks had a specific reason for wanting his troops armed with them. On April 12—the third anniversary of the first shots fired on Fort Sumter—Confederate cavalry under Maj. Gen. Nathan Bedford Forrest had overwhelmed a vastly outnumbered Union garrison at Fort Pillow, Tennessee, easily forcing the Federal troops there into submission. The battle itself wouldn't be remembered as much as its aftermath would.
It was often the lot of African American soldiers to be given inferior weapons, and the men under Hinks were no exception.
What followed the fighting was called a massacre, with Confederate soldiers murdering captured Union men, many of them wounded. African American prisoners fared worse than their white comrades. Many black soldiers, seeing harsh treatment being meted out, jumped into the river to escape, only to be shot at by Confederate soldiers on the bluff above. "From where I fell wounded," remembered Union Lt. Mack Leaming, "I could plainly see this firing and note the bullets striking the water around the black heads of the soldiers, until suddenly the muddy current became red and I saw another life sacrificed in the cause of the Union."
Leaming then saw a pair of Confederates pull a black Union soldier from the river. "He seemed to be wounded and crawled on his hands and knees. Finely [sic] one of the confederate soldiers placed his revolver to the head of the colored soldier and killed him." A mate on a Navy steamer who came to Fort Pillow the day after the battle saw the bodies of several African American soldiers "with their eyes punched out with bayonets; many of them were shot twice and bayonetted also."
Seventy percent of the white soldiers survived the attack on Fort Pillow and its aftermath, while only thirty-five percent of the black soldiers did. The brutality of Southern soldiers toward armed men they thought should remain slaves did not go unnoticed beyond Fort Pillow. One who noticed was General Hinks, who commanded a Union division of African American troops in Virginia.
Two weeks after the Fort Pillow massacre, he wrote to Maj. Gen. Benjamin F. Butler, the commanding general of the military department covering Virginia and North Carolina, and asked that his soldiers "be more efficiently armed, to enable them to defend themselves and lessen their liability to capture" in light of "the recent inhumanities of the enemy perpetrated upon troops of like character to those of my command."
It was often the lot of African American soldiers to be given inferior weapons, and the men under Hinks were no exception. Unreliable old guns might be fine "for troops who will be well cared for if they fall into [enemy] hands," he told Butler, "but to troops who cannot afford to be beaten, and will not be taken, the best arm should be given that the country can afford." The right thing to do, Hinks insisted, "is to arm our colored troops with Spencer repeating rifles, and I request that my division, or a part of them, may be armed with a repeating or breech-loading fire-arm."
_________________________________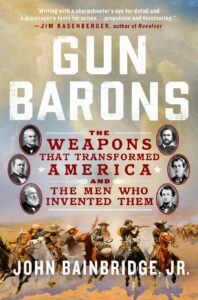 Excerpted from Gun Barons: The Weapons That Transformed America and the Men Who Invented Them by John Bainbridge, Jr. Copyright © 2022. Available from St. Martin's Press, an imprint of Macmillan.
Featured image: Showman, inventor, business titan, huckster Samuel Colt, holding an 1851 Navy Revolver, one of his company's most popular handguns. Engraving by John Chester Buttre, c. 1855, Wikimedia Commons
---