Holding the Line Between Democracy and Tyranny: Anonymous Sources
John Freeman on the Power of the Whistleblower
Before their names rise to print like beads of hot metal, anonymous people often tell us what we need to know. They tell us who the cheaters and thieves are in our societies. They explain when our governments are lying. Who is dumping toxic material into groundwater. Who thinks citizens are looking the other way. Where the bodies are buried. Who hid the murder weapon.
In a climate of constant rolling attacks on the power of the press and law enforcement, it's useful to remember: anonymous but verified sources create the smelting fires of investigative journalism and of serious investigations, without which our societies are essentially at the whim of governments and corporations and the powerful. 
It sounds absurd to have to state it plainly, but without someone or many people watching them, agitating for truth—all these institutions will lie. Governments, corporations, the powerful. They will fabricate gas mileage numbers or studies about the lethality of their products. They will tell us the war is going well; they will claim the president had no connection to the break-in. They will make a mockery of the tax code, or bury their enemies, or collaborate with competitors. It's not just that power corrupts: power, when it reaches the stage of imbalance we currently see, encourages impunity. To grab and take in plain sight. 
This is a very dangerous stage of tyranny. It means essentially that norms and decency no longer matter, that even a correct accusation cannot stop the activity from continuing. All that is left then—when public apathy has been leveraged—is the law. You will witness a startling number of lawsuits, civil action suits, and legal maneuvers to stop outright thievery in America at this moment.
For a long time, the United States has bragged to the world that it was an experiment in democracy. At this stage, however, the democratic experiment seems to have morphed into a different kind of enterprise: a new form of tyranny—a soft tyranny of opt-in subscribers. 
Tyrannical power does not always arrive in the form of a mustachioed strongman. It sometimes takes the shape of an intersection of interests: of political and corporate power overlapping in a way that defrauds common citizens of their rights, of fair government. The fig leaf in these moments is elections—the powers that be can claim there was an election and people voted. This may be true, but when fewer and fewer people vote, and when elections themselves are compromised by repressive tactics, and then the elected officials so often vote against the interests of their constituents, democracy has ceased to function. 
Anonymous sources make it impossible for tyrannical powers to entirely shape the media around their narratives.
This form of democracy in ritual only has been enabled by the defunding of public education and the destruction of the information environment. If citizens do not have a sense of context, one developed through education and thought, then propaganda and outright hate-mongering can be incredibly powerful. It is far easier to blame a person or a type of person for the loss of one's job or standing in society than a complex systemic failure. In the battle between left and right the world over, the right has banked heavily on hatred and on leveraging this ignorance. On leveraging nationalism. 
To stoke these feelings, governments will lie constantly and often. A government by one definition is an entity answerable to its citizens. A more cynical and current definition is a government is a body that lies to its citizens. This might be funny were it not so true in many of our states. In the age of the internet, the speed of information and communication moves so fast that a government has often moved on to a new lie by the time an old one has been revealed to be false. The speed of this game of leapfrog leads the press to make two mistakes: First, to believe that their job is to catch people lying. This is a side effect of living under tyrannies. Second, to make the lies the story. 
Lies are no more unique to a tyrannical government than breathing is to a human being. Lying is simply a way to create space to keep doing what they are doing. The challenge of the press and of investigative law enforcement in such a scenario often has little to do with the main source of the lie—the CEO or, say, the president.
It often requires getting to the heart of a narrative of what happened. Or what is happening. What actions are being covered up and who they benefit. If a head of state was bribed, the question isn't why but how. Who paid, who transferred the money, into what bank account, and under what pretense? Which bankers participated in the action, and did they know what they were doing? 
Getting answers to such questions requires anonymous sources. A press that agitates. Someone inside an operation who is disturbed by the actions but cannot run the risk of exposing themselves. In some instances, they want to avoid this limelight for personal reasons; in others, they know they may wind up dead, or beaten, or with their lives in ruin. Power creates and implies its own kinds of threats. It makes examples of those who cross it.
Most criminal enterprises punish traitors grotesquely. They are decapitated, defenestrated, hanged in public. They are shamed in embarrassing ways. This has to happen only a few times for people to get the message: We can make your life a living hell. In a state still run under law and order, the discomfort can be dealt out in milder but still excruciating ways. Recently, the U.S. president caused the pension of a civil servant to be taken. In the course of the bullying campaign, the civil servant and his family also received death threats. They were so afraid, they employed extra protection. 
You can spot tyranny by how hard it tries to undermine any kind of watchdog group, the press, institutional law enforcement. Tyrants threaten or ban reporters, accidentally shoot them in war zones, prosecute leakers, and throw journalists in jail when they will not reveal sources. They expose anonymous sources in investigations; they even expose spies whose message they do not like. They label them treasonous, when in fact it is the actions of tyranny that make up that definition. 
The harder powers that be make it to report upon what they are doing, the more essential anonymous sources become. Anonymous sources make it impossible for tyrannical powers to entirely shape the media around their narratives. When anonymous sources come forward, the press is empowered to do far more than react to what a government or corporation says: it can ask questions about what they are doing. 
To find, develop, hear, and ultimately vet anonymous sources costs money, though. It takes a great deal of time. This is not day-to-day-reaction reporting. It means forging a relationship, listening for hours and days at a time. It can mean getting calls in the middle of the night and disrupting one's own life to prove responsiveness, to answer the call when at last the source is ready to speak.
The intersection of corporate and political power that gave birth to a free internet has been devastating to news organizations. Somehow, newspapers are meant to provide the same kind of coverage of local and world events and speak truth to power without any of their former revenue source—advertising. 
It's not working. Bit by bit, investigative journalism— the most expensive but also most crucial part of the news—is becoming too costly to provide. The powers that be are already celebrating. Imagine what the powers that be can do without a watchful press. They won't even have to lie, as no one will actually know what to ask them.
Most tyrannies work inward from this point, purging law enforcement of anyone who attempts to investigate them. An overwhelmed press doesn't know where to look—to the flamboyant larceny happening in public? The outright aggression against citizens? The sidelining of law enforcement who can call the tyranny to account? This flooding of the zone is done on purpose, and there's only one person who can make it stop. 
__________________________________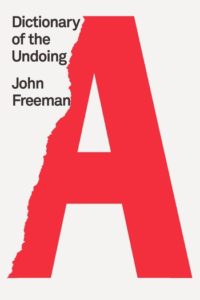 Excerpted from Dictionary of the Undoing by John Freeman. Published by MCD x FSG Originals on November 12, 2019. Copyright © 2019 by John Freeman. All rights reserved.
---