Literary Hub is very pleased to reveal the cover for Marie-Helene Bertino's new novel Beautyland, which will be published by Farrar Straus & Giroux in January 2024. Here's more about the book from the publisher:
At the moment when Voyager 1 is launched into space carrying its famous golden record, a baby of unusual perception is born to a single mother in Philadelphia. Adina Giorno is tiny and jaundiced, but reaches for warmth and light. As a child, she recognizes that she is different; she also possesses knowledge of a faraway planet. The arrival of a fax machine enables her to contact her extraterrestrial relatives, beings who have sent her to report on the oddities of earthlings. For years, as she moves through the world and makes a life for herself among humans, she dispatches transmissions on the terrors and surprising joys of their existence. But at a precarious moment, a beloved friend urges Adina to share her messages with the world. Is there a chance she is not alone?
Here's the stunning cover, designed by Thomas Colligan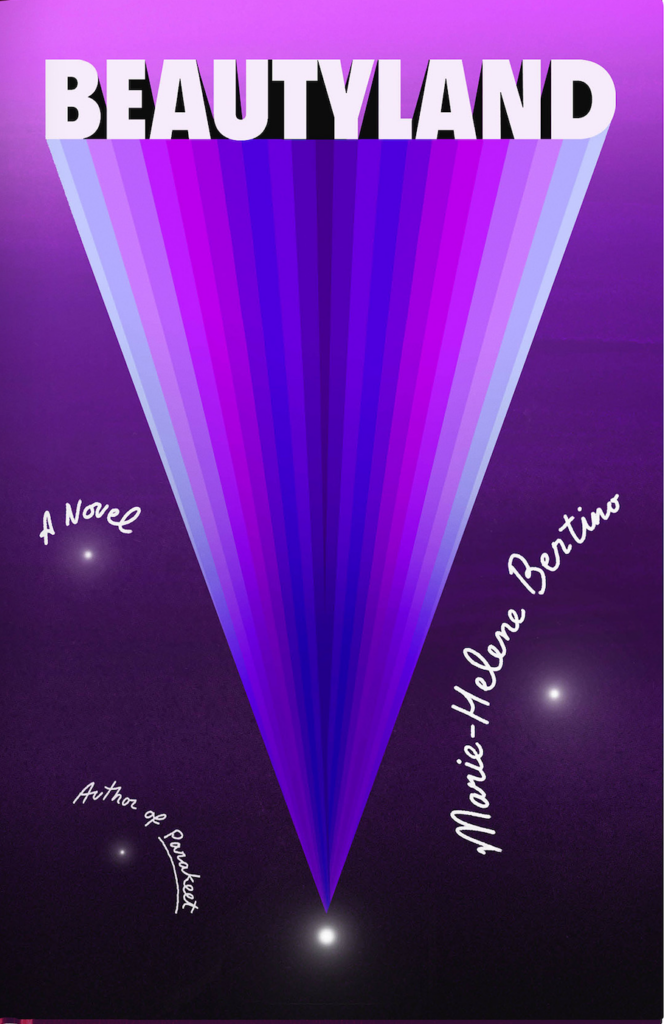 Colligan told Lit Hub, "It's difficult to sum up how a cover comes to be. It's often a slightly chaotic combination of 1) reading the book 2) Receiving suggestions from the author 3) Visually interpreting all this information and hoping it comes together as a beautiful cover. Thankfully, Marie-Helene Bertino had hugely helpful suggestions and visual references to share with me. Ranging from: Sci-fi posters from the 70s, to The Little Prince, to The Golden Record graphics and everything related to Space. She also provided the idea of using the map of the galaxy and having the title and the author name as labels of distant planets. There was something compelling about the cover being mostly made up of the night sky. It spoke to both the loneliness and beauty present in the book. But typography didn't feel right as simply small labels—it didn't communicate the incredible wit and humor of the writing. At this point, I looked back at the references of 70s Sci-fi posters and found that there was something of that playfulness and extravagance that needed to be incorporated into the cover. What if the title wasn't simply labeling a planet, but shooting towards us, full of energy."
And Bertino writes of the cover:
Beautyland was intentionally built using simple facts: an alien named Adina, her single mother, a fax machine, a dog. With them I attempt to access the universe. Adina spends her life reporting on Earth; betta fish, god, people who demand to try on other people's glasses then declare, "Wow, your vision is awful."
One woman's life can be as epic and meaningful as a multi-generational drama. But it's a heavy responsibility, a big swing. I wrote three books before feeling ready to write Beautyland. I asked FSG for a cover that evoked the universe without showing it.
Thomas Colligan made this unified burst of color that manages to hold the single life and the epic. The everythingness evoked by a solo star. If I saw this book on someone's coffee table I'd say, WHAT is that? If it was someone else's cover, I'd covet it. Good covers achieve greater significance the more you read; the handwriting that echoes Adina's notes, that noble purple, the number four. A shooting star's impact is based on fleetingness. This shows up in Adina's life in friendship, love, vocation. The human lifespan, she faxes, was designed to be brief but to at times feel endless. I imagine the second you turn away from this cover, it disappears. What remains? Meaning, hopefully. Joy.
Beautyland will be published by Farrar Straus & Giroux in January 2024, you can preorder here.