Lit Hub is pleased to share the cover for K-Ming Chang' new novel, Organ Meats, which will be published by One World in October. Here's a bit about the book from the publisher:
Best friends Anita and Rainie have made countless visits to their home base: an old sycamore tree and its neighboring lot of stray dogs who have a mysterious ability to communicate with humans. The girls learn that they are preceded by generations of dog-headed women and women-headed dogs whose bloodlines knot them together like thread. Anita convinces her best friend Rainie to become a dog with her, tying a collar of red string around each of their necks to preserve their kinship forever. But when the two girls are separated, Anita sinks into her dreams and lands herself in a coma that only Rainie knows how to rouse her from. As Anita's body begins to rot, her mind straying farther and farther away from the waking world, it is up to Rainie to rebuild her friend's body and keep Anita from being lost forever. Tasked with gathering new organs from the mythical landscape of their shared childhood, Rainie must return to the past and ask herself how far she is willing to go to reunite with the girl who has haunted her and hunted her in equal measure.
Here is the cover, designed by Michael Morris: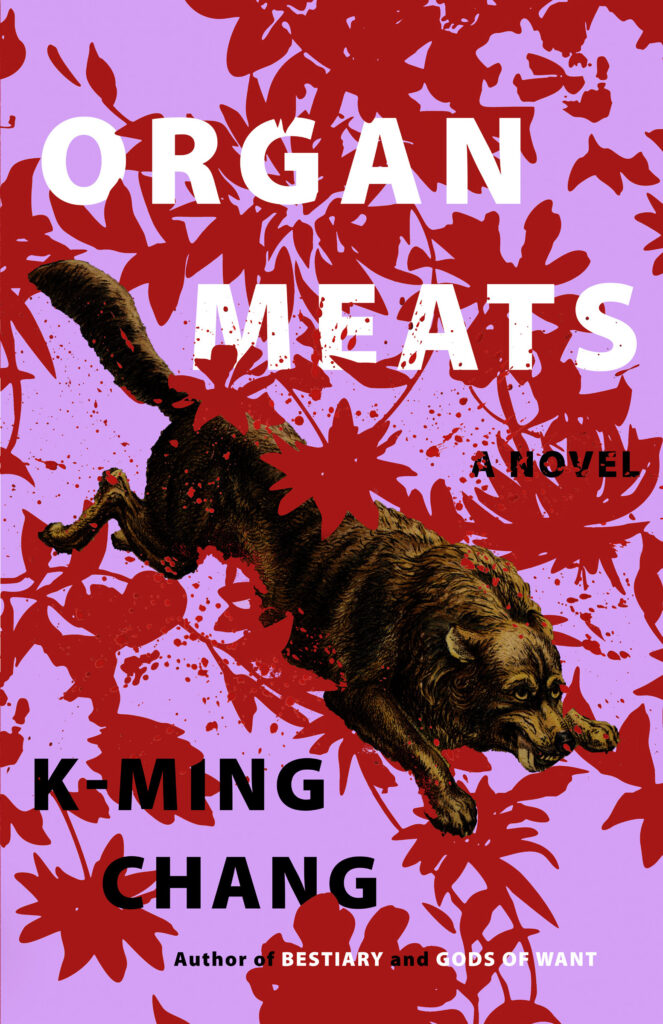 Morris writes: "For Organ Meats we spoke with K-Ming about exploring the bloodier and visceral elements present in her storytelling. We also wanted this cover to speak a similar visual language as her previous two novels. K-Ming views Organ Meats in the same universe as her other works while still standing firmly on it's on. My initial thought was to portray the dog the main character becomes leaping through the cover. I wanted it to feel dynamic, like it was coming at you but also drawing your eye in. I wanted to somehow portray or hint at blood in a more unexpected way that would make the view look twice. A red string, that the main characters wear as collars sparked the idea of the red string abstractly portrayed as foliage that the dog explosively tore its way through."
And Chang says,
When I first saw the cover, I was astonished by the surreal and gorgeously dissonant colors, which transfixed me and made me want to stare at it forever. It was like squinting at a holographic card and realizing there were so many shapes hidden within it, and I was filled with a childlike sense of wonder. I'm obsessed with the blood splatter that also resembles foliage, and how the dog looks strangely human to me. It could be any kind of beast, and that openness of interpretation is both inviting and mind-bending. All of these deliciously maximalist elements capture my own tendency toward excess and bring out the overlapping bodies and histories that layer this narrative. I feel so honored by this cover, and I love how it resonates with and also differs from the covers of my other books: because this is a novel about departure and return, that feels particularly poetic.
K-Ming Chang's Organ Meats will be published by One World on October 24, 2023.