Today, the Dayton Literary Peace Prize Foundation announced the winners of its 2021 Dayton Literary Peace Prize. The prize, which awards a $10,000 honorarium to both a fiction and a non-fiction winner, as well as $5,000 each to runners-up, aims to cultivate peace, social justice, and global understanding through literature. The only international literary peace prize awarded in the US, it was inspired by the Dayton Peace Accords of 1995, which marked the end of the Bosnian War.
The winners will be recognized at a gala in Dayton on November 13 and November 14. They will be joined by the 2020 winners, as the 2020 gala was cancelled due to the pandemic.
Below are this year's honorees.
*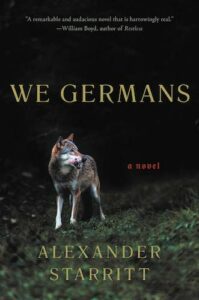 Alexander Starrit's We Germans
Winner of the 2021 Dayton Literary Peace Prize in Fiction
Set some decades after WWII, Starrit's novel follows a German soldier who writes a letter to his grandson, in which he attempts to reckon with his role as a solder, a Russian Gulag prisoner, and his guilt as a Nazi participator.
Upon receiving the prize, Starritt said in a statement, "My hunch is that the more people understand about each other, the higher the bar that generals and jingoists have to get over to convince the public that 'the French', 'the Germans' or 'the Chinese' are baddies." He expanded, "Maybe it's too much of an Enlightenment simplification to say that greater knowledge can rein in humanity's more savage, clannish impulses. But humans have an inborn impulse to empathize, to feel along with those whose struggles they read about."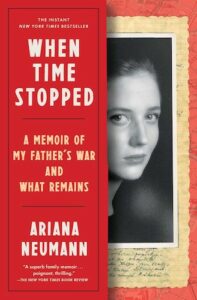 Arianna Neuman's When Time Stopped: A Memoir of My Father's War and What Remains
Winner of the 2021 Dayton Literary Peace Prize in Nonfiction
Neuman's father, one of the few in his family to survive the Holocaust, left behind letters, diaries, and memorabilia that spoke to the unspeakable experiences of the time. Neuman uses her grandfather's documents to tell his and his family's story.
"Stories are powerful. They engage our imaginations and emotions, and remain with us in a way that data and facts do not […] Writing stories allows us to humanise history, to learn from it," wrote Neumann after receiving the prize. "We can use words to continue to divide and fragment ourselves or we can use them to eradicate otherness."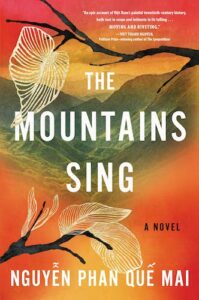 Nguyễn Phan Quế Mai's The Mountains Sing
Runner-Up for the 2021 Dayton Literary Peace Prize in Fiction
Set during the Vietnam War, the novel tells the story of the Trần family matriarch, Diệu Lan, and her granddaughter, Hương, as Hương comes of age and learns from her grandmother the lessons of survival and compassion.
"The Mountains Sing is my yearning for peace, for human compassion, for forgiveness, for hope, and for humans to love humans more," Nguyễn wrote. "I echo my call for peace in the form of this novel, through the words of my character Hương: 'Somehow I was sure that if people were willing to read each other, and see the light of other cultures, there would be no war on earth.'" She added, "May we work together to promote diversity in literature, give space for different ethnic groups to tell their own stories, appreciate our differences, and connect hearts and minds with our writing so that one day, our world can be ONE."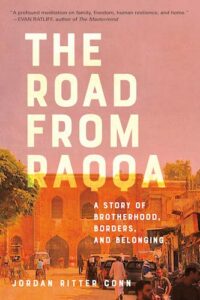 Jordan Ritter Conn's The Road from Raqqa: A Story of Brotherhood, Borders, and Belonging
Runner-Up for the 2021 Dayton Literary Peace Prize in Nonfiction
Following the reunion of two Syrian brothers, the book spans years and continents to bring a story of familial bond and the heartbreak of war.
"Reporting, by definition, relies on voices outside the author's own, so the first and most vital part of my job is the act of listening," wrote Conn in a press release. "In writing this book, I had the joy of listening to the stories of Riyad and Bashar Alkasem, two brothers with diverging journeys away from Raqqa, Syria, the once-gorgeous and now-destroyed city they call home. In lives marked by war, each of them have worked to build a sense of peace. In their families, their communities, and inside themselves."