Here are the Biggest Fiction Bestsellers of the Last 100 Years
(And What Everyone Read Instead)
As the year draws to a close, some of us like to look forward, and some of us backward—and some way backward. Last month, while working on the not-at-all-controversial Books That Defined the Decades series, I was often surprised by the dissonance between the books that sold well in any given year and the books that we now consider relevant, important, or illustrative of the time. I repeatedly regaled my colleagues with fun and interesting facts like: "Did you know that in 1940 the best-selling book of the year was How Green Was My Valley by Richard Llewellyn? That was also the year The Heart is a Lonely Hunter and Native Son came out!" They made me stop eventually, and so I compiled all my comments into this very piece you are now reading.
The data below comes almost entirely from the Publisher's Weekly lists of the biggest fiction bestsellers in the United States. Where possible, I looked at adult fiction only, but some earlier lists did not make that distinction, and for some later, combined lists, I cut out the YA and nonfiction myself to maintain relative consistency. These lists are subject to all of the flaws, faults, and inaccuracies of any best-seller lists, but they're what we've got.
Then I compared the biggest bestseller lists to what I'd consider to be some of the most famous books published in each year—that is, the books we still read and talk about. Again, these picks are subject to the flaws, faults, and inaccuracies of any list of books made by a human with her own tastes and interests and awarenesses, but that's pretty much the deal.
Article continues after advertisement
Some general takeaways:
1. The biggest bestsellers of any given year are not necessarily the books we remember 20, 30, 50, or 100 years later. (Something to remember when your own book goes on sale.)
2. Sometimes books take a little while to work themselves onto the bestseller list. Books suspiciously absent from the list of the year they were published sometimes show up in the next year, likely due to paperback releases and/or word of mouth (or they may have simply been published too late in the year to compete with the spring books).
3. People like to read the same authors year after year.
4. John Grisham owned the 90s.
5. There are so very many books, and we have forgotten almost all of them.
Here's to remembering (the good ones, at least):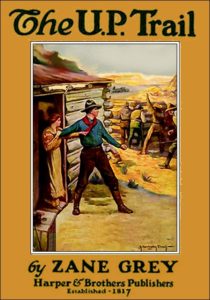 1918
The best-selling fiction of the year:
1. Zane Grey, The U. P. Trail
2. May Sinclair, The Tree of Heaven
3. Mary Roberts Rinehart, The Amazing Interlude
4. Edward Streeter, Dere Mable
5. Eleanor H. Porter, Oh, Money! Money!
6. Ethel M. Dell, Greatheart
7. Ralph Connor, The Major
8. E. Phillips Oppenheim, The Pawns Count
9. Gene Stratton Porter, A Daughter of the Land
10. Stephen McKenna, Sonia
Also published that year:
Booth Tarkington, The Magnificent Ambersons
Willa Cather, My Antonia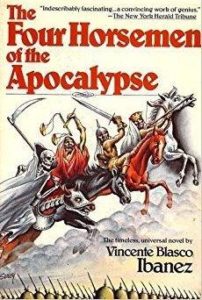 1919
The best-selling fiction of the year:
1. V. Blasco Ibanez, The Four Horsemen of the Apocalypse
2. Joseph Conrad, The Arrow of Gold
3. Zane Grey, The Desert of Wheat
4. Mary Roberts Rinehart, Dangerous Days
5. Ralph Connor, The Sky Pilot in No Man's Land
6. Harold Bell Wright, The Re-Creation of Brian Kent
7. Gene Stratton Porter, Dawn
8. Temple Bailey, The Tin Soldier
9. Elizabeth von Arnim, Christopher and Columbus
10. Robert W. Chambers, In Secret
Also published that year:
Sherwood Anderson, Winesburg, Ohio
1920
The best-selling fiction of the year:
1. Zane Grey, The Man of the Forest
2. Peter B. Kyne, Kindred of the Dust
3. Harold Bell Wright, The Re-Creation of Brian Kent
4. James Oliver Curwood, The River's End
5. Irving Bacheller, A Man for the Ages
6. Eleanor H. Porter, Mary-Marie
7. Joseph C. Lincoln, The Portygee
8. E. Phillips Oppenheim, The Great Impersonation
9. Ethel M. Dell, The Lamp in the Desert
10. Kathleen Norris, Harriet and the Piper
Also published that year:
Agatha Christie, The Mysterious Affair at Styles
F. Scott Fitzgerald, This Side of Paradise
D. H. Lawrence, Women in Love
Sinclair Lewis, Main Street
Edith Wharton, The Age of Innocence
1921
The best-selling fiction of the year:
1. Sinclair Lewis, Main Street
2. Dorothy Canfield, The Brimming Cup
3. Zane Grey, The Mysterious Rider
4. Edith Wharton, The Age of Innocence
5. James Oliver Curwood, The Valley of Silent Men
6. Edith M. Hull, The Sheik
7. Mary Roberts Rinehart, A Poor Wise Man
8. Gene Stratton Porter, Her Father's Daughter
9. Gertrude Atherton, The Sisters-in-Law
10. Coningsby Dawson, The Kingdom Round the Corner
Also published that year:
Aldous Huxley, Crome Yellow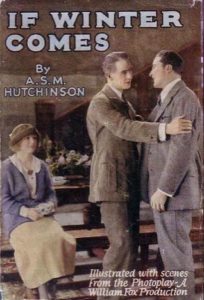 1922
The best-selling fiction of the year:
1. A.S.M. Hutchinson, If Winter Comes
2. Edith M. Hull, The Sheik
3. Booth Tarkington, Gentle Julia
4. Frances Hodgson Burnett, The Head of the House of Coombe
5. Robert Keable, Simon Called Peter
6. Mary Roberts Rinehart, The Breaking Point
7. A.S.M. Hutchinson, This Freedom
8. Louis Hémon, Maria Chapdelaine
9. Zane Grey, To the Last Man
10. Sinclair Lewis, Babbitt & Harold Bell Wright, Helen of the Old House (tie)
Also published that year:
F. Scott Fitzgerald, The Beautiful and the Damned
James Joyce, Ulysses
Katherine Mansfield, The Garden Party
Marcel Proust, Swann's Way (English translation)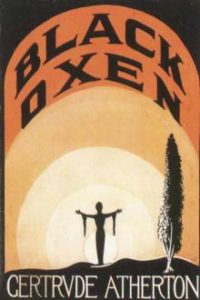 1923
The best-selling fiction of the year:
1. Gertrude Atherton, Black Oxen
2. Arthur Train, His Children's Children
3. Elizabeth von Arnim, The Enchanted April
4. Sinclair Lewis, Babbitt
5. Temple Bailey, The Dim Lantern
6. A.S.M. Hutchinson, This Freedom
7. Harold Bell Wright, The Mine with the Iron Door
8. Zane Grey, The Wanderer of the Wasteland
9. Rafael Sabatin, The Sea-Hawk
10. Mary Roberts Rinehart, The Breaking Point
Also published that year:
Jean Toomer, Cane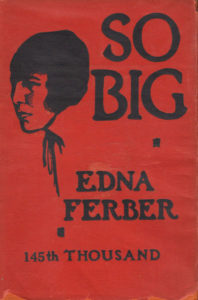 1924
The best-selling fiction of the year:
1. Edna Ferber, So Big
2. Percy Marks, The Plastic Age
3. Anne Douglas Sedgwick, The Little French Girl
4. Philip Gibbs, The Heirs Apparent
5. James Oliver Curwood, A Gentleman of Courage
6. Zane Grey, The Call of the Canyon
7. Booth Tarkington, The Midlander
8. Coningsby Dawson, The Coast of Folly
9. Rafael Sabatini, Mistress Wilding
10. Dorothy Canfield Fisher, The Homemaker
Also published that year:
E. M. Forster, A Passage to India
Thomas Mann, The Magic Mountain
Herman Melville, Billy Budd, Sailor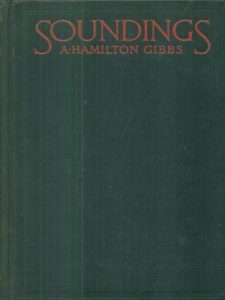 1925
The best-selling fiction of the year:
1. A. Hamilton Gibbs, Soundings
2. Margaret Kennedy, The Constant Nymph
3. Gene Stratton Porter, The Keeper of the Bees
4. E. Barrington, Glorious Apollo
5. Michael Arlen, The Green Hat
6. Anne Douglas Sedgwick, The Little French Girl
7. Sinclair Lewis, Arrowsmith
8. Anne Parrish, The Perennial Bachelor
9. Rafael Sabatin, The Carolinian
10. A.S.M. Hutchinson, One Increasing Purpose
Also published that year:
Theodore Dreiser, An American Tragedy
F. Scott Fitzgerald, The Great Gatsby
Anita Loos, Gentlemen Prefer Blondes
Virginia Woolf, Mrs. Dalloway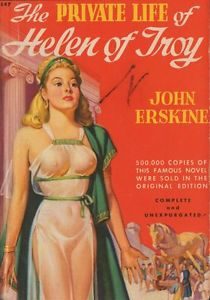 1926
The best-selling fiction of the year:
1. John Erskine, The Private Life of Helen of Troy
2. Anita Loos, Gentlemen Prefer Blondes
3. Warwick Deeping, Sorrell and Son
4. Sylvia Thompson, The Hounds of Spring
5. P. C. Wren, Beau Sabreur
6. John Galsworthy, The Silver Spoon
7. P. C. Wren, Beau Geste
8. Edna Ferber, Show Boat
9. Susan Ertz, After Noon
10. Temple Bailey, The Blue Window
Also published that year:
Ernest Hemingway, The Sun Also Rises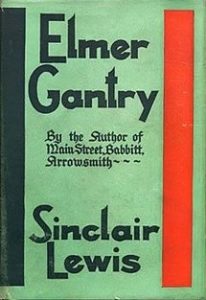 1927
The best-selling fiction of the year:
1. Sinclair Lewis, Elmer Gantry
2. Booth Tarkington, The Plutocrat
3. Warwick Deeping, Doomsday
4. Warwick Deeping, Sorrell and Son
5. Mazo de la Roche, Jalna
6. Mary Roberts Rinehart, Lost Ecstasy
7. Edith Wharton, Twilight Sleep
8. Anne Parrish, Tomorrow Morning
9. Anne Douglas Sedgwick, The Old Countess
10. Louis Bromfield, A Good Woman
Also published that year:
Willa Cather, Death Comes for the Archbishop
Thornton Wilder, The Bridge of San Luis Rey
Virginia Woolf, To the Lighthouse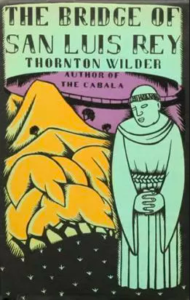 1928
The best-selling fiction of the year:
1. Thornton Wilder, The Bridge of San Luis Rey
2. Hugh Walpole, Wintersmoon
3. John Galsworthy, Swan Song
4. S. S. Van Dine, The Greene Murder Case
5. Viña Delmar, Bad Girl
6. Booth Tarkington, Claire Ambler
7. Warwick Deeping, Old Pybus
8. Anne Parrish, All Kneeling
9. Mazo de la Roche, Jalna
10. Louis Bromfield, The Strange Case of Miss Annie Spragg
Also published that year:
Aldous Huxley, Point Counter Point
Ford Madox Ford, Parade's End
Evelyn Waugh, Decline and Fall
Virginia Woolf, Orlando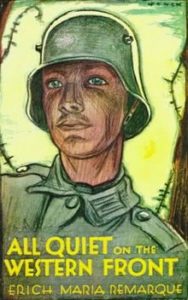 1929
The best-selling fiction of the year:
1. Erich Maria Remarque, All Quiet on the Western Front
2. Sinclair Lewis, Dodsworth
3. Anne Douglas Sedgwick, Dark Hester
4. S. S. Van Dine, The Bishop Murder Case
5. Warwick Deeping, Roper's Row
6. O. E. Rölvaag, Peder Victorious
7. DuBose Heyward, Mamba's Daughters
8. Susan Ertz, The Galaxy
9. Julia Peterkin, Scarlet Sister Mary
10. H. W. Freeman, Joseph and His Brethren
Also published that year:
William Faulkner, The Sound and the Fury
Henry Green, Living
Dashiell Hammett, Red Harvest
Ernest Hemingway, A Farewell to Arms
Richard Hughes, A High Wind in Jamaica
Nella Larsen, Passing
Thomas Wolfe, Look Homeward, Angel
---