Everyone knows that Rory Gilmore is America's #1 on-screen bookworm. And I understand why—I too was once 15 and awkward, and Rory's whole "I'd-rather-read-than-be-at-a-party" vibe was deeply relatable. But with time and age come wisdom, and with wisdom comes the realization that there are certain aspects to Rory's life—and her reading list—that don't quite sit right anymore. (This became especially glaring with the 2016 release of the Gilmore Girls revival, A Year in the Life.) So in an effort to rewrite small screen history, as prime Gilmore Girls rewatching season approaches, here are seven books I think Rory Gilmore should read.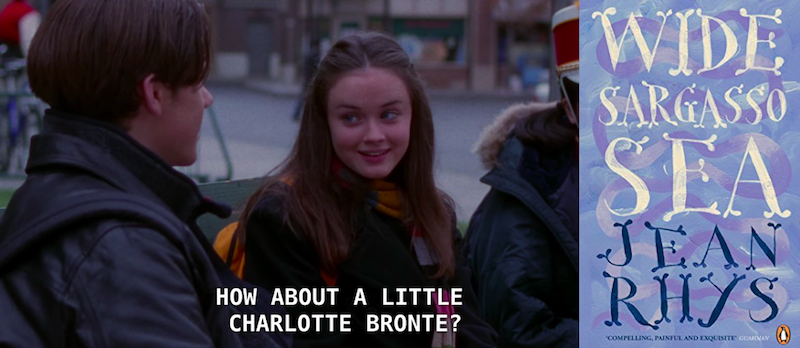 Season 1, Episode 8
Rory meets her then-boyfriend (also her most sucky boyfriend) Dean at the bus stop with a bag of cookies. When he asks how he can possibly thank her, she responds, "how about some Charlotte Brontë?" Now, of course, I love a bit of Brontë. But really, the reading experience isn't complete until you've read Jean Rhys' Wide Sargasso Sea​​—a retelling of Brontë's Jane Eyre from the perspective of Rocherster's first wife, the "Mad Woman in the Attic," who here is renamed Bertha Mason. The novel is a deconstruction of the colonial under/overtones in Brontë's novel. And forgive me for saying, but I doubt Rory ever did pick up on any of them on her own.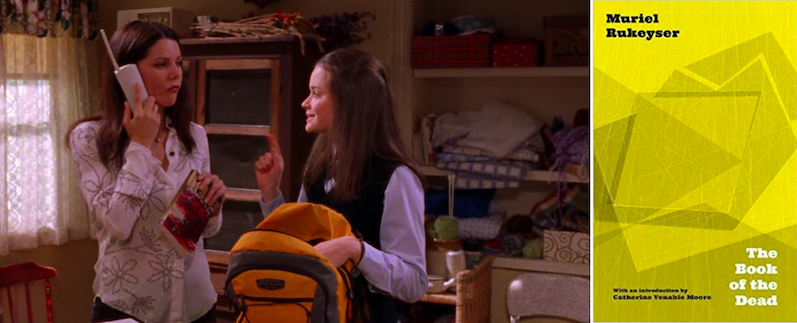 Season 2, Episode 7
Okay. This is the scene where Rory is struggling to fit all her books in her bag. She explains she needs a novel, a short story collection, a biography, and a collection of essays because you never know what exactly you're in the mood for during the day. And did I take a pinch (or two) of personal offense that this particular struggle did not include the need to include a collection of poetry? Most definitely. So I suggest Rory add to her bag Muriel Rukeyser's The Book of the Dead. Given Rory's journalistic aspirations, I'm surprised Rukeyser never got a shoutout. The Book of the Dead is an investigative, poetic response to the 1931 Hawk's Nest Tunnel disaster in Gauley Bridge, West Virginia, where mostly Black laborers contracted silicosis after working on the hydroelectric project in the tunnel. At least 764 of them died. Rukeyser's response insists on a new kind of language—one that resists immediate categorization—necessary to talk about these kinds of disasters. It made way for what is now referred to as documentary poetry, something I think Rory would appreciate.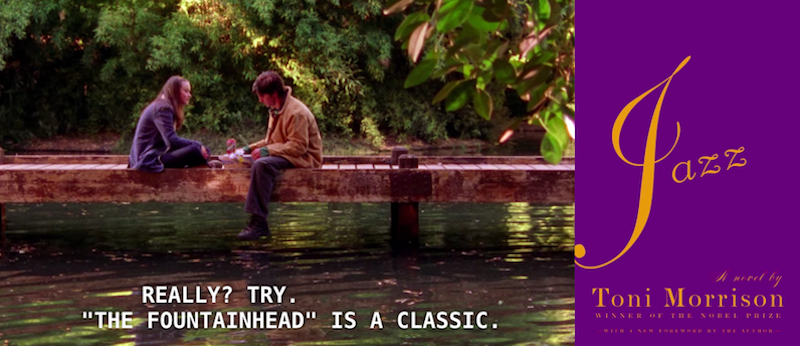 Season 2, episode 13
During the budding Jess-Rory romance days, Rory declares her love for Ayn Rand's The Fountainhead, to which Jess (rightly) responds, "she's a political nut!" Rand is known for her unflinching emphasis on individualism over collectivism. I ask Rory that she balance out her Rand with books that perhaps underscore the opposite. Especially since, as fans have notoriously noted, with the progression of the series comes a progression of a self-centric, self-indulgent Rory. And who better to combat that Rory than Toni Morrison (whose work bizarrely never makes an appearance on the show)? Really all of Morrison's work touches on the inevitable ways in which we're connected, historically and personally, but I would suggest Rory start with Jazz. Beginning in 1920s Harlem, and delving back to 19th century American South, the novel not only links the history and relationships of the characters, but also moves from POV to POV in one circular movement, much like jazz music itself.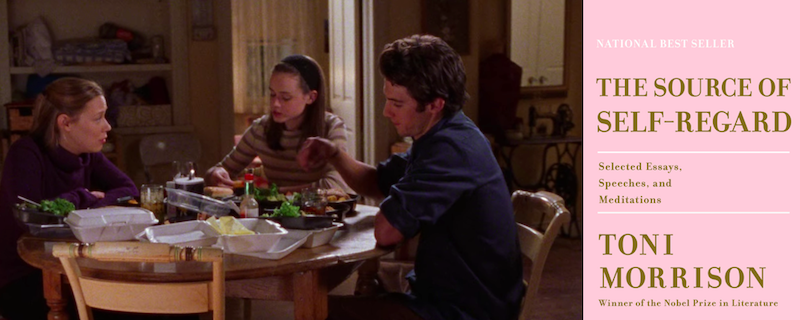 Season 2, Episode 16
My favorite episode. And is it because I get to watch Jess and Rory's frenemy Paris have a tête-à-tête about Austen and Bukowski? Yes, definitely. But beyond their on-screen hilarity, this episode highlighted a very glaring gap for me. Rory, who goes off to study English Literature at Yale, who supposedly is at one of the most rigorous prep schools in the country, hardly mentions any literary criticism. Her idea of what good literature is supposed to do, as she says in this episode, is to "expose you to a world you otherwise wouldn't have known." Which, okay, sure. But as an English student, surely there's more nuance to it than that. So I suggest again Toni Morrison. Her final essay collection, The Source of Self Regard, delves deep into the complicated questions of how and why we write, how and why we read, what it even means to know and represent a world, and more importantly, whether such representation really is the purpose of writing.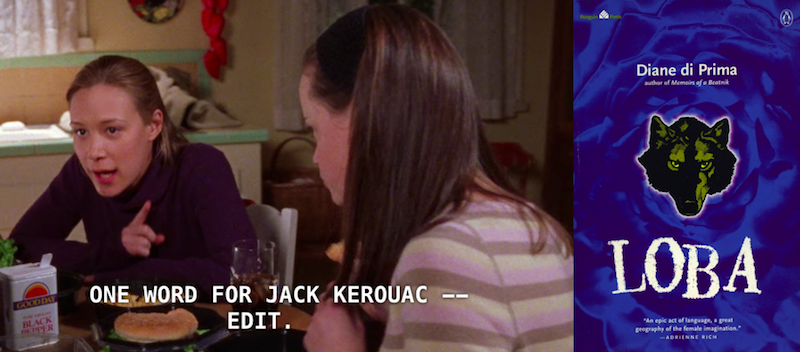 Season 2, Episode 16
Speaking of Kerouac and Bukowski. Yes, I've read them. No, they're not bad. But for a show that posits itself as female-centric, we sure don't get to see Rory reading many women (aside from the beloved, but very predictable, Plath/Woolf/Brontë/Austen quadrangle). So to scratch that Beat itch, I suggest Diane di Prima's Loba. One of the key writers of the Beat movement, di Prima's book has been hailed as the "feminist counterpart" to Ginsberg's Howl. Writing in the historically "male" form of the epic, Loba uses the archetype of the wolf-goddess to explore questions of women's re-generation and the very Beat concern of "experience."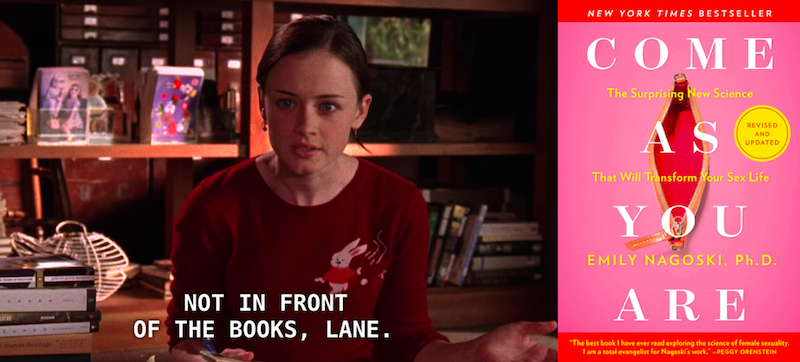 Season 5, Episode 16
Rory and Lane are talking about Lane's new relationship in a bookshop, when Lane asks about sex. "Is it great?" she wants to know, to which Rory responds, "Not in front of the books, Lane!" But: yes, in front of the books Lane! Gilmore Girls has a strange relationship with the idea of sex, especially if Rory's having any. The entire premise stems from sex, after all: Lorelai's teenage pregnancy leads to the Gilmore family's obsession with Rory not making the same "mistakes" as her mother. So Rory, and her whole family, could do with some sex positivity. I suggest Emily Nagasoki's Come As You Are, a great introduction to the complicated questions of desire, consent, bodies, the awkward and the uncomfortable. The biggest takeaway for most readers of Nagoski's book is "I'm fine just the way I am," or as she puts it, "you have what you need for an expansive sex life."

Season 5, Episode 21
Rory steals a boat with her very rich boyfriend, Logan, after receiving some constructive criticism about her abilities as a journalist. For many, this moment shows how oblivious Rory is to her generational wealth and privilege, even as she criticizes Logan and his friends for the same. So I suggest, and no, this is not a joke, some Marx. Communist Manifesto, Capital, what have you. Because really, I think she needs to read some Marx.